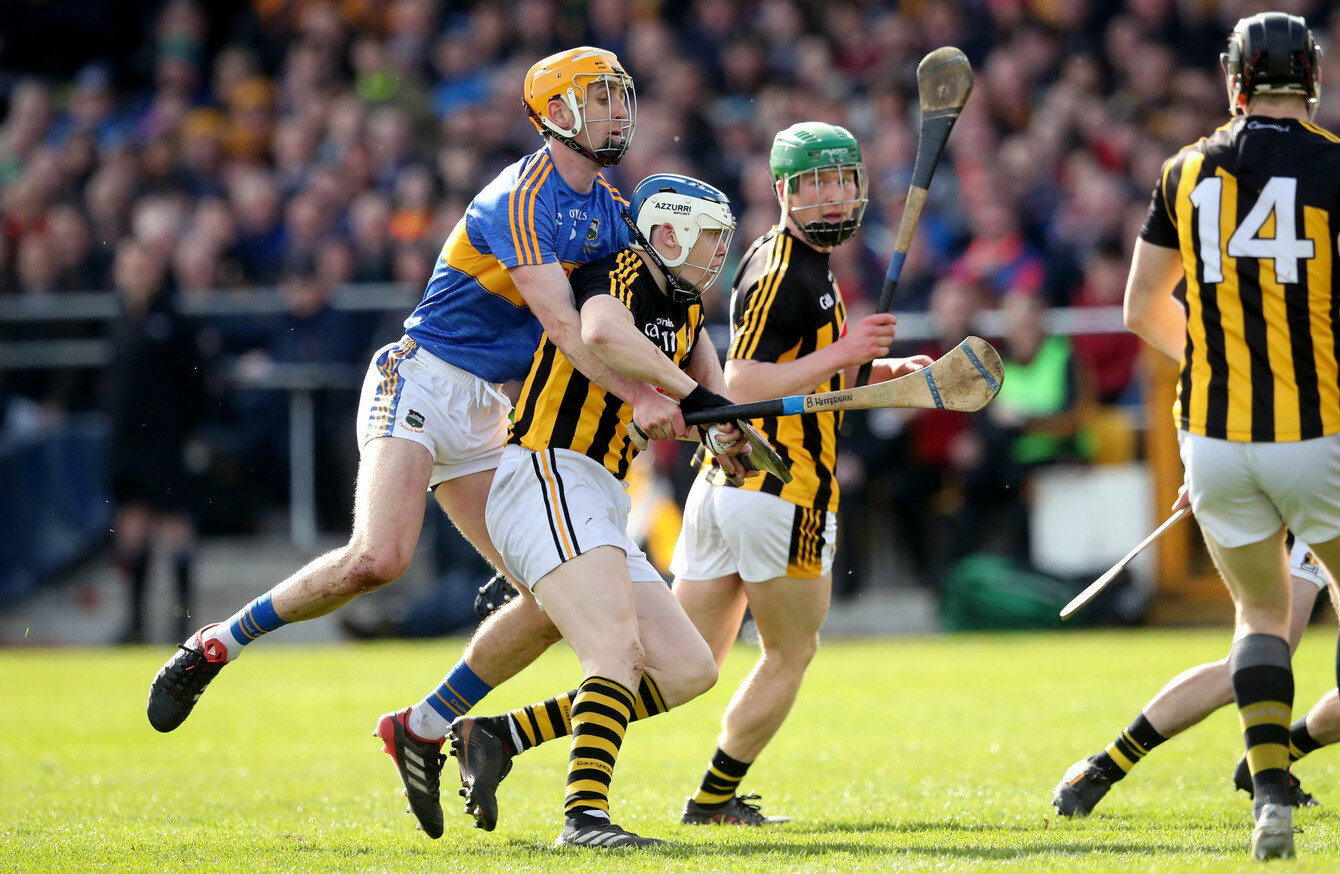 Kilkenny's TJ Reid in action against Tipperary's Barry Heffernan.
Image: Ryan Byrne/INPHO
Kilkenny's TJ Reid in action against Tipperary's Barry Heffernan.
Image: Ryan Byrne/INPHO
1. The power of Kilkenny's third quarter surge
A scrappy opening period did little to rouse the home fans in Nowlan Park today. They stared at half time at a two-point deficit and were thankful for the brilliance of TJ Reid – more on him shortly – that Kilkenny remained within touching distance entering the second half.
And then they watched as the Kilkenny players capitalised in that third quarter, taking a furious grip on the game and squeezing aspirations of success out of Tipperary. Trailing 1-10 to 0-11 as they squared up for the second-half throw-in, Kilkenny had stormed clear by 1-20 to 1-14 with 52 minutes elapsed on the clock.
Walter Walsh belted home a goal a minute after the break to set the tone, Reid's free-taking continued to punish Tipperary's fouls while points arrived from other sources like John Donnelly and Liam Blanchfield. The complexion of the game changed drastically as Kilkenny set the terms of engagement and this phase catapulted them to victory.
2. Another league final reversal for Tipperary
It's ten years now since Tipperary last hoisted league silverware into the air. They cannot be faulted for not getting themselves into a position to amend that statistic but finishing the job off at the final hurdle has been a problem. Today was their fifth outing in a decider since that 2008 success yet they were left with a familiar sinking feeling by the finish.
It's the fourth time that Kilkenny have administered defeat at this stage after the losses of 2009, 2013 and 2014. Twelve months on from the 16-point mauling at the hands of Galway, this was a different type of defeat but the manner of their second-half performance conjures up plenty questions they will need to answer in the championship assignments that start next month.
3. Another league title with Cody at the helm
For the ninth time during his long reign, Brian Cody is toasting a league final triumph tonight. After stitching together three titles between 2012 and 2014, he has watched on as Waterford, Clare and Galway enjoyed the fillip of glory as the league action drew to a halt. Today was a restoration of Kilkenny supremacy in this competition, their second-half performance founded on the values that Cody prizes most.
The identity of the names on the Kilkenny teamsheet will provide no shortage of satisfaction. Only Eoin Murphy, Joey Holden, Padraig Walsh, Cillian Buckley and Reid are still knocking around from their 2014 success while Walter Walsh was sprung from the bench in that win.
There has been a striking turnover of Kilkenny personnel in the last four years but the showings today from the likes of Paddy Deegan, Conor Delaney and James Maher will hearten Cody that he is assembling a strong collective once more.
4. TJ points the way again
Three knockout league matches, three victories for Kilkenny and a combined tally of 0-42 for TJ Reid. The Ballyhale sharpshooter has been in terrific form since St Patrick's weekend with 0-12 contributed against Offaly and his 0-15 return today matching the total he posted last weekend against Wexford.
31 of those points have arrived from placed balls and he sweetly struck over a sideline cut today. But it was in open play in the first half, at a time when Kilkenny couldn't hit their stride, that his importance and leadership to this team was so evident. Reid looked in quite a bit of pain when he shipped a blow to his right knee six minutes in but after hobbling around the half-forward line for a couple of minutes, he began to hit full speed in his play.
That sideline cut kickstarted his display before his judgement and timing in snatching aerial possession were evident in the 20th and 30th minutes, outfielding Tipperary defenders and turning smartly into space before depositing points. His footwork created the chance for another point in injury-time to the approval of the home fans.
There were no further scores from play in the second half yet he weighed in with seven points from frees and by the finish could reflect on a handsome contribution to this latest addition to Kilkenny's trophy cabinet.
5. Forde finishes with a flourish for Tipperary
Tipperary's list of absent attackers today was packed with celebrated names. Seamus Callanan, Noel McGrath, Patrick Maher and Dan McCormack were all watching on while John O'Dwyer only entered the fray at the break. In that scenario it was left to Jason Forde, as has been the pattern throughout the league, to act as the chief scoring supply.
The battle last month with Kilkenny was the only regulation match that Forde had missed this spring but with 5-60 to his credit from six appearances, he entered this match surfing a wave of good form. Pressed into combat against a renowned defender like Padraig Walsh, Forde did not disappoint for Tipperary fans with 2-12 to his credit by the final whistle.
His markmanship from placed balls was of the highest standard, 1-10 mined from that source. But there was a variety to Forde's game, scrapping away for some hard-earned possession, a touch of class with a sideline cut in the 63rd minute and a killer touch in front of goal in the first half when he profited from John McGrath's creativity.
Forde's form to date in 2018 has pointed to a desire to nail down a regular starting spot and today he ensured he rounded off the league on a strong note.