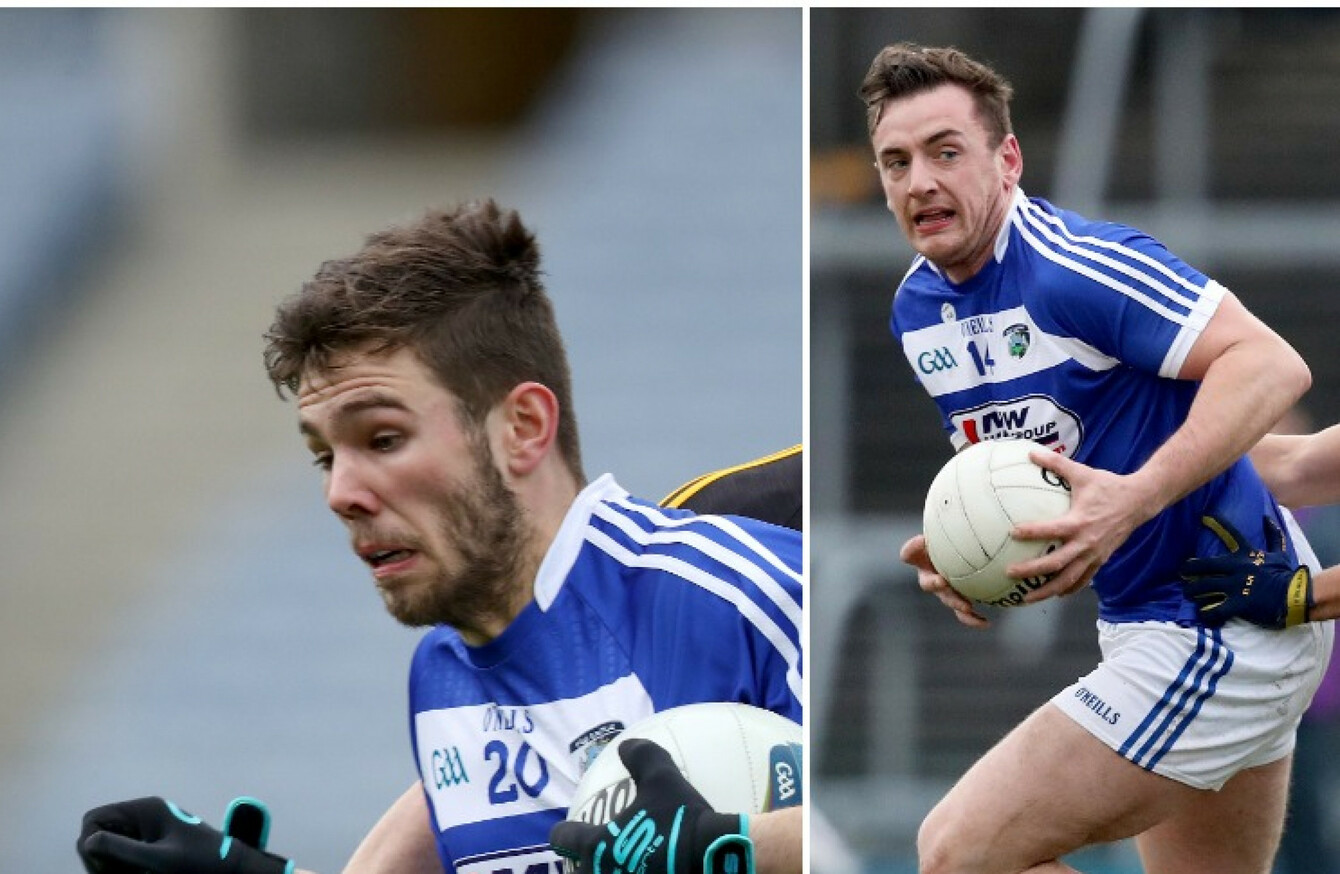 Laois footballers Daniel O'Reilly and Gary Walsh.
Image: INPHO
Laois footballers Daniel O'Reilly and Gary Walsh.
Image: INPHO
LAOIS BOSS JOHN Sugrue is determined to move on from the controversy that flared up when forward Gary Walsh was dropped for their Division 4 league final at the end of March over a tweet he sent in relation to the verdict in the Belfast trial involving rugby players Paddy Jackson and Stuart Olding.
Walsh was omitted for that final in Croke Park against Carlow but has rejoined the squad and is very much part of their plans as they get set to start the Leinster senior football championship on 12 May.
Laois GAA issued a tweet dissociating the county from the comments and the county's main sponsor MW Hire issued a statement as well saying they did not condone the player's views.
Walsh had been a key figure this spring as Laois claimed promotion from Division 4 with his scoring contributions and is available as they get set to take on Wexford in their first round clash.
"Gary's involved (with us) yeah," said Sugrue at today's Leinster GAA championship launch in Trim.
"I think there was a big furore about it but that's social media for you. If you dip your toe into the social media world, you're going to expect a big furore.
"We had a stance that week on how we want the players to behave themselves with regard to media and with regard to concentration and focus and that was unfortunately outside of our boundaries that we set out.
"Then the consequences are what they are. I suppose Gary has been mature and he's taken it and hopefully we'll move on from that now. But we've moved on, that's done and dusted, there's no issue as far as I'm concerned."
Sugrue also revealed that Daniel O'Reilly, who was left with serious head injuries following an assault in Carlow in early April, will be staying involved with their setup for the rest of the 2018 campaign but will not be returning to play.
O'Reilly came on as a substitute in the victory over Carlow in the Division 4 league final but was then attacked in the early hours of Monday morning 2 April and was taken to St Luke's General Hospital in Kilkenny following the incident.
"Unfortunately Dicey Reilly (Daniel) has had his injury and he's laid up for a long time now which is very tough on him," stated Sugrue.
"He's an energetic guy and that's unfortunate for him. But he's going to stay with us for the year. To a great degree, the squad we're big enough, we're mature enough, we'll get on with it.
"But it is a significant blow to Danny himself as an individual and to his family and to his little fella at home, who's the biggest concern for all of us, Danny and everybody else.
"Danny's back, he's in good form, he's hopefully going back to work shortly. He's a great fella, he's a great lad to have around the place. He's a really bright and enthusiastic young fella with bundles of energy.
"We'll try and get him using his energy in a physical sense again in the short-term future."
Sugrue is also planning for the championship campaign without youngsters Colm Murphy and Robbie Pigott who have gone to the USA for the summer.
Forwards Eoin Lowry (ankle) and Evan O'Carroll (hamstring) – who both won Sigerson Cup medals earlier this year with UCD – are big injury doubts ahead of the Wexford game.
- Comments are off as legal proceedings are ongoing
The42 is on Instagram! Tap the button below on your phone to follow us!