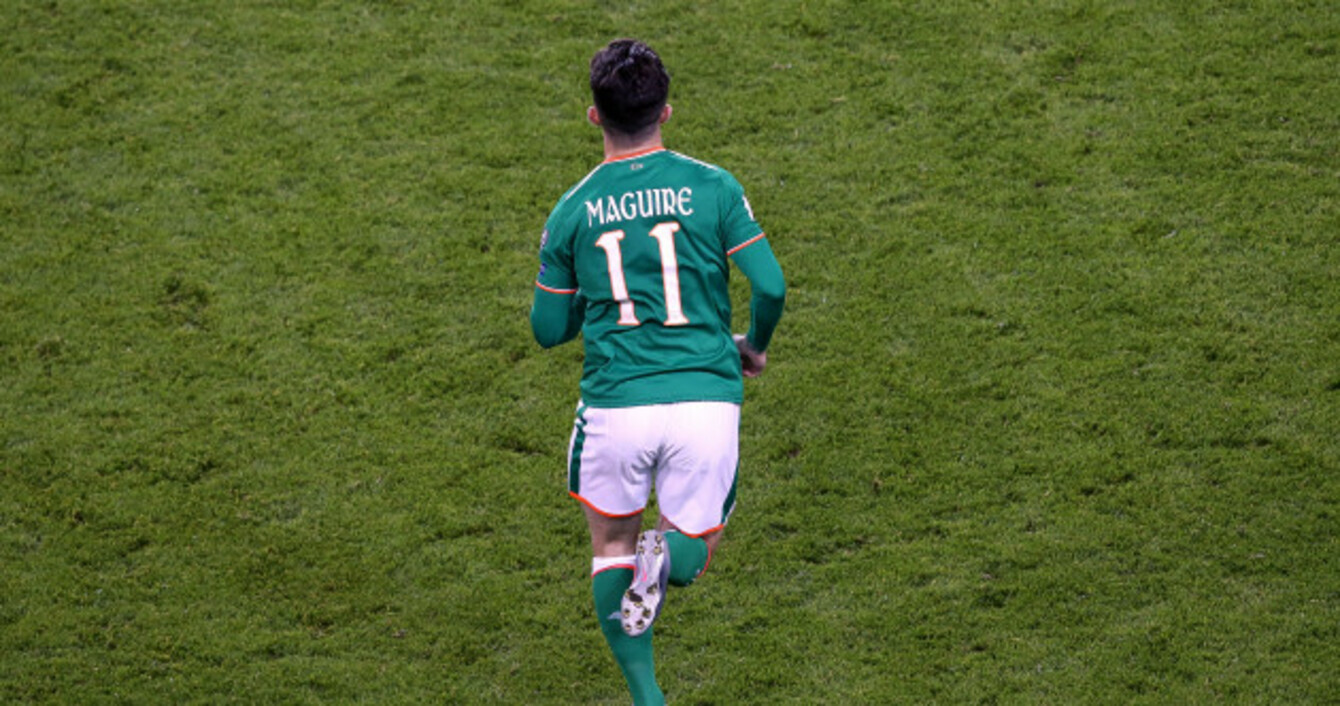 Maguire: the latest LOI product to make the international breakthrough.
Image: Gary Carr/INPHO
Maguire: the latest LOI product to make the international breakthrough.
Image: Gary Carr/INPHO
OF THE MANY tributes paid to Stephen Hawking this week, few garnered as much attention as the well-intentioned but dim Instagram tribute from Neymar Jr.
Sitting in a wheelchair at poolside wearing a cap and shorts, his injured leg in a cast, Neymar pointed to Hawking's positive attitude as a source of inspiration in his own recovery.
A lot of footballers are nuts, the most talented cocooned from too young an age in a very sheltered existence surrounded by an entourage of agents, yes men and advisors. From there it goes in two directions: they make it and the cocoon wraps tighter, or the dream ends or lessens and many of them leave the game or drop down the divisions ill-equipped to deal with the perceived failure.
Neymar falls into the former group and a particular class of footballer who are arguably bigger than clubs. Their recognition, social media reach and earning potential is influenced in only a limited way by who they play for. Football has become a personality-driven business.
The younger a fan, the more likely their argument is Messi v Ronaldo where to an older generation it might have been Barcelona v Real Madrid. The old Tony Adams quote, "Play for the name on the front of the shirt, and they'll remember the name on the back", is an increasingly rare concept in the global game.
My son, like loads of his friends, owns both a Barcelona and Real Madrid t-shirt. The names on the back are key. Messi and Ronaldo are worshipped as being among the greatest players of all time and our continued access to live footage and online content means that they exist in a world where the clubs they play for are often a vehicle for their individual promotion. Kids these days often have favourite players as well as favourite teams and there's few reservations if one of your favourite players happens to be a rival.
I grew up a Manchester United fan in a county without a League of Ireland team, I was raised on deferred 'live matches' on Sports Stadium and trying to get half-decent reception on a black and white TV with a rabbit ears aerial for 'Match of the Day' and 'The Big Match' – consistently jealous of east coast cousins who had clear access to more than two channels.
As BSkyB allowed United to spend ludicrous sums, I started college and discovered Cork City, a club – like all League of Ireland clubs – where you could actually see where your entrance fee was going. Sometimes literally as the notes inside the turnstile were quickly shoved into brown envelopes that would form the pay packets a couple of hours after kick-off. I would see the players at gigs around town, doing their shopping, but proximity didn't breed contempt. Instead, the difference between a local player and the fare I was fed on Sky had me leaning more towards the local game.
What are they
really like?
Rare insights on sport's biggest names from the writers who know them best. Listen to Behind the Lines podcast.
Become a Member
In the past two years, my son's hero-worship of Ronaldo, Messi, Neymar and Suarez was completely surpassed by his hero-worship of Seani Maguire, an accessible hero who would walk out from the dressing room at Turner's Cross after a game, free of entourage, and stand patiently until every child in front of him had a programme or jersey signed or a selfie taken. The night Cork City finally won the league, as fans invaded the pitch and celebrated with the players, the same patience and acceptance was offered by the entire squad. They knew, and know, that they are genuine heroes to the kids before them.
With some clubs now offering 52-week contracts, I hope we'll get to a stage where clubs can actually take advantage of the players and personalities in their ranks. Martin O'Neill's most recent squad contains 11 former LOI players and there's absolutely no doubt that this will continue to be a trend in the years to come. We have future internationals in our ranks right now. A little bit of coaching on how to deal with the media and the public could turn any or all of them into future – local – superstars.
My son wants a Preston North End shirt with Maguire on the back. If kids are forming attachments like this to players at a local level, we need to recognise it for the positive it is and do a far better job of leading our promotion of the clubs and league with the players that the crowds are there to see.
The42 is on Instagram! Tap the button below on your phone to follow us!