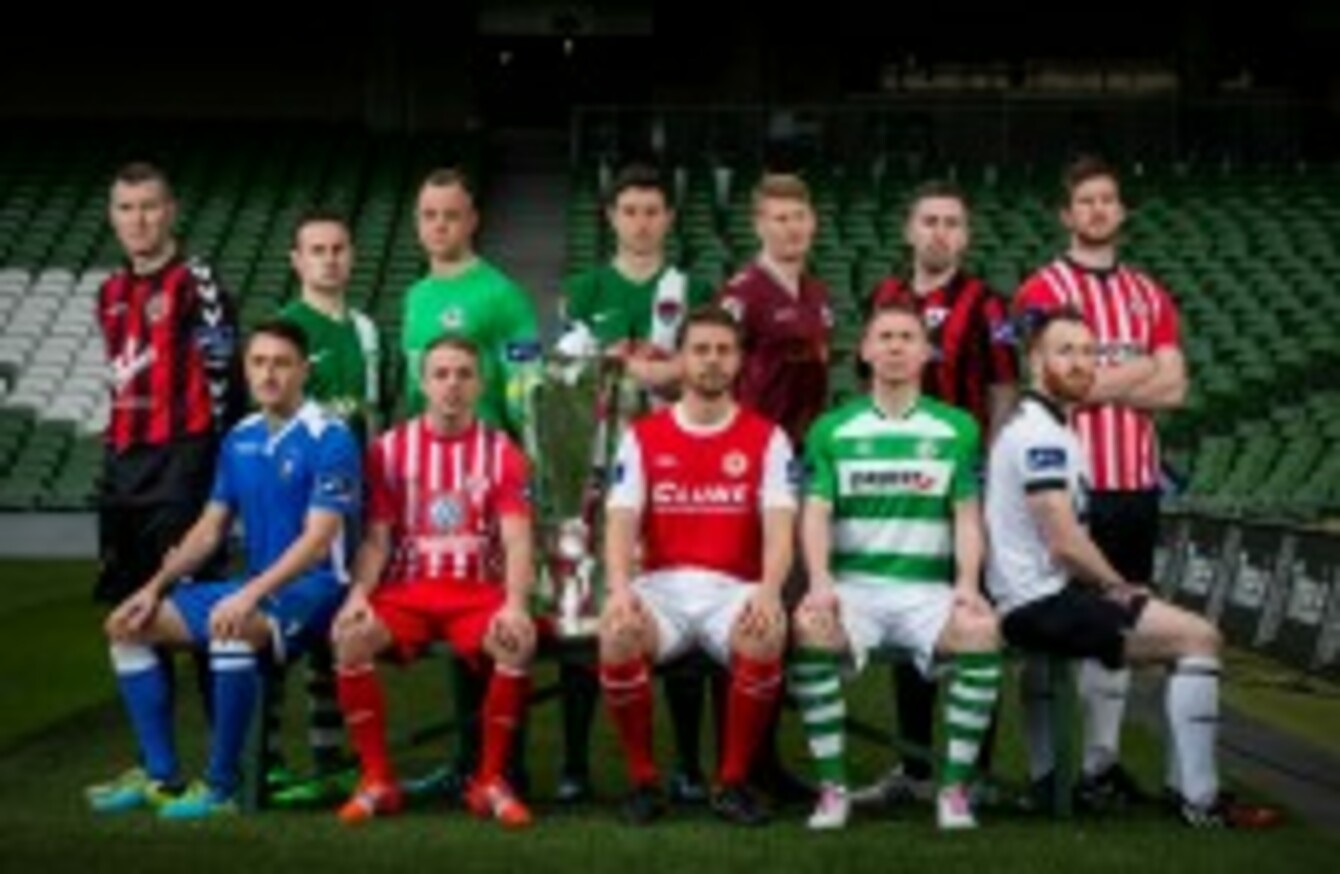 Players pictured at the SSE Airtricity League Launch last week.
Image: Cathal Noonan/INPHO
Players pictured at the SSE Airtricity League Launch last week.
Image: Cathal Noonan/INPHO
WHILE MILLIONS OF kids dream of becoming a footballer, the reality — even for most who achieve this goal — is far more prosaic.
For every Seamus Coleman and Shane Long — stars who started off in the League of Ireland but are now earning big money in the Premier League — there are countless others who toil away, earning relatively little and signing on to the dole once the season ends.
While for many, the buzz of playing on a Friday night is still hard to beat, the current obstacles for the 2015 crop of League of Ireland players are arguably greater than ever, with certain clubs struggling amid low attendances and lack of interest from the public at large.
Whereas the league was once in rude health, attendances — for the most part — have gone down in recent times.
A common complaint is that the increasing level of interest in the Premier League across the water, not to mention the growth in popularity of other sports such as rugby, has harmed domestic football considerably. It is a theory that St Pat's player Ger O'Brien certainly subscribes to — and the 30-year-old defender fears the upcoming introduction of Premier League matches on a Friday night could exacerbate this problem.
"People keep talking about English football — basically, our biggest problem is sitting in our living rooms — it's Sky Sports," he tells The42. "You've so many people going over to the UK every Friday evening or Saturday morning to watch a game. The cost of one game for an adult or a child would probably be the equivalent of two or three years for a season ticket in the League of Ireland.
"But you've got the armchair supporter who would rather sit in on a Friday night and watch a League One game or a Championship game, rather than go down the road to Richmond Park, or to Tolka or wherever.
"With this Friday night football coming in, people will still sit in and watch it. You'll have your normal hardcore following for clubs around the country who won't miss the games. But if we're trying to attract people to clubs to improve their infrastructure, Friday night football is going to impact on that."
UCD coach, Evan McMillan, is equally concerned by the current situation, suggesting that the promotion of matches pales in comparison to the Premier League.
"There's nothing big scale about the league. You only see the news or players signing if you're looking out for it.
"I know RTÉ show games, but for the Premier League, you show a big fancy ad with Rooney coming out — just something a bit fancy. RTÉ don't really do anything like that with any of the players — something like that would help gain more interest and have young people recognise the players."
(Shields helped Dundalk win the league last year)
Dundalk's Chris Shields also feels the hype factor is lacking when it comes to the domestic game.
"Look at last year. The final day — first versus second, the winner takes all. What more could you ask for? Yet there was barely a mention of it. From that point of view, the FAI could do more because it seems to be low on their priorities."
So what can possibly be done to rectify these issues? Is the league destined to labour in obscurity? Or can action be taken to address these problems?
All three players agree that people's tendency to focus on the negatives in relation to the league is doing it no favours currently.
In particular, former Derry and Bohs manager Roddy Collins' derogatory comments about last season's FAI Cup final drew widespread criticism in response.
"The last time he was involved with the league, it didn't go well for him, so he's trying to get his name out there and the Roddy opinion out there," Shields says. "It kind of devalued the cup final. It took the shine away from Pat's winning it and put it more emphasis on what Roddy was saying.
"That's the problem with the league. The thing that gets mentioned a lot is financial security. The contracts are probably the main problem. You can go from winning the league to signing on to the dole."
O'Brien concurs and feels that this negativity is affecting the perception of the standard of football both in Ireland and abroad.
"If we have people involved in our league speaking negatively about it, it just adds to the negative perception over in the UK," he says. "They think they can get our best players for little for nothing. You look at Scandinavian clubs — they're signing for 10 times those figures for the UK clubs.
"We never see a top player from this country going across the water for €1million or €2million. They see us as a very easy catch — Seamus Coleman cost Everton €60,000. And this guy's worth millions of pounds now, and there's no knock-on effect if he makes a big-money move. It's ridiculous! It's very easy to speak negatively [about the league]. What you need to do is get in there and make sure this doesn't happen again.
"We have some good players. But you hear the comments by people from the different countries and we're not well thought of unfortunately — even though a lot of players in the international team at the moment have come through the League of Ireland."
McMillan also believes that the perpetual focus on financial issues is harmful to the league at large, and feels the FAI among others need to take a more upbeat approach in this regard.
"There was talk at the start of the season — will Bray get a licence, will so-and-so get a licence. And that's all kind of negative. On the outside, you look at it and go, 'oh there's another club struggling,' as opposed to perhaps talking up Dundalk or talking up Cork.
"It seems a lot of the press releases are negative. If you can get people who are really passionate — they're obviously going to speak about the positives in the league."
(Ger O'Brien has made over 300 appearances in the League of Ireland)
Likewise, O'Brien feels the league must embrace people with experience and passion, and who will have its best interests in mind.
"Bringing people like Brian Kerr, Pat Dolan — a very outspoken person who would still have the League of Ireland at heart — even Roddy Collins. I know people think about my run-in with Roddy Collins, but some of the points he made were very valid. So it's important to get people in that will fight tooth and nail for the league. People who have an understanding of what it's like to work in the league.
"If Pat's can bring 6,000 or 7,000 people to the Aviva [for the FAI Cup final], at least 50% should be in Richmond Park every second Friday."
Another big problem with the league is player contracts, with clubs now routinely refraining from paying players during the off-season, leaving many with little option but to go on the dole.
"We all understand the situation with 42-week contracts," O'Brien says. "It's probably the most that people are getting — they find themselves on the dole for 10 weeks. It's important that you upskill yourself throughout your career. There's no point going training in the morning and sitting at home every afternoon for 10 years and realising when you're 32 or 33 that you've no prospects when you finish.
"Personally, I've educated myself on the coaching. I've finished my A licence. I'm working outside with Maynooth and a couple of other teams, helping out. That's the route I want to go down, and it's the same with other guys. There are footballers around who have gone and done physiotherapy or business courses. There's one guy with us who's re-training himself to be a primary school teacher."
McMillan, similarly, feels the PFAI are vital in this regard, in terms of encouraging players to educate themselves and prepare for a life beyond football.
"I think the PFAI in fairness have definitely come in and sat down and talked through courses the lads could do, even if it was online.
"I know a player who's started a course online and it's going to take him three years, but he'll be playing for the next three years, so once he's done, he'll have a qualification.
"But I think there has been an improvement on that on the part of the PFAI. And players are becoming more aware as well."
According to Shields, the association are even keen in having a greater input in running the league.
"The PFAI made a good point — maybe the promotion of the league should be given to them because they will promote it a lot better. They are former players after all, and probably know what's needed to promote the league. I think the FAI should give more power to them to run the league."
(Evan McMillan has played for a number of League of Ireland clubs including Sligo Rovers) 
And so where will the league be in 10 years' time? What issues must it urgently confront? Will some of these players' advice eventually be taken onboard?
"I have two big disappointments in mind," McMillan says. "One is attendances and the general interest in the league from the public. Years back, you'd see massive crowds. Dalymount Park would be filled out.
"With the attraction of the Premier League in England and all those games being available on TV, it means less people come out and watch our game. It impacts on the buzz of the game and impacts players if they're playing in a game with no one there.
"The second is the standard and the facilities. 10 years ago, clubs were paying players silly money — players who aren't better than the ones in the league now.
"A lot of clubs don't have their own training grounds. And perhaps more importantly, parents don't bring young kids. There's no entertainment at half-time and the general facilities aren't that attractive for people.
"So they'd be the two big issues that I feel the leagues are facing."
Yet despite this less-than-healthy situation, McMillan is relatively optimistic overall about the league's future.
"I know Sligo have been very good at improving their ground. They put a lot of money into their Astro pitch, into the walkway and into the stadium. Fair play to them! Players will know that they're not getting as much money, but it's clever of them. 10 years ago, clubs should have done that, instead of paying players excessively."
In addition, Shields is similarly hopeful that the bad times won't be back anytime soon.
"I would hope that the worst is over. I was involved in 2012 when Monaghan went out, and Dundalk themselves were in serious financial trouble. It looks bad for the league when you have teams dropping out. It's just embarrassing when that's happening in your top division. But you don't know what goes on behind closed doors so it's hard to give an insight on it.
"I know the FAI do a lot of work with schools and I think maybe they should pump it into the schools more. Supporting the local team — getting the parents and kids involved."
Source: RTÉ Sport/YouTube
(Dundalk emerged triumphant following an exciting climax to last year's season)
O'Brien also suggests that the League of Ireland has learned from spending "silly money" on players, while reiterating the need for the footballing community to come together and present a unified front.
"I think 'sensible' would be the word to use. We have to understand that this league doesn't get the biggest gates, particularly with the downturn in the economy. It's not just football — every industry has taken a hit.
"The League of Ireland was never getting big sponsorships, so after the downturn came, we had to manage our money an awful lot better. I think clubs have finally copped on to the fact that they can't put their eggs in one basket. I think they've learnt from the lessons of the past and seem to be a lot more sensible about their business plan.
"It's important we understand that this is our product and our league. There has always been problems with the League of Ireland — at least, in the 14 years since I started playing in it. But we've too many knockers in Ireland and across the water that don't really take this league seriously."
Keep an eye on the site on Thursday for part 3 of our feature. You can also read part 1 by clicking on the link below.