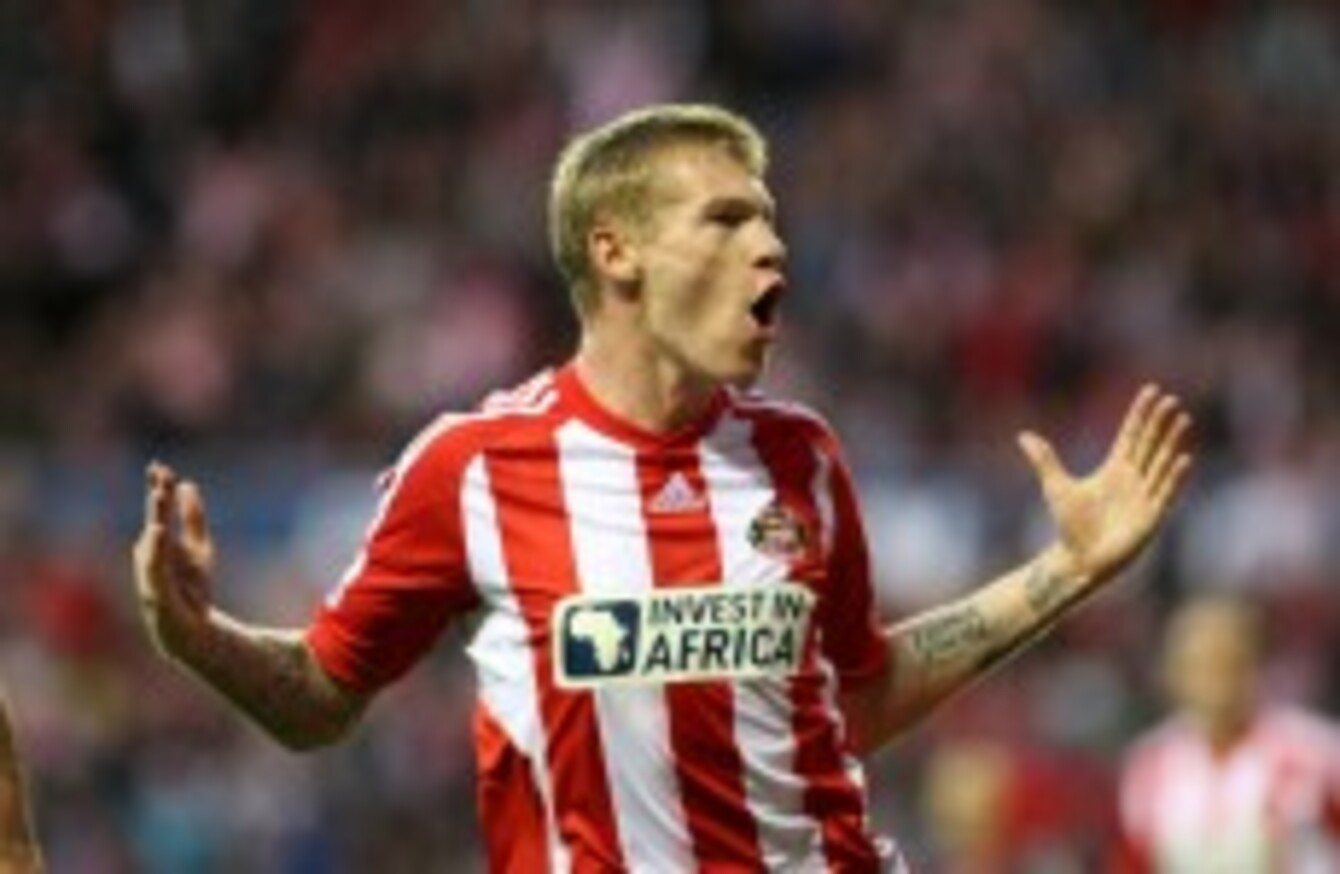 James McClean.
Image: Scott Heppell/PA Wire/Press Association Images
James McClean.
Image: Scott Heppell/PA Wire/Press Association Images
WHEN ST PAT'S defender Ger O'Brien asked Ireland international James McClean to donate something for his charity drive a week or so ago, he could never imagined the hype around the jersey he'd receive from his former team-mate.
McClean is at the centre of an apparent controversy in Britain after the Derry native played in his side's 2-1 loss at Everton in the Premier League on Saturday but elected not to wear a shirt with a poppy motif, as his team-mates did.
The Black Cats insisted it was McClean's own choice though the decision — which has been highlighted by the Daily Mail and others — will almost certainly draw criticism from Premier League stands.
The Irish winger's former Derry City colleague, Ger O'Brien now has the shirt and is auctioning it for Crumlin's Children Hospital.
"I knew he was coming over for the [PFAI] awards so I gave him a bell a week or 10 days ago to ask him to bring over a shirt," O'Brien told TheScore.ie earlier. "I wanted to auction it for charity. I didn't know until he got here about all the hype surrounding what had gone on on the day. So I said it'd probably be best if I take it to Twitter and things like that considering all the things that have gone on.
"And James has no problem with that, he's been very supportive around the whole thing. I only put it up at six or seven o'clock yesterday evening and I got to €400, but there's plenty of private messages and things like that. RTE and a couple of other stations and radio shows contacted me so I put the deadline to next Monday now and I'm hoping to get a fair few quid for it.
"It's going to a great cause; the Children's Unit down in Crumlin; they're looking to build a cancer ward and more rooms for the parents. Basically, 20% of the children that go in every year die before the age of five and they end up being stuck in hospital for a long time. The facilities should be a lot better so I think it's a great cause. There's a friend of the family's daughter is seven and she's fighting leukaemia at the moment so it's a wonderful cause and it's something I'm delighted to be supporting."
'He's going to get plenty of criticism in the UK and he'll get plenty of pats on the back in Ireland'
O'Brien says he spoke to McClean about the controversy over the weekend and says football supporters on both sides of the Irish Sea should accept his freedom to wear a remembrance poppy or not.
"It's own personal choice, whether people think he's right or he's wrong, people should respect his decision," says the Saints full-back.  "He has his own reasons for doing it — probably he's going to get plenty of criticism in the UK and he'll get plenty of pats on the back in Ireland. That's just the way the politics works in this world and the history of everything.
"But at the end of the day the money is going to a fantastic cause, James whether he knew if he was going to wear it or not I'm not sure but he doesn't really care. He was always going to donate this to me, whether it had a poppy or not. You know the children or their parents in Crumlin won't care too much, there's a bigger issue here — all the other stuff has been blown way out of proportion.
"I think that's coming from the machine of the press in the UK but James is well able to handle it."
Follow Ger O'Brien on Twitter (@gerramia) or more details on how to bid for the jersey.