MENTAL RESILIENCE IS one of the greatest and most underestimated skills needed to make it as a professional footballer, Lee Desmond admits.
Discipline, tactical awareness, executing well-timed tackles and measured passing on the deck are all crucial in the modern game. But added together they mean nothing unless you have the right frame of mind and maturity off the field to put them into practice, in training and on the pitch.
Becoming a footballer at a Premier League club is something thousands of Irish kids dream about growing up. Signed to a professional contract by Newcastle United at the tender age of 15, Desmond saw that dream become a reality.
Brought across the water from Cherry Orchard, he trained and played with the underage teams before moving up into the reserves; a side that took part in sessions with Alan Pardew's first team boasting players like Yohan Cabaye, Demba Ba and Hatem Ben Arfa, who would finish in fifth spot and qualify for the Europa League in 2012.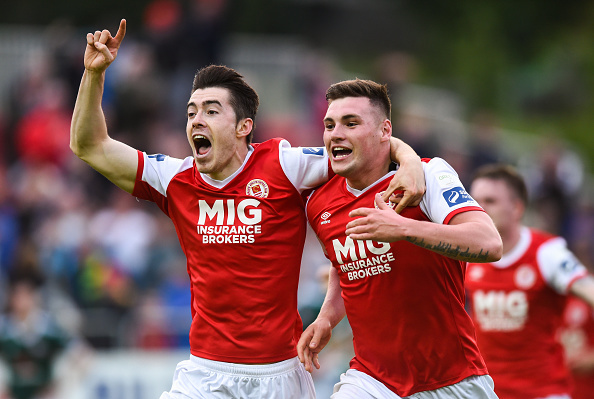 David Fitzgerald Desmond celebrates with team-mate Kevin Toner. David Fitzgerald
There was the prestige of the badge, the title as a Premier League youth player and all the best training facilities imaginable, but the experience was nothing like the picture everyone back home has of a dreamy, well-paid paradise where nothing can go wrong.
The highs are there, he says, and reaching such an accomplished level when so many others fell by the wayside is something he is remarkably proud of. But more often than not people don't understand the hardship, the loneliness and the pressure that comes with leaving your family and friends behind to try and make it.
Out on your own two feet as a kid in a foreign country, still a child who hasn't yet learned the ways of the world; the day-to-day reality just isn't the picturesque fantasy it's made out to be.
The dream being sold quickly disappears underneath a smokescreen and, thrown aside unless you're in the one per cent deemed good enough to progress to the next level, that same dream that was packaged as everything you ever wanted is snatched away just as quickly as it was offered.
Honestly, it's not everything it's made out to be," the St Pat's defender says. "I was injured for my whole first year over there, I actually went over with an injury I picked up with Cherry Orchard.
"I'd say I missed 95% of that first year, so I didn't really get going until the second season. When you're injured at 16 in a new environment living with a new family, it's really difficult. You're not on the pitch getting to know the lads, you're in the gym all day.
"You're living with people where, you might get on with them grand, but at the end of the day they're not your family, they're not your best friends, you're not 100% comfortable.
Laszlo Geczo / INPHO Desmond has made a number of appearances for Noel King's Ireland U21 side. Laszlo Geczo / INPHO / INPHO
"I was coming home having been in the gym all day doing rehab, not on the pitch playing football. Doing that every day as a 16-year-old in a new country, it's very hard.
Things settled down in the second year, the homesickness went away and I was in and out of the reserve team at 18. But at the end of the day it wasn't enough, which was heartbreaking for a couple of weeks.
"Then you just have to get on with it and say to yourself 'right, I'm going to prove them wrong' and try and find your career in football elsewhere. Looking back on it all, coming back to Ireland was the best thing that happened to me."
The centre back spent two years at St James' Park plying his trade at an elite level all young boys dream about. But reflecting a few years on from the experience, he says he would have done things differently, even though he does not for one minute regret his time in England.
"I wasn't mature enough and I've only come to realise that in the last few years. It's so difficult going over, the reality isn't what people think it is.
Fair enough there are great times, you're at a Premier League club getting to train with the first team. But from my point of view there were more hard times than good times, because I struggled with homesickness and was injured for so long.
"Having said all that, it was still a brilliant experience because you actually went out and did what every young lad dreams of, which is to play at a Premier League club."
Having spent two seasons at Shelbourne after coming home in 2013, Desmond is now making strides at Richmond Park in his fourth season at St Pat's. Growing from a young and raw 19-year-old, he has developed into one of the SSE Airtricity League's most consistent, mature and talented ball-playing defenders.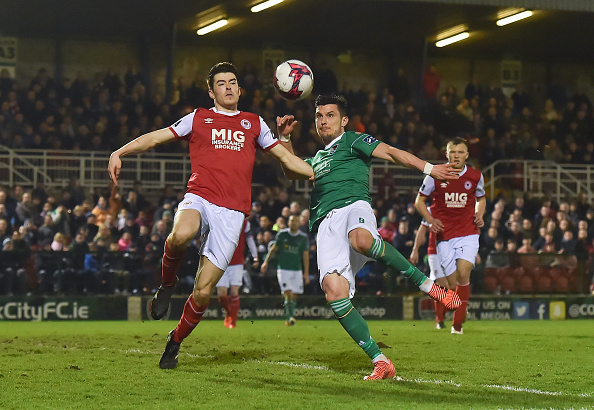 Piaras Ó Mídheach The Dubliner competes for possession with Cork City's Graham Cummins. Piaras Ó Mídheach
Going over to England at such a young age was an opportunity he simply couldn't turn down, he says. In hindsight he admits the move came at the wrong time, because no 15-year-old should make the risk of going abroad alone with little education, in case things don't turn out as imagined.
Due to the nature of such academies, the majority of players won't make it, but that won't stop any young Irish footballer from trying, he says. If you admit to yourself any doubts of not being the best, then you definitely won't make it, so goes the rationale.
But knowing one's limitations, seeing the long-term picture and having a Plan B are fundamental, Desmond says, even though the pressure to go abroad and 'make it' in England clouds every young footballer's judgement at such an inexperienced age to be making life-changing decisions.
"I think that's how a lot of people feel, that it's the end of the world if you don't get a move to England when you're a teenager," he says.
Obviously it's not the end of the world at all and if I were to speak to 15, 16-year-olds now I would tell them not to go to England. But what teenager is going to say no to a Premier League club?
"You see lads going over and making proper careers for themselves in League One and in the Championship now, waiting a few years before they go over.
"They're leaving when they're 20, 21 and it just proves you're better to go when you're more mature and have an education in your back pocket. Those extra few years make all the difference.
"I was at that age of 15 where everyone's goal is just to get to England. If you don't go everyone thinks 'that's it, you're not going to have a career as a footballer', which is absolutely ridiculous, and you only realise that when you're a bit older.
"You realise that there's more to life than going to the UK at 16."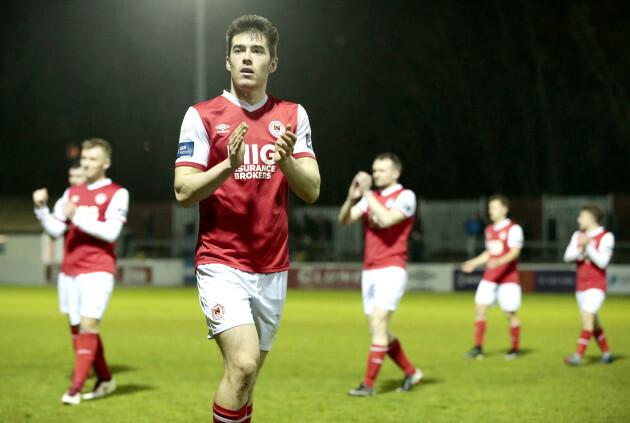 Bryan Keane / INPHO The defender has been a constant presence in defence for the Saints this season. Bryan Keane / INPHO / INPHO
The Dubliner says that moving up from DDSL football with Cherry Orchard to playing at Newcastle was not the giant leap many would expect in terms of performance level. He says that making the next step after that, from youth and reserve team football to playing at a senior level was what separated the haves from the have nots.
"Believe it or not it wasn't a massive step up," he reflects. "U18 football over there — some of the DDSL teams would easily compete with them, big time.
The reserve league is 19, 20, 21-year-old lads who have no experience of playing senior men's football. Sure, they're brilliant prospects, but it's only when you make that step up to men's football that you really have to learn and come out of your shell.
"That's what I needed at Shelbourne when I came home, to learn how to hold your own at that level and in that environment. That's what real football is.
"You see lads in reserve teams over in England and there's a lot of talk about them, but it's only when you go up to senior competitive football that you understand what you need to demand of yourself."
After two years at the Magpies, Desmond received the news at the end of the 2012/13 season that he would not be getting a new contract, meaning he would be returning to Ireland. Called into an academy office to be informed of the decision, it was a hard blow to come to terms with.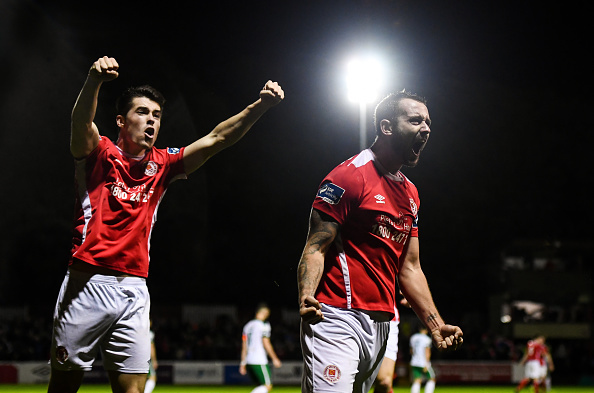 Stephen McCarthy Celebrating a goal scored by team-mate Kurtis Byrne last season. Stephen McCarthy
"I was asking for a few weeks what was happening with me the next year, because they weren't giving me an answer for a while," he says. "Eventually I went into the office with the head of the academy and he just told me: 'look we're not going to be renewing your contract'.
"I have to say the first few days were very hard. You think 'right that's it, that's my career as a footballer over'. I didn't know much about the League of Ireland at that time. Then I came home and realised I'm coming back from Newcastle but I'm only 18-years-old and not good enough to get into a senior team here.
I went to Shels U19s for a year or two and thankfully did well enough to earn a place in the first team. Then I got the move to Pat's. But just because you've been in an academy in England — that means absolutely nothing. You have to go and prove yourself all over again."
The nature of sport means when there are winners, there has to be those on the receiving end who don't taste victory. Often times the best success stories are the ones stored away and worked upon quietly in silence, harking back to that famous Rocky line of life not being about how hard you can hit, but about how hard you can get hit and keep moving forward.
Desmond says that the structure of youth team football, based on competition and survival of the fittest and most talented, means the vast majority don't reach the heights that were promised to them as a teenager, meaning many struggle upon returning home to Ireland, with some just quitting football altogether.
I completely understand the amount of lads that come home and really struggle," he says.
"It is really different in terms of facilities. Some people have it in their head that they're going to make it in the Premier League, then all of a sudden they're back in the League of Ireland and it hits hard.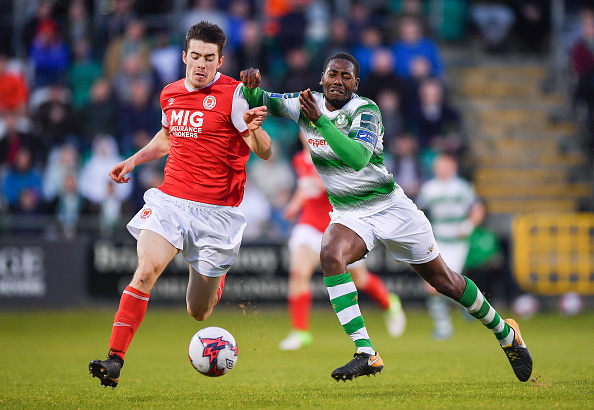 Seb Daly Competing for possession alongside Shamrock Rovers' Dan Carr. Seb Daly
"You have to have the right approach and be in the right frame of mind to just get on with it and work hard all over again. It's such a rollercoaster, it really is. I understand how so many lads struggle, but thankfully I had the right people around me to help.
I'm not saying that I'm after coming home and doing brilliantly and will be flying back over, but the amount of talented lads that quit playing football is unbelievable. In those cases they might not have been in the right headspace or had the right people around them. It is honestly so difficult."
The 2018 season has been one of immense progress for the young defender who, still aged just 23, has more than enough ability and time on his side to earn another big move.
An integral part of a Pat's defence which kept nine clean sheets from their opening 17 Premier Division games this season, his ability is clear for all to see and has been for a number of years by Saints supporters who fear the day Desmond moves onto pastures new, even though they would be delighted for him personally.
Players like former teammate Chris Forrester, Sean Maguire and now Graham Burke have shown that not making it in England the first time around does not have to be the end. All have succeeded in working their way towards a second bite at the cherry through sheer force of unrestrainable will and hard work.
Comfortable with the ball at his feet, lightening quick to anticipate sliding challenges and willing and able to bring the ball out of defence with his head up, Desmond has a number of attributes which would fit the bill at any number of top clubs, both at home and abroad.
But having been in England before, working towards another move across the water is not his biggest priority at the moment. Rather he is considering the potential of moving abroad elsewhere, such as in Europe or America, as the next move further down the line. But nothing in the immediate future, he reflects.
I'd say I'm definitely still young enough. But is going back over to England a goal of mine now? No, it's not. I want to do well here and try and be the best player I can be for St Pat's. I would hope to play abroad again, but whether that's in the UK I'm not too sure.
Cody Glenn The player said he would potentially think about a move to the US in future years. Cody Glenn
"I'm looking at places like America further down the line, but there's nothing immediate because I'm quite happy at Pat's playing and living here in Ireland at the moment.
I probably would like to play abroad, but to be honest I'm not sure about the UK."
He pauses, before laughing: "Having said that I might feel a bit different if someone offered me a nice contract.
"But right now, I'm happy."
Having made it to the Premier League, represented his country at U21 level, played in European competition, received honours both individually and as part of a Pat's team that he has shown a consistent loyalty towards in recent years, Lee Desmond has done immensely well for himself at just 23, even though he is too modest to take the praise.
Speaking with the young defender — a player you can't help but feel would excel in European football across the continent with that natural ease with the ball at his feet playing out from the back in a fluid, passing style — you get the sense that he really is content and that he is happy.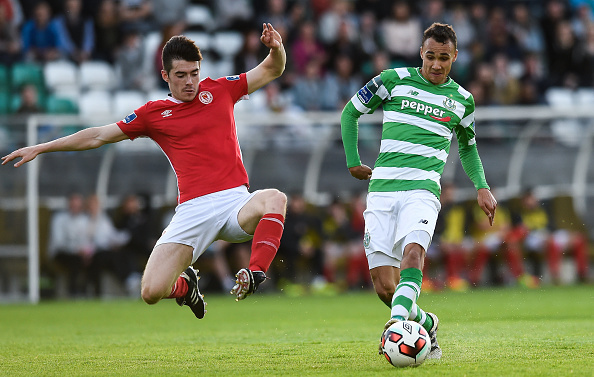 Matt Browne Desmond challenges Shamrock Rovers playmakrer Graham Burke at Tallaght Stadium. Matt Browne
That fact, at the end of the day, is all that matters. A rollercoaster journey, as he calls it, is perhaps the best description of any career in football.
An exciting journey of ups and downs, he is an example of a young footballer with maturity beyond his years who has risen to the very top and been knocked down, but made the conscious decision to stand back up again and fight the good fight when it would have been easier to call for the bell and call it quits.
Much done, much more to do and plenty of time to do it with, he is an example to all young players that more often than not it's about how hard you can get hit and keep moving bravely forward, all with a mental resilience that won't give in.
The42 is on Instagram! Tap the button below on your phone to follow us!