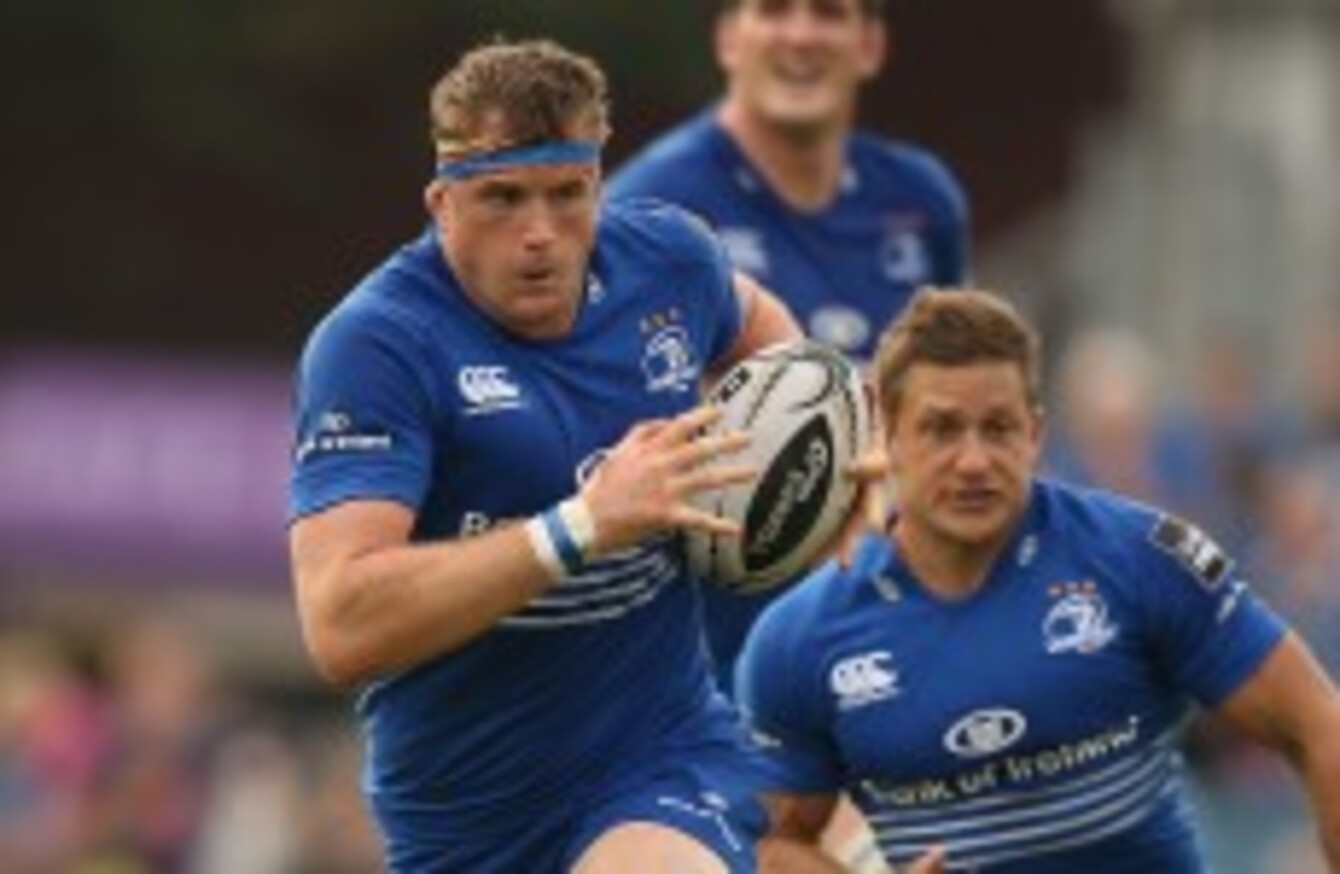 Jamie Heaslip's rounded skills were important against the Scarlets.
Image: Inpho/Billy Stickland
Jamie Heaslip's rounded skills were important against the Scarlets.
Image: Inpho/Billy Stickland
LAST SEASON SAW Leinster prioritise defensive improvements under Matt O'Connor, but the Australian is likely to focus on providing his squad with a more rounded attacking game plan during this campaign.
The concentration on adding width and, subsequently, line speed to Leinster's defence in 2013/14 came about on the foot of meetings between management and senior players – leaders within the group felt the province had given up too many easy metres at times under Joe Schmidt.
The improvements sparked by O'Connor as a result remain in progress, but there is certainly room for growth in Leinster's attacking play. The scrummaging and mauling strengths of last season will hopefully continue, as the Australian head coach targets a broadened game plan when his side have possession.
Fresh shape, broadened focus
While every individual game plan includes elements that are specifically intended to target opposition weaknesses identified pre-match, we can look to specific games for hints as to where a team is heading tactically.
Against the Scarlets last weekend, O'Connor's men operated with an increased focus on moving the ball into wider channels. At times, this tactic involved using forwards as passing options, something we didn't see a huge amount of from Leinster last season.
Above, it's Jamie Heaslip who acts as the link player, taking a pass from scrum-half Isaac Boss and sending it out the back door to the deep-lying Jimmy Gopperth. The out-half is afforded time on the ball as a result of the link, meaning his long pass can then help Leinster to skirt around the Scarlet's line speed in defence.
This set-up from Leinster in open play is nothing revolutionary, but it can be difficult to organise in a high-tempo game.
Heaslip [1, red oval in the image below] is the passing option in the middle of a trio of forwards a few metres away from the preceding ruck. Inside the No. 8, Jack McGrath [2, yellow oval] looks to threaten before and after Heaslip receives possession.
Outside, Mike Ross [3, blue oval] will perform a similar role, while also attempting to get a slight block in on the defenders after the ball has been moved away by Heaslip.
On this occasion, Heaslip makes a good decision to send the ball out the back to Gopperth [4, red oval] and Leinster manage to make more than 10 metres over the gainline wide on the left.
The benefits of this shape are that Leinster have a range of options.
In the second example below, we see Heaslip opting to carry the ball himself as he comes under pressure from the rushing Aaron Shingler.
This time the set-up from Leinster is not quite as clean. Below, we see that Heaslip [1, red oval] is again in position to act as the linking player, with McGrath [2, yellow oval] to his right and a little deeper than Ross was in the first example.
Inside Heaslip, Ross [3, blue oval] is ahead of his No. 8 and therefore a reduced threat to the Scarlets' defence. His hands are down and he's not really a viable option for an inside pass when Heaslip gets the ball from Boss.
SEE SPORT
DIFFERENTLY
Get closer to the stories that matter with exclusive analysis, insight and debate in The42 Membership.
Become a Member
In the end, Heaslip takes the low-risk option of tucking the ball under his left arm as Shingler sprints forward, but there is a brief glimpse of space to Shingler's right which Leinster may feel they could have exploited.
As Shingler rushes up, he leaves a disjoint in the Scarlet's line, one which McGrath could have powered into off a short pass from Heaslip. It probably wouldn't have led to a bust, but it was far more likely to provide gainline progress.
The underlying point is that these options exist for Leinster in this particular shape; Heaslip can carry the ball, send it out the back door, or slip passes to fellow forwards inside and outside.
The most effective structures in rugby – be they backline moves, line-out set-ups, shape in open play or kick-off strategies – are multi-option.
While the execution was not always clean against the Scarlets, O'Connor will have been pleased to see his side get into position for something they had clearly worked on in the build-up to the game.
A little later in the game, we saw Leinster use the shape in the examples above more effectively, leading to what should have been a try for hooker Sean Cronin.
This time it's Shane Jennings who acts as the passing link in the forward trio, and he is set up considerably wider than in the first two examples. Mike McCarthy and Ross are the forwards inside and outside Jennings, while it is again Gopperth out the back door.
The Scarlets' initial attempt to put some line speed into their defence is once again negated as Leinster skirt outside and Heaslip makes a clean break on the right shoulder of prop Rhodri Jones.
O'Connor is likely to have been enthused by this passage, even if it ended with a botched effort beyond the tryline.
Devin Toner got in on the linking passing too in the first half at the RDS, sending an intelligent pass to Gopperth, allowing the out-half to float his assist out to Ian Madigan on the right.
In this instance, Toner has both forwards outside him in McCarthy and Ross, but the pass itself is extremely similar to those in the first three examples cited above. The intention is to lure the Scarlets' defenders into narrow areas and then skirt outside them by manufacturing space with a deep pass.
While Leinster are unlikely to come up against too many defences as narrow as the Scarlets, there was certainty encouragement to be taken from their attacking shape and use of forwards as link players.
Yesterday, we touched upon Leinster's use of two passing options in the backline to move the ball to their back three, a further clue that O'Connor wants his side to attack in a more ambitious manner this season.
The province's performance against the Scarlets was far from perfect – as acknowledged by captain Heaslip afterwards – but it was some improvement on the disappointing outing against Glasgow a week earlier.
In an attacking sense, Saturday gave us hints as to how Leinster may attack this season, but the development of this side of their game will be keenly watched in the coming months.