WITH TWO WEEKS remaining until their pre-season gets underway, there's still been no movement from Leinster on appointing a new head coach.
Kurt McQuilkin has joined the province on a two-month contract as a defence specialist, but it's looking likely that Leo Cullen will lead the province into the season at the helm of the coaching team.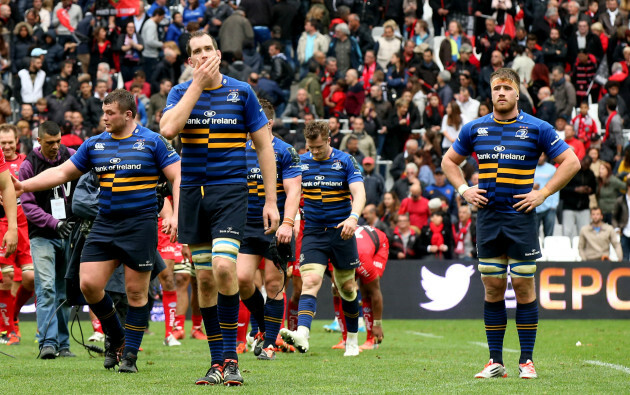 James Crombie / INPHO Leinster lost out in the Champions Cup semi-finals in 2014/15. James Crombie / INPHO / INPHO
The former lock, who retired from playing as recently as 2014, was appointed head coach on an interim basis after the departure of Matt O'Connor, with academy manager Girvan Dempsey promoted to take control of the backs and attack.
Initially that was seen as a measure for the pre-season, but a lack of interest in the Leinster job has taken their Professional Games Board [PGB] somewhat by surprise and it may be that Cullen and Dempsey actually end up in situ until the turn of the year or even for the entire 2015/16 season.
The fact that Leinster's PGB seemingly had no set plan in place when they parted ways with O'Connor has been one of the most alarming aspects of this episode, and it's understood that even some of the province's players have been frustrated by that lack of planning.
The PGB's impression was that the Leinster job was highly coveted and while they have had coaches making contact about the vacant head coaching position, there has been a lack of the expected quality in those propositions.
The stark reality is that the Leinster gig simply isn't hugely attractive for top coaches right now.
World Cup duties mean the eastern province could be shorn of somewhere in the region of 15 players for the opening rounds of the Guinness Pro12, then the same again during the 2016 Six Nations.
Even a handful of defeats during the international windows would potentially leave Leinster in a poor position for the 2016/17 European season due to the Pro12 qualifiers now being meritocratically decided.
Just two weeks after the World Cup ends, Leinster's Champions Cup campaign gets underway against one of Toulon, Bath or Wasps, with another European tie a week later.
Cathal Noonan / INPHO Cullen is heading into his second season as a professional coach. Cathal Noonan / INPHO / INPHO
That fortnight-long window to prepare the team certainly isn't alluring for any renowned head coach looking at the Leinster gig, although the same applies for any burgeoning coaching talents glancing at the job.
O'Connor's brief but public spat with Joe Schmidt and the IRFU over the player management system is another negative; it's very clear who the top dogs in Irish rugby circles are.
Having limited influence in terms of recruitment at Leinster, both due to the NIQ regulations and a far smaller base of investment from non-union sources than in England and France is another reason the Leinster position doesn't look too tasty for some.
The awareness that a Pro12 title, Champions Cup semi-final and Heineken Cup quarter-final over the course of two years isn't enough to satisfy the province is yet another red X for those who might have been candidates to succeed O'Connor.
Clearly, there are factors that might be attractive at Leinster – none more so than a talented playing group led by the likes of Johnny Sexton and Sean O'Brien – but given the timing, the World Cup season, everything else, those elements fade from the foreground.
The appointment of McQuilkin is certainly a wise move from Leinster, given that he is a strong character, understands the province intimately, and is a superb coach on a technical, tactical and mental level.
Though he may well have eyes for the Ireland position to be vacated by Less Kiss post-World Cup, Leinster would do well to tie him down for the remainder of the season at least.
There is still a possibility that Leinster's PGB will pull an impressive rabbit out of the hat, but the feeling right now is that Cullen, Dempsey, McQuilkin, new scrum coach John Fogarty and skills specialist Richie Murphy might control the 2015/16 campaign in its entirety.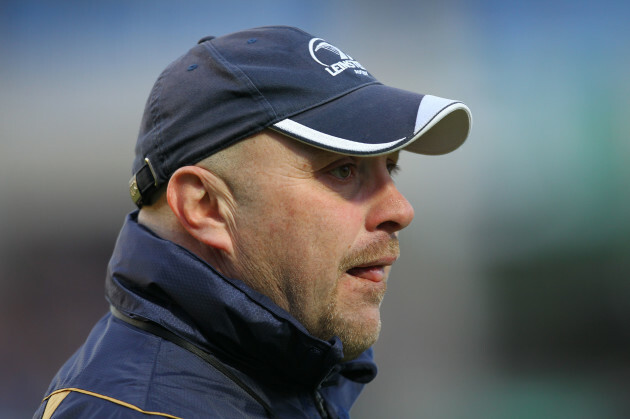 Billy Stickland / INPHO McQuilkin is highly-regarded within Leinster. Billy Stickland / INPHO / INPHO
There is further scope for Leinster to bring in an attack specialist from abroad – such as Tony Brown – to allow Dempsey to continue his superb work with the academy, but it's unlikely to be a big-name addition.
Allowing Cullen and that backroom staff a season to prove themselves would also provide Leinster with time to recruit a top man of the highest calibre to join in the summer of 2016, giving that person time to map out the full pre-season himself and with no World Cup to worry about.
Similarly, waiting until the end of 2015 would allow the Southern Hemisphere season to finish up, potentially opening possibilities from that part of the world. Again, the chance to come in in January and begin to plan the 2016/17 season with a 'free shot' at the second half of 2015/16 is more attractive.
The timing for those scenario would certainly be far more ideal, the Leinster job looking a great deal more enticing. Conor O'Shea's Harlequins contract expires at the end of next season and he would certainly be the type of figure the province would love to appoint.
A former Leinster player himself, with a proven track record both as a hands-on coach and now as director of rugby at Quins, O'Shea is the kind of strong personality that Leinster appear to be crying out for.
If it proves to be the case that Leinster give their young interim coaching team six months or even a full season in charge, Cullen and co. would obviously be intent on proving themselves to such an extent that they became the long-term staff.
A challenge and an opportunity.