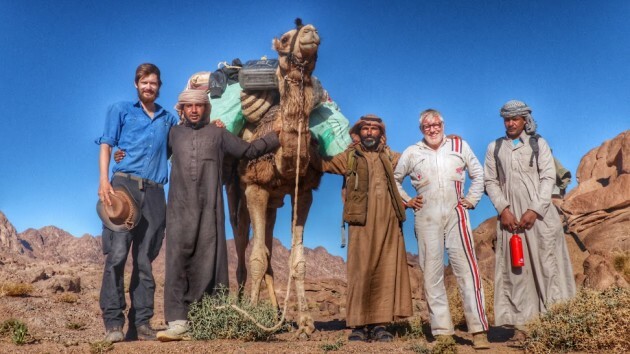 Team photo.
IRISHMAN LEON MCCARRON has spent the past eight years going on adventures across various parts of the world.
However, he had never before experienced anything quite like the 1500km walk he undertook in a bid to reach the summit of Mount Sinai in Egypt.
Now that this arduous journey around the heart of the Middle East has come to an end, McCarron has mixed feelings on reflection.
"It's sort of strange to reach the end of a long journey like that," he tells The42. "This one took nearly four months. You can sort of tell yourself it's the end, but it doesn't really feel like it until a few days later when you're not walking anymore. It's a pretty epic and fitting end point for a journey like that.
This beautiful mountain (Sinai) with all this history and everything else attached — there was a bit of relief in there and a bit of being slightly overwhelmed by the whole situation too.
"It's nice not having to walk 40km every day. But you see so much every day and you have so many new experiences and new memories, so it's always a bit disappointing not to have that when you stop."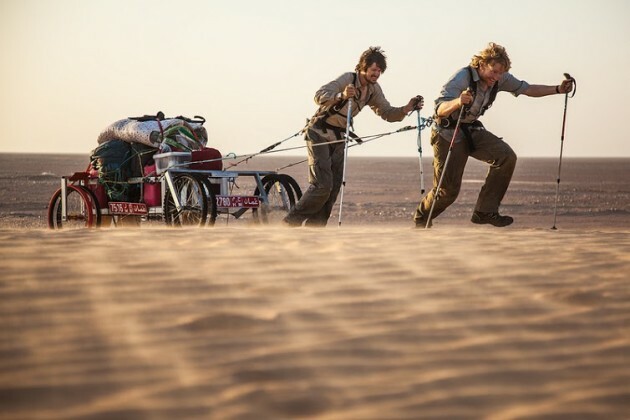 Cart pulling.
The 29-year-old adventurer from Derry began his journey in December 2015, following a number of new and innovative walking trails that were established on 'Walk the Masar' (masar means 'path' in Arabic), including the Masar Ibrahim (in Palestine), the Jordan Trail and the Sinai Trail.
With the intention of documenting his journey in the form of a book and a series of short films that he is currently working on, McCarron wanted to look beyond the media portrayal of a conflict-ridden Middle East and discover the people, the stories and the communities that inhabit this exotic land.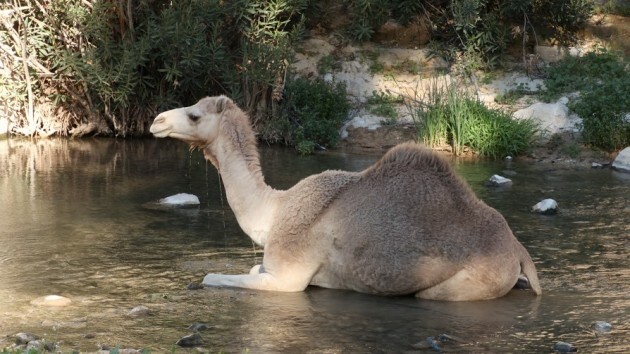 Camel wash in Wadi Hidan.
He was also determined to complete the journey atop Mount Sinai — a location that has been romanticised largely due to the numerous mentions of it in the Bible (it was the place where Moses received the Ten Commandments).
"The last few years, I took a couple of journeys to the Middle East and I realised there's a huge amount of preconceptions and misconceptions about that (area) of the world," he says. "I like walking. I think it's a great way to meet people and to gather these stories.
Especially growing up in Ireland, the Holy Land is a place you hear about endlessly through childhood, or at least I'm sure most of us do. All these names seem so familiar — Jerusalem, Bethlehem, Jericho and Sinai.
"I was curious to see these places for myself anyway, but I thought it would be nice to see the journey around that part of the world, which is these days geopolitically hugely complex and conflicted — there's a lot going on. But to mostly stay away from that side of it. Just to try to see what it's like at ground level. See what people are really like there and see if there is a different story to be told other than constant squabbling and conflicts."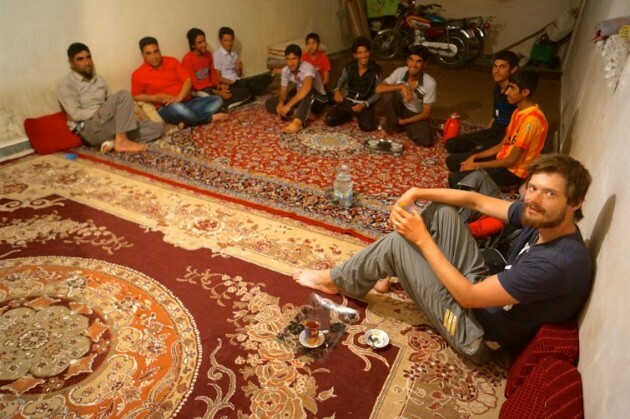 Dinner with villagers.
A big problem arose early on in McCarron's journey. He had originally been travelling with writer Dave Cornthwaite, but after three weeks of trekking north through the West Bank and Jordan Valley, the adventure was put on hold.
Cornthwaite suffered two stress fractures in his left foot, and while they initially thought his injuries would heal promptly after a short period of rest, a second opinion decreed that a full recovery would take months rather than weeks.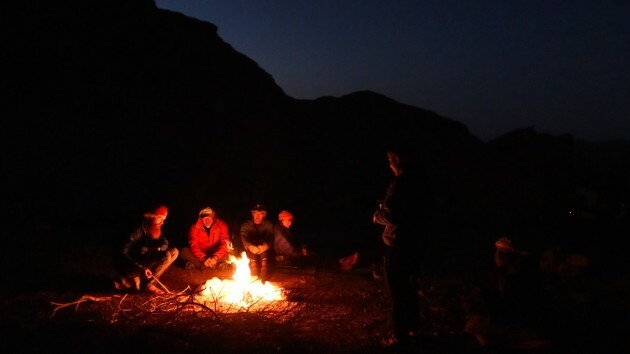 Campfire in Wadi Qseib.
McCarron was consequently left with little choice but to set off again on his own — a situation he found freeing and daunting in equal measure.
It was quite scary having no one else to rely on, you have to do everything yourself — it's a different proposition altogether.
"All the big stuff is almost easier in a way on your own. You get more in touch with your own intuition and for good or for bad, you begin to make snap decisions. You also become quite good at dealing with that sort of thing on your own.
I've done a lot of it before and I became quite confident with it all. But the time alone — it's just hours of walking. In central Jordan, it's very beautiful, but there were long stretches where I didn't see many people. Maybe just a couple of shepherds a day across the hillside.
"You've a lot of time inside your own head and with your own thoughts. It's a bit of a cliché, but you really have to try to force positive thinking on yourself.
"I found that if I woke up a bit grumpy because I hadn't slept that well or if I was a bit tired and didn't fancy walking up another big mountain, after about five hours on my own, you'd just be completely miserable. So I'd wake up and try to force myself to be happy and positive. And it worked — it amazed me how much you can trick yourself."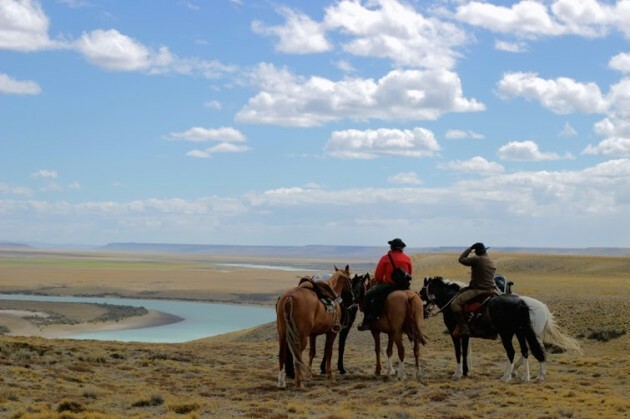 Walk the Masar.
McCarron would walk anywhere between four and 12 hours on any given day, largely depending on how many people (if any) he came across, generally setting off as early as 6am before winding down at 4pm — roughly an hour before sunset given that the journey mostly took place in the depths of winter.
"These types of journeys are great, because you tend to meet interesting characters. I think the further away you get from towns and civilisations, the more interesting the characters are. I certainly met quite a few eccentric people.
"A lot of my journey was quite fleeting interactions — I might spend three or four hours with someone, which would have been a lot on a trip like that, but in the scheme of things, it's not a huge amount.
So I'd kind of just try to get them to tell me as many stories as they could and then I'd move on. But that's what keeps it interesting — if everyone was the same, it wouldn't have been half the trip it was. So it was quite nice not knowing who or what was around the corner.
"That whole part of the world is kind of famous amongst people who've been there for being friendly and generous. It's part of the culture in the Islamic faith. It's also culturally part of people's identity that they want to be hospitable.
So they would often stop me and make sure I had everything I needed. And sometimes, they would try to go one step further and give me something. Generally, it was something that I didn't need or want — one of the oddest ones was a half empty can of beer that some guy gave to me as he was driving past.
"It's another funny part of it, because Jordan and Palestine are predominantly Islamic nations. But there's quite a big Christian community in them as well, so in most entirely Muslim countries, there's not much alcohol doing the rounds publicly, but in Jordan and Palestine, there's quite a lot. So you'd often be getting guys driving round in cars with cans of beer, bottles of whiskey and so on."
Empty Gobi.
The journey, McCarron says, reinforced his view that most people are inherently good. It also strengthened the Irish adventurer's belief that the area isn't as dangerous as the majority of outsiders assume.
Of the three places I was in, Jordan was entirely relaxed and safe as it always is. Jordan's problem is that it has all these neighbours who have quite big problems going on. It's bordered by Iraq, Syria, Saudi Arabia, Israel. So Jordan was completely fine, because nothing really happens inside its borders.
"Sinai was the one, certainly from the people I spoke to, that had the worst reputation, and Sinai was completely safe. It was separate from the North, where there has been trouble recently.
The South is separate and feels so empty and calm, and there's very few people there and it's just beautiful, so that was 100% safe. Palestine was too. The West Bank is always a bit tense, especially when we started in December.
"Tensions in the Israel-Palestine situation were quite high, so Jerusalem was on quite high alert, and there were a lot of armed guards around. We didn't really camp out that much in Palestine for basic safety reasons, so we took precautions. We didn't see that much or hear that much, but we were certainly taking a few more precautions than we did anywhere else."
Palestine.
Discovery TV endurance athlete and friend of McCarron, Sean Conway, later joined the journey for the final part of the trip in Wadi Rum, in the process providing the exhausted adventurer with some much-needed company.
It was nice just having someone that you can talk nonsense with for a while — that's always the best part of these things," he explains. "I think he really enjoyed it too, he hadn't been to the region at all, so it was a big learning curve for him."
Now that he's physically spent after this taxing experience, McCarron will spend the next six months exhausting himself mentally, as he works tirelessly to document his experiences in short film and book form. Having been raised on the classics of travel writing by authors such as like Ernest Shackleton and Wilfred Thesiger, as well as epic movies such as Lawrence of Arabia, he certainly has plenty of first and second-hand inspiration to draw on.
"I like more contemporary travel writing as well," he adds. "That was what first got me excited — just seeing the world and experiencing it, and ultimately trying to report back and share it as well."
Filming a local in Palestine.
And once McCarron has finished writing and filmmaking, he will likely move swiftly on to his next adventure — though he doesn't know what it will be yet.
I've been doing this for about eight years now, and kind of making a living from it — I go up and do a journey and then produce some content from it that I think people will find interesting, release that and slowly save up money again through all that stuff to go off and do another journey.
"I'm not sure what that will be yet, but I always have a notebook full of ideas and just keep my ears open and see if there's anything particularly exciting. But it'll be a good six months before I'm able to do any of that. I'll probably be locked away at my writing desk until then.
Most of the journeys I've done in the past have just been going somewhere because I think it seems interesting and when I get there, I figure out the best way to travel. I just walk wherever I can find a path or a road or whatever.
"On this one, I was mostly following very new local housing trails that had been built. There was one in Palestine, one in Jordan and one in Sinai. They were very new. Very few people apart from the locals who built them have actually been on them. It's very exciting — that whole region is opening up for adventure tourism. And they're brilliant — it's world-class hiking. I'd definitely encourage as many people as possible to think about taking them on."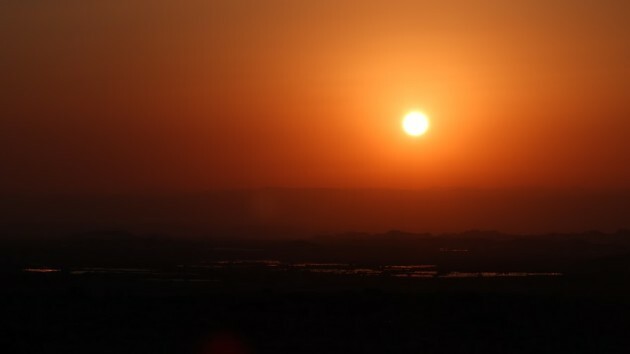 Feynan sunset.
And finally, does he have any words of wisdom for aspiring adventurers?
My best advice and the thing I've benefitted from hearing is just someone really telling me to go and do it — not to wait for all the stars to align and to have the right amount of money, the right companions, the right expertise and everything else.
"Just get out there into the world — that's the best way, because if you do that, you never really look back."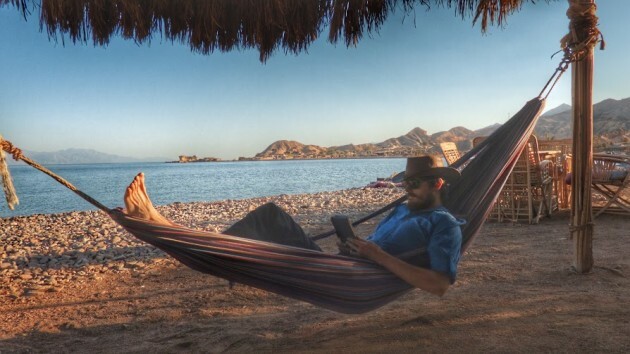 McCarron relaxes in a hammock in Ras Shitan.
For more info on Leon McCarron's journey, visit the official website here. You can also follow him on Twitter here and Facebook here.
The42 is on Snapchat! Tap the button below on your phone to add!