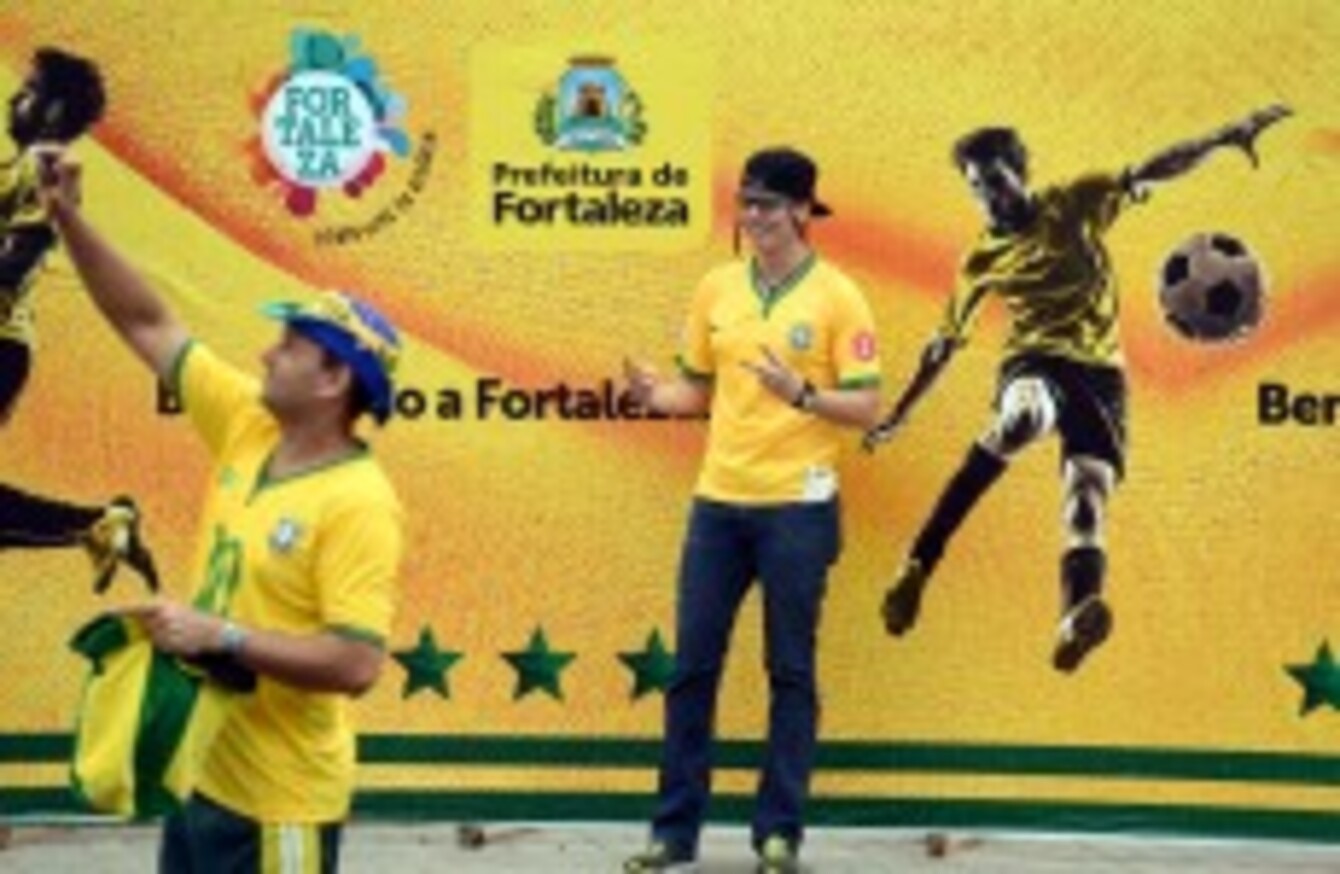 Brazil fans on the streets of Fortaleza.
Image: Joe Giddens
Brazil fans on the streets of Fortaleza.
Image: Joe Giddens
Mikey Stafford reports for TheScore.ie from Fortaleza
THE DESERTED BEACH and promenade along Beira Mer was like a scene from 28 Days Later and when the Brazil fans finally re-emerged from in front of their televisions after the 0-0 draw with Mexico many stumbled slowly around, dead-eyed, like zombies.
Their city's time to shine almost ended in disaster as Luiz Felipe Scolari's side came perilously close to suffering only their second group-stage defeat in 44 years. Fortaleza's seafront did host a party last night but, like the main event that preceded it, the Mexicans dominated proceedings.
Twenty-eight days from last night, Brazil are supposed to be basking in the glory of a sixth World Cup, a first won on home soil.
Now people are not so sure.
Some are even turning from the one true faith of Seleção. My girlfriend was approached by a representative of a Christian mission called "Cities for Christ" while watching the increasingly tense second half outside a packed bar on the seafront.
Evangelicals are not often known for the subtlety of their message and the short pamphlet welcomed its reader to the World Cup, wishing their respective team good luck, before stating that being declared a righteous follower of the "one true god" is the "ultimate goal".
Despite their efforts, Christ was still playing second fiddle to football in this city last night and while Scolari and his team may have lost a little of their lustre, the people have not yet lost faith.
Scolari was tetchy as he defended his team's performance in the post-match press conference but by the time he was leaving the dressing room for the team bus he was smiling, even stopping to embrace a couple of familiar faces among the journalists present. His players were also at ease, though none of the English speakers among them were in the mood to stop and chat.
Full marks to Júlio César though, who responded to TheScore.ie's request by saying, in perfect English, "Sorry man, but I don't speak English". Perhaps he has that stock phrase in a foreign language, like my go-to sentence when stuck in a German city: "Enschuldigung, wo is die bahnhof?"
Brazil's hopes have not left the station by any means and they will be expected to secure the requisite goals against Cameroon to top Group A and set up a second-round encounter with the runners-up of Group B, most likely Chile or Spain.
Mexico's recent record against Brazil, winning eight of their last 15 meetings — including the 2012 Olympic final — illustrates how awkward an opponent they are for the Seleção, but the manner of last night's draw was disconcerting.
With Oscar failing to reciprocate his performance in the opener against Croatia, the Brazilian attack was overly-reliant upon Neymar, who was excellent without quite managing to grab the game by its peroxide-blonde roots.
Fred was offside, predominantly, and Ramires did such a poor job of deputising for Hulk that he was withdrawn at half-time.
However Brazil's real problems are in the centre of midfield, where Paulinho and Gustavo — receiving paltry support from those in front of them — were completely over-run by the Mexican three of Héctor Herrera, José Juan Vázquez and Andrés Guardado.
Scolari must surely now consider the industrious delights of Willian in the middle of the park and look for an alternative to Fred up front as the Fluminense striker's ability to link play does not adequately compensate for his performance in front of goal.
That said, Brazil would have won the game were it not for the remarkable, career-defining performance of Guillermo Ochoa in the Mexican goal. The-28 year-old is currently without a club having been released by Corsican side AC Ajaccio, but should not have to wait long for offers after yesterday, as he channelled Gordon Banks to repel Neymar's wonderful header, as well as a number of other point-blank saves.
Without Ochoa's heroics Brazil fans would have strode out of the Estadio Castelao with the same purpose and belief with which they entered. Instead they stumbled out like the undead — heading to the beach-front party they were throwing but no longer felt like attending.
As I left the stadium several hours afterwards, the roadside hawkers were fruitlessly trying to flog their Brazil flags and jerseys and above them, hanging from a huge crane in a building sight opposite the stadium, a much larger Brazil flag flapped in the coastal breeze, its "Ordem e Progresso" motto clearly visible from hundreds of yards away.
Brazil will hope Scolari can get his house in order soon or, instead of progressing, the hosts will sleepwalk out of their own party, like zombies.
This article was originally published at 14.10 and then updated at 15.30.