Murray Kinsella reports from Rome
IT SEEMS LIKE a tiny thing to highlight, but it spoke volumes of Joe Schmidt and his work with Ireland.
There we were at Stadio Olimpico on Friday afternoon as the Irish squad and coaching staff took to the pitch for their captain's run. Italy had been and gone earlier in the day, and this was all about Schmidt's men getting through the perfect final preparation.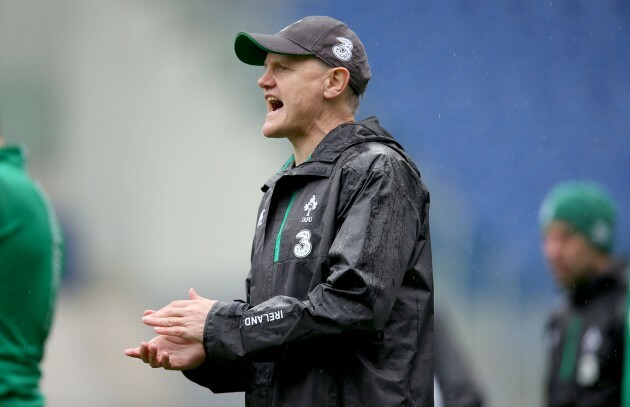 Dan Sheridan / INPHO Schmidt's intensity hasn't dropped off in the slightest. Dan Sheridan / INPHO / INPHO
Jason Cowman, Ireland's head of strength and conditioning, was taking Paul O'Connell and his teammates through a stretch and activation routine as Schmidt and his coaching staff got set for the brief training run-out.
But something was missing and Joe wasn't happy about it.
"Where are the bibs?" asked the Kiwi head coach. "The bibs? Where are they? They should have been here…"
Schmidt trudged back down the steps towards the changing room to locate the garments, looking genuinely displeased to have to do so. This was no tantrum over having to do something himself, rather a frustration that the accepted plan hadn't been followed.
For the Ireland head coach, this kind of little detail being off is unacceptable.
Every single Irishman that has a part to play in the encounter with Italy can rest uneasy that Schmidt will pick up on the slightest detail they get wrong on the Stadio Olimpico turf in the opening fixture of their Six Nations title defence.
Miss a ruck you're supposed to be at, lift the wrong jumper at a lineout, run an unders line when you're meant to be on an overs, fail to get in the air when chasing a Conor Murray box kick – Joe will know.
The demands are taxing, but equally they're liberating and confidence-boosting. The players truly believe that if they carry out their role as Schmidt demands, Ireland will win in Rome, and anywhere else they play.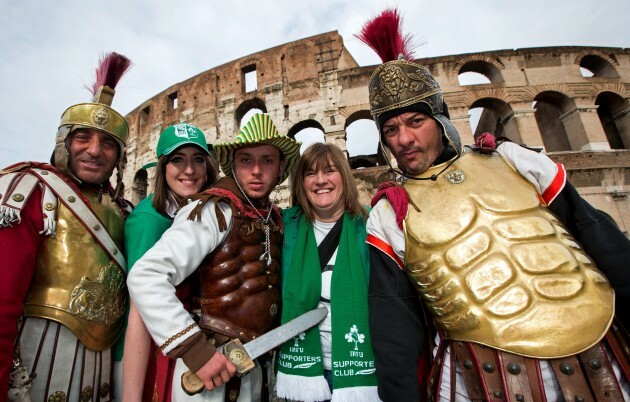 Ryan Byrne / INPHO Ginnie and Liz Power in Rome with a trio of gladiators. Ryan Byrne / INPHO / INPHO
Perhaps that was why Ian Keatley looked so at ease just over 24 hours before the biggest game of his burgeoning international career. He and Rob Kearney shared a joke or two as they practiced their fielding and kicking, the Munster out-half apparently totally at ease while others were left to address the perceived pressure on his shoulders.
Paul O'Connell mentioned in the press conference afterwards that Keatley is enjoying working with Schmidt; the demands add mental tension, but simultaneously the head coach's in-depth game plans free the player of worry.
It's not just about Schmidt though.
A glance around the Stadio Olimpico even in the relatively low-key atmosphere of a captain's run highlighted that. O'Connell spoke with Iain Henderson, Jared Payne practiced passing with Robbie Henshaw and Sean O'Brien discussed tactics with Jordi Murphy.
Ireland's players are relishing being led by Schmidt, but the former Clermont coach is fortunate to have a group who are so driven, knowledgeable and thirsty to improve every time they step out of bed.
So far, this has been an ideal match between coach and playing staff but both sides of the party will be well aware that staying on top is the truly difficult part of the challenge. Italy have nothing to lose against the champions, a position in which they can thrive.
Ireland are based in their usual accommodation at the Westin Excelsior on Via Vittorio Veneto in the centre of Rome, a street named after a famous Italian victory in World War I. That hasn't been an omen before, unless you count the infamous 2013 meeting.
Dan Sheridan / INPHO Iain Jones and Luke Hopkins ready for the match in Rome. Dan Sheridan / INPHO / INPHO
The rest of the travelling Irish are dotted around the city but will gather at the Druid's Rock and Fiddler's Elbow to drink to a win for Joe Schmidt's men, hoping to be able to toast that much into the early hours of Sunday morning.
Whatever happens, the New Zealander's players will be aware of exactly the process required to achieve the desired outcome. 2014 saw Ireland get the details right more often than not, and 2015 promises even more if they can do the same again.
It all starts in Stadio Olimpico today and it should be quite the occasion.
– Originally published 00.10