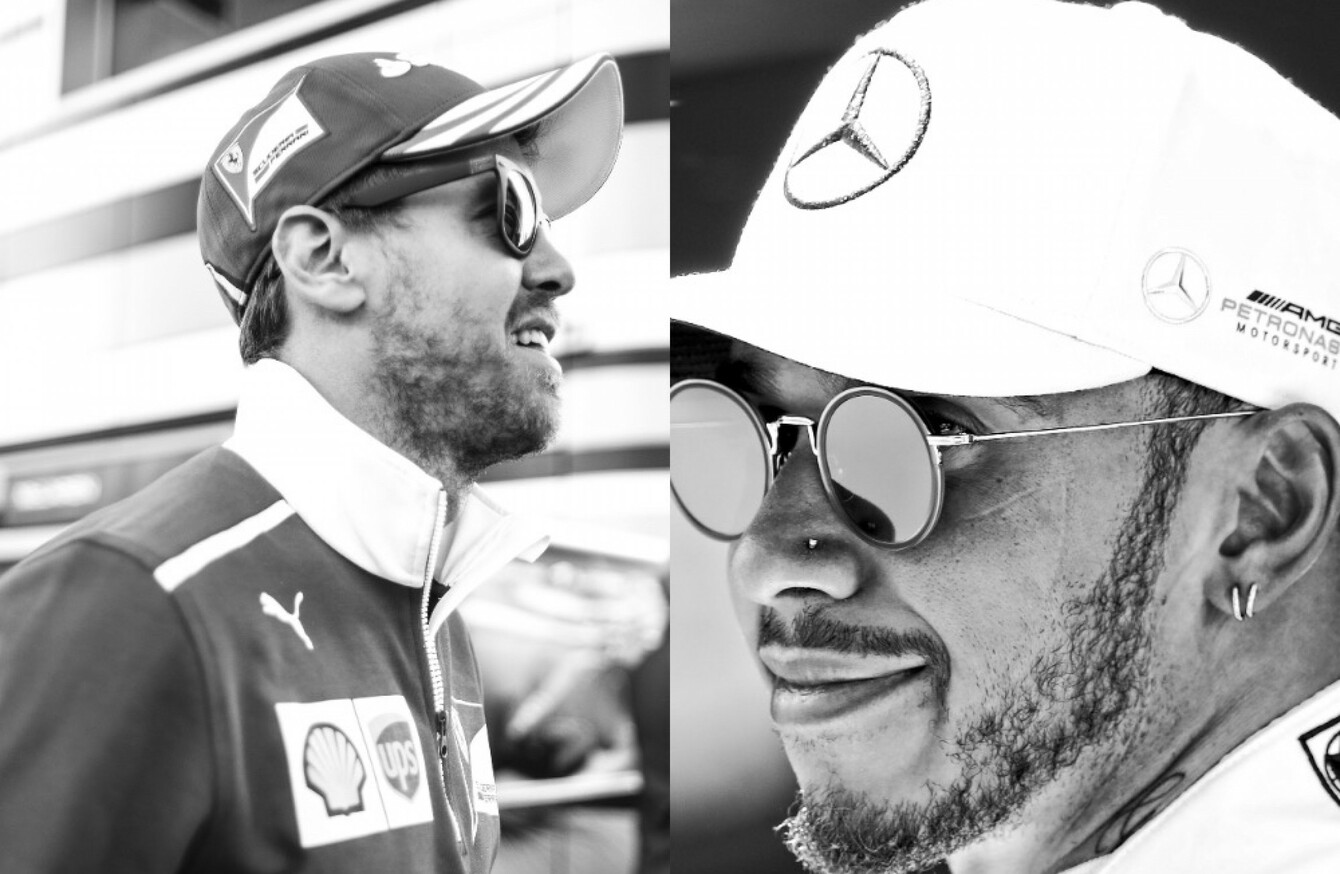 IN ANY INDIVIDUAL sport, the subplot of bitter rivalry provides the tension, intrigue, fascination and psycho-analysis.
Think Bobby Fischer and Boris Spassky. Jack Nicklaus and Arnold Palmer. Muhammad Ali and Joe Frazier. Bjorn Borg and John McEnroe. Roger Federer and Rafael Nadal. In select team sports heavily geared towards the performance of one key player, it's the same: Wilt Chamberlain and Bill Russell. Larry Bird and Magic Johnson. Tom Brady and Peyton Manning.
But there's something about the thrill and high-octane world of Formula One that lends itself perfectly to an intense, burning battle between two contrasting characters.
James Hunt and Niki Lauda. Ayrton Senna and Alain Prost. Michael Schumacher and Mika Hakkinen.
For a while, some rivalries simmered – like Lewis Hamilton with Fernando Alonso and Nico Rosberg.
But, it's his back-and-forth with Sebastian Vettel that has long fascinated. Though many have wanted it to develop into a fractious stand-off, it's never really ignited.
The German claimed four successive driver's championships between 2010 and 2013 – all for Red Bull – while, since 2008, Hamilton has three – one with McClaren and two with Mercedes.
Between then, they've dominated the F1 landscape. But without ever really growing irritated or paranoid with each other.
In 2015, Hamilton was quizzed about their relationship, hammering home the fact that there was a respect and tolerance for each other's respective strengths.
"There is no need for my relationship with Sebastian to improve," he told the Express.
It was never bad. That is just another assumption. Just because you like the Beatles more than the Rolling Stones doesn't mean you respect them less than the other. It' a bit silly really do you not think? It's like saying I like Arsenal but it doesn't mean I dislike Man United."
But, after eight races in the current season, Vettel leads Hamilton and Sunday saw the pair engage in a highly-publicised incident at the Azerbaijan Grand Prix in Baku.
As the safety car made its move to pull away from the track, Hamilton – who was leading – was shunted from behind by Vettel's Ferrari. The German believed Hamilton had purposely braked to draw the collision and pulled up alongside the 32-year-old Briton and swerved into the side of him.
Vettel insisted he wasn't in the wrong but received a 10-second penalty regardless. Still, he recovered and finished in fourth place with Hamilton one spot back.
Be part
of the team
Access exclusive podcasts, interviews and analysis with a monthly or annual membership.
Become a Member
Afterwards, Hamilton spared little and launched into an astonishing attack on his rival.
"Driving alongside and deliberately driving into a driver and getting away scot‑free pretty much – he still came away with fourth – I think that's a disgrace," he said.
"I think he disgraced himself today, to be honest."
If he wants to prove that he's a man, I think he should do it out of the car face-to-face. I think driving dangerously which can put another driver at risk – luckily we were going slow – but if we were going fast it could have been a lot worse. Imagine all the young kids that are watching Formula One today and see that kind of behaviour from a four-time world champion. I think that says it all."
"Ultimately what happened was disrespectful. There are kids watching us on TV. You think a multi-time world champion would behave better than that. But we know that, when times get tough, true colours show. I really hope that kids don't see that and think that is the right way. That is not how you drive."
Vettel insisted Hamilton had caused the collision, saying what happened was 'pretty obvious' and that Hamilton should also have got punished.
But, Hamilton was having none of it and continued to tear into Vettel's behaviour.
"I think it's a misjudgment from him to blame it on the car in front," he said.
"Some people don't like to own up to their own mistakes."
With 12 races left in the current season, it seems the pair's tolerance and respect for each other may be coming away at the seams.
And, when the general interest and audience for Formula One seems a long way from its heyday, we may have another captivating rivalry to satisfy our needs.
At long last.
The42 is on Instagram! Tap the button below on your phone to follow us!