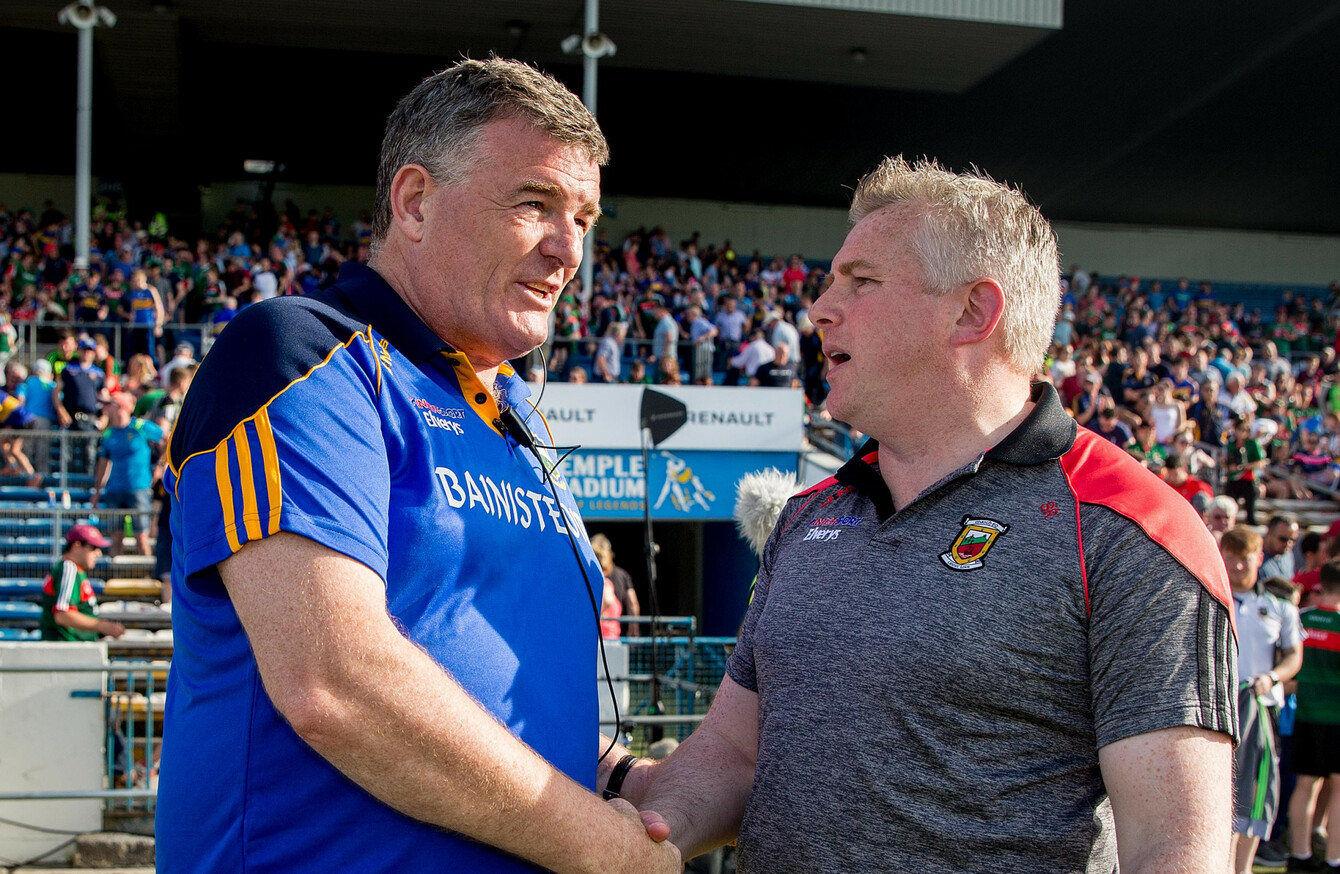 Image: Oisin Keniry/INPHO
Image: Oisin Keniry/INPHO
LIAM KEARNS REAFFIRMED his commitment to the Tipperary cause in the wake of their Round 2 qualifier defeat to Mayo on Saturday evening.
The Kerry native, who took charge in 2015, agreed on a new two-year term with the Premier last September and says he fully intends to return as manager in 2019.
Tipperary reached the All-Ireland semi-finals in Kearns' first year in charge, while they fell to Armagh in Round 2 of the qualifiers last season.
"I won't be walking away," Kearns said shortly after their 1-19 to 1-11 loss to Mayo in Semple Stadium.
"I'll be giving it the second year. We are disappointed. Our progress at championship is stagnant, notwithstanding that we met two traditionally strong teams in Mayo and Cork.
"Mayo are the second best team in the country. As regards us, we stagnated in terms of championship.
"We were last 16 last year. We didn't make that this year. Mayo have knocked us out, but that means we have stagnated. That is the first time in three years that we haven't progressed. I know Mayo are the second best team in the country, but they are the teams you have to beat if you want to make progress.
"There's an awful lot there to build on. They have proved again that they are good footballers. They have proved they can live with the best. They will keep improving. I hope there is more improvement to come."
Kearns has made significant progress with Tipperary during his three-year tenure and they were only denied promotion to Division 1 this year the final day of the league.
Back in March, RTÉ pundit Tomás Ó Sé mischievously suggested that Kearns has the look of a future Kerry manager about him, but that's not likely to happen 2020 at the earliest as current Kingdom boss Eamonn Fitzmaurice only agreed on a two-year extension last season.
Following an unexpected 11-point loss to Cork in the Munster semi-final, Kearns had Tipperary well set-up for the qualifier challenge of Mayo on Saturday. They employed Brian Fox as a ball-playing sweeper with Michael Quinlivan and Conor Sweeney in a dangerous two-man full-forward line.
"They finished stronger than we did and we'll have to look at that. There were mitigating circumstances in relation to our performance against Cork, but at least we performed here. That is more like what we are. At the same time, we still came up short and that is disappointing.
"There were a lot of players who played very well. Bill Maher, Brian Fox, Steven O'Brien had a great game in the middle of the field for an awful lot of it. Jack Kennedy played well, at times, too.
"We were playing well in a lot of places for fifty-plus minutes, but, in fairness to Mayo, they are around a long time, they know how to win and they know to get out of tight spots. That'll stand to them now. They are still on the road. You have got to give credit to Mayo, as well."
The hosts led by two at half-time and were 1-11 to 0-11 in front in the 52nd minute before Jack Kennedy kicked an easy scoring chance wide and from the next attack James Durcan scored a fortuitous goal that turned the tide in Mayo's favour.
"That was a killer," he said of Kennedy's miss. "I thought it actually could have been a goal chance. There was a time when Bill was through too. We got a point, but it could have been a goal.
"We opened them up an awful lot. We had serious chances. We just didn't put it on the board. You can't give an experienced team like them breathing space like that. They are a hugely experienced team and they know how to win.
James Durcan lobs it in and finds the net! pic.twitter.com/BJ5nhUwMBD

— The GAA (@officialgaa) June 23, 2018
"I thought Mikey and Conor Sweeney did well. I thought we did have them in a lot of trouble. At half-time, it was a two-point game. If we had have been five or six up, it would have been a better reflection of the first-half.
"We weren't. When they got the goal, we should have been further up. Then, all of a sudden, it is a level game. In fairness to them, they are experienced.
"The age profile of their team is more than ours. They would be older. They finished very strong. That is a testament to their conditioning. In fairness to them, they were going really strong at the finish, but I thought we had them in big trouble around the 50th minute.
"If they hadn't got the goal, it would have been interesting to see how it ended up. The way it finished, you have to wonder had my fellas given everything they have. It is disappointing. We'll have to look at that."
The42 is on Instagram! Tap the button below on your phone to follow us!