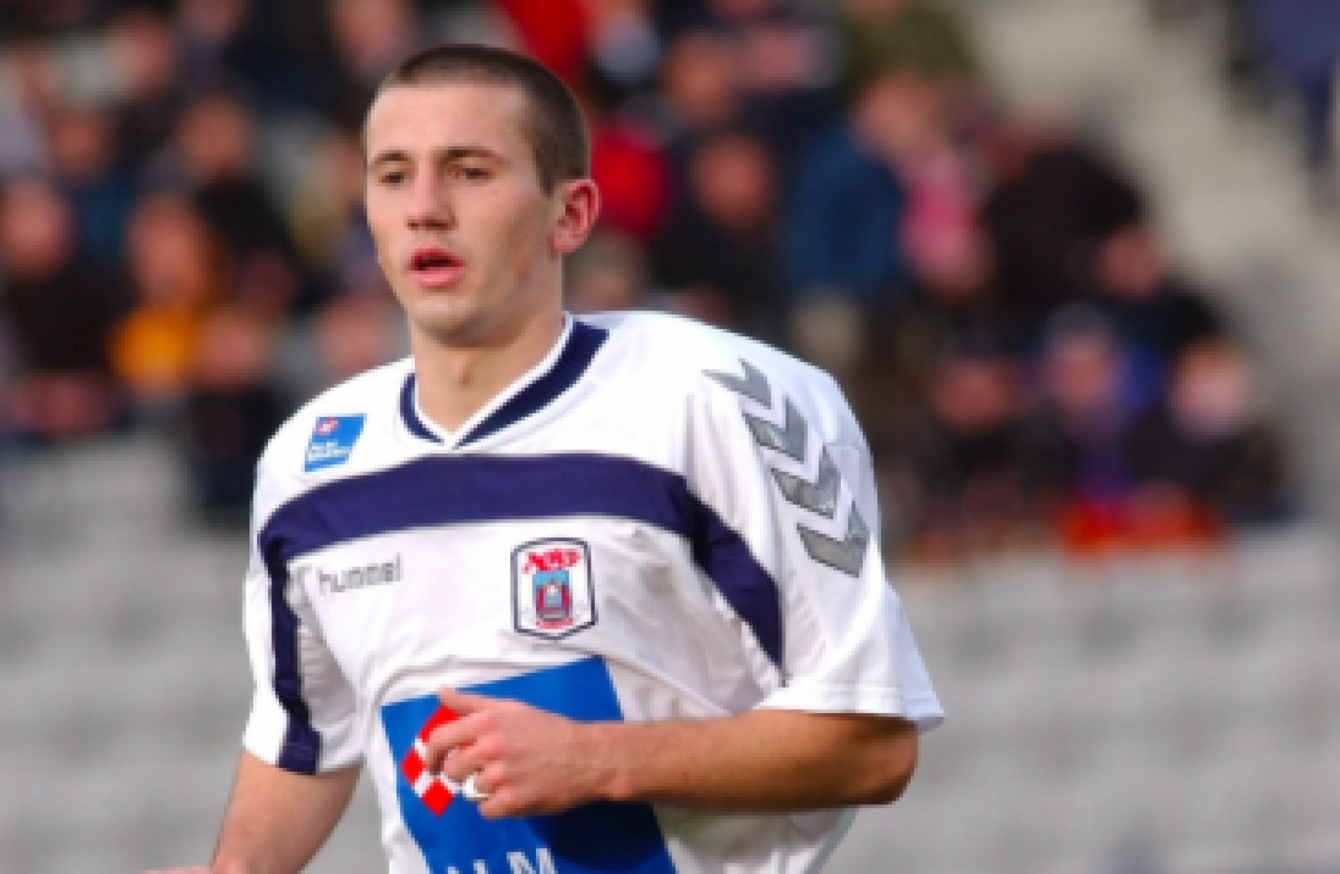 ON MONDAY EVENING, Danish side FC Aarhus will play host to SønderjyskE in a SuperLiga fixture.
Beforehand, there will be a minute's silence to remember the late Liam Miller and his short but superb contribution to the club as a youngster.
Miller had made his senior debut for Celtic in May 2000, coming on as a late substitute in a 2-0 win over Dundee United. A few months later, he made his European bow in a Uefa Cup preliminary round tie against Luxembourg side Jeunesse Esch. But his development was hampered by injury problems. In desperate need of minutes, an unusual opportunity cropped up for him in 2001.
Marc Rieper was a crucial part of the Championship-winning Celtic team in 1998 but injury ensured his premature retirement from the game just two years later. After dabbling in some coaching alongside Martin O'Neill, he returned to his native Denmark and took up a role with Aarhus as assistant manager to John Stampe.
Rieper quickly used his connections with the Glasgow giants and a mutally-beneficial arrangement began to form. The Danish side would provide first-team football to some inexperienced but highly-regarded Celtic talent. The players would get some much-needed momentum going and receive a huge boost to their self-confidence. And once the loan deals expired, Celtic would have more fully-rounded players ready to compete for a place in O'Neill's squad.
"When I played at Celtic, Liam was one of the young boys but I didn't really know that much about him," Rieper says.
"When I got back to Denmark and started with Aarhus, I primarily spoke to Kenny McDowall (then Celtic reserve manager) who told me, 'I've got two Irish boys here, Michael Doyle and Liam Miller'. The club was really good, sending two of their most promising boys to us. They had played with Celtic's Under-21s and the reserve team but went straight into playing in the Danish Premier League, which is quite a decent level. But both of them did extremely well. It was brilliant to have them here and I think they were instrumental in helping Aarhus to stay up that year because we were struggling in the league."
Doyle was a Dubliner and, like Miller, an underage Republic of Ireland international. But, the proposed move didn't sit well with him and he later admitted to crying in his digs after learning he was being sent to a city on the east coast of the Jutland.
But, if either 20-year-old was struggling with the transition, they kept it well hidden once they arrived in Aarhus.
Rieper should know. As well as being their coach, he was also their landlord.
"I had the pleasure of having Mickey and Liam stay with me and my family at my place," he says.
I think Mickey was here for about three months and Liam for one. After a bit of time, they got a flat in town and they could enjoy themselves a bit more and it was a bit better than staying with their coach. But I think the trip did them really well. The fact that I had played for Celtic – something they dreamed about – that was probably a bonus too because they probably looked up to the players that had played for the club and wanted to be part of that themselves.
We spoke a lot together but both of them were quite shy. They were very polite and were good to my family but you had to pull the words out of them, really. It was good for them to get their own place and be youngsters and do what youngsters do, instead of having their coach watching them 24/7. Staying with us was a good start for them in terms of settling into Aarhus but I think they probably enjoyed everything a bit better once they got their own place."
The pair hit the ground running and were standout performers, despite Aarhus being involved in a relegation scrap for the season. They both had a strong work ethic, something that surprised the rest of the squad.
"They trained a lot harder than the rest of their team-mates," Rieper says.
"They were an example of what you should do if you want to progress. They always trained an extra hour. They came in before training and did some extra work. They were really good professionals and even though they were young, their team-mates really looked up to them because of what they were doing. And they could see all the effort Mickey and Liam were putting into their training was really paying off."
Doyle found the net a few times but Rieper felt it was Miller who had something special.
"I still think that Liam is one of the best players we had at Aarhus in the last 20 years," he says.
You could see, already even then, that he was a fantastic talent. I always compared him, a little bit, to Roy Keane. He had the same sort of grit to everything he did. He worked extremely hard and had a fantastic touch on the ball as well. They were thrown straight into playing Premier League football and they were outstanding in different ways. Mickey was a hard worker and a very gritty player. But Liam had ability that was quite outstanding. Honestly, I believe he's one of the greatest talents that has played for Aarhus in the last two decades. I've got no doubt about that. We knew they were both only here only for a limited time but the impact they had that season was phenomenal.
You could see the power Liam had. He could run unbelievably and you could see that even in training. In pre-season, he was running so much harder and faster than everybody else. He just had something extra. He was really, really tough in the way he played, committed to every tackle. The toughness of his play was quite extraordinary and something that people in Denmark weren't used to. You could see it all the way through the 90 minutes of a game that he had something extraordinary."
Going back on old clippings, Rieper was saying the same thing about Miller as far back as 2002.
When Aarhus signed John Paul McBride from Celtic and Rieper was asked to gauge his talent, he immediately used Miller as the standard bearer.
On a scale from Liam Miller to Mickey Doyle, I'd say McBride is in the middle. Liam is the most talented but McBride comes right after."
In January 2004, when Miller signed a pre-contract agreement with Manchester United, Rieper again was asked for his thoughts.
"During that short time [with Aarhus] he became the best player at our club and one of the top performers in Denmark," he told The Guardian.
In December 2001, Miller and Doyle's loan deals were extended until the end of the campaign and Aarhus were already keen on signing the Cork native permanently owing to the impact he had. They knew it was a long shot, but they tried anyway.
"After seeing the ability Liam had, I think every team in Denmark would've signed him," Rieper says.
"But we obviously knew he was here for a purpose, which was to get regular first-team games and then go on to bigger and better things. And he did so. He had a great career. We would've signed him straightaway but I'm quite sure most teams in Denmark wanted to sign him as well because he was an extraordinary talent and you could see that in the first game he played.
I'm 100% sure both Liam and Mickey had a really nice time here. I know they had a few nights out in Aarhus, as young people and young players have to. I went up to their apartment a few times and it was a bit messy but that's how young players behave! They definitely had a brilliant time and it was good for them playing-wise and for them as human beings too. They developed a great deal and had to adapt in a different country. People in Denmark speak English but with their Irish accents I'm sure a lot of people had some trouble understanding them! We would've loved them to have stayed but it wasn't to be."
Rieper wasn't surprised when Miller returned to Glasgow and began to blossom. While in Aarhus, he had displayed all the fundamental elements associated with a player who would reach the top. Sometimes, of course, they don't quite reach the dizzying heights. But sometimes, like in Miller's case, it all makes sense.
"Kenny MacDonald at Celtic said to me, 'You've got a chance to get Liam for half a year' and I said straightaway, 'We'll do anything to get him'", Rieper says.
"And obviously he was way out of our league in terms of quality but Celtic were really good and they did Liam a favour too in getting him to a country and a club where he could get first-team football. And it helped him when he returned to Celtic.
I think, with the benefit of hindsight, he should've stayed one more year at Celtic, just to get more games. But he did quite okay at Manchester United, which was incredibly tough. They were one of the best teams in the world at the time. Maybe, he could've stayed longer at Celtic but if the biggest club in the world wants you, it's difficult to turn them down. He did quite well at United but I think he could've been an all-time hero in Glasgow. But he went on to different things and did fantastic and you can't fault anyone for picking Manchester United."
It was late last year when Rieper first heard that his former player was unwell and he instantly feared the worst.
Pancreatic cancer had also claimed the life of John Stampe, the man who had hired Rieper and managed Miller at Aarhus.
Stampe died in 2012 at the age of 55. When Miller passed on 9 February, he was just 36.
"You always hope there's a possibility things will turn out well but unfortunately that wasn't the case," Rieper said.
"36 is way, way too young to pass away. You know, there were two different versions of Liam: him on the pitch where he was loud verbally and in the way he played and then off the pitch where he didn't say much at all.
On the pitch he would boss a lot more than he did off it. When he played he'd run around and shout at the Danes with that Irish accent, and he did that tremendously well too!
"He was a very, very quiet boy who went his own way. A quiet boy who did all his talking on the pitch. That's what I'll remember."
The42 is on Instagram! Tap the button below on your phone to follow us!