Hello, and welcome to our liveblog of tonight's match.
We'll have the team news for you shortly.
The Irish team have arrived at the stadium.
https://vine.co/v/5gAJXJrVzOj
The Ireland team has been confirmed. Ciaran Clark's inclusion is perhaps the biggest surprise, while there's no room for Wes Hoolahan.
Oddly, Shane Duffy will be wearing the number seven jersey, it seems.
Here are the Ireland subs for tonight.
Both teams are out warming up on the pitch now.
The stadium is fairly sparsely populated at the moment, but with half an hour until kick-off, there's still plenty of time for it to fill up.
Here's the Georgia team for tonight…
Loria; Kakabadze, Kverkvelia, Kashia, Navalovski; Daushvili, Gvilia, Kazaishvili, Okariashvili, Ananidze; Mchedlidze.
Jano Ananidze is considered by many to be the danger man in attack. He scored Georgia's goal in their last qualifier against Austria and has been in fine form for his club, Spartak Moscow, lately.
Safe to say that Eamon Dunphy is unimpressed with the Ireland team selection tonight.
Oct 6th 2016, 7:50 PM
5'0
Decent start from Ireland.
McClean causes problems down the left wing, but the Georgian defender Kverkveila ultimately does well to block his path.
Moments later, the crowd shouts for a penalty as Shane Long goes down under a Georgian challenge in the box. Replays suggest the Southampton man had a case.
Oct 6th 2016, 7:53 PM
7'0
There's been a few fruitless long balls hit in the direction of Jon Walters already.
The Georgian defenders are vastly experienced and don't look like they're going to be bullied tonight.
Oct 6th 2016, 7:55 PM
9'0
Decent ball forward from Robbie Brady to the onrushing Ward.
The defender goes down as he's challenged, but the referee ignores fans' protests and awards a goal kick.
Oct 6th 2016, 7:59 PM
13'0
McClean gets the ball down the left, but again Kverkveila puts a good challenge in.
The build-up play is quite slow and laboured from Ireland at the moment — they could do with injecting a bit of urgency into their play.
As I type, McClean gets his head to a Coleman cross, but Walters can't quite connect as the ball sails back across the box.
Oct 6th 2016, 8:03 PM
16'0
Half chance for Georgia.
Valeri Qazaishvili's receives the ball inside the box and shoots just wide.
Oct 6th 2016, 8:06 PM
19'0
This is a decent spell for Georgia.
Qazaishvili's shot from distance deflects off James McCarthy for a corner.
However, Ireland clear comfortably from the ensuing set piece and counter-attack, but Shane Long's attempt to find Jon Walters with a cross is poor and goes straight into Loria's arms.
Oct 6th 2016, 8:08 PM
22'0
Another break from Ireland, with Walters crossing towards Long this time.
The delivery is poor again, and the Southampton striker is in an offside position anyway.
Oct 6th 2016, 8:13 PM
27'0
Groans from the crowd, as an Ireland corner ends with Seamus Coleman passing the ball back to Randolph.
It's certainly been a frustrating evening so far.
Oct 6th 2016, 8:16 PM
30'0
Half an hour played and Ireland have seldom looked like scoring.
Meanwhile, Wales are currently beating Austria in the other game in Ireland's group.
Oct 6th 2016, 8:19 PM
33'0
Marko Arnautovic has now levelled for Austria, after Joe Allen had put Wales ahead.
Meanwhile, Georgia goalkeeper Loria has picked himself up rather gingerly after a hefty aerial challenge from Shane Duffy as the ball is pumped into the box. The visitors' stopper gets a free kick for his troubles.
Oct 6th 2016, 8:21 PM
34'0
More frustration for Ireland, as McClean breaks but Kakabadze puts in a good tackle to stop him.
The Georgian defence have looked very solid so far.
Oct 6th 2016, 8:24 PM
38'0
The best chance of the match falls to Georgia as they hit the woodwork twice in quick succession.
Okriashvili's cross was headed onto the bar by Mchedlidze, before a second effort flies off the post.
Down the other end, a McClean header is only half cleared, and Walters subsequently hooks the ball just over the bar.
Oct 6th 2016, 8:30 PM
44'0
A decent ball in by McClean is palmed away to safety by Loria.
Better from Ireland, though they need to improve significantly in the second half.
As I type, Qazaishvili nips in ahead of Coleman and forces Randolph to make a save.
Moments later, Mchedlidze's shot from the edge of the box causes Randolph to parry the ball away for a corner.
Oct 6th 2016, 8:31 PM
45'0
HALF-TIME: IRELAND 0-0 GEORGIA
Oct 6th 2016, 8:38 PM
0'0
Half time and it's been poor from an Irish perspective so far.
There's been the odd bright moment — Shane Long had a decent shout for a penalty and Jon Walters hooked a shot just over.
However, those rare anomalies aside, Georgia have looked relatively comfortable and well able to cope with what little the Irish attack has thrown at them.
In fact, the visitors have arguably been the better the team overall, and they've certainly had the better chances.
Having come to Dublin probably thinking a draw would be a good result, on the basis of the first half, they'll likely now feel a win is achievable.
Ireland, meanwhile, have lacked creativity or any real urgency in attack. With no recognised striker in reserve, Hoolahan would appear to be the best option from the bench.
Oct 6th 2016, 8:47 PM
46'0
The second half is underway.
There are no changes for Ireland.
Oct 6th 2016, 8:50 PM
47'0
Ireland win a free kick about 40 yards from goal on the left. It's cleared, before Loria comfortably collects Walters' cross.
Good, urgent start to the second half.
Oct 6th 2016, 8:53 PM
51'0
James McCarthy makes a good tackle, but then goes down clutching his arm. He looks like he should be okay to continue.
Meanwhile, Hoolahan is warming up on the sideline.
Oct 6th 2016, 8:55 PM
52'0
Very frustrating. Brady sweeps a long ball to Coleman, but the Everton defender fails to control it.
It's just not happening for Ireland right now.
Oct 6th 2016, 8:56 PM
54'0
It's now Wales 2-2 Austria.
Arnautovic has equalised a Kevin Wimmer own goal put the Welsh ahead.
Oct 6th 2016, 8:57 PM
54'0
IRELAND 1-0 GEORGIA (COLEMAN 56)
Oct 6th 2016, 8:59 PM
57'0
Ireland are ahead thanks to an excellent individual goal from Coleman.
The Everton full-back skins Navalovski before a few lucky bounces result in him slotting the ball home from close range.
It's Coleman's first Irish goal on his 40th cap.
Moments later, Long heads disappointingly straight at Loria.
Oct 6th 2016, 9:00 PM
59'0
Ireland have the ball in the back of the net again, but it's correctly ruled offside.
McClean nonetheless did well to head home Walters' cross.
Oct 6th 2016, 9:02 PM
60'0
It'll be interesting to see how Ireland react now.
Their difficulty in holding a lead has been well documented in the past.
Oct 6th 2016, 9:04 PM
62'0
Georgia win a corner, as Gvilia's shot deflects off McCarthy and goes wide.
The visitors appear to be coming more into this game now.
Oct 6th 2016, 9:08 PM
66'0
Nervy moment for Georgia.
McClean's powerful shot from distance is dropped by Loria, who then gathers it at the second attempt to prevent it creeping over the line.
Oct 6th 2016, 9:09 PM
67'0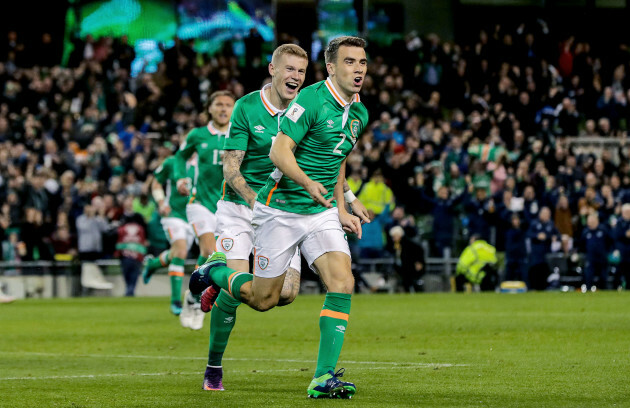 Morgan Treacy / INPHO Coleman celebrates his goal. Morgan Treacy / INPHO / INPHO
Oct 6th 2016, 9:12 PM
69'0
Good, patient play from Ireland now, as they keep the ball for a period.
They're clearly trying to kill the game, and give their defence a breather, with Georgia threatening in the last few minutes.
Oct 6th 2016, 9:15 PM
73'0
Coleman is not happy with McClean.
The winger ignores the Everton player's run on the overlap and then blasts the ball high and wide.
Moments later, Walters finds himself in a good position down the right, but no one is in the box to convert his cross.
Down the other end, Mchedlidze blasts a wild shot well wide.
Oct 6th 2016, 9:18 PM
76'0
Georgia make a sub, with Ananidze coming off for Skhirtladze.
As I type, Long heads a deep cross across goal, which Brady then heads narrowly wide.
There was a nasty clash of heads amid that chance, with Brady and Kverkvelia both now receiving treatment.
Oct 6th 2016, 9:21 PM
79'0
Brady is set to be stretchered off.
Glenn Whelan is on the sidelines ready to replace him.
Oct 6th 2016, 9:24 PM
81'0
Glenn Whelan is now on the field.
His experience will be important as Ireland look to protect this lead.
Oct 6th 2016, 9:25 PM
83'0
Jeff Hendrick has just been booked for a high challenge on Navalovski.
He will miss the Georgia game as a result.
Oct 6th 2016, 9:28 PM
86'0
Ireland are sitting quite deep now with Georgia enjoying plenty of possession.
There's less than five minutes left, but there'll be plenty of stoppage time too as a result of that Brady injury.
Oct 6th 2016, 9:31 PM
89'0
Good play from Ward, who tackles his man and then wins a free kick.
Georgia make another change, as Navalovski is replaced by Kobakhidze.
Oct 6th 2016, 9:32 PM
89'0
There will be seven minutes of injury time…
Oct 6th 2016, 9:34 PM
92'0
So close to a second Ireland goal, as McClean's header from Walters' cross hits the bar.
The West Brom winger has been involved in most of Ireland's best attacking moments in this game.
Oct 6th 2016, 9:35 PM
90'1
Shane Long hobbles off and is replaced by John O'Shea.
Can't be long left now.
Oct 6th 2016, 9:37 PM
90'3
Okriashvili's shot is comfortably saved by Randolph.
Moments later, McClean threatens to dribble through the Georgian defence but is eventually tackle.
Just over a minute remaining.
Oct 6th 2016, 9:38 PM
90'4
Seamus Coleman gets man of the match.
Oct 6th 2016, 9:39 PM
90'6
FULL-TIME: IRELAND 1-0 GEORGIA
Right, that's all from me.
Thanks for reading and commenting, and we'll have more reaction to follow.