The start of a new week and the Olympic Games are in full swing. Needless to say, we were right on top of things throughout the day.
Send us your thoughts and comments on the action. E-mail us at sport@thescore.ie, tweet us @thescore_ie, post to our Facebook wall or leave a comment below.
Main headlines:
Scott Evans was eliminated from the Badminton after losing in straight sets to the second seed, Lin Dan of China.
Sycerika McMahon finishes third in her heat in the 200m IM, but just missed out on a semi-final place.
Good start in the sailing for Annalise Murphy as she won her first race out at Weymouth.
Michael Ryan is out of the Cross Country eventing after a fall two jumps from home. Aoife Clarke remains in contention after a 'fantastic' outing. Joseph Murphy is slightly further back in 12th.
There were gold medals in the swimming pool for Yannick Agnel, Missy Franklin and Ruta Meluityte – the 15-year-old from Lithuania.
He may have failed to medal in the 400m individual medley but Michael Phelps swims in the fifth heat of his favoured 200m butterfly shortly.
And they're off! Phelps is not as quick as expected and he only finishes third in the heat behind Dinko Jukic and Tyler Clary. His time of 1:55.53 is enough to get him through to tonight's semi-finals though. He seemed to be hit by fatigue in the last 50m and there's no question that he's the same athlete as four years ago.
We should add that Phelps was fifth fastest overall, from the five heats, so he's still up there and should safely make the final. Maybe he's just keeping plenty in the tank?
Now we have Sycerika McMahon in the 200m IM heats. Fingers are set to crossed…
…and we're back in the doldrums. A very quick third heat leaves Sycerika 11th in the rankings with two heats remaining. She's not looking likely to qualify but we live in hope.
Third for McMahon in Heat 2, her time of 2:14.76 a personal best for the prodigious 17-year-old by more than a second. Monday just started to look a whole lot better.
Ye Shiwen takes the final heat in a time of 2:08.90 and they may as well give her the medal now. No joy for Sycerika McMahon despite finishing third in her heat, but still a remarkable swim from the Portaferry teenager.

A lot more talk and incredulous tweents about the number of empty seats at the Olympics today. Looks like the troops and the students might have another leisurely day ahead of them…
Sycerika McMahon has been talking to Will Downing, our man in London: "I'd like to have gone faster if I'm being truthful about it, but I suppose that's just for another race. I'll take away the positives and negatives from that one when I talk to my coach."
More to follow from the 17-year-old shortly…
We have the Cross Country phase of the Eventing for Irish competitors shortly, with Michael Ryan first up aboard Ballylynch Adventure.
The rest is as follows…
Aoife Clarke on Master Crusoe at 1.42pm

Joseph Murphy on Electric Cruise at 2.42pm

Camilla Speirs on Portersize Just A Jiff at 3.46pm

Mark Kyle on Coolio at 4.50pm

We tried this trick for Christmas. It didn't work.

In sailing, the Belfast-based Ryan Seaton and Mark McGovern took part in this morning's 49er and finished a respectable fourth, having climbed their way up from seventh. Their second race takes place at 12.45pm in Weymouth…
Romania have their first gold medal of the Games, with shooter Alin George Moldoveanu taking the top prize in the men's 10m air rifle.
Sky News is reporting that LOCOG have re-sold 3,000 tickets after speaking to accredited people who had not used their Olympic seats. Hard to imagine how so many people just said, "nah, you're grand thanks."
Takes all sorts.
From Mark Dennehy on the Mens Air Rifle:
"The gold medal place was going back and forth on every shot right up to the end, and the crowd was going nuts, and India just won their second ever Olympic medal in shooting with Narang's Bronze (to go with Bhindra's Silver in Mens Air Rifle from Athens).
"Seriously, you need to be watching the shooting more, you don't know what you're missing…"
And there we were, watching the cross country eventing like suckers…
This is brilliant.
Spain, as we know, are out of the football after losing to both Japan and Honduras. AS, one of the country's most popular newspapers, have run a poll asking whether football should be an Olympic sport?
89% said no.
Michael Ryan is out of the cross country event after falling two fences from home. Disappointment for the Cork man at Greenwich Park.
Both rider and horse are ok, so at least there's that.

McGovern and Seaton are approaching the end of their second race in the 49er class, and they're currently 12th.
What Ewan said…
To explain further, Ireland's Annalise Murphy leads the Laser Radial class by 15 seconds from Gintare Scheidt of Lithuania, coming towards the last marker.
Twitter is now reporting that Murphy "has won Race 1 in the Laser Radial. Our sailors are more than living up to expectations."
Seaton and McGovern have finished eighth in the second race of the 49er class in the sailing. They were fourth earlier in the first race.
Patrick McCarry here to see you through the early-ish afternoon. Annalise Murphy has won her first race out at Weymouth. RTÉ promise us highlights but not until we go and check out Aoife Clarke taking part in the cross country of the Equestrian event.
Lleyton Hewitt, a Wimbledon winner in 2002, is through to the next stage of the Men's Tennis after a 6-3, 4-6, 6-3 win over Ukraine's Sergiy Stakhovsky. I did not see the moment of victory but I am confidently betting that he pumped his fists like he was trying to free a trapped Snickers from an obstinate vending machine.
Aoife Clarke is off and trotting. Making good time so far.
Clarke finishes in a time of 10:11 and change and she should advance to the latter stages. A stray horse and a nasty fall mean the competition is now delayed. Tom French, member of Horse Sport Ireland's coaching committee, has declared that her run, on Master Crusoe, was fantastic. "She really shook up the course," he said.
Great Britain's muscular diving star Tom Daley, and his partner Peter Waterfield, has only finished seven out of eight qualifying pairs in the synchronised diving. The final is later this evening.
Rebecca Adlington, the darling of the swimming pool for British supporters in 2008, has spoken out about the expectations being placed on homegrown athletes. She said:
I understand why people (expect gold medals), but they don't know enough about swimming maybe and it has grown so much over the last few years, but no-one wins every race.

"People have said to me 'are you going to get a gold?' like it is easy as picking up a drink. Swimming is one of the hardest sports to medal at.
Andy Roddick has set up a second round Men's Singles date with Novak Djokovic after he defeated Martin Klizan of Slovakia 7-5, 6-4 at Wimbledon.
Here comes Hannah Craig in the ladies kayaking!
Good but not that good from Hannah Craig in the kayaking. She is third place at the moment but lots of competitors to come. She got penalties for brushing four gates and eventually finished with a time of 1:117.07, eight seconds behind Luca Jones. The New Zealander had a brilliant run so Craig should be ok. Caroline Queen of the USA is .02 of a second quicker and second.
Eight ladies have gone down the course and all but three, including Craig, have missed a gate completely. She can choose not to register that run but it looks as if it could secure her passage into the next stage.
Kate Walsh, captain of the Great Britain Women's Hockey team has had a plate installed in her fractured jaw after she took a stray stick to the face against Japan yesterday. Walsh, ever the trooper, has vowed to play on. Team GB won 4-0 against the Japanese.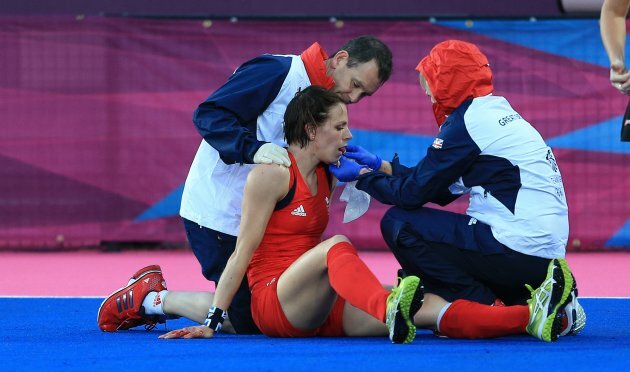 Kate Walsh receives treatment after fracturing her jaw. (Mike Egerton/PA Wire)
Many thanks to our very own Paul Fennessy for locating this Olympic gem (below). A reporter for the Saudi Arabian incarnation of Sky News was interrupted mid-broadcast by an over-zealous Team GB supporter, who planted a smacker on his sheepish cheek.

YouTube credit:
Hani Ziadeh
The run of Carla Giai Pron in the kayaking has put Hannah Craig's run even further in the shadow. The Italian has clocked a score of 99.06, compared with the Craig's 117.07. She is now in eight position and the slalom continues.
Scott Evans is up soon in the badminton – that is where we will be training our focus.
Evans takes on Lin Dan of China, a man who has beaten him in straight sets in their three previous meetings. Dan has been described by badminton experts, that gregarious bunch, as the Roger Federer of his sport. Wonder if he wears a spiffy blazer out to court before games too? 3-2 to Evans in the first set.
Lin Dan is giving a Evans a chasing here – toying with his lower ranked opponent. Evans did a face-palm after one overhead smash from the Chinese star and world number one. It is 13-7 to Lin Dan.
The GB women's handball team are faring just as well as their male counterparts; as in they are getting bounced. Russia lead them 17-8 at half-time.
The individual rankings in the Equestrian cross-country, after 27 complete rides, sees Aoife Clarke in seventh position (with 52.50 penalty points). Mary King of Great Britain, who punched the air after her excellent round, leads (42.10 penalty points).
Evans loses the opening set by a shuddering score of 21-8. He will need to badminton the hell out of it to claw his way back into contention.
Heather Watson and Laura Robson have put some smiles on British faces over at SW19 as the women advance to the next round. They won their respective matches in straight sets.
Our man at London 2012, Will Downing says the mood in the Team Ireland sailing camp is jubilant but focused after a good couple of days out on the water in Weymouth. Annalise Murphy and the pairing of Peter O'Leary and David Burrows have all started excellently.
Interesting fact but Evans has not got much time left to keep his face on Chinese TV for much longer.

Scott Evans' Olympic dream is over. He has been defeated in straight sets by badminton supremo Lin Dan. The '18th most popular person in China' had about 13 match points to wrap things up but Evans was tigerish at the death. He put away a great overhead smashed and forced Lin Dan to flub an effort into the net. However it was too much of a mountain to climb as he ended the next rally by overcooking a slap to the back-court.
Tough draw and tough luck. Enjoy the Olympic Village Scott.
Interesting developments in the swimming as a United States coach declares that the record breaking efforts of Chinese teenager Ye Shinwen left him 'disturbed'.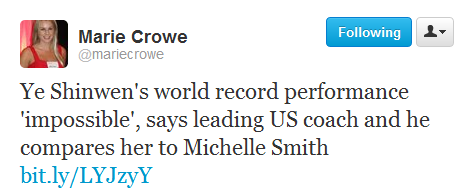 The 16-year-old stunned onlookers when she took home the 400m Individual Medley gold medal. Her first 100m was quicker than that of male swimmer Ryan Lochte of the United States. The US coach, John Leonard said:
(She) looks like superwoman. Any time someone has looked like superwoman in the history of our sport they have later been found guilty of doping.
Joseph Murphy, riding Electric Cruise, had a decent outing in the cross country. He is on 62.80 penalty points and currently lies in 12th. Aoife Clarke has slipped down one position to ninth after the great round from Ingrid Klimke of Germany.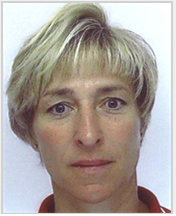 Ingrid looks a lot like Nurse Jackie and Sopranos star, Edie Falco, and achieved her event-leading round on a horse called Butt Abbraxxas.
Tom Daley and Peter Waterfield of Great Britain have missed out on the medals in the synchronised diving after finishing in fourth position. China win Gold and the Mexicans edged out the Brits with a mind-blowing final jump.

A novel idea from Ireland's Kevin Doyle after that diving disappointment.
Zara Phillips of Team GB, aboard High Kingdom, has put in a strong run in the equestrian cross country. She now sits joint fourth, moving Aoife Clarke down to 10th.
Good news for Hannah Craig as her time in the K1 Slalom is enough to get her into 14th position overall. She finished more than 18 seconds back from Maialen Chourraut of Spain but the time should be good enough to see her into the semi-finals.
Competitors can choose to jettison their opening run so the six competitors that lie behind Craig can be expected to take up that option. The Armoy native now faces the option to stick with her time, which is good but not unbeatable, or twist.
The Williams sisters have both won at SW19 today in the Ladies Singles. Venus beat Sara Errani in straight sets, dropping only four games, in the first round. Serena, who won Wimbledon earlier this month, beat Urzula Radwanska 6-2, 6-3 in the second round.
Tony Cuddihy back to take you into the evening's coverage. It's the "Race Of The Century" to beat all the other "Races Of The Century" that have gone before it. We're talking about the men's 200m freestyle final on Monday night, and the Huffington Post have a great preview piece that focuses on the chances of Ryan Lochte.
"What do you expect when you're competing against the best ever player to play badminton? If you're not at the top of your game you're going to have a hard day. And I had a hard day."
Scott Evans was in candid form after coming up against the world's greatest player, Lin Dan.
In a piece from The Guardian, John Leonard, the executive director of the World Swimming Coaches Association, described the gold medal-winning performance of 16-year-old Chinese swimmer Ye Shiwen in the women's 400m individual medley as "unbelievable."
It makes for a fascinating read, given the remarkable circumstances behind the 16-year-old's victory.
By way of contrast, IOC medical commission chairman Arne Ljungqvist, a veteran anti-doping competitor, did not express any concerns when asked if he had any suspicions regarding the swimmers in London.
More on that here.
The Swiss international defender Michel Morganella has reportedly been sent home by his association for posting a racist tweet. This came after his side's defeat by South Korea in the football on Sunday. More details as they emerge.
Patrick McCarry taking up the reins until 8pm. My first nuggety nugget for you is the fact that Elena Baltacha of Great Britain has been beaten in straight sets in the tennis by Ana Ivanovic. I'll see if I can hunt down a picture of Ivanovic for you – she has the best cross-court backhand in the game ever since Justine Henin went off to join the Goonies.
British Prime Minister David Cameron has waded chest deep into the empty-seat imbroglio that has transfixed thae nation and, to a lesser extent, curious games followers outside the UK. He commented:
Between 5-15% of the seats have to be made available to those accredited from foreign sports teams, their officials, governing bodies – that is part of the deal of having the Olympics.

They're not taking up enough of those seats, so we're going to be using them for volunteers, armed service personnel, and selling more.
We caught up with Hannah Craig after she learned she had qualified for the K1 Slalom semi-finals. Here is a tidbit of what she had to say (a full report will follow at 6.30pm):
Just sitting there at the start, you know that the crowd is amazing and the water is amazing and you know it is a once in a lifetime opportunity. I'm delighted that I can go to the semi-final on Thursday and do it all over again.
6.35pm: Apologies for the temporary black-out – we had some technical issues. I have been keeping track of all the main action so get ready to read like a MENSA member and get up to speed on all the action.
In the Men's Gymnastics team event, the  United States were not looking good after star performer John Orozco took a spill coming off the vault. China won the gold with an imperious team performance and Great Britain finished like a bunch of heroes to get the silver. However, Japan appealed the decision and got promoted up to second. Boos rang out around the North Greenwich Arena but Team GB will not be too disappointed with that result.
6.45pm: Some weightlifting and judo medals to tell you about. Mansur Isaev of Russia clinched gold after defeating Japan's Riki Nakaya in the final of the men's -73kg Judo competition. Japan's Kaori Matsumoto won gold over Romanian Corina Caprioriu after the latter was disqualified during the golden score period in the women's -57kg Judo final at ExCeL.
China's Li Xueying produced an impressive display to claim Olympic Games gold in the women's 58kg Weightlifting division. Thailand's Pimsiri Sirikaew was second, narrowly ahead of Yuliya Kalina, from Ukraine, who claimed the bronze.
7pm: Roger Federer, Juan Martin Del Potro and Janko Tipsarevic were the big winners in the Men's Singles at Wimbledon, while Kim Clijsters and Petra Kvitova advanced in the ladies section.
Here is that promised picture of Ana Ivanovic advancing through after beating Elena Baltacha earlier: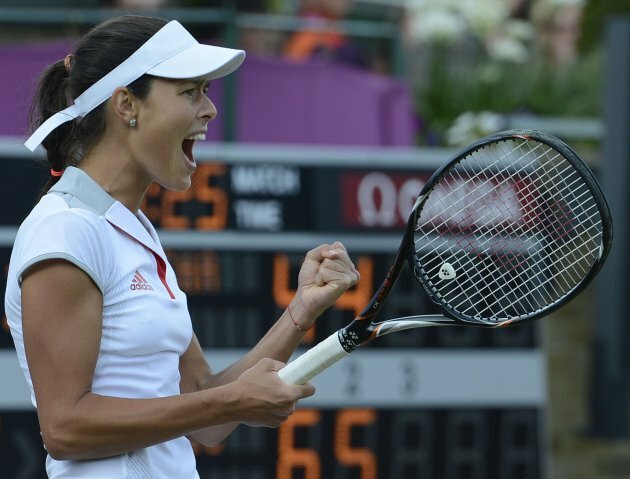 (Rebecca Naden/PA Wire.)
7.10pm: Joseph Murphy, who finished 29th overall in the equestrian cross-country event today, says the Irish team's plan was to make it to tomorrow without making any major errors. He said:
He wanted to get clear rounds today, make it through to the next round tomorrow and build on that.
The plan got off to a shaky start after Michael Ryan and Camilla Speirs were eliminated but Aoife Clarke (21st) and Murphy ensured that Ireland finished eighth overall in the team standings. Germany lead and Great Britain are second.
7.20pm: Sycerika McMahon has been speaking to Bill O'Herlihy on RTE and says she is pleased with her efforts in the pool this morning, in the medley, following the disappointment of her breaststroke outing on Sunday. She said:
I suppose yesterday was my first Olympic games. I wasn't nervous so much it was more a case of being excited. This morning I completely forgot about the breaststroke, concentrated on my race, and I was happy with how it went.

I did the first 75m quite fast and the backstroke section was good as it was something I've been working on. I pulled (them) back a bit on my breaststroke but I didn't have much energy after that. That is something I can learn from and work on in training.
McMahon added, "I'm so privileged to be here and to compete, on the blocks, beside these athletes."
Update - 7.30pm: Ihab Almatbouli made history as Jordan's first Olympic boxer to compete in the games and marked the occasion by marching into the last 16 of the Light Heavyweight division with a powerful 19-7 win over Nigeria's Lukmon Lawal.
Update - 7.40pm: Muffat (France), Schmitt (USA), Popova (Russia) Pellegrini (Italy) and McClatchey (GB) are the top performers in the Women's 200m Freestyle semi-finals and will be back tomorrow to hunt for gold. Bronte Barratt of Australia recorded the top qualifying time for the final.
Update - 7.50pm: It's the Men's 200m Freestyle Final and a chance for Ryan Lochte to show Yannick Agnel (who pipped him in the 4x100 relay) who is boss. However the Frenchman goes off like an underwater train to win Gold. He ends up winning by a comfortable distance, with Park of Korea and Sun Yang of China second and third.
Ryan Lochte won't be winking like a legend tonight as he finishes fourth. Not so perfect after all. Joy for France for the second night in succession.
Update – 8pm: Next up, the Women's 100m Backstroke Final. Fu of China strolls out with a Moshi Monster hat – loving her style. Missy Franklin wins Gold! Welcome to London 2012 and welcome to stardom. The America (owner of Size 13 feet) comes back in the second 50m to beat Emily Seebohm, while Aya Terakawa of Japan gets bronze. Franklin got her gold only 15 minutes after qualifying for the 200m Freestyle Final – amazing.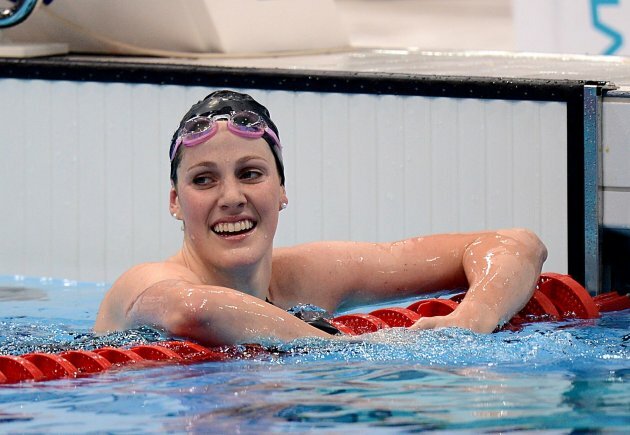 Not a bother to Missy Franklin. (Tony Marshall/PA Wire.)
Update - 8.10pm: Another final and its the Men's 100m Backstroke. Overwhelming favourite is Matt Grevers – the fastest man in the world ever in a synthetic suit. He goes deep off his first dive, leads early and never looks troubled as he takes Gold. Olympic Record of 52.16 too. Nick Thoman, Grevers US teammate, gets silver and Ryosuke Irie of Japan gets silver.
Update - 8.20pm: Ian Thorpe in the BBC studio is reflecting on the spectacular swimming achievements of France. They have won three golds in the pool so far, having only ever won four of the precious metals. Agnel was always the man to watch in the Backstroke Final, says Thorpe, as he has been swimming up a storm this season and performed very well in the European Championships.
Insightful comments Thorpey, shame about the checkerboard geansaí.
Update - 8.30pm: Ruta Meluityte of Lithuania has won Gold in the Women's 100m Breaststroke. The 15-year-old holds off the favourite, Rebecca Soni of America, too win by .08 of a second. Unreal! Satomi Suzuki from Japan gets bronze. The event was held up by USA's Breeja Larson and her premature leap into the pool after a starter's error. Soni was slow to get going and almost caught Meluiteyte, who was close to speechless at the end. She, just about, said:
"I can't believe it. It is too much for me."
Michael Phelps' Olympics are back on-track as he wins his semi-final to get through to the 100m Butterfly Final.
We sign off tonight with word from US gold medal winner Missy Franklin, "I knew it was going to be tough, and I somehow managed to get the gold medal and I have never been as happy in my whole life."
We will leave you off there. Stay with us for the Olympic Village wrap of Day Three.