Liveblog
As always, we'd love to hear your thoughts on the action. E-mail sean@thescore.ie, tweet @thescore_ie, post a message to our Facebook wall, or leave a comment below.
You may need to refresh the page for YouTube videos and other elements to display correctly.
Full Time: ULSTER 30 -12 DRAGONS
Good evening and what about ye.
You've joined us in loads of time for kick off.
Bit of team news just in. Paddy Wallace is on his way to Paris as cover for Jonathan Sexton.
In his place, Nevin Spence will wear 12 in Belfast and Michael Allen gets a place on the bench.
What do you think, will Ulster be stronger with Spence in the side?
So the revised teams in full look a little something like this:
Ulster: A D'Arcy; C Gilroy, I Whitten, N Spence,, S Terblanche; I Humphreys, R Pienaar; C Black, A Kyriacou, J Afoa (capt), L Stevenson, D Tuohy, M McComish, W Faloon, R Diack.

Replacements: N Brady, P McAllister, A Macklin, T Barker, A Birch, P Marshall, M Allen, S Danielli.

Dragons: M Thomas, J Smith, A Hughes, A Smith (capt), A Brew, J Tovey, W Evans, N Williams, S Jones, N Buck, A Jones, R Sidoli, J Groves, D Waters, G Thomas.

Replacements: R Buckley, P Price, D Way, H Ellis, T Brown, J Bedford, A Tuilagi, L Robling.
Just time to tell you that there are two other Pro12 fixtures on tonight (including Connacht's trip to Cardiff) and we'll try to keep you updated on those while we're standing up for the Ulster men.
And we're off. Slippery conditions in Ravenhill and the Dragons reclaim their restart.
Dragons with a bright start and Tovey almost found an overlap on the right, but Stefan Terblanche knocked-on with a man and ball tackle.
Again, the Dragons looked to be in on the right. A big looped pass though, was intercepted by Ian Humpreys. Didn't have the pace to finish but Ulster are in the Dragons 22. For a moment at least.
Ulster pinged for holding on just inside their own 10-meter line. Didn't catch a number.
Jason Tovey lining up a 48 meter kick and it sneaks over to silence Ravenhill. Deserved lead.
Ulster with a chance to level the scores. Jones a mile offside round 40 meters out. Should be well within Pienaar's range… but he stuns it outside the near right hand post.
TRY: Robbie Diack juggles a throw at the front of the line out. Races 20 meters down the sideline and bumped off the tacklers to give the hosts the lead.
Pienaar hits the conversion well, but shaves the other side of the left post.
TRY: Wow do Ulster have their tails up. Pienaar starts and finishes a exhilarating move which moves through about nine or ten pairs of hands.
Craig Gilroy provided the gas on the right wing and the Dragons couldn't lay a finger on Ulster as Adam D'Arcy pirouetted and returned to Pienaar under the posts.
Barbarians rugby in Belfast.
Halfway through the first half now and two flashes of luck/brilliance have the hosts in a comfortable lead. The Dragons have dominated and will be disappointed that their efforts have them nine points down.
Tonight they are looking to end a 10-game losing streak away from home, an uphill struggle from here.
Kyriacou penalised for Ulster at the line out. Tovey converts the penalty from 35 meters from the right hand side angle.
Back in the red zone, Ulster had a central ruck, but on the switch, Humphreys badly overcooked his chip through.
It's end to end here now. Credit to Ulster for taking their chances, but the game is even overall.
Another penalty sails through the posts from Tovey. John Afoa, as captain, is getting a talking to from the referee.
But, quick as you like, the scrum roulette rolls their way – Williams penalised for bringing down Afoa – and Pienaar cancels out Tovey's score with three easy points.
Referee Carlo Damasco is feeling the pressure.
He awarded the Dragons a free kick after they threw the ball in crooked. Luckily, the touch judge corrected him and he sheepishly apologised.
You don't see this often, John Afoa rocked by a tackle from winger, Aled Brew.
He's a physical presence this kid and he's looked dangerous for the 38 minutes that we have seen in this game.
We've been scrummaging for a good four minutes here.
Ulster managed to twist it their way and looked like they might notch a third try before the break. But after Humprhreys is hit hard, the white jerseys go in off their feet and it's half time.
During the intermission i've just time to tell you that Connacht lead the Blues 6-10 thanks to a Tiernan O'Halloran try.
Edinburgh, meanwhile, lead the Ospreys 8-0
The teams are back out now and the second half is underway, can't see any changes made to either XV.
A scrappy opening to the second half here, neither side looking after the ball.
The Dragons look after it a bit too well through six or seven phases and go from left to right without gaining a yard. A crossing penalty pins them back into their 22.
Ulster still in second gear, allowing the Welsh side dictate the play.
Slippy conditions not helping matters either any kick over the top brings messy ball.
Paddy McCallister comes into play loose head for the hosts, Calum Black the man withdrawn.
Straight away McAllister pinged for holding on and the Dragons are within three.
Afoa is given the final warning by the referee.
TRY: Dragons make a mess of PIenaar's restart. Ian Whitten winning it and a phase later Craig Gilroy scampering across the line after 52 minutes.
The scrum-half again strikes his kick well, but it doesn't manage to overcome the wind and get through the posts.
SIN BIN: Card coming for Willie Faloon, Ulster's penalty count finally coming home to roost. Again the offence is holding on in the tackle.
Nigel Brady is in at hooker for Kyriacou and Adam D'Arcy's mixed evening is ended by the arrival of Simon Danielli.
Oooh, Simon Danielli almost seals a bonus point, but the touch judge says the ball had hit the line from Humphreys' kick through.
20 minutes left for the home side to get that magic fifth point (presuming a win is in the offing) which would put them within two points of Munster in fourth place.
Elsewhere, Cardiff Blues have hit back at the Arms Park and now lead Connacht 12-10. Edinburgh narrowly ahead of the Ospreys 11-8.
Plenty of time left in those games.
Here's the usual change from Brian McLaughlin, Paul Marshall replaces Humphreys so Pienaar moves to fly-half.
Willie Faloon's night is over, Birch is on in his place as Ulster are back to their full compliment of players.
Ulster escape. Dragons are camped in the 22, but the make a mess and knock on from a five meter line out. Marshal produces a fine clearance kick to halfway.
Ten minutes to go here and both teams are chasing their own bonus.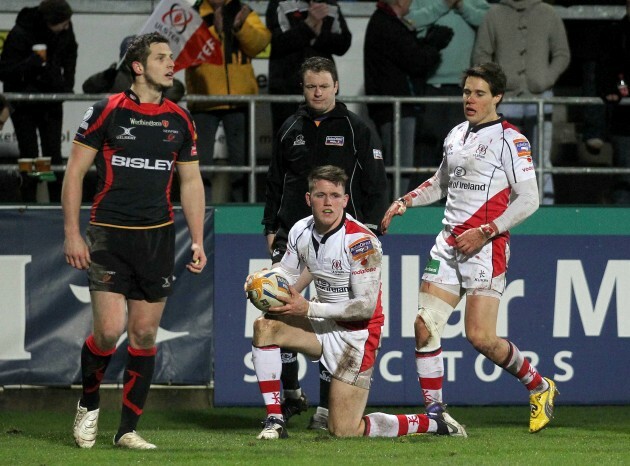 Here's Gilroy after scoring what looks to be the clinching third try. ©INPHO/Presseye/Darren Kidd
the boos ring out around Belfast, Ian Whitten is the second white jersey to be sent to the bin.
Carlo Damasco wasn't convinced it was the angelic centre, but again his assistant set him straight.
Damasco, awards a penalty to the home side soon after. Pienaar lines up the sideline but Afoa asks for the posts. there'll be no bonus point tonight.
Pienaar bisects the posts from 40 meters. An 11 point lead which looks like being the final score-line.
BONUS POINT TRY: Spence and Birch had Ravenhill on their feet. A dropped pass from a black shirt and Spences races away.
He offloads for Birch, but he doesn't have the pace to make the corner.
Never mind. Ulster recycle clinically and Pienaar feeds Stefan Terbalcnache, the old man with the last minute try.
The conversion is an easy one and Ulster are flattered by the scoreline as the final whistle goes.
In the end, the outgoing coach will have to be pleased with the five points and McLaughlin will need more of the same during the Six Nations if he is to sign off this season with a Pro12 semi-final or final.
However, this was a match won by a couple of flashes of inspiration, aside from that the Dragons were the side who looked like having control. Low on confidence though, they looked toothless once they reached Ulster's 22.
Meanwhile, across the water, it's gone a bit pear shaped for Connacht, they trail the Blues 22-10.
That ding-dong encounter in Murrayfield is being shaded 14-15 by the Ospreys.
Ian Humphreys giving it the old spiel about boardroom decisions not affecting players – even when your big brother is director of rugby, Ian?
His reaction to the result and the performance to RTE was:
"Tonight was pretty ugly at times but we have five points – no the best performance but we move on."
Yep, the little Hump just about summed it up. So that's it from me.
Be sure to come back to thescore.ie tomorrow for what is sure to be a busy sports Saturday even before Ireland's late kick off in Paris draws near.
Contribute to this story: