Hello ladies and gentlemen. You're very welcome along to what promises to be another exciting evening of Champions League action as Barcelona host Liverpool in the first leg of their European Cup semi-final.
Most pundits and commentators alike have suggested that the winner of this year's competition is on this side of the draw; with either Barcelona or Liverpool more likely to be crowned champions when matched up against the winners of Ajax and Tottenham.
Last night the Dutch league leaders put one foot in the final. Donny van de Beek's well-taken finish from close-range was enough to secure a crucial 1-0 away win in London and you'd imagine Jurgen Klopp's men would take a similar result on the road tonight too.
Speaking this week, the German said his men would not be frightened or held back by the daunting prospect ahead of them. "The Camp Nou is just a stadium. It is pretty big, but it is no temple of football," Klopp said.
Make no bones about it, Liverpool have a mammoth task ahead tonight if they are to navigate two legs against fellow European royalty (both sides boast five European Cups each).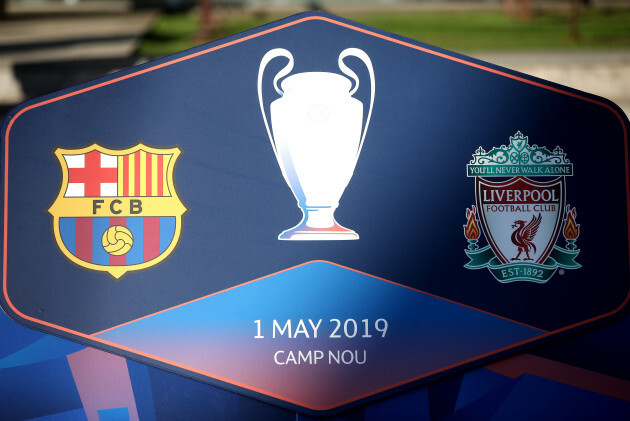 Adam Davy Adam Davy
But the in a season where the Merseyside's are involved in the most dramatic Premier League title race in years, on top of trying to book their place in a second successive Champions League final, the Reds can be more than confident of their chances.
Tonight Liverpool will face off against two of their former golden boys. Luis Suarez and Philippe Coutinho were there when Brendan Rodgers' side came agonisingly close to the title in 2014. Both men will come face-to-face with their old club having each moved on to greener pastures and warmer weather in Catalonia in recent years.
If stopping Suarez and Coutinho will be a task and a half, then keeping Lionel Messi quiet tonight will require a phenomenal level of performance from recently-crowned PFA Player of the Year Virgil van Dijk and his defensive team-mates.
With an array of attacking talent included those three Barca stars pitted against Mohamed Salah, Sadio Mane and Roberto Firmino, this could be an absolute goalfest.
Kick-off is coming up in just over an hour's time at 8.00pm, with tonight's game live on Virgin Media Sport and BT Sport 2 if you're near a television set.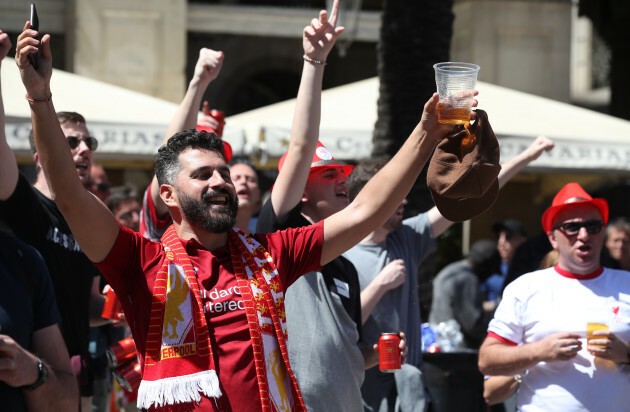 Nick Potts Nick Potts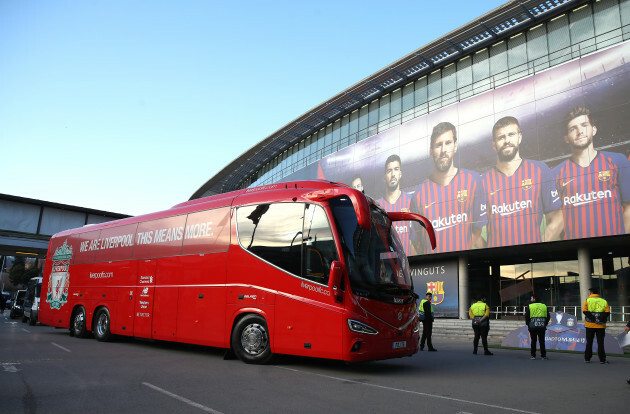 Adam Davy Adam Davy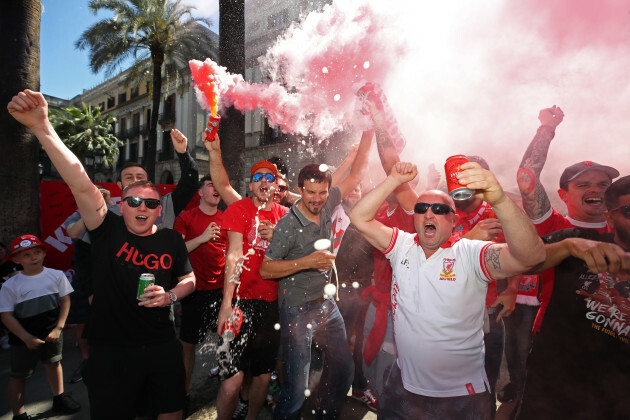 Let's get started with tonight's team news…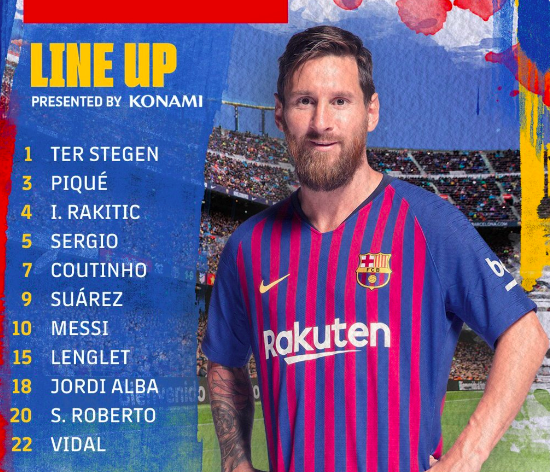 TEAM NEWS: Ernesto Valverde has made just one change from Barcelona's impressive 3-0 victory against Manchester United here in the quarter-finals last time out.
Arthur drops out of midfield, replaced by Arturo Vidal, who was very impressive on Saturday as the Catalans wrapped up their 26th La Liga title against Levante.
Meanwhile Jurgen Klopp has opted for two changes from his side's 4-1 second leg away win against FC Porto in the last eight.
Joe Gomez has been given the nod at at right back ahead of Trent Alexander-Arnold, while Roberto Firmino has been dropped to the bench after picking up a muscle injury against Huddersfield on Friday night. Naby Keita comes in for the Brazilian.
The midfield stays the same as that away win at the Estádio do Dragão, with James Milner, Fabinho and Georginio Wijnaldum all starting while captain Jordan Henderson must be content with a place on the bench.
BARCELONA: Ter Stegen, Sergi Roberto, Pique, Lenglet, Jordi Alba, Rakitic, Sergio Busquets, Vidal, Messi, Suarez, Coutinho.

Substitutes: Cillessen, Nelson Semedo, Arthur, Dembele, Malcom, Umtiti, Alena.

LIVERPOOL: Alisson, Gomez, Matip, van Dijk, Robertson, Milner, Fabinho, Keita, Salah, Mane, Wijnaldum.

Substitutes: Mignolet, Lovren, Firmino, Henderson, Shaqiri, Origi, Alexander-Arnold.
Jurgen Klopp has spoken about his selection for tonight's game, with the decision to drop Roberto Firmino to the bench clearly a massive call by the Reds boss as the striker continues to try and reclaim full health after that muscle knock on Friday.
Klopp said: "Bobby wants to [play] and the medical department told me 'yes, it's good' but then you have to make sure — I'm not sure if 90 minutes or whatever. So he doesn't have to start, that's why we start like we start. Bobby is on the bench, that's good news."
The Liverpool manager said the rest of his squad are in good health ahead of tonight's first leg. "The boys are all in good shape," he said. "But Hendo played five games in a row, for example, and we play on Saturday and Tuesday.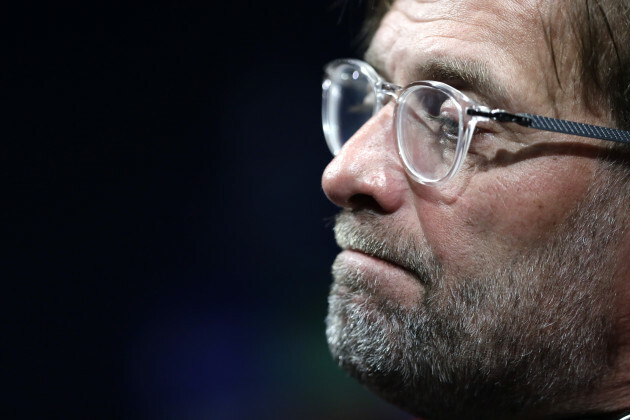 Manu Fernandez Manu Fernandez
"Millie didn't play for two games so it was clear we had to use him. Fabinho didn't play for two games so it was clear we had to use him.
"Naby didn't have that many games during the whole season, Gini didn't play all the games. That's why midfield, where it's really intense, is where we have to make sure we have legs there.
"It's the same for Trent; it was clear when Joe would be available again that there would be a game and I think today it makes absolute sense in that position.
"For Trent it's good, he can refresh a little bit, there are important games to come. But the first thing we wanted to make was a good line-up for tonight and for a good line-up you need legs and that's what we tried to make sure."
Adam Davy Adam Davy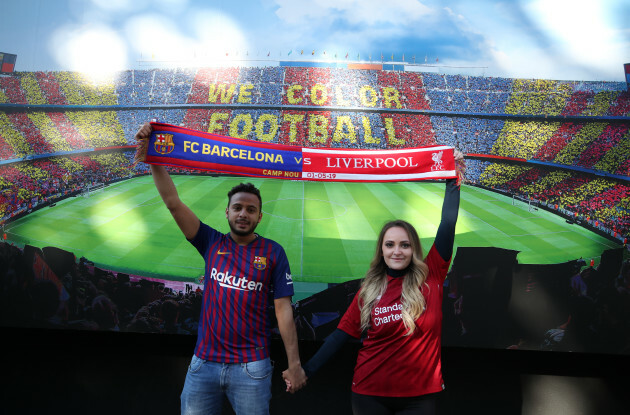 It's a massive night as both these sides seek their sixth European crown this season. Who's going to come out on top? Let us know below!

KICK-OFF: We're underway at Camp Nou for the first half!
An immediate attack by Barcelona after Liverpool try to apply a high press against Marc-Andre ter Stegen. Lionel Messi drops deep and picks out Luis Suarez scampering down the left wing. He crosses towards the box, but Alisson darts from his line to gather.
Chance for Liverpool down the other end. Mohamed Salah cuts inside dangerously and tries to get a shot off on his left peg. He arrives into a host of Barcelona bodies and it looked like the ball may have come off an arm there. Dutch referee Bjorn Kuipers waves play on.
Close! There's a sharp intake of breath from the home supporters as Ivan Rakitic comes close to breaking the deadlock. A neat one-two inside the box sees the Croatian international race free, but his shot is blocked away by Joe Gomez.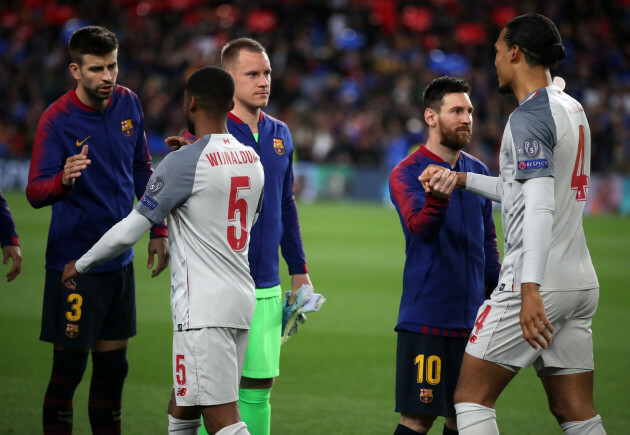 Nick Potts Nick Potts
A big, big shout for a penalty for Liverpool. Sadio Mane goes down inside the area under the challenge of Gerard Pique, but referee Kuipers waves play on. It looked like he was putting the whistle to his lips there, but no spot-kick is awarded as Barcelona live dangerously.
A frantic start to this game, with chances at both ends. Sadio Mane is a bundle of energy and Liverpool don't look too set back by Roberto Firmino's absence so far. The La Liga champions under quite a bit of pressure already.
Luis Suarez causes a moment of panic with a darting run behind enemy lines. A cross delivered by Ivan Rakitic tries to pick out the Uruguayan who sprints in-between van Dijk and Matip, but Alisson comes from his line to gather once again.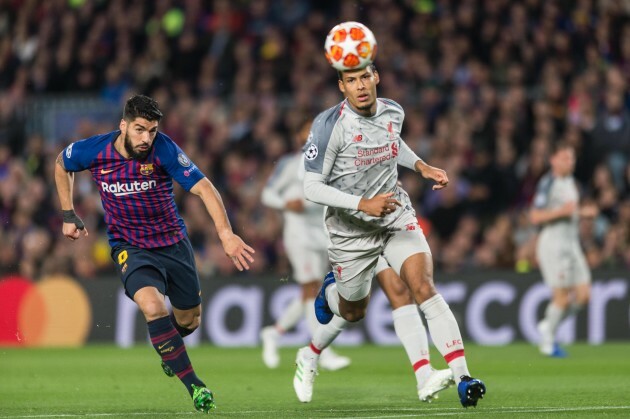 Imago / PA Images Imago / PA Images / PA Images
May 1st 2019, 8:14 PM
12'
Salah involved prominently down the other end on two occasions. Firstly he beats Jordi Alba with a clever, swift dribble — but his pass cut back towards Wijnaldum is poor. Another attack follows not long afterwards, however Andy Robertson's delivery flies over Salah's head and out the other side of the box.
May 1st 2019, 8:16 PM
14'
Chance! Lionel Messi almost fires home from close ramge, but his left-footed effort is blocked down heroically by Andy Robertson. Messi claims handball, but Liverpool fly down the other end thanks to a lung-busting run from Mo Salah. He almost slips in Sadio Mane with a killer through ball, but Clement Lenglet intercepts.
Another shot for Barcelona. Messi dances through a host of bodies, dodging left and right like a magician. He is dispossessed inside the box, but the ball falls to Philippe Coutinho — the Brazilian strikes low, but he fails to beat Alisson.
Nick Potts Nick Potts
May 1st 2019, 8:20 PM
18'
A free-kick for Liverpool right on the edge of the area as Gerard Pique is hauled up by the referee for holding onto Sadio Mane. A great opportunity for Klopp's men here as James Milner prepares to send a cross into the box.
May 1st 2019, 8:22 PM
19'
Milner's cross is headed clear rather easily. There may be an issue for Liverpool here though as Naby Keita goes down injured. He seemed to be on the receiving end of an Ivan Rakitic challenge there, and he looks in quite a bit of pain. A substitution could be on its way as Jordan Henderson is sent to warm up.
Keita looks okay to continue here. Henderson was doing laps up and down the touchline getting warmed up, but it seems the Liverpool captain will have to wait a little longer if he is to see any football tonight.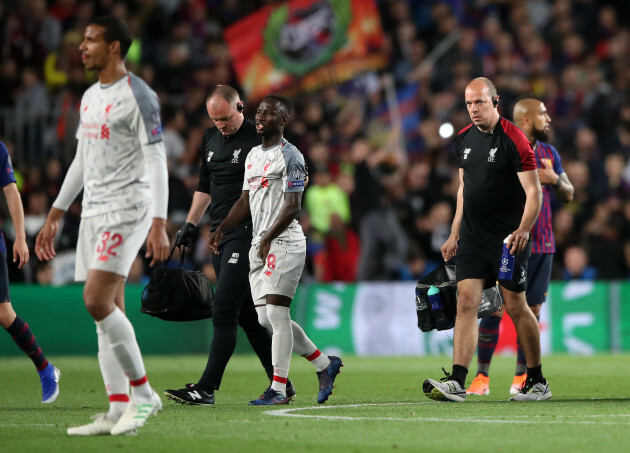 Nick Potts Nick Potts
May 1st 2019, 8:25 PM
22'
Some really impressive attacking play from the Reds here. Sadio Mane flicks the ball on and Andy Robertson whips a low cross into the box, but Jordi Alba is on hand to boot the ball clear at the last second.
May 1st 2019, 8:26 PM
23'
Nope, it does look like Naby Keita's night is over then. The midfielder took a nasty whack off Ivan Rakitic and won't be able to continue. Jordan Henderson takes the captain's armband and slots into the middle.
May 1st 2019, 8:28 PM
26'
GOAL! BARCELONA 1-0 LIVERPOOL (SUAREZ 26)
Barcelona take the lead and it just had to be him! Luis Suarez peels out in front of Joel Matip at the front post to meet Jordi Alba's precise, low cross into the box. Suarez gets the slightest of touches on the ball and it's enough to steer it past Alisson.
"Luis Suarez comes back to haunt Liverpool"

Suarez puts Barca 1-0 up in the Nou Camp 🔴🔵

And he celebrates his first Champions League goal of the season!#BARLIV #UCL #VMSport pic.twitter.com/DWjbEXb4PS

— Virgin Media Sport (@VMSportIE) May 1, 2019
May 1st 2019, 8:30 PM
27'
The Barca fans are in fine voice now, jumping about and singing to their heart's content. Remarkably, it's Suarez's first goal in this year's Champions League and what an important goal it could prove to be.
May 1st 2019, 8:32 PM
29'
Another hairy moment for Liverpool as Suarez continues to cause all sorts of issues. He outmuscles Henderson off the ball and sends a low cross into the box seeking Coutinho out the other end of the area. Virgil van Dijk is on hand, though, and smashes the ball into touch.
May 1st 2019, 8:33 PM
31'
Klopp's men go in search of an immediate equaliser. Robertson once again finds time and space down that left wing — he's been excellent down that flank all evening — but his cross fails to pick out a team-mate and it's hooked clear.
Emilio Morenatti Emilio Morenatti
May 1st 2019, 8:34 PM
31'
All of a sudden Barcelona find a gap down the other end. The ability of Ernesto Valverde's side to suddenly switch it on and go from zero to one hundred miles an hour is remarkable. A crucial tackle from Fabinho ends the danger just when it looked like it might be 2-0 from Coutinho.
May 1st 2019, 8:35 PM
32'
A great, great ball from Henderson comes within inches of picking out Sadio Mane inside the box. The forward was gearing up for a free header, only for Sergi Robertson to pipe up at the last second to head clear. Great defending.
May 1st 2019, 8:37 PM
34'
Close! Sadio Mane almost puts Liverpool back level-pegging. From close range he stubs his shot into the ground and fails to beat Marc-Andre ter Stegen with the goal at his beg and mercy.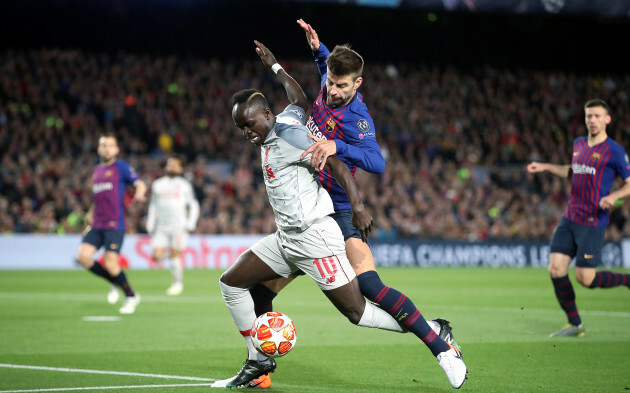 Adam Davy Adam Davy
May 1st 2019, 8:38 PM
35'
Ten minutes to go before half-time. A frantic opening to this game, with Barcelona always looking dangerous, always looking like exposing Joe Gomez down the left wing via Jordi Alba and Philippe Coutinho. Luis Suarez looks like a man possessed up front, chasing every ball like it's his last. A mighty effort from the hosts so far.
A long-range effort from James Milner flies along the ground and wide for a corner. That chance came following some more good hold-up play from Mohamed Salah, but Milner's shot just couldn't find the target from the guts of 25 yards.
May 1st 2019, 8:41 PM
38'
We have our first booking of the evening as Clement Lenglet is shown a yellow card for dragging out of Salah there. The Liverpool forward had the beating of the French defender and he cynically dragged his opponent back to deny him the chance to run free down the righthand side. Free for Liverpool to come.
Emilio Morenatti Emilio Morenatti
May 1st 2019, 8:42 PM
40'
Milner curls a cross into the box, but once again the Merseysiders fail to get any success from set-piece delivers this evening. Gerard Pique rises highest and provides a meaty header to end the danger with five minutes to go before half-time.
May 1st 2019, 8:45 PM
42'
A steady passage of passing build-up play sees Salah open up space by picking out Andy Robertson. He struggles under the pressure of two Barcelona defenders and as Fabinho comes in for reinforcements the referee flags the Brazilian for a foul.
May 1st 2019, 8:47 PM
44'
There's a bit of argy-bargy between James Milner and Lionel Messi now. The Liverpool midfielder's shoulder connected with Messi along the touchline after the ball went out for a throw-in and the Argentine seemed to take exception. Milner pleads his innocence and the referee seems keen to just get back on with the game.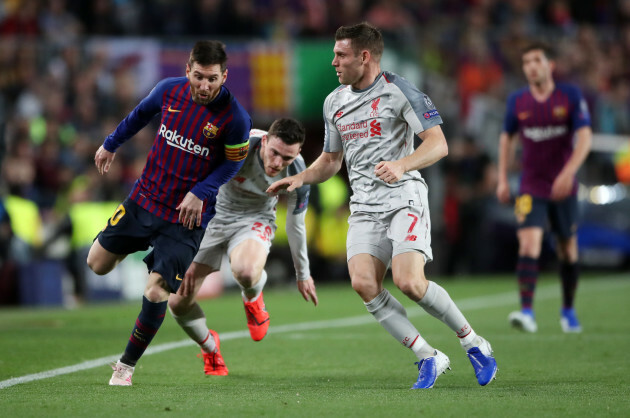 Nick Potts Nick Potts
May 1st 2019, 8:47 PM
45'
There will be three minutes of stoppage time to come at the end of the first half.
May 1st 2019, 8:50 PM
45'+2
Great running from Jordan Henderson sees the skipper try and cross into the box after getting down to the byline. Jordi Alba tracks him all the way though and manages to deflect the ball off Henderson's face and out for a corner. Talk about expert defending from the Spaniard.
May 1st 2019, 8:50 PM
45'+3
HALF-TIME: BARCELONA 1-0 LIVERPOOL
There we are, half-time already. A frantic 45 minutes which absolutely flew by sees Barcelona take a 1-0 lead into the interval thanks to a well-taken strike from Luis Suarez.
The Uruguayan spent three-and-a-half years on Merseyside but breaks Liverpool hearts to give the Catalans a decisive lead in the tie.
Jurgen Klopp's men have looked dangerous in patches so far, but do look very, very vulnerable in defence and midfield, with Joe Gomez looking particularly shaky up against the threat of Jordi Alba bombing forward time after time.
The Reds lost Naby Keita early on after suffering a hefty challenge from Ivan Rakitic and we could well be seeing Roberto Firmino off the bench pretty soon too as Liverpool seek an away goal to take back to Anfield.
More action to come shortly!
May 1st 2019, 9:00 PM
45'+3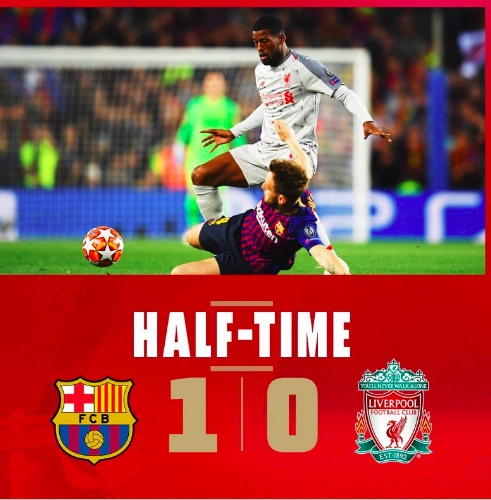 May 1st 2019, 9:07 PM
46'
SECOND-HALF: We're back underway for another 45 minutes.
May 1st 2019, 9:08 PM
47'
No changes from either side at the break and there's an early free for Barcelona. Luis Suarez's face contorts into pain after backing up into Joel Matip. He seemed to have made the most of that, with Matip bemused at the striker's antics.
May 1st 2019, 9:09 PM
48'
Save! Liverpool almost level right after the break. James Milner snaps up possession after the ball was laid on a plate in a dangerous position. Milner strikes an excellent effort on target, but ter Stegen reads the effort and provides the save.
May 1st 2019, 9:11 PM
49'
Matip floats an inviting ball over the top as he spots Mo Salah peeling away behind his marker. It's a really decent pass from the centre back, but Salah can't get there in time as he sought a one on one chance against ter Stegen.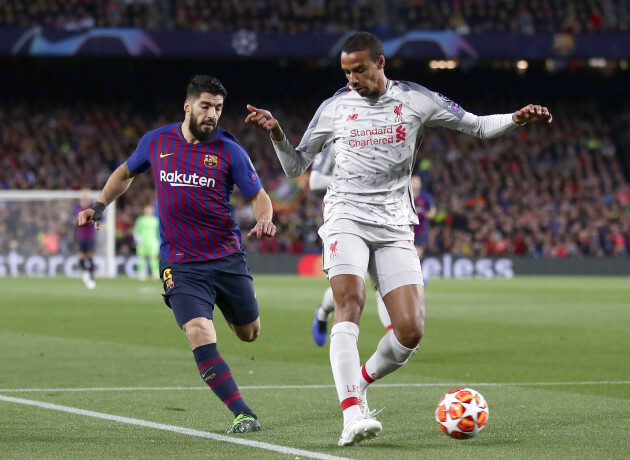 Manu Fernandez Manu Fernandez
May 1st 2019, 9:12 PM
50'
A really strong start to the second half by Liverpool. Mane easily beats Sergi Roberto with a snappy dribble down the left wing. The Senegal international chips the ball into the box but no team-mate is there to meet it.
May 1st 2019, 9:15 PM
53'
Chance! Salah is agonisingly close to drawing the sides level. Wave after wave of Liverpool attacks comes to a head as the Egyptian takes up possession on the edge of the box. A shot seems impossible with a host of Barcelona bodies throwing themselves in the way, but Salah manages to eek out a powerful low effort which ter Stegen does brilliantly to palm away.
May 1st 2019, 9:18 PM
56'
There's a pause in play as Clement Lenglet goes down requiring some medical attention. The French defender seemed to collide with Sergi Roberto as both men contested a high ball into the box there.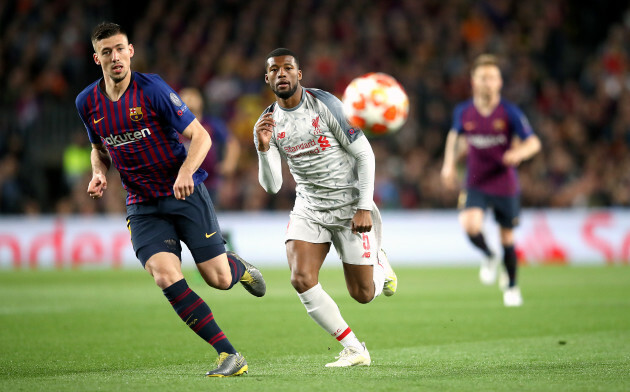 Adam Davy Adam Davy
May 1st 2019, 9:21 PM
59'
What a chance! It's just attack, after attack, after attack right now as Barcelona continue to hang on. A superb dummy by Georginio Wijnaldum sees the ball set up on a silver platter for James Milner to strike from point-blank range, but the midfielder's effort is right at ter Stegen. Either side of the German and it would have been 1-1.
May 1st 2019, 9:22 PM
60'
A first substitution of the night for the hosts as former Liverpool man Philippe Coutinho comes off to be replaced by Nelson Semedo with half an hour to go. A productive evening's work in the first half by Coutinho, but he has been pretty anonymous since the break.
May 1st 2019, 9:26 PM
63'
A brilliant chance to make it 2-0 down the other end. Barcelona have had very few chances since the interval but really ought to have doubled their lead here. Lionel Messi picks out Arturo Vidal in oceans of space right in front of goal, but instead of shooting the Chilean decides to cross. It's a poor decision and his ball across is blocked away.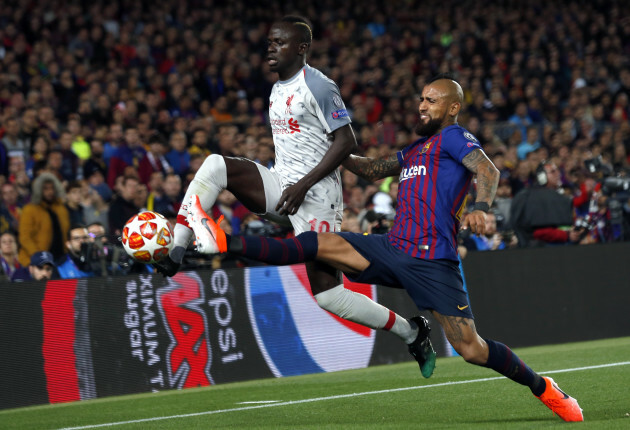 Joan Monfort Joan Monfort
May 1st 2019, 9:29 PM
66'
A good passage of passing play again from Liverpool, who are forcing Barcelona deep, deep inside their own half. Klopp's men have dominated possession in this second half and it's a rare sight to see any Barcelona side so debilitated. All that said, the Reds have failed to make any of that possession count and still trail with 25 minutes to go.
May 1st 2019, 9:32 PM
70'
A chorus of Allez, Allez, Allez rings around Camp Nou as Liverpool continue to try and find a breakthrough. There were only 4,000 or so away tickets allocated for tonights game but the travelling contingent high up in the stands are making their voice heard.
Frustration is starting to build and build now. Fabinho is called back for a foul on Lionel Messi and another Liverpool attack breaks down. Milner, Henderson and Wijnaldum have done really well getting the ball into promising positions, but there just doesn't seem to be any final product as things stand.
Nick Potts Nick Potts
May 1st 2019, 9:36 PM
73'
Roberto Firmino has been warming up for quite a while now and seems to be always looking across at Jurgen Klopp to get the call to come on. The Brazilian was not fully fit ahead of tonight's game after picking up a muscle injury on Friday against Huddersfield, but would relish the chance to come on and turn this tie around late on.
May 1st 2019, 9:36 PM
75'
GOAL! BARCELONA 2-0 LIVERPOOL (MESSI 75)
Barcelona double their lead with fifteen minutes to go! It's a stroke of luck for the Catalans but they won't care one bit. Luis Suarez crashes a shot against the crossbar, the ball falls down on a plate for Lionel Messi and the skipper walks the ball into an empty net for his 47th goal of the season. That could be a killer for Jurgen Klopp's men.
Messi doubles Barca's lead 🔴🔵

He follows up Suarez's shot which comes off the bar!

This scoreline looking quite harsh for Liverpool fans now...#BARLIV #UCL #VMSport pic.twitter.com/9ju2gGJpR7

— Virgin Media Sport (@VMSportIE) May 1, 2019
That was such a bizarre goal. A great run by Messi set Suarez free, his shot hits the bar and leaves Alisson on the ground, and the Argentine has the simple task of catching the ball on his toe once it comes back down to earth and slot it into an empty goal.
May 1st 2019, 9:40 PM
79'
Klopp has been forced into a change as he tries to nick one back in the final few minutes after that sucker punch from Messi. Roberto Firmino is on, replacing Georginio Wijnaldum.
May 1st 2019, 9:44 PM
82'
GOAL! BARCELONA 3-0 LIVERPOOL (MESSI 82)
Goodness gracious, what a goal! The little genius strikes again to put one foot in the final for Barcelona. Messi hits an utterly spectacular free-kick right into Alisson's top corner. It's his second of the night and his 600th career goal for Barcelona. Wow!
Oh my word 🤯

Messi you absolute beauty! Has there ever been a more perfect free-kick? 🤤

Simply sublime ✨🔮#BARLIV #UCL #VMSport pic.twitter.com/a2fAo9e3cK

— Virgin Media Sport (@VMSportIE) May 1, 2019
Off the post! The drama is unending at Camp Nou as Liverpool nearly snatch a goal back at the other end moments after Messi's free-kick. Roberto Firmino's shot is cleared off the line brilliantly by Ivan Rakitic, before Mo Salah's rebound smacks the frame of the goal and back away. Inches away from making it 3-1 and grabbing an away goal.
Nearly a hat-trick for Messi with just a couple of minutes left on the clock. He steers his way into the box and tests Alisson from an acute angle, but the Brazilian shot-stopper manages to smoother the ball and keep it at 3-0.
Shouts for a late penalty as Liverpool seek to put at least one on the scoreboard tonight ahead of the second leg at Anfield. Arturo Vidal slides in on Sadio Mane and the Reds forward goes down, but Dutch referee Bjorn Kuipers says it's only a corner kick.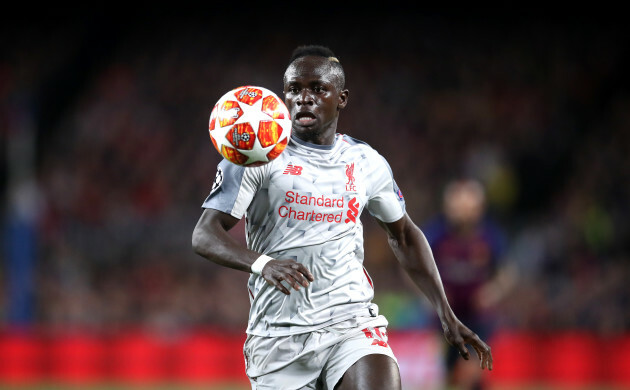 Adam Davy Adam Davy
May 1st 2019, 9:54 PM
90'+2
Chance! Barcelona break on the counter from Liverpool's corner, it's a three-on-one situation begging for another goal, but Luis Suarez's eventual shot from inside the box is blocked down by Andy Robertson. Great defending.
May 1st 2019, 9:54 PM
90'+2
There will be five minutes of stoppage time to come at the end of the second half.
Close! A dramatic final piece of play as Barcelona sprint clear through on the counter in yet another three-on-one situation. Lionel Messi races through with Gerard Pique and Ousmane Dembele in support, but the French forward fails to make it 4-0 with a free strike at goal. An absolute sitter as the referee blows his whistle.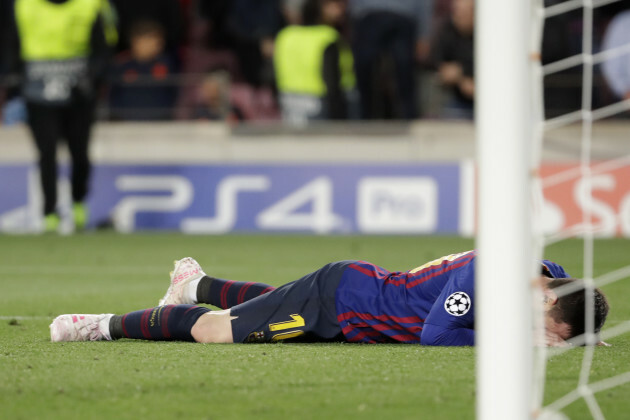 Emilio Morenatti Emilio Morenatti
FULL-TIME: BARCELONA 3-0 LIVERPOOL
It's all over! Liverpool have their hearts broken as former Reds favourite Luis Suarez and a double from that little genius Lionel Messi gives Barcelona 3-0 lead to bring to Anfield next Tuesday night.
Suarez broke the deadlock with a well-taken finish from close range. Jurgen Klopp's men dominated for large periods after the interval but failed to convert any of the numerous chances carved out for Sadio Mane and Mohamed Salah up front.
Just when it looked like the Merseysiders might nick an away goal to take back to Anfield, Messi popped up with one goal owing to a stroke of luck off the crossbar, before making his own piece of magic with an utterly sublime free-kick right into the top corner.
Thanks a million for joining us for the ride tonight. You can read our full match report from tonight's game here and you can also check out Gavin Cooney's player ratings by clicking here too. Cya soon!
Subscribe to our new podcast, The42 Rugby Weekly, here: