Presseye / Matt Mackey/INPHO UFC featherweight Artem Lobov. Presseye / Matt Mackey/INPHO / Matt Mackey/INPHO
HE MAY NOT have been involved in the post-fight brawl at UFC 229, but Artem Lobov was central to the rivalry that developed between Khabib Nurmagomedov and Conor McGregor.
When McGregor attacked a bus in Brooklyn back in April, he did so in an attempt to exact retribution on behalf of Lobov, his team-mate at Straight Blast Gym in Dublin. The bus was carrying several UFC fighters, including Nurmagomedov.
McGregor's actions related to an incident that occurred in a hotel a couple of days earlier when Lobov was set upon in a corridor by Nurmagomedov and several members of his team.
Nurmagomedov had been angered by comments Lobov made in an interview, in which the SBG featherweight pointed to his fellow Russian's track record of withdrawing from fights. Lobov, as he explained to ESPN this week, opted to highlight the issue as a riposte to Nurmagomedov's taunting of McGregor, who he regularly referred to as "chicken".
Fast forward to 6 October, and Nurmagomedov and McGregor finally brought their differences to the octagon. In his first defence of the UFC lightweight title, Nurmagomedov recorded a comprehensive victory by submitting the Dubliner in the fourth round of the main event of UFC 229 in Las Vegas.
But the rivalry didn't end when referee Herb Dean stepped in to call a halt to the contest. Nurmagomedov then leapt from the octagon to confront McGregor's training partner, Dillon Danis, which sparked chaotic scenes at the T-Mobile Arena.
McGregor appeared to be struck from behind by Zubaira Tukhugov, Nurmagomedov's team-mate, who jumped into the octagon during the ensuing melee and then boasted about slapping the beaten fighter on social media afterwards.
Tukhugov's cheap shot has had consequences for his own mixed martial arts career. UFC president Dana White promised that he'd subsequently never fight for the organisation again. Despite Nurmagomedov's threat to quit the UFC if that was the case, Tukhugov was removed from his scheduled bout against Lobov this weekend.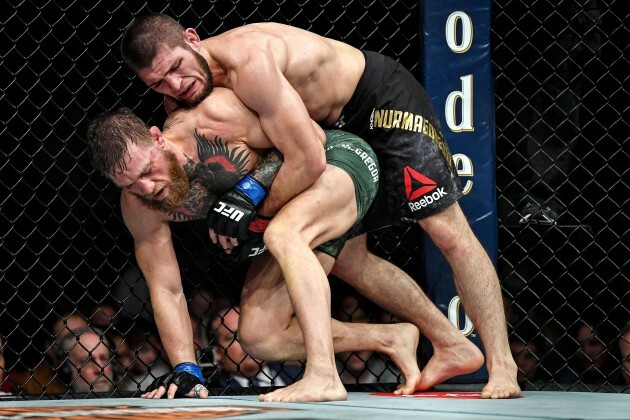 USA Today Sports / Stephen R. Sylvanie/INPHO Khabib Nurmagomedov in control against Conor McGregor at UFC 229. USA Today Sports / Stephen R. Sylvanie/INPHO / Stephen R. Sylvanie/INPHO
Lobov has remained on the UFC Fight Night 138 bill, but he will instead face Michael Johnson in Moncton, Canada. The bout will fill the co-main event slot, with light-heavyweights Volkan Oezdemir and Anthony Smith meeting in the main event.
Facing an opponent who has recorded wins over the likes of Dustin Poirier and Tony Ferguson, Lobov is a huge underdog as he bids to avoid a third defeat on the trot. While he insists he'll be focused when Saturday night's fight begins, the 32-year-old Dublin-based fighter still has his sights set on a clash with Tukhugov. 
"Emotions were high and whatever happened, happened," Lobov said. "But the one thing I did not like was the fact that after all this happened, Zubaira sat down in front of his phone and recorded a video, bragging about punching a guy that just fought four rounds.
"Do you think that's an honourable thing to do — to sit down and brag about hitting someone from behind? If he had fought him one-on-one, fair enough, then I could understand him doing that. But the way it happened and to brag about that, that's not an honourable thing to do. They must be got for that."
Lobov added: "I don't want [the UFC] to get rid of him. I want that fight with Zubaira. That's the only fight on my mind. I'm only doing this [fight against Michael Johnson] because I was already finished my training camp, I was pretty much ready to go and I haven't fought in a year. For many reasons — financially being the last one of them — I had to take this fight. But make no mistake about it: I want Zubaira."
A defeat to Michael Johnson will leave Lobov in a precarious position in terms of his own future on the UFC roster. Regardless of the outcome, he says he'll follow Tukhugov to whichever organisation will host that potential bout.
"If they cut him, I want to be gone as well. I will fight him in ACB, Bellator or whatever league wants to do it. I will get him. But it has to be done in the octagon. I want to look this man in the eyes, one-one-one. 
"When it's inside that octagon it's one versus one, your skill versus his skill, your heart versus his heart. I want to test his heart in the octagon. I want to see what he's got."
Subscribe to our new podcast, Heineken Rugby Weekly on The42, here: