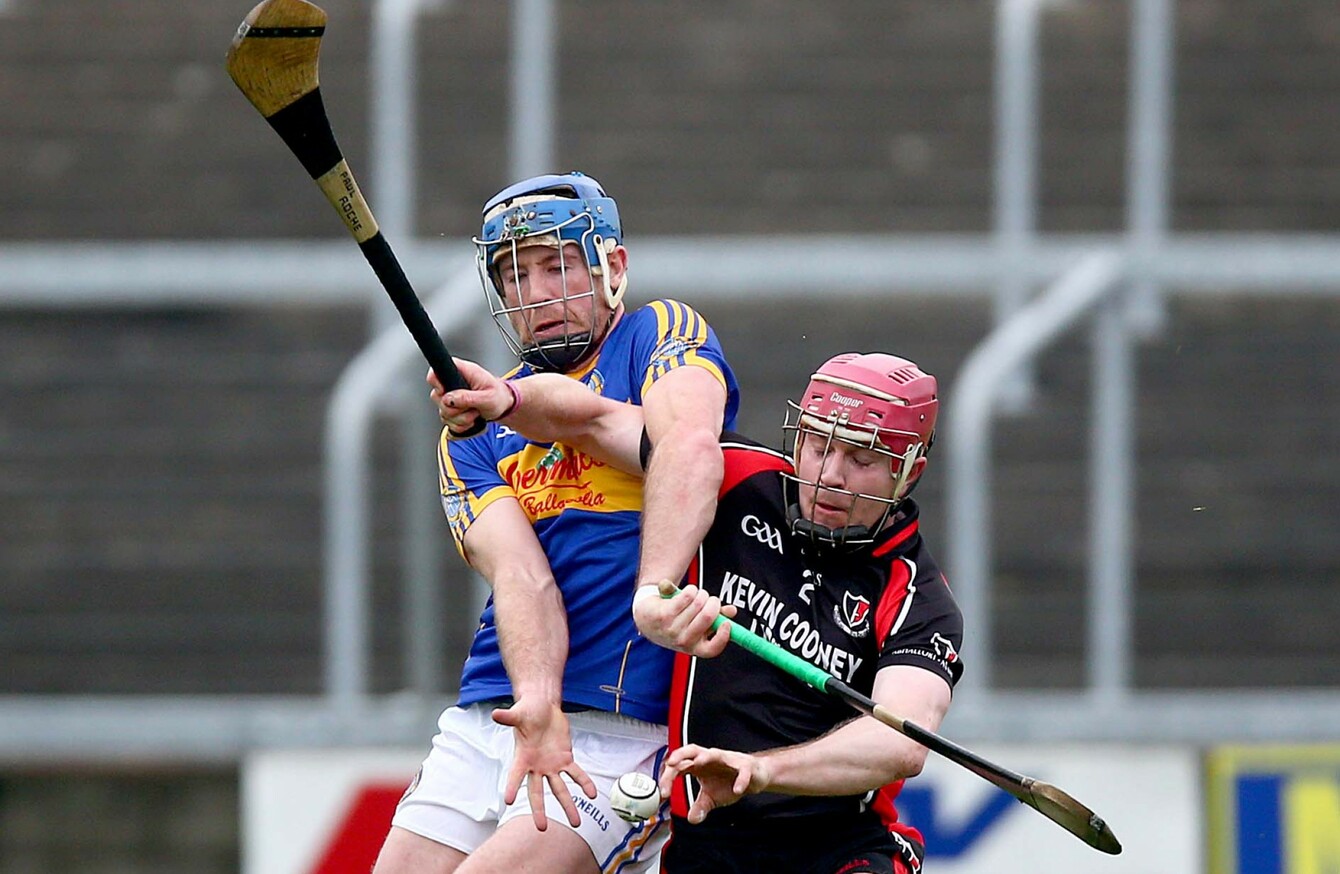 Oulart The Ballagh's Paul Roche, right, battles with Willie Hyland of Clough-Balcolla in the Leinster club championship quarter-final.
Image: Donall Farmer/INPHO
Oulart The Ballagh's Paul Roche, right, battles with Willie Hyland of Clough-Balcolla in the Leinster club championship quarter-final.
Image: Donall Farmer/INPHO
EXPERIENCED DEFENDER PAUL Roche claims Oulart-The Ballagh are in "bonus territory" heading into Sunday's AIB Leinster club hurling championship final – despite it being their fifth decider in six seasons.
The club have dominated the Wexford scene since the mid-2000s but have failed miserably in each of those previous provincial finals, losing all four between 2010 and 2013.
The 2013 final loss was particularly galling as opponents Mount Leinster Rangers were the first club from Carlow to reach a final, let alone win one, but edged a low-scoring game by three points.
With that defeat in mind, allied to the fact that key players like ex-Wexford back Roche are in their 30s, it's no surprise that even some locals are writing them off ahead of Sunday's clash with Cuala.
Roche, 33, who runs the Oulart Hill Bar in Oulart, revealed a recent conversation with one customer who maintained that victory for Dublin outfit and favourites Cuala at Carlow's Netwatch Cullen Park on Sunday is a done deal.
"You'd be hearing a lot of stuff in there, a woman came in the other day and said, 'if ye beat Cuala I'll eat my hand, ye haven't a hope!'" smiled Roche. "And I said, 'thanks for the vote of confidence'.
Then she asked, 'why, do you play?' I said, 'a small bit, yeah'. She said, 'well, their forwards are too fast, ye haven't a hope!' The few lads that were there were kind of saying, 'what's going on here?!' But you'd be hearing that stuff the whole time, you pass it off."
All of which explains why Roche feels the pressure is off and why Oulart are in a psychologically favourable position heading into the decider.
"It's a different approach this year," he said.
Our aim at the start of the year was to get back into a quarter-final in Wexford, where we were knocked out last year.
"I think the last Leinster final did take a lot out of us going into last year but it feels like it's out of the system and it feels like there's no pressure this year. We're in bonus territory because, as I say, the main aim really was to get back to the quarter-final in Wexford."
Be part
of the team
Access exclusive podcasts, interviews and analysis with a monthly or annual membership.
Become a Member
Oulart accounted for the Kilkenny champions on the way to the 2011 and 2012 finals so were naturally favourites though never were they more heavily backed than ahead of their last final, in 2013.
"As players ourselves, we knew what we were up against," said Roche. "Mount Leinster Rangers are a good team but everyone was saying, 'You are going to win by 10 points', people from other parishes and all. This year, what's great is that we're the underdogs, big underdogs."
Cuala are also striving for a first title though they have none of the baggage that Oulart possess from all those final defeats. Mattie Kenny's Dublin champions are on form too with victories over the Offaly and Kilkenny representatives compared to Oulart's wins over the Laois and Westmeath winners.
"I suppose we know what it's like to be hurling coming up to December," noted Roche. "But we haven't really thought about them. It's their first time, yeah, but all we spoke about was ourselves, trying to get ourselves to perform.
"Cuala can do their own thing. They're putting up serious scores. They've beaten Ballyboden, they put up a high score in the county final, scored 1-23 against Coolderry. They're rightfully favourites.
"We've found it a bit more tough going, getting over the line. But we're starting to know how to win games in tricky circumstances. Clough-Ballacolla could have taken us but we hung in there."