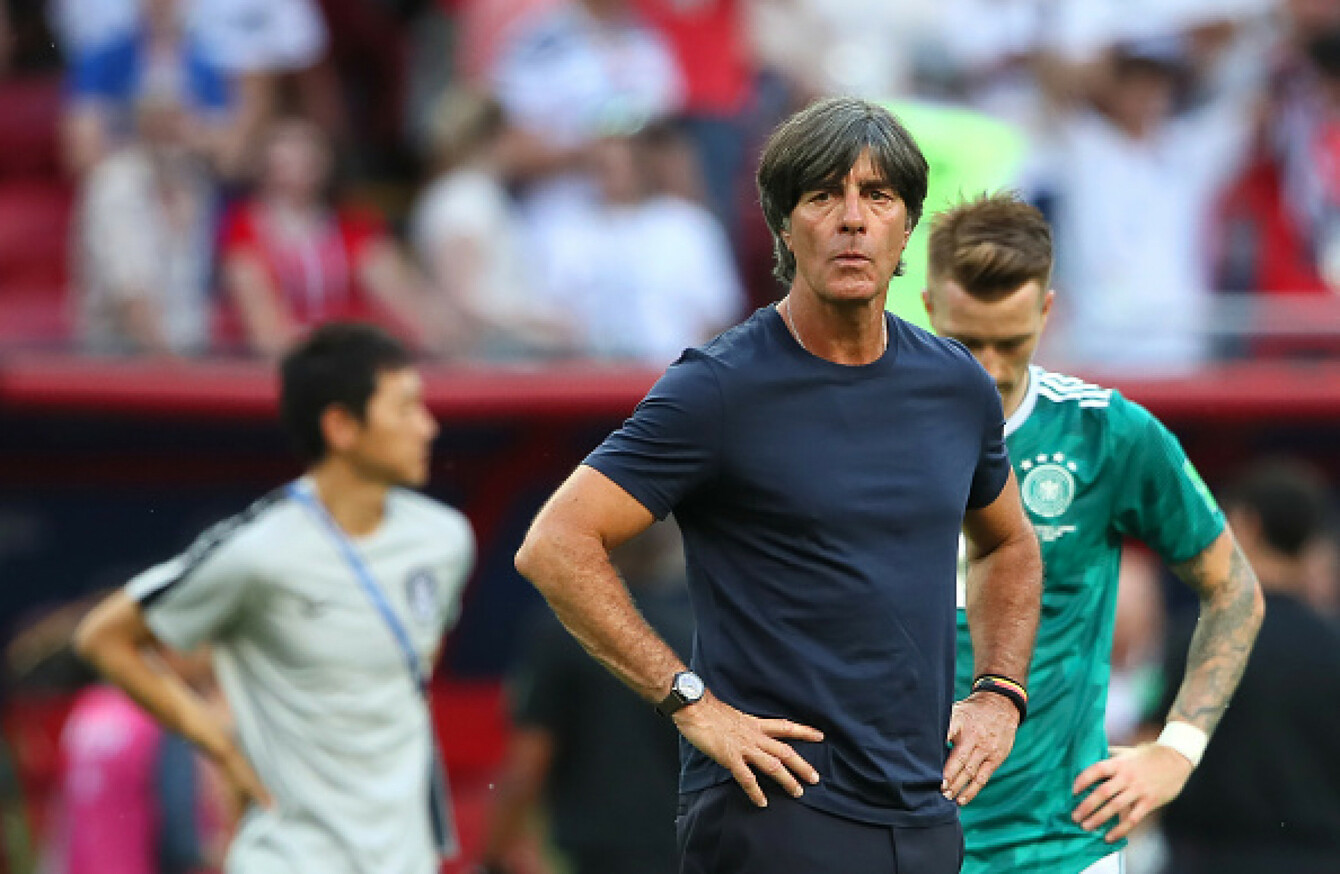 Image: Getty Images
Image: Getty Images
JOACHIM LOEW SAYS he needs time to decide his future after Germany crashed out of the World Cup finals following a shock 2-0 defeat to South Korea on Wednesday.
After 12 years in charge, Germany's head coach will be under intense pressure to resign in the coming days, despite having only signed a contract extension until 2022 last month.
"It's too soon for me to answer, it will take a few hours to see things clearly, the disappointment is very deep in me," 58-year Loew when asked if he will resign.
"We will have to have discussions tomorrow, we'll see how it goes."
It is the first time Germany have failed to qualify from the group stages at a World Cup since 1938 as the holders became the latest defending champions to crash out early.
"This is a huge disappointment for us — there was deathly silence in the dressing room," said Loew.
"Congratulations to our opponents, the Swedes and the Mexicans.
"We were rightly eliminated from the tournament.
"We had many goal possibilities, but we could not force the goal."
Mats Hummels, meanwhile, said an early exit was a 'bitter' shock for the team.
"It is a really, really bitter evening for us," admitted Hummels, who squandered a late chance when he headed over.
"The situation is very difficult to put into words," he told ZDF.
"We did not put the ball in the net, even though we had plenty of opportunities, including myself in the 86th minute — I have to score from chances like that.
"It is a very bitter evening for us and for all German football fans.
"We believed in it until the very end, we tried to shoot, but we just couldn't get the ball in.
"We had plenty of opportunities, we broke our necks trying out there today."
The42 is on Instagram! Tap the button below on your phone to follow us!