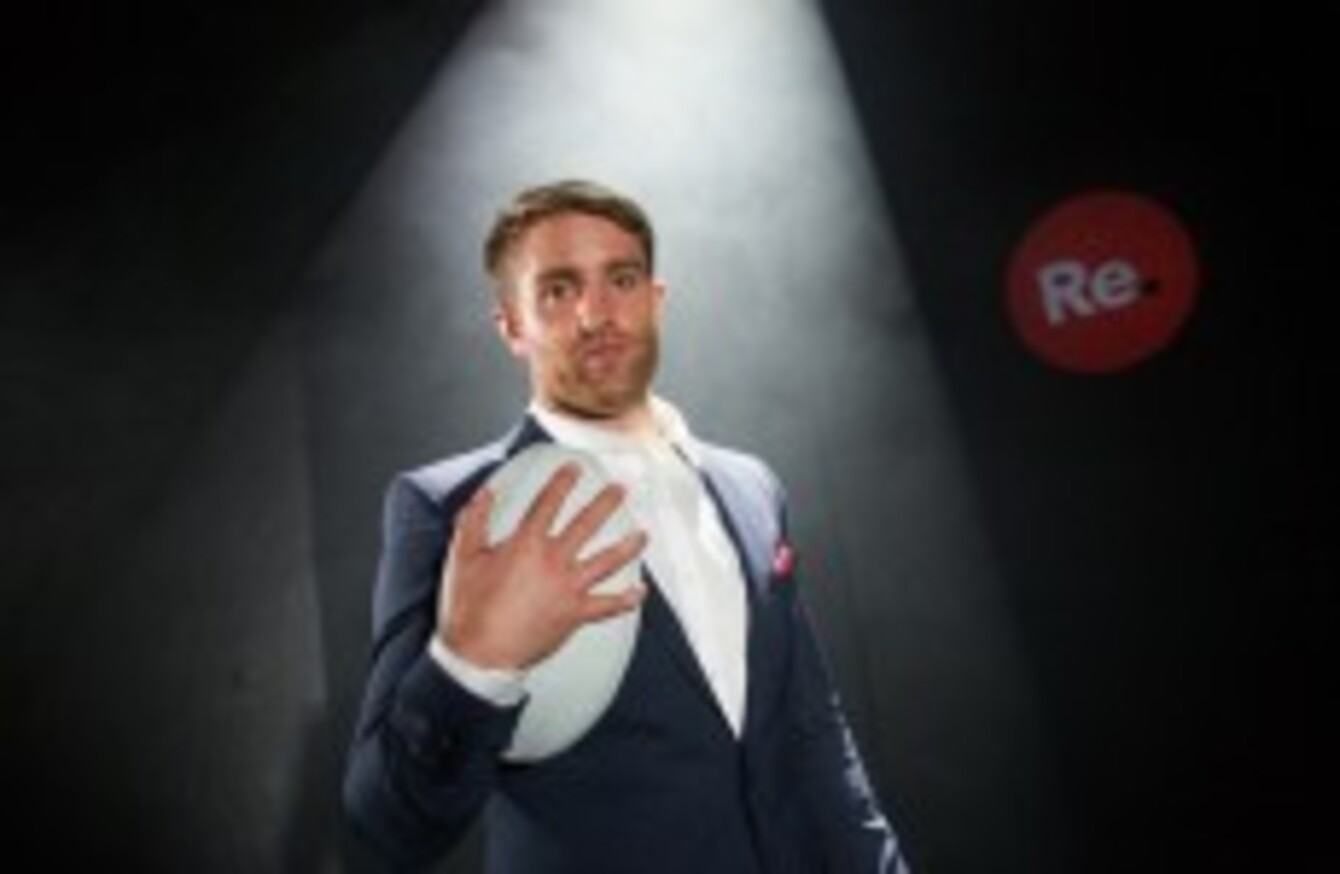 Luke Fitzgerald is an ambassador for the brand new Re.Store.
Luke Fitzgerald is an ambassador for the brand new Re.Store.
AMIDST THE DISAPPOINTMENT surrounding Leinster this season is an ongoing excitement at the return to fitness and form of Luke Fitzgerald.
The prodigal son has been a beacon of hope for those who have found themselves turned off by Leinster's attacking approach, his footwork, acceleration and offloading offering up a team-leading threat with ball in hand.
Fitzgerald is slightly understated when he tells us he's "pretty confident" about his game after he plants himself in a leather chair at the head of a table of journalists in Montrose on Wednesday evening.
Confident people exude their belief. Fitzgerald doesn't really need to articulate it verbally. His every touch on the rugby pitch in recent times speaks of a player finally heading towards peak physical condition and utterly convinced he can cut the opposition to shreds.
Part of the problem is that Fitzgerald has been a prosperous island in a sea of sluggishness. If only Leinster had 14 more players with his cutting edge and defensive poise.
The criticisms of Leinster this season have centred around head coach Matt O'Connor, the suggestion being that the Australian's methods and game plan simply aren't getting the best from this collection of players.
Fitzgerald points to the lack of face time O'Connor has had with key players this season due to the Six Nations, explaining that Leinster had just three training sessions between leaving Ireland camp and facing Bath in the Champions Cup quarter-finals.
While Leinster are often getting it right in their initial launch plays from set-piece, they have been messy and apparently disorganised in phase play. Fitzgerald says that's not down to a dearth of ideas in O'Connor's coaching, rather a simple lack of practice.
Captain Jamie Heaslip has spoken about O'Connor pushing the players to be less robotic, play with their heads up and make decisions in phase play. We ask Fitzgerald what that actually entails and what's making it so difficult to execute for Leinster.
"I'm comparing him to Joe and I probably think that's a little bit unfair because Joe is obviously an unbelievable coach, one of the best in the world," says Fitzgerald. "I think he probably had a different group of guys with him, that probably hasn't been said.
"You know, Leo [Cullen], Drico at his prime, Sexto, Isa [Nacewa], different personnel. Not to say that the guys now aren't great players, but those guys were pretty phenomenal in fairness.
"I think Matt probably tries to create situations, like the thinking part of the game in terms of the set-up in open play is very different to Joe's. I think we probably create scenarios where there is decision making for the ball player.
"I think the tricky part of Matt's game plan, and the thing that makes it difficult for people on the outside to understand why it's so hard to get right when you're not playing together consistently, is that you have to probably get yourself in certain positions to create the opportunities.
"Getting in those positions can be tricky to get your timing and all those small things right. That's the tricky part in terms of having personnel missing and key guys missing that can get us going forward, getting in good positions, making smart plays off ball players."
It's those moving parts around playmakers Eoin Reddan, Jimmy Gopperth and Ian Madigan that Fitzgerald is referring to, he sees the issue as having been the lack of execution around those 'ball players'.
Fitzgerald says Leinster's squad still have genuine confidence in the game plan, because they've had success with it in different parts of different games. The Ireland international believes the onus is on the players to deliver it more consistently.
Toulon are a "daunting prospect" on Sunday and Fitzgerald believes a win in Marseille would be as momentous a European win as the 2009 semi-final victory over Munster, a "pretty big turning point for the club".
Despite all the signs pointing to a Toulon win, and against Leinster finally clicking to reach their full potential, the left wing is convinced we will get a clearer demonstration of the province's real quality and the excellence of O'Connor's ideas this weekend.
"I don't really feel that if we perform to our potential that there is a better team out there than us," says Fitzgerald.
"I would say this game will be the best indicator of what the squad is about and what the game plan is. There's no other way of putting it, is there?
"It's be-all-end-all season-wise, so if we don't perform and have confidence and execute the game plan in this one, then it's a disaster for us."
Simply avoiding a catastrophe is not in Fitzgerald's thinking. That's not how his mind works. While some people's minds might be creeping towards the return of Johnny Sexton and Isa Nacewa next season, Fitzgerald is concentrating on getting better now.
"Obviously I think Johnny is a cracker of a player, no doubt about it, but I think the onus is on the other guys [around the Leinster out-half, presumably Jimmy Gopperth this weekend] to be getting in the right positions.
"That guy is organising, looking to get the ball, if it's the right decision for that. He's getting the ball and going to be put under pressure, so he needs to know the guys are in the right positions outside him to be attacking off that and to get their timing right.
"I think there's probably an onus on the guys on the outside over our nines and tens.
"That's something we've been working on, getting our timing a little bit better off those guys. And helping them out, because it's the toughest job on the pitch if you're touching the ball that often.
"You have a lot of decisions to make and helping to make those decisions easier is a big part of being a good team player and helping the team to play well."
********************
Luke Fitzgerald is an ambassador for Re.Store, a dynamic new Irish food, coffee and convenience concept that has joined forces with Ireland's leading fuel retailer, Topaz, to revolutionise the forecourt and convenience experience. 
Providing a balanced and nutritious range of fresh, healthy and delicious food for people on the go, Re.Store is transforming service stations throughout the country. Join the Re.volution at www.facebook.com/Re.Store or www.topaz.ie.