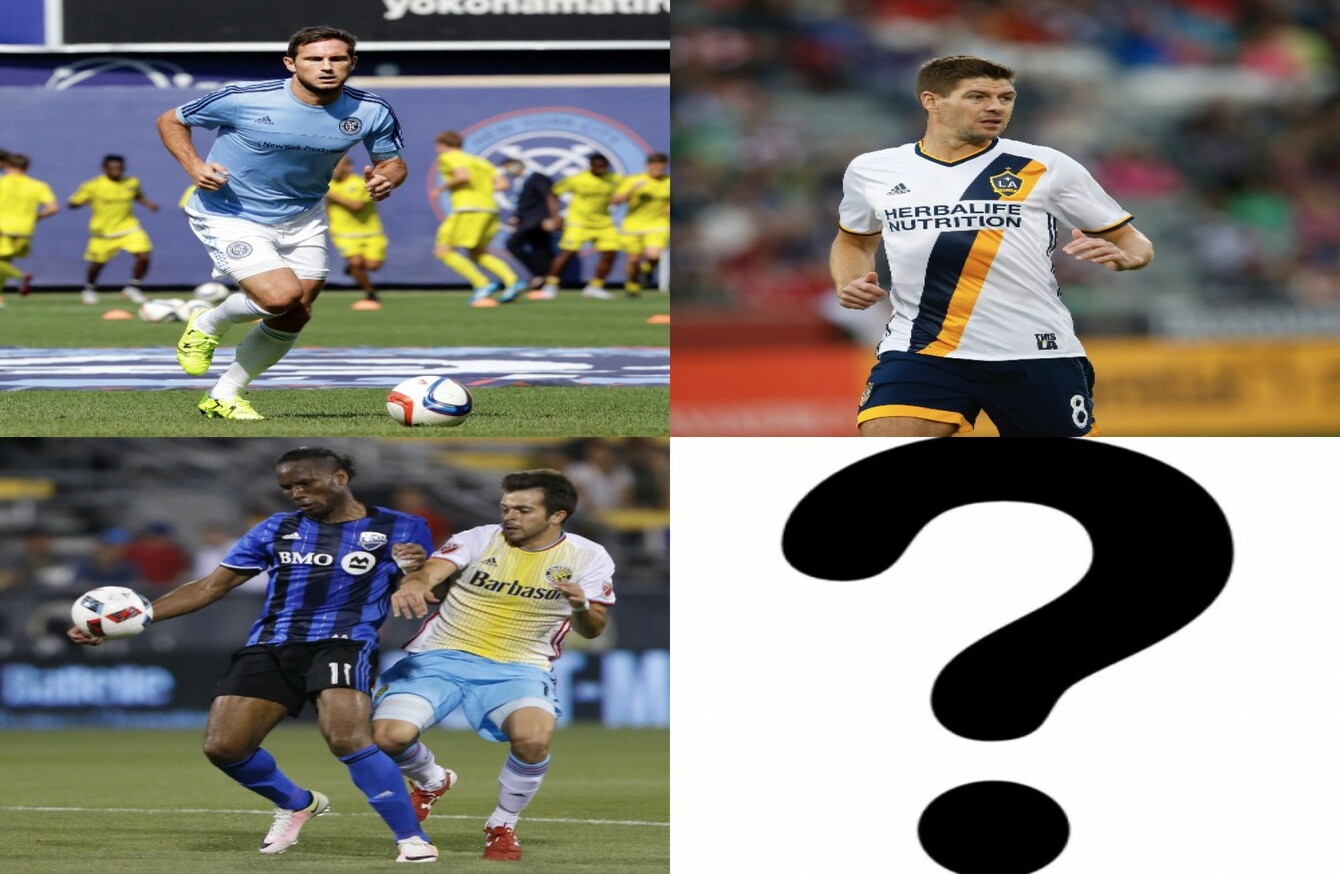 THINGS HAVE BEEN quiet on the MLS front over the last few months. Normally, pre-season sees the traditional big-hitters offer up a relentless swathe of marketing that revolves around their latest marquee signing.
Twelve months ago, there was still plenty of intriguing acquisitions. Ashley Cole, Jelle van Damme and Nigel de Jong all arrived in Los Angeles. Jermaine Jones swapped New England for Colorado. It was announced that Tim Howard would also be signing for the Rapids later in the season. Orlando swooped for AC Milan's Antonio Nocerino.
Meanwhile, the league could still boast an impressive conveyer belt of high-profile names: Frank Lampard, Steven Gerrard, Didier Drogba, Andrea Pirlo, David Villa, Robbie Keane, Sebastian Giovinco, Giovani dos Santos.
But things are a little different now.
From the above list, only four remain. Perhaps most interestingly, the league – seen by many as a retirement home for players wanting a calm, casual but lucrative end to their careers – has not been linked with any well-known veterans.
It said quite a lot that in the midst of the recent rumours regarding Wayne Rooney's probable exit from Manchester United, MLS was low on the list of possible destinations. Only one franchise has been tenuously linked and that's Los Angeles side LAFC, who don't start in the league until March 2018.
Perhaps MLS has learned the hard way. Lampard, and particularly Gerrard, struggled to justify the hoopla surrounding their arrivals and their respective league legacies will both be quite underwhelming. Drogba provided Montreal with lots of goals but, when the side reached their very first Eastern Conference final last term, he was effectively an impact substitute as he battled injuries (and off-field drama) for the majority of the campaign. Even Andrea Pirlo – thought of as a midfield maestro by so many – will probably be best remembered in MLS circles for his unique way of defending corners. Essentially, a perfect metaphor for how ageing players supposedly treat Major League Soccer.
Established in 1996, the league is now well past the difficult teenage years but it has blossomed and developed significantly over the past few seasons.
The truth is that MLS is now getting to the stage where franchises – certainly the established ones – don't need tricks to draw support anymore. The product on the field and in the stands is proving to be enough. It has taken quite a while to get to this point but with expansion continuing for the next few years (Atlanta and Minnesota are the 2017 arrivals with LAFC and, potentially, David Beckham's Miami-based team following twelve months later), the league has never been in better health.
The standard of football is solid and certainly not as poor and uncultured as some casual viewers may claim. Last Sunday, I sat in a hotel room in Glasgow and watched Norwich take on Ipswich through my fingers. It was a hopeless, dire encounter that was advertised as a local derby. If that's what mid-table Championship fare normally looks like, MLS is much closer in quality to the Premier League than quite a few people think.
Be part
of the team
Access exclusive podcasts, interviews and analysis with a monthly or annual membership.
Become a Member
For the United States, the bulk of their national team now ply their trade in the domestic championship: a far cry from just a few years ago when the barometer of any American's talent was the European league they were a part of.
Of course, it still has its quirks. The single-entity nature of the league (MLS owns player registrations and contracts) is strange. The finer details of any player trade is confusing to even the most seasoned of MLS beat reporters (allocation money, targeted allocation money and Generation Adidas are all terms that are as clear as mud). The issue of promotion/relegation is a constant pub debate and a sore point for many. They argue it cheapens the look of MLS, when placed in the context of every other international league. But therein lies the greatest mistake people make: comparing it to how other countries do it.
There is no monopoly in MLS. There are no regular Conference finals fixtures. There is no top-six. Or top-four.
Regardless of how big cities are able to lure the supposed 'best players', the last four seasons have produced four different champions: Seattle, Portland, Kansas City and Los Angeles. You would struggle to find another league anywhere in the world that conjures such a wonderfully inconsistent Roll of Honour.
In 2016, ten MLS sides had an average home attendance of over 20,000. In the case of Seattle Sounders – the reigning champions – they racked up an average of over 42,000 at CenturyLink Field. Orlando City had 31,000. New York City FC totalled 27,000, as did Toronto.
When Toronto faced Montreal in the Eastern Conference first-leg in November, it was played at the Olympic Stadium in front of 61,000.
The last time the Impact hit such an attendance was in 2012, when David Beckham arrived with the Galaxy for a regular-season game. That night, a record Canadian crowd showed up just to see a celebrity.
In five years, MLS has come a long way.