THERE WAS A time when Manchester United fans could afford to mock the cup exploits of great rivals Liverpool.
Twenty years ago to be exact.
Before English football's two biggest clubs met in the 2003 final of the Carabao Cup – then sponsored by the brewery Worthington – a giant banner was unfurled from the second tier of the Stretford End during a Premier League game.
"Mickey Mouse Treble – LFC 2001 – The Real McCoy, Barcelona 26-5-99″
Liverpool, under French boss Gerard Houllier, were riding a crest of a wave having claimed the FA Cup, League Cup and Uefa Cup (now Europa League). Two years previously, of course, United's Treble haul included the domestic crown and Champions League, with victory over Newcastle United at the old Wembley sandwiched in between.
As fate would have it, it is United and Newcastle that meet once again today in a League Cup showpiece that is now of great significance to both for different reasons.
United need the trophy to continue the momentum that has steadily built up since Erik ten Hag took charge, and which also saw expectation levels rise to a new level following Thursday's thrilling victory over Barcelona in the Europa League play-off round.
The revitalisation at Old Trafford, with 16 wins and two draws from their last 18 fixtures in front of their own fans, typifies their form and confidence, but the strength and quality which was on show against the La Liga leaders will be equally required on neutral territory.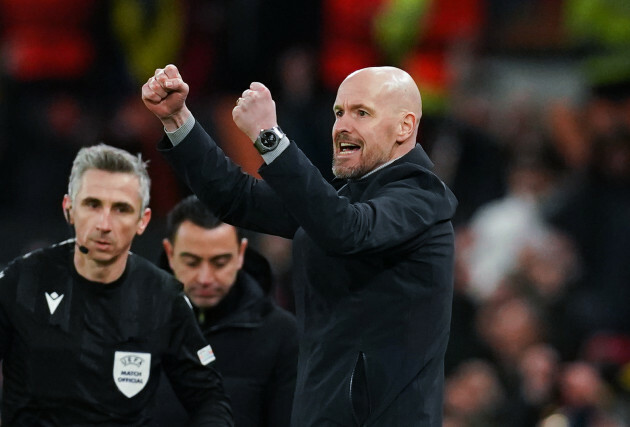 PA Erik ten Hag celebrates the win over Barcelona. PA
"The process is still on and we have to understand that it's still a long way for us because we want to achieve much bigger things," captain Bruno Fernandes, wearing the armband as a result of Harry Maguire's reduced role from the bench, said earlier this week of Ten Hag's impact.
"The manager demands that from us. He brought that culture that we can't be happy to be behind anyone. I think that's a great thing to have because we can't be satisfied playing for Manchester United and not winning trophies, and not being in the position of winning trophies."
United, incredibly, continue to offer a threat on four fronts in a season which began with back-to-back defeats against Brighton and Brentford.
The toxicity that had infiltrated the club in the form of the Glazer family ownership in 2005 had seeped into every pore for close to two decades but, somehow, Ten Hag has managed to begin the recovery process in the six months since those sobering early results.
That he was able to maintain his own composure, and ideals, through the storm of criticism is testament to his convictions as a manager, not to mention his ability as a coach to instil such principles.
What was once deemed a Mickey Mouse Treble is now very much on the cards for a club that could have only dreamt of such possibilities last August. Arsenal and Manchester City appear to be too formidable, despite sporadic stumbles, to be reined in by a United side that still look short of being capable of producing the kind of winning run required to reach the summit.
Champions League qualification now seems assured with at least a top-four finish, but the League Cup would be the club's first piece of silverware since lifting the Europa League in 2017.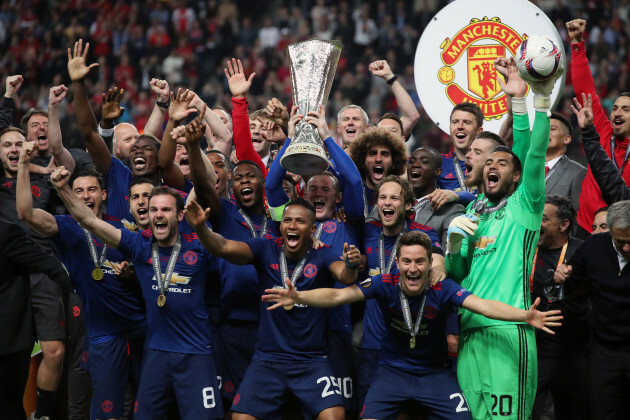 PA United players after winning the Europa League in 2017. PA
Newcastle's drought is far longer, stretching back to when they won the Inter-Cities Fairs Cup, a precursor to the Uefa Cup, in 1969. For added context, Alan Shearer, the club's record goal scorer, was born the following year.
Manager Eddie Howe might have been able to concern himself with such history were he now not feeling the pressure from the kind of drop off that could see him ushered out the door by the Saudi regime this summer.
It's incredible to think, given the nature of their campaign, but it has been an alarming 2023 for Howe, who has not been able to arrest a slide that threatens to undo so much good early work.
They have won just once in the league since the turn of the year, have fallen out of the top four, and the sense of drift needs to be quickly eradicated.
It feels now as though he is fighting for his job while Ten Hag is striving for something more lasting.
"It's a great opportunity to get the silverware. Football is all about that. It's about glory and honour in football," the Dutchman said this week. "We have to put everything in to get that cup to Manchester."
There is nothing Mickey Mouse about his ambitions.