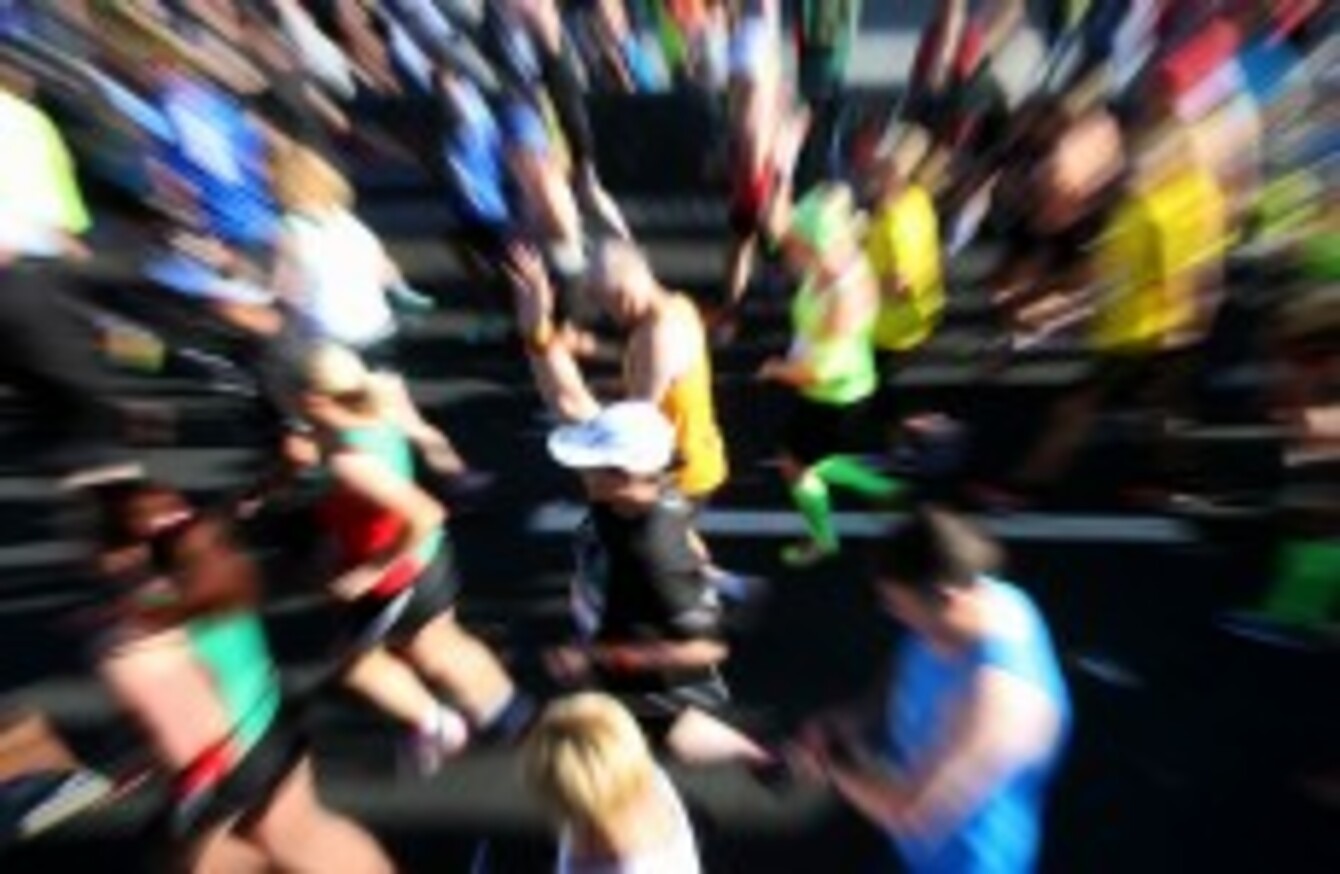 Keep on running.
Image: Donall Farmer/INPHO
Keep on running.
Image: Donall Farmer/INPHO
SOME PEOPLE CHOOSE to run without music, for others, their headphones are as important as their shorts. If you do like to move to the music, it's important to remember that music can influence the pace you run at, so if you're looking to break the three hour mark for the first time, it's probably best not to fill your MP3 player with Adele songs.
Likewise, if your goal is just to complete the course, no matter how long it takes, four hours of nineties techno won't be for you.
Also, don't be afraid of the cheese.
The distance – CAKE
Okay, it may be a song about motor racing but there aren't many tunes that name check starting lines so this will have to get you on your way.
Source: CakeVEVO/YouTube
Pumped up kicks – Foster the People
You've got the adrenalin of the start line out of your system and now it's time to settle into a steady rhythm. Try not to join in the whistling though.
Source: fosterthepeopleVEVO/YouTube
Island in the sun – Weezer
You're still fighting the temptation to run flat out but you've got 24.2 miles to go so keep that pace steady and think of Weezer and their cute baby animals.
Source: WeezerVEVO/YouTube
Evil – Interpol
By now you should have settled into your race pace so the tempo of the music shouldn't matter but still, it's not a good idea to delve into Dragonforce just yet.
Source: ForJusticeAndPeace/YouTube
We are the people – Empire of the Sun
Five miles in and you're probably still amazed by the number of people running alongside you. Make sure you ignore them and use the pacemaker.
Source: pommyone/YouTube
Born to run – Bruce Springsteen
At this stage, you'll notice the people who haven't trained properly starting to struggle but hopefully you have and you'll realise you were born for this.
Source: BruceSpringsteenVEVO/YouTube
Running up that hill – Placebo
I know it's a Kate Bush song, but I prefer this version; especially ahead of that monster of a hill you're about to face.
Source: drklrd88/YouTube
Eye of the tiger – Survivor
A total change of pace here but you can't run a marathon and not include one of the greatest running song of all time!
Source: SurvivorVEVO/YouTube
Hearts on Fire – John Cafferty
Time to set the cheese free – and continue the Rocky theme – as you hit the open roads and the mass of runners from the opening few miles begins to dissipate.
Source: Wardrip06/YouTube
Don't leave me this way – The Communards
After 10 miles, you start to pass the people in the animal costumes that seemed a great idea at the start. You can't stop for anyone though.
Source: JohnParrr/YouTube
Enjoy the silence – Depeche Mode
Some people don't like listening to music when they're running. Those people will never understand the joys of sweating to Depeche Mode.
Source: generationhitmachine/YouTube
Blue Monday – New Order
You're nearly at the half-way mark. This will be anything but a Blue Monday if you can just keep going for another ninety or so minutes.
Source: Spotnick/YouTube
Jump – Van Halen
Congratulations. You're half way there, a feat worth celebrating but don't forget you've the same distance to go so don't get too carried away.
Source: topsniper5150/YouTube
An end has a start – Editors
The second half of the race and you're at the beginning of the end so it's time to move away from the cheese for a while to get your mind focused on the task ahead.
Source: westlifehateclub/YouTube
There is a light that never goes out – The Smiths
Let's face it, Morrissey would definitely cheer you on if he knew you were running the marathon, you know how excited he gets.
Source: pLusabLe1/YouTube
Daniel – Bat for Lashes
Pro Tip: Write your name on the t-shirt you plan to run in. You won't believe how much it means to hear people cheer you on and, if your name is Daniel, all the better.
Source: BATF0RLASHES/YouTube
Crystallised – The XX
There's less than 10 miles to go now and you're probably beginning to suffer but, if you've been smart about it, now is the time your training really starts to pay off.
Source: Young Turks/YouTube
C-C (You set fire in me) – Tom Vek
You're legs are burning, your lungs are burning but you're on fire. You can do this.
Source: TomVekVEVO/YouTube
To the bright and shining sun – The Walls
You can't run an Irish marathon without having an Irish band on your playlist and what better way to face into 'The Wall' than with The Walls?
Source: 101watts/YouTube
Don't stop me now – Queen
You've hit the wall. It hurts like hell. But you didn't do all that training to quit now. Mr Freddie Mercury, over to you.
Source: Queen Official/YouTube
Don't stop believing – Journey
Yes, the cast of Glee may have ruined this song for everyone but remember how great it was at the end of The Sopranos, that's how great you are for getting this far.
Source: gsbajak6/YouTube
Everybody wants to rule the world – Tears for Fears
You've broken through the wall now and you feel great. Well as great as anyone who has just run more than 20 miles.
Source: EightiesJukebox/YouTube
Float on – Modest Mouse
You're nearly there, just three miles to go so what you need is a nice steady beat to get you to the finish line. Just avoid the temptation to sing along.
Source: MODESTMOUSEVEVO/YouTube
Keep on running – The Spencer Davis Group
Not only is this a certified tune but it has a great tempo to get you over the final couple of miles.
Source: PanpanCucul/YouTube
End of the line – Travelling Wilburys
As you near the finish line, it's important to remember you've done something incredible and, regardless of what you've gone through, you're nearly there and every ache and pain is worth it.
Source: TravelingWilburys/YouTube
Zadok the Priest – Handel
The Champions League may have altered this composition a little bit, but it's still perfect for crossing the finish line and all the emotion that comes with it.
Source: Warren Steel/YouTube
So there you have it, a playlist that combines cheese and tunes in equal measure with more than enough tempo to get you around the course but what about you; what are your marathon songs? Let us know in the comment section below…
A version of this article first appeared on TheScore in October 2012.