Aidan Curran is an experienced marathon runner and the man behind the Run And Jump blog.
WITH THE DUBLN Marathon just under two months away, I'm in peak preparation mode right now.
My training schedule for today is particularly tough: 10 inspirational quotes to share online, followed by six reps of a new motivational video on YouTube.
Anthony Nicolau / YouTube
If you can avoid the torrent of inane pseudo-inspirational guff like "Unleash your inner strong!" and "Pain is weakness leaving the body!" there's proper training to be done – and some hard racing already too.
On August 23 I did the Frank Duffy 10 Mile in the Phoenix Park in Dublin. I had a great race and clocked a new personal best, which eased the pain of having to run past a folded €20 note I saw on the ground just after the start.
On reflection, I should have stopped to pick that 20 up; in the end I had a few minutes of a cushion for that PB… though stopping would have caused a mass pile-up of runners.
This time 10 years ago, when I was halfway through training by myself for my first marathon, I really hadn't much of a clue what I was doing or how I was getting on. But that first marathon build-up in 2004 taught me, among many other things, the value of regular short races. They relieve the monotony of training, help me gauge my progress towards the marathon and give me great confidence.
Donall Farmer / INPHO Runners get some race experience under their belts at the Rock n Roll half marathon last month. Donall Farmer / INPHO / INPHO
I use short races as concrete data to calculate how I'll do in the marathon. I enter my times from short races into online pace calculators on sites like McMillan Running and Runner's World which then estimate a marathon finishing time and average pace.
Shorter races also determine how fast I run in training for what are called tempo runs or lactate threshold runs, where I hold a hard but controlled pace over a certain number of miles.
I do my threshold runs at a pace halfway between the pace of my current 10K personal best (from the Great Ireland Run in April this year) and the pace of my half-marathon personal best (which I set in the Clontarf Half Marathon in July). Any faster or slower than that and I wouldn't get any marathon-training benefits from these threshold runs.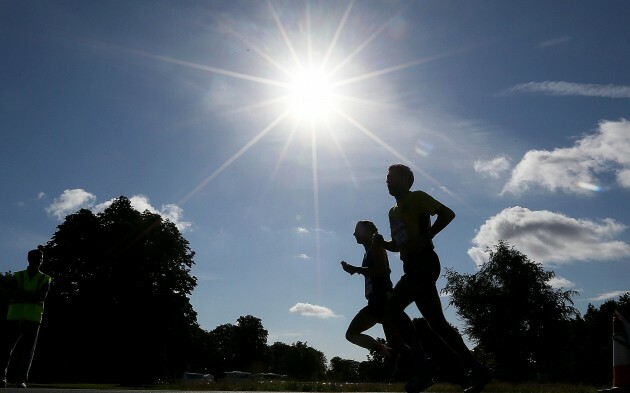 Donall Farmer / INPHO Donall Farmer / INPHO / INPHO
And I can use a short race as that week's threshold run and then rejig my schedule and mileage accordingly.
Just as important as my 10K or half-marathon result is my race-day experience. Here's where I've worked out practical logistics like what breakfast agrees with me on race day, what gear I'll wear and what I'll bring with me in my bag for after the race. With all the short races I do, I have my race-day routine down like clockwork – leaving me relaxed on the morning of the marathon and free to enjoy the occasion.
My last short race before the big day is the Dublin Half Marathon on 20 September. A race over the half is essential final preparation for me before I take on the full distance.
And as that half marathon is the day before the All-Ireland Football Final featuring my home county of Kerry, you can be sure I'll stop and give up any personal best time if some other runner drops a ticket on the route.