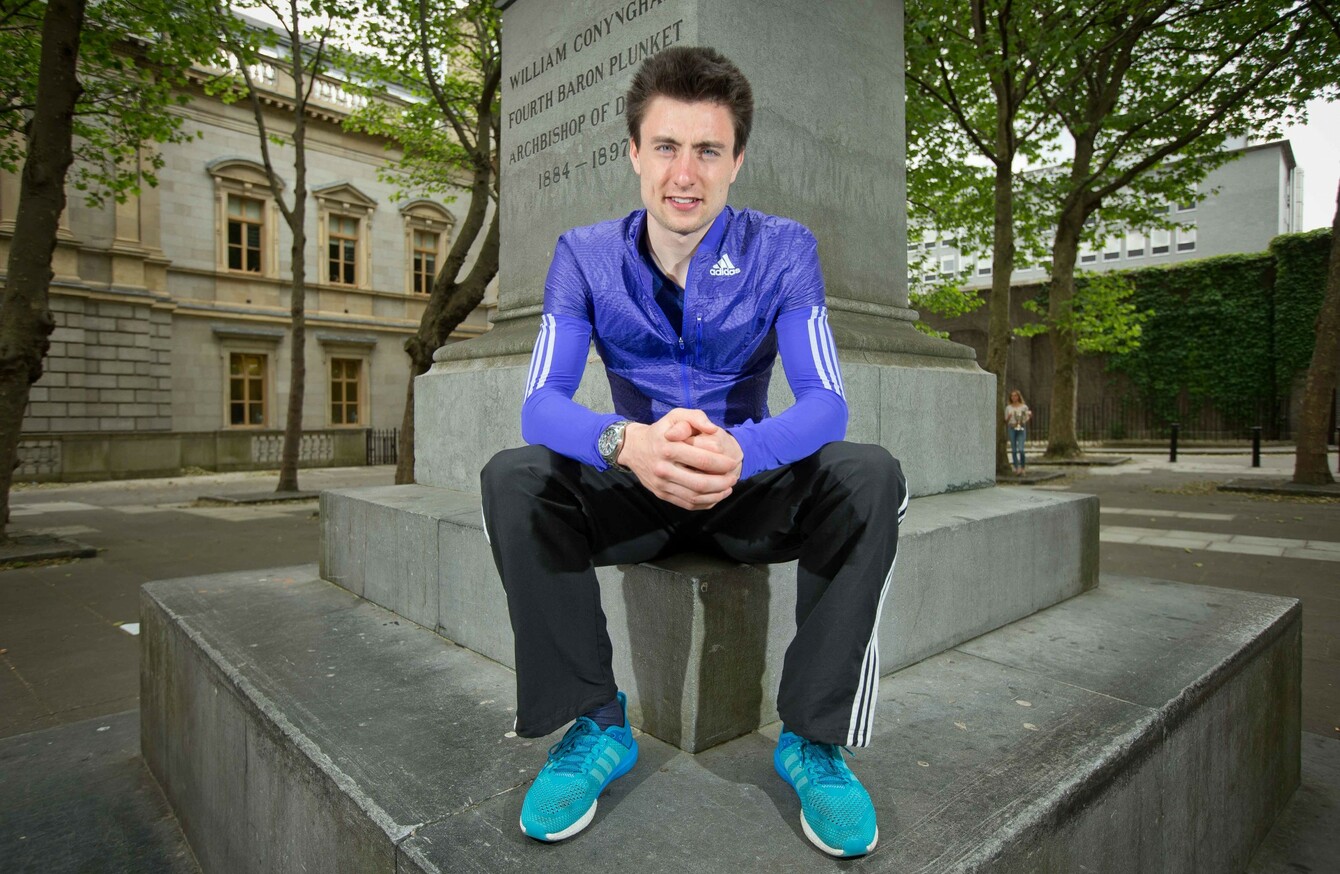 Mark English is hoping to announce himself to the world in Rio.
Image: Morgan Treacy/INPHO
Mark English is hoping to announce himself to the world in Rio.
Image: Morgan Treacy/INPHO
Updated 16.35
MARK ENGLISH IS never one to make excuses but something wasn't right. He sits back in his chair, takes a moment to compose himself and replies: "I learned a lot about life last summer."
He headed to the European U23 Championships last July infused with the belief that gold was well within his grasp – there was no reason to suggest otherwise.
The 22-year-old was coming off the back of a fruitful indoor season, which saw him win European silver and then set a new Irish record over 600m. He must have considered himself as one of the favourites in Tallinn. A lot of people did too.
But English looked a shadow of himself during an alarming performance. He finished last.
From the outside looking in, his bubble had burst. His form somehow managed to elude him at the most critical juncture of the season and the highs of a couple months earlier were a distant memory.
One bad day at the office was followed by disappointing runs in New York, Cork and then at the European Team Championships in Crete. Even accounting for a back injury he'd been nursing, a season which promised so much threatened to fall apart.
It was proving to be a devastating season. The results told their own story, but they didn't tell the full story.
It would have been easy for English to come out after Tallinn and reveal the reasons behind his dip in form. He admitted he wasn't running well but waited, and bided his time, to let the world in.
After securing qualification for Rio at the Anniversary Games in London, English felt the time was right. He spoke of the heartbreak of losing two classmates in the tragic Berkeley balcony collapse last June.
Weeks after attending the funerals of Lórcan Miller and Eimear Walsh, English found himself back on the start line. It was a summer which provided a sobering dose of perspective.
"It was tough on a lot of people and my friends in class were very close to them and it puts things in perspective for me personally," he says.
"It puts my injuries into perspective. There are bigger worries out there than injuries, bigger worries out there than, you know, anything that goes on in sport.
"It was obviously a huge disappointment, it was tough for all of us but I think the toughest thing was not being able to see those guys fulfil their dreams. It was a tough time for all of us during that period, especially the people who were quite close to them.
"In some ways it brought the class closer together. I was injured last year at the start of the summer so I just had to sit back and say there are two people whose dreams have been taken away from them so I can't sit here and complain about my injury. There are bigger problems and that's really what I learned last summer.
"It affected us all, who knows what it affected athletics wise, that's hard to know. My grandfather passed away last May and I would have been very close to him so there would have been a lot of challenges there and it was just a collection of everything which then hampered my performances."
As an ambassador for Pieta House's Darkness Into Light run, which takes place tomorrow morning, English is fully aware of how important it is to open up and talk about emotions.
The sense of loss never dissipates but sport has the ability to ease the pain. It offers an outlet and occupies the mind and English says athletics has always been a form of medicine for him.
"I always try and be myself, always try and be honest and open about everything," the 800m runner continues. "It's tough to talk about things like that but I think it's important to send out that message that there's more to life than a race or even sport in general.
"That said, sport has always been very important to me, it has always provided me with a release to get away from everything else, it's helped me throughout everything in life."
At the moment, English's life is centered around getting fit for Rio. He is still undergoing an intensive rehab programme to shake off an ankle injury he sustained while running over a pothole in UCD - where he studies medicine.
With his academic commitments finished for the year, English can fully concentrate on getting back on the track and running fast – although it has taken patience and perseverance.
"It's just been about realising that the biggest goal of the year is the Olympics so I have to focus on the positives," English explains. "I still have plenty of time to focus and get ready but I suppose it has taught me to be a bit more careful, particularly in an Olympic year.
"We all have stresses that we face as athletes and injuries are an inevitable part of an athlete's life and it's just how you deal with them. My coaches are always reassuring me that there's always something that can be done and some way you can overcome that obstacle. You just have to focus on what you can do at that point.
What are they
really like?
Rare insights on sport's biggest names from the writers who know them best. Listen to Behind the Lines podcast.
Become a Member
"I have trained for six years to run at an Olympic Games so it's just now about staying positive and resilient and do everything I can to make it there."
As an athlete who has medalled at two major meets in the last two years, English is naturally regarded as one of Ireland's leading hopes this summer. He has always been a prodigious talent and has always been able to manage a certain level of expectation.
But how does being labelled as the country's great medal hope sit with him?
"There will always be expectations to do well if you've won a medal in the past and I understand that," he admits.
"I can also go out there and do quite well, I'm not going out there thinking about what other people say I can do.
"I know what I can do myself and obviously I'll have to take this injury into account when I'm setting expectations but I always know going into an event I'm capable of doing something and have never doubted my ability.
"You can never go into a race thinking you're not going to win. If you do, you've already lost."
– Originally published at 10.00; an earlier version of this article was amended to reflect that Lórcan Miller and Eimear Walsh were classmates of English's at UCD.
Electric Ireland are proud to support Pieta House as they continue to bring suicide out of the darkness. Register for Darkness Into Light at www.darknessintolight.ie.
The42 is on Snapchat! Tap the button below on your phone to add!