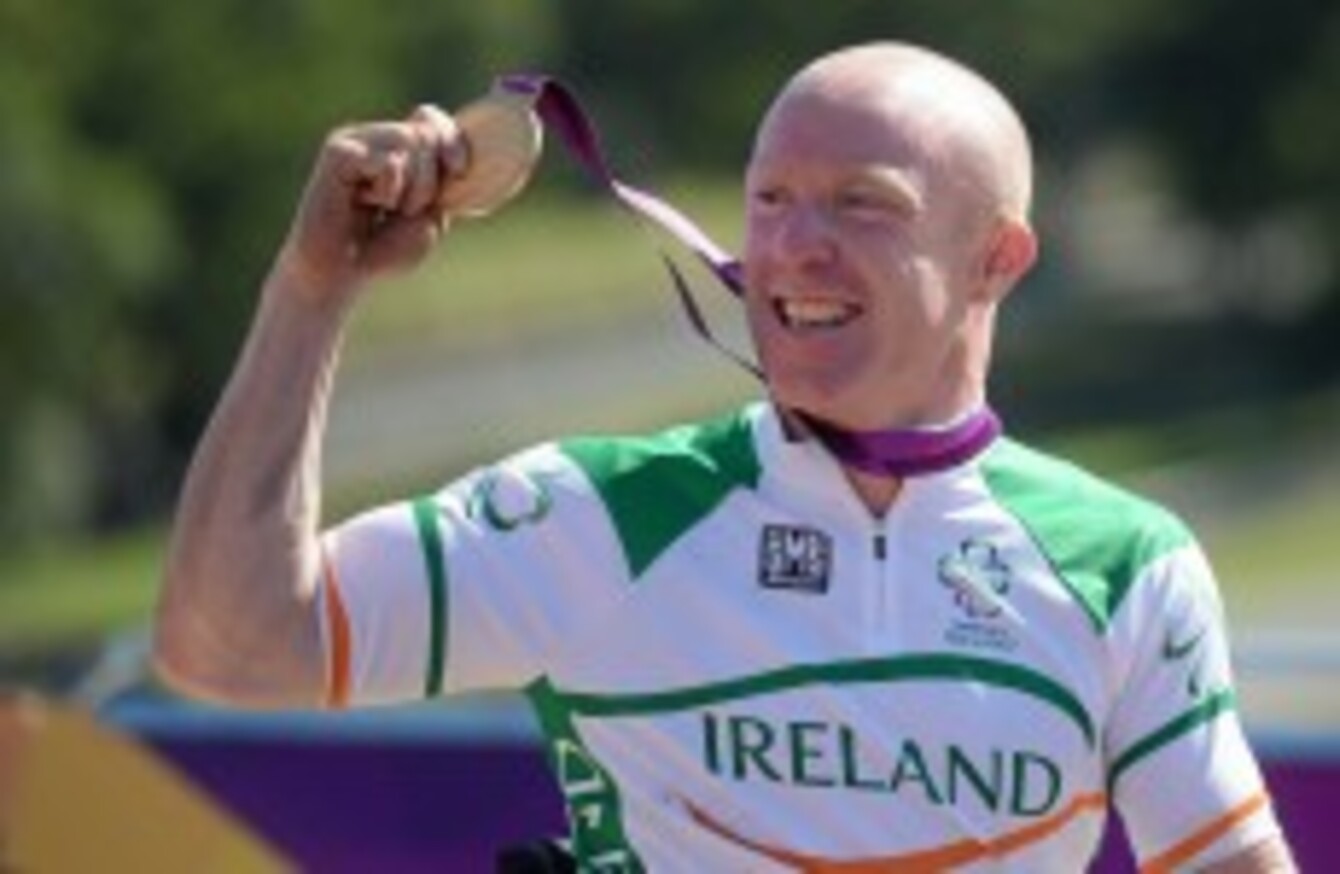 Image: Brian Lawless / Sportsfile
Image: Brian Lawless / Sportsfile
WORLD CHAMPION MARK Rohan sealed an unforgettable Paralympic double, winning his second cycling gold to continue Team Ireland's medal run in London.
After winning Wednesday's time trial, Rohan outlasted the world's best to claim the men's individual road race H1 at Brands Hatch on Friday morning.
"It's an amazing feeling," the Westmeath man told RTÉ Radio 1 afterwards. "It's such a relief to get them.
"We planned so hard for this and worked so hard for the last nine months so I'm delighted for the people in camp."
Rohan's win was Ireland's seventh gold medal and 14th overall at the 2012 Games, a tally improved upon minutes later when Wexford's Catherine O'Neill won silver in the F51/52/53 discus final.
He was made to work all the way line though and won by just two seconds at the end of a gruelling 48 kilometre contest which lasted almost two hours.
His time of 1:53:09 was just enough to hold off Switzerland's Tobian Fankhauser, who took silver in 1:53:11. Wolfgang Schatteur of Austria finished third in 1:53:24.
"I had to work hard," Rohan continued. "Those last two laps, the person in third [Schatteur] caught us twice. When he caught us, we attacked again on the hills and fair play to him, he caught us again. He is the former champion so he is a true champion."
As he spoke, the chorus of Olé Olé from his supporters at the track could be heard loud and clear and Rohan thanked them for driving him on.
"I couldn't do it without them. I'm delighted for them. They've really pulled out all the stops over the last couple of years, every supporter I have."
You can't help but hear them. You're trying not to get carried away with it because it's a tactical battle. You're figuring out the whole time what's going to happen, who's attacking. You can't get carried away and I put in one dig where I probably shouldn't have put in a dig so I had to kind of calm it down so I'm delighted it all worked out.