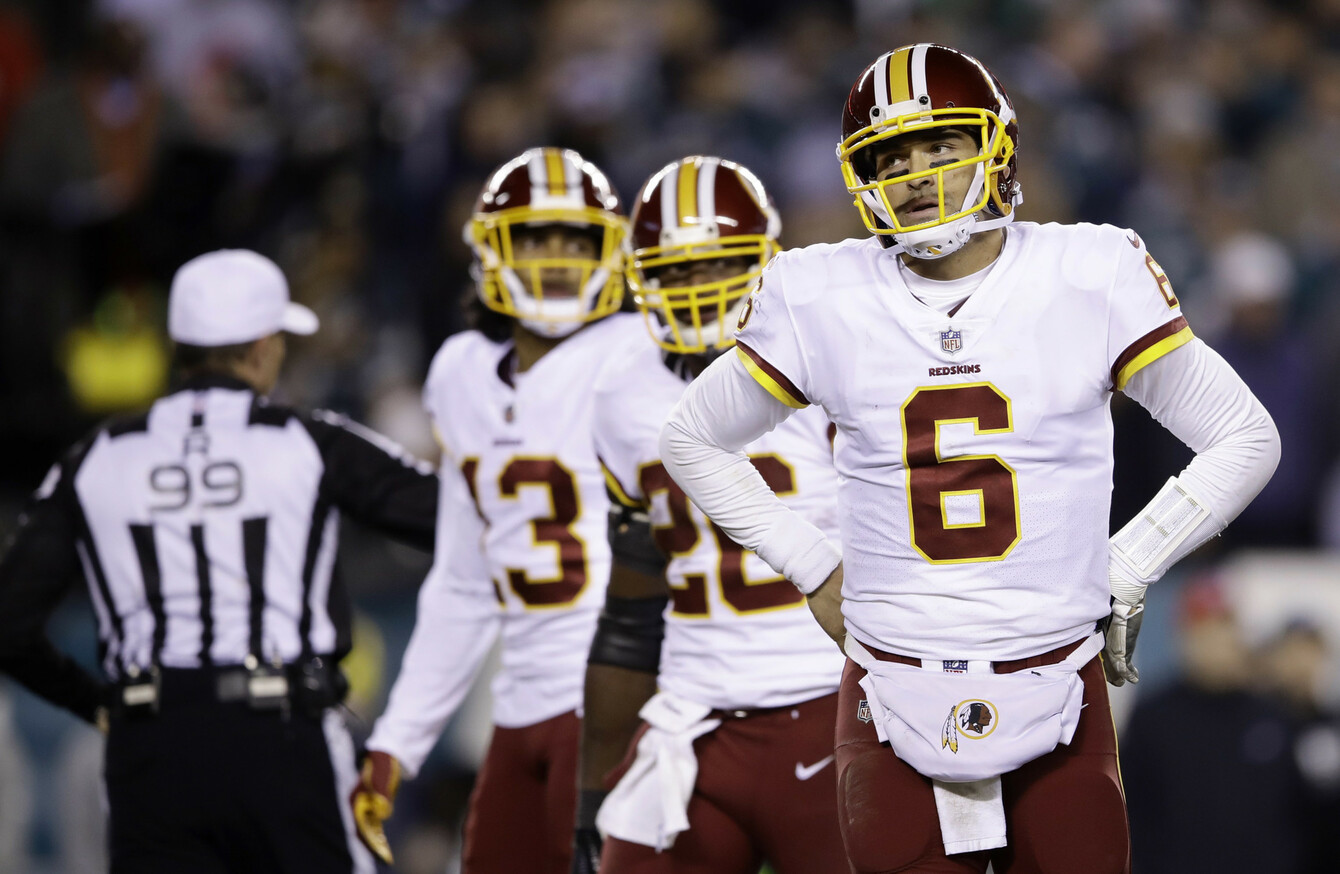 Sanchez: 100 yards, zero touchdowns and an interception against the Eagles.
Image: Matt Rourke
Sanchez: 100 yards, zero touchdowns and an interception against the Eagles.
Image: Matt Rourke
THIS WEEK, JET lag has hit me harder than Khalil Mack sacking an opposing quarterback. 
I feel like falling asleep at lunchtime and, yet, I'm awake in the middle of the night wondering if I just imagined Jon Gruden's 10-year, $100 million contract. 
It was while awake at 3am on Tuesday I re-acquainted myself with the work of the British philosopher Derek Parfit (sorry ladies, I'm taken), a man who focused primarily on ethics and personal identity. 
A key argument of Parfit's — which is expands on in his three-part series 'On What Matters' — is that people only do good for three reasons. 
The first is that God exists, so the right thing to do — or what ought to be done — is an obligation. 
The second is that God does not exist, but doing the right thing is still meaningful, even in the absence of obligation. 
The third is that God does not exist and neither does the concept of 'what ought to be done.' There is only what is. 
Parfit himself edges towards a variation on the second, that people know the right thing to do without the need for divine intervention. 
Parfit found out for himself whether or not God exists on 1 January 2017 which, up until this week at least, was the last time either Mark Sanchez or Colin Kaepernick played in an NFL game. 
Now, you don't need me to point out that Kaepernick would be highly unlikely to sign with a team whose name is considered racist by many native Americans. 
But the fact is, Washington had a choice to make when Alex Smith went down with a broken leg and Colt McCoy took over. 
On one hand, they could pursue a player with 72 career touchdowns, the second lowest interception rate in NFL history, and who led his team to a Super Bowl appearance. 
On the other, they could sign a man whose sole noteworthy contribution to professional football is the time he fumbled the football running into his team-mate's arse.  
Sanchez rewarded Washington by completing 13 of 21 passes for 100 yards, zero touchdowns and an interception against an Eagles defence dealing with more injuries than St James's A&E after Paddy's Day. 
Of course it's not just Washington. Matt Barkley (Buffalo), Cody Kessler (Jacksonville), Blaine Gabbert (Tennessee), and Jeff Driskel (Cincinnati) have combined with McCoy and Sanchez for 10 touchdowns and eight interceptions in displays that would come with cats' eyes were they any more middle of the road. 
But what has now become abundantly clear over the past 20 months or so, is that, for no arguable football reason, Colin Kaepernick's NFL career is as good as over. 
And yes, that proves that sometimes, when we do objectively the right thing, we still get punished. 
But that should never stop us from trying. 
Week 14 picks (season record 118-71-2) 
Sunday – 6pm 
New York Jets @ Buffalo Bills
Both these teams selected quarterbacks in the first round of the 2018 NFL Draft and both have had to put up with those rookies missing significant game time. Sam Darnold and Josh Allen should both play this week, but the former's team feels like they've already punted on their season.
Pick: Bills
New York Giants @ Washington
It's entirely possible to think both that the Giants drafted the best running back in the NFL this season and that they should have drafted a quarterback instead. That's because the difference between great quarterbacks and ones coming to the end of their career is much greater than the gap between elite running backs and average ones. Still, Mark Sanchez.
Pick: Giants 
New Orleans Saints @ Tampa Bay Buccaneers
The Saints have had 10 days to lick their wounds following an unexpected loss to Dallas in week 13. However, while it could serve as the kick in the teeth they need before a playoff run, the Bucs are the only other team with a win over New Orleans this season.
Pick: Saints
New England Patriots @ Miami Dolphins
Against the other 30 teams in the league, Tom Brady is 85-32 on the road in the regular season. In Miami, he is 7-9. The Patriots QB has also thrown 15 interceptions in those 16 games in South Florida, more than he's thrown in any single season of his career.
Pick: Dolphins
Baltimore Ravens @ Kansas City Chiefs
The Ravens have turned things around since their bye week, going 3-0 since with Lamar Jackson showing that, while he still has a lot of work to do as a passer, he knows how to win games. The Chiefs, however, are unlike anything they've faced in that run.
Pick: Chiefs
Indianapolis Colts @ Houston Texans
Had the Colts not laid an egg against the Jags last week, this would be a match-up between two of the hottest teams in football with a divisional title to play for. Houston has a head of steam right now, and that should continue this weekend.
Pick: Texans 
Atlanta Falcons @ Green Bay Packers
Both these teams have already given up on the 2018 season. How Green Bay looks in the post-Mike McCarthy era is anyone's guess.
Pick: Packers 
Carolina Panthers @ Cleveland Browns
A month ago many pundits, myself included, were lauding the 6-2 Panthers as being dark horses in the NFC title race. Since then, they've been steamrolled by the Steelers, edged by the Lions and Seahawks, and embarrassed by the Bucs.
Pick: Browns 
Sunday – 9.05pm
Denver Broncos @ San Francisco 49ers
The Broncos have been in flying form of late, but suffered devastating injuries on offence (Emmanuel Sanders) and defence (Chris Harris) in the space of 72 hours this week. While it won't be enough to cost them against the 49ers, it might put paid to their playoff hopes.
Pick: Broncos 
Cincinnati Bengals @ LA Chargers
I'm old enough to remember when the Bengals were a good football team. This current iteration is not. With Philip Rivers putting up MVP type numbers this season, nobody is going to want to face LA in late January.
Pick: Chargers 
Sunday – 9.25pm 
Detroit Lions @ Arizona Cardinals
Two teams more focused on 2019 than this weekend. It's been a tough year for both with very little light at the end of the tunnel.
Pick: Cardinals 
Pittsburgh Steelers @ Oakland Raiders
The Steelers are coming off a two- (and what should really be a three-) game losing streak, and go into Oakland missing James Connor with a leg injury. That said, there are few teams better primed to get you back to winning ways than the Raiders.
Pick: Steelers
Philadelphia Eagles @ Dallas Cowboys
On paper at least, this looks a relatively easy victory for Dallas. On a four-game win streak with Dak, Zeke, and Amari Cooper all playing up to the high level of their defence, the NFC East looks theirs for the taking. However, while Philly's last two wins have been scrappy, divisional match-ups can always throw up a surprise.
Pick: Eagles
Monday – 1.20am
LA Rams @ Chicago Bears
One of the league's best offences takes on one its best defences; what's not to love? The Rams have their division wrapped up, but need to keep winning to secure home field advantage throughout the playoffs.
Pick: Rams
Tuesday – 1.15am
Minnesota Vikings @ Seattle Seahawks
If no team wants to face the Chargers in the AFC, then the same could be said for the Seahawks in the NFC. While the defence may not be reaching Legion of Boom levels, their offensive line is keeping Russell Wilson upright, and that makes him a danger to any team.
Pick: Seahawks
Subscribe to our new podcast, Heineken Rugby Weekly on The42, here: