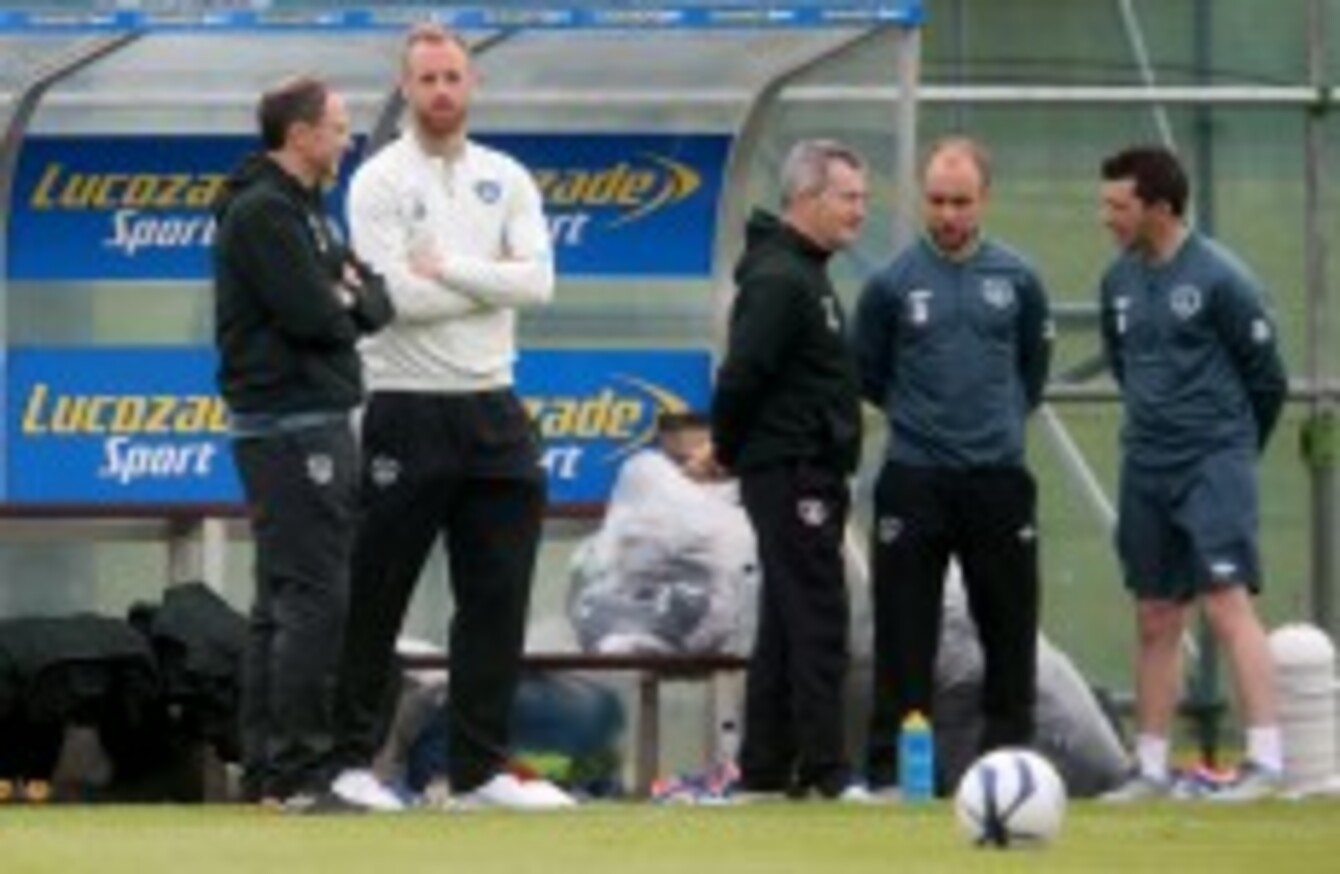 Before the rain: O'Neill chats with David Meyler on the sidelines in Malahide.
Image: James Crombie/INPHO
Before the rain: O'Neill chats with David Meyler on the sidelines in Malahide.
Image: James Crombie/INPHO
ASIDE FROM THE need to towel the fresh rain off his face after training.
And aside from the slight strain he showed while dead-batting queries about Neil Lennon's exit from Celtic Park, Martin O'Neill seemed like a man perfectly happy with his lot after getting his Ireland squad together before this summer's four friendlies.
O'Neill and assistant Roy Keane presided over a 23-man session missing only Robbie Keane, the play-off hopefuls with Derby County and QPR, and David Meyler.
The Hull midfielder stood idle along the sidelines during the session after complaining of a slight calf injury. The niggle was persistent enough to bother him for the past couple of weeks, but not debilitating enough to keep him out of last weekend's FA Cup final.
"He's gone for a scan," said a sopping wet O'Neill, "I don't think it's anything overly concerning in the long-term, but we'll treat it day-by-day."
With four games to come this summer Meyler is not likely to be risked against Turkey this Sunday, but O'Neill insists it's too early to rule out the Corkman.
Today was the first day of an extended period together for O'Neill and his squad. The hope is that the three weeks of training and game time can forge a bond and understanding within the a team in transition, but the Derry man is wary of trying to force the issue.
"For me it's terrific that I have the players for this length of time. It's a lengthy period for the players, but they're very keen, they want to do it. And the games we have are very strong too.
"Overall,  I'm pleased I've got this chance now to work with the players. While I don't want to be driving them mad with three training sessions per day especially after a long hard time. I want it to be enjoyable , but I want us to do some work as well."
Setting out that work today was Keane, directing traffic and guiding fresh footballs into an energetic mass passing drill involving the full squad.
The squad numbers will grow again next week – when Richard Keogh, Jeff Hendrick, Conor Sammon and Kevin Doyle file in after their play-off commitments – before the trans-Atlantic trip heralds another quick interchange of players.
The need to shuffle must be a mild inconvenience for a new manager trying to gauge the qualities of every player at his disposal, but  O'Neill is typically easy-going when it comes to the complications of logistics this summer.
Hardship
"I'm very pleased I've so many in attendance of this stage of the season," said the former Celtic manager before talk turned exclusively to the big job at Park Head.
"It's been a long hard season for most of the players. I've been very pleased indeed. Today's training was excellent.
"Some of the players had mentioned to me quite some time ago that there might be a few problems; if we put it all together, I don't think it's too much to worry about.
"What I was trying to do with the squad was see as many players as possible in that time – just have a look at things.
"And if somebody misses out a game because of some particular commitment I don't think it's any real hardship."
No fuss, no drama. Just as well there are international football matches on the way.