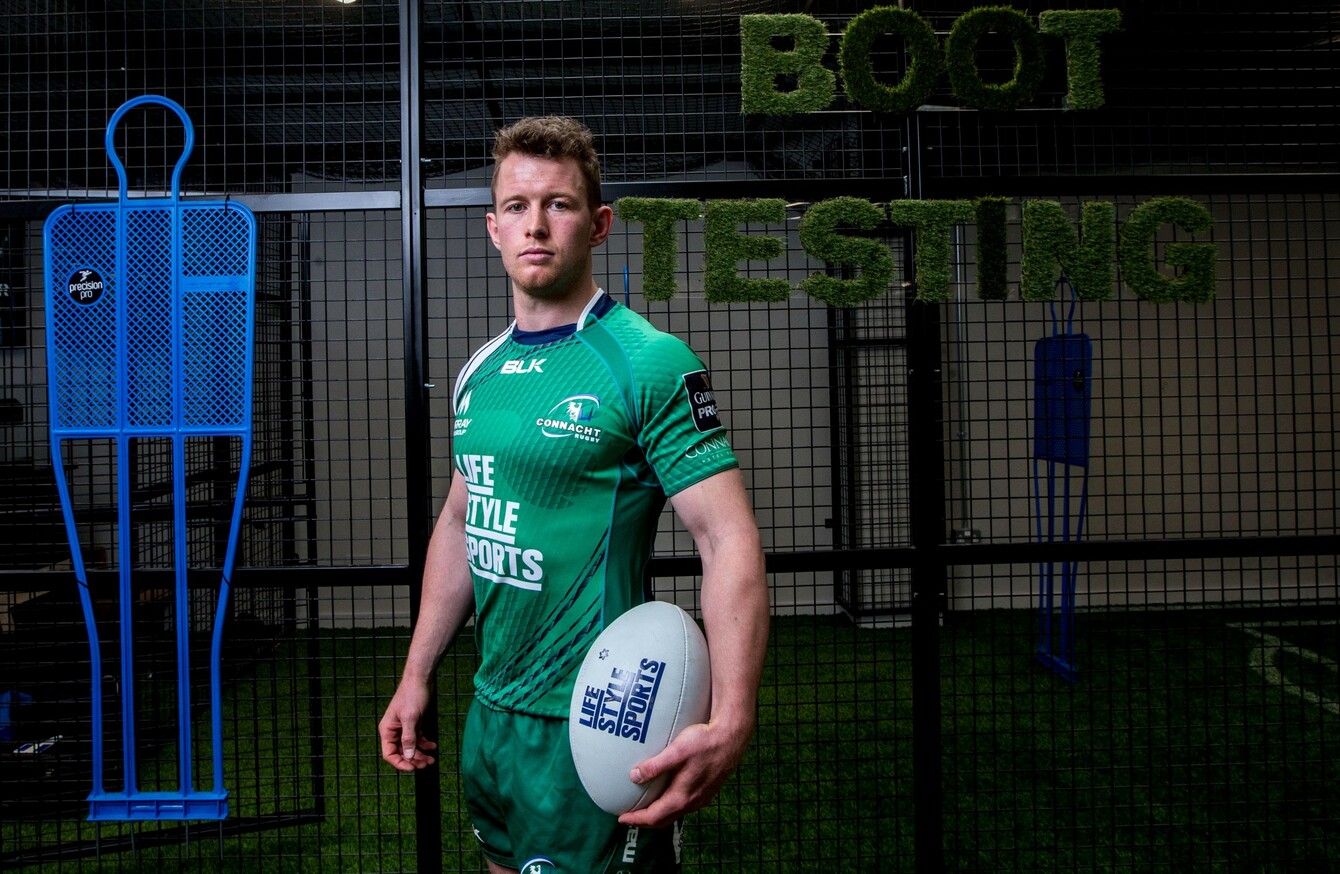 Image: James Crombie/INPHO
Image: James Crombie/INPHO
CONNACHT WINGER Matt Healy said he needs a huge finish to the season if he is to have a chance of making the Irish squad for the three-match tour of South Africa.
Healy, outstanding in Connacht's best ever season, was called into Ireland's Six Nations squad prior to their game against Scotland, and was included in the squad's mini-training camp recently.
It would be a dream come true for him to join the Irish touring part in South Africa in June but reckons a lot depends on how he does in the remaining games as Connacht go for Pro12 glory.
"It would be unbelievable to get on the tour to South Africa," he said. "I was lucky enough to get in that 45-man squad, and that was a great experience again. It was quite intense, and really enjoyable.
"But if I have any hope of making that South Africa tour I am going to have to focus on the next few games, and my performance in them. That is exactly what I am going to do."
The first priority for the versatile 27-year old — the former scrum half has played on the wing and at full back in recent months — is guiding Connacht into their first ever Pro12 semi-final.
Connacht clash with Treviso tomorrow evening at Stadio Monigo needing just a point to secure a place in the knockout stages.
Pat Lam's men are currently second in the standings and after their recent victory over Munster, Healy said the goals for this season have changed.
The Dublin native, who has played 70 times for Connacht and scored 29 tries, knows the significance of tomorrow night's game and a potential home semi-final at the Sportsground.
"We were all massively delighted and thrilled with qualifying for the Champions Cup next year, especially off our own bat. We re-assessed after that Munster game.
"If we beat Treviso we were guaranteed a semi-final, and if we go on and beat Glasgow, we were guaranteed a home semi-final.
"It just makes this game against Treviso a massive must-win for us, especially if we want to reach those semis and go on, and do well in the final," said Healy, who was speaking at opening of the refurbished Life Style Sports in Galway Retail Park on the Headford Road.
Healy, who was signed by Eric Elwood after superb displays from Lansdowne at the start of the 2012-13 season, has scored 12 tries this season and he knows that Connacht's performances have meant a lot to their loyal supporters.
"I wasn't really looking at the big picture when I first came down to Connacht. I was more focused on trying to impress because of where I was coming from,
"But in terms of the belief, it has always been there, from Eric Elwood right up to now with Pat Lam, which is fairly evident. That belief has always been there, that we could be the top team.
"Thankfully, through the hard work that Pat has done with us, and we have done on the field, that is coming to fruition now and it's great.
"It's only good things happening with Connacht at the moment," he said.
"But it comes back to the brand of rugby we are trying to play. When it goes right, and it has been going right a lot of the time, it is enjoyable to watch, and it is enjoyable to play.
"It can only mean good things as long as we are winning. It can boost that atmosphere around the town, around the province, and around the Sportsground so it's been great," he added.
Matt Healy was speaking at the launch of the newly refurbished state of the art Life Style Sports store in the Galway Retail Park, boasting four specialised zones including; Boot Room, Run Club, Trainer Central and Women's Studio, offering the latest in clothing, footwear and boots from the biggest international brands.