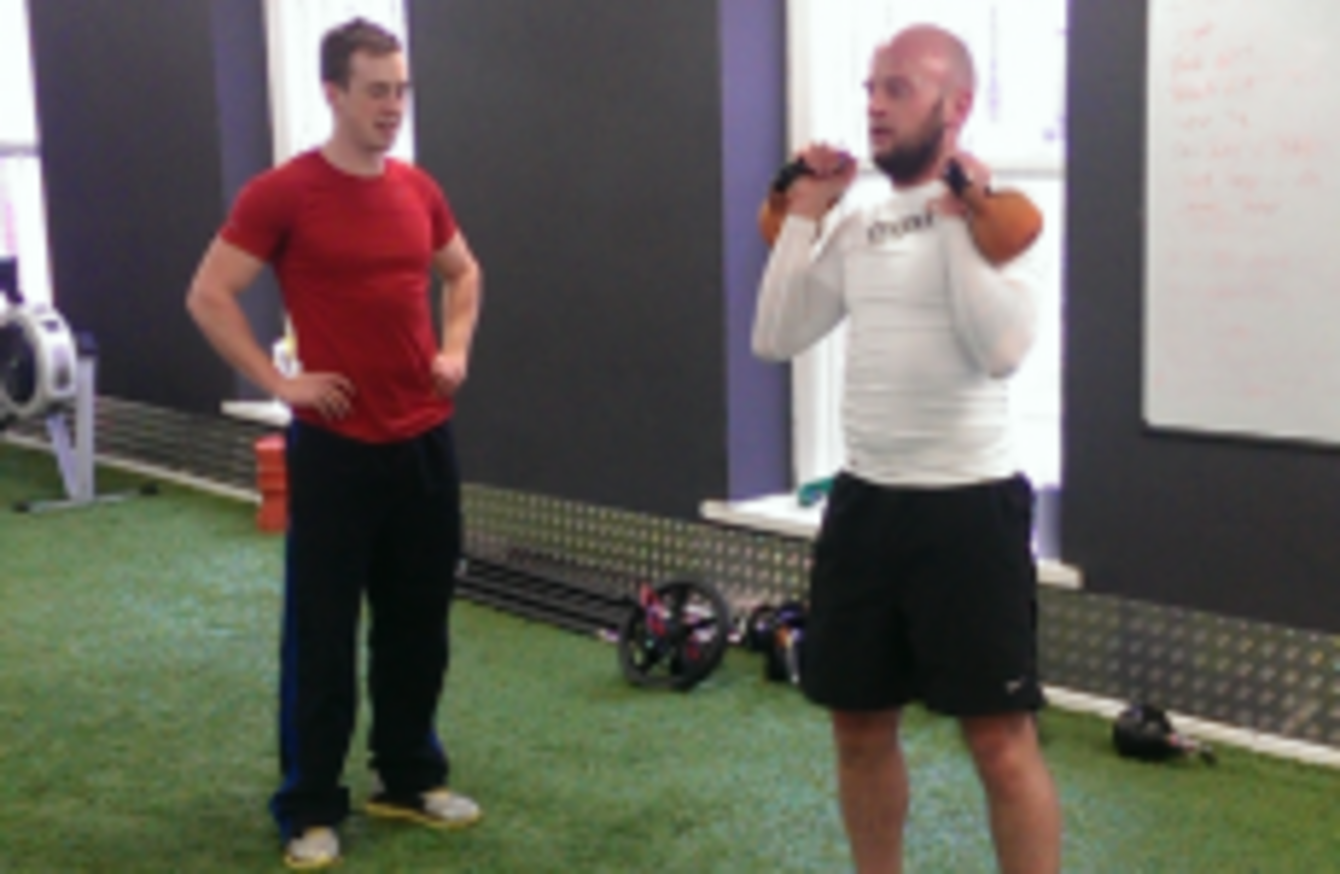 Ben tries out kettlebells with Ronan watching on.
Ben tries out kettlebells with Ronan watching on.
AS A NATION, it appears we are finally becoming far more conscious about the importance of a healthy and balanced lifestyle. At least… some of us are.
Everywhere around me, family, friends and peers have been taking up all manner of training — from TRX and weekly boot camps to endurance runs like 'Hell and Back' and 'Tough Mudder'. I've even heard of a recent craze which involves exercising while bouncing up and down on a trampoline!
Far from being a couch potato, I have always seen myself as a relatively sporty person and generally kept fit through playing field sports and the odd bit of jogging over the years. That said, there's a growing sense that I have somehow been left behind as Ireland goes through an 'Operation Transformation'.
Aside from the odd working hours associated with a career in the media, one of the main reasons is down to the fact that the gym has always managed to both fascinate and scare the bejaysus out of me.
As two fresh-faced first years, myself and a friend joined UCD's on-campus facility on one year contracts full of optimism and excitement about how handy it was going to be to pop in for a session in between lectures.
In reality, we barely clocked up a dozen trips between us before knocking it on the head completely after a couple of months. I recall feeling utterly lost in the gym — not knowing which machines to use or how heavy the weights should be and far too intimidated to ask the seasoned pros.
I've had sporadic visits in the years since then but none have brought me any closer to conquering it.
So, when we received an email from Maxinutrition (via the guys at WHPR) offering one of us the chance to undertake an eight-week transformation programme with the help of a top nutritionist, a personal trainer and a batch of their supplements, I cautiously agreed to give it a bash.
The hope was to A) learn enough to feel comfortable about going to the gym in the future, B) get motivated to take it up regularly, and C) get in shape by building muscle.
Maxinuitrition, Europe's biggest nutrition brand in providing various products which assist in areas such as recovery, weight loss and muscle growth, arranged for me to meet their nutrition expert Gareth Nicholas — who flew in from the UK.
After taking skinfold measurements, he advised me on where I could (vastly) improve my diet and explained how my habit of regularly skipping meals and loading up with carb-heavy takeaways was far from the ideal way to help my aim of toning up and building muscle. A gentle suggestion to cut down on the pints was also made.
I was provided with this goodie bag of protein supplements (Maxinutrition Cyclone shake, protein milk and Progain bars), a detailed nutrition plan and given these tips:
Energy Balance
Modify the basic principles to fit your lifestyle and the increased exercise calorific demand. Training days will require additional calories both for fuel and recovery. Plan and (where possible) prepare what you are going to eat the day before. Ensure that you get something in for breakfast – worst case a Cyclone shake or a Progain bar.
Dietary Modifications
Spread your calorific requirement into 5-6 meals throughout the day. Drip feeding the body will help support energy and digestion. The key to building muscle is the appropriate training regime along with a diet that fuels training and growth.
The Importance of Protein
Include protein in every meal throughout the day. Aim for a daily intake of 2g of protein per kg of body weight or 141g of protein. Ideally this should be done in 20-30g portions per meal. This can be achieved through normal food choices although at times supplements can be more convenient and ensure that you maintain your dietary intakes.
Anabolic Window & Power development
After exercise is an ideal time to consume protein to help your muscles recover; the theory of trying to get your muscles (at least) back to how they were before exercise, but ideally facilitate a positive adaptation. To aid strength and power development add creatine to your nutritional plan for up to eight weeks.
Set Targets
Set nutritional targets alongside training goals. Try to vary your diet as much as possible, be creative if you can. If you slip up, don't worry, the odd treat often keeps you focused in the long term. Start by taking it a day at a time, keep it simple.
The next step was to meet my personal trainer and get started.
Be part
of the team
Access exclusive podcasts, interviews and analysis with a monthly or annual membership.
Become a Member
Ronan Finn (not the Shamrock Rovers midfielder) of FLYEfit on Baggot Street was the man tasked with getting me into shape. Thankfully, we got on well immediately and has has been been incredibly supportive (and patient!) in explaining everything several times while also pushing me when I feel I've got nothing left in the tank.
The plan is to attend the gym four times-a-week and, as the pictures suggest, the first couple of sessions have been testing…
Here's Ronan on what we've done so far:
We started off day one with a brief introduction to some machine weights.
These are a step before free weights, and need to be done to ensure form etc as they are on a fixed axis and it's very hard to go terribly wrong with them and not hit the targeted muscle.
We did two full body workouts in week one with some machine weights and some high intensity interval training (HIIT) on the rowing machine and x-trainer. During that, we went for compound movements/exercises (multi joint exercises involving different muscles in the same exercise)
From there, we move on to the free weights rooms to get a grip on some of the techniques for exercise such as lat pull down & seated cable row (back exercises) and the dumbbell chest press as well as shoulder press and upright row (shoulders) and some bicep curls and tricep extension (arms).
We made sure to keep it relatively simple with our exercise selection. Three sets of ten reps then four sets of ten reps.
In week two, we have started a three-day split routine. This is so we can devote more time to a given area. For example, for the chest we can do flat dumbbell (DB) press, incline DB press and flat DB fly and then two exercises for the triceps.
Also did some introductory exercises for the squat and deadlift which we will be focusing on in the coming weeks.
Our aim overall is to improve body composition, muscle gain (hypertrophy) and to correct any flexibility / mobility issues that may affect Ben's day-to-day life.
Although the past week-and-a-half has been a rude awakening to how unfit I am, I've already learned a huge amount in the areas of fitness and nutrition and I'm looking forward to seeing the results at the end of the challenge.
I'll be bringing updates on my progress in the coming weeks. Wish me luck!