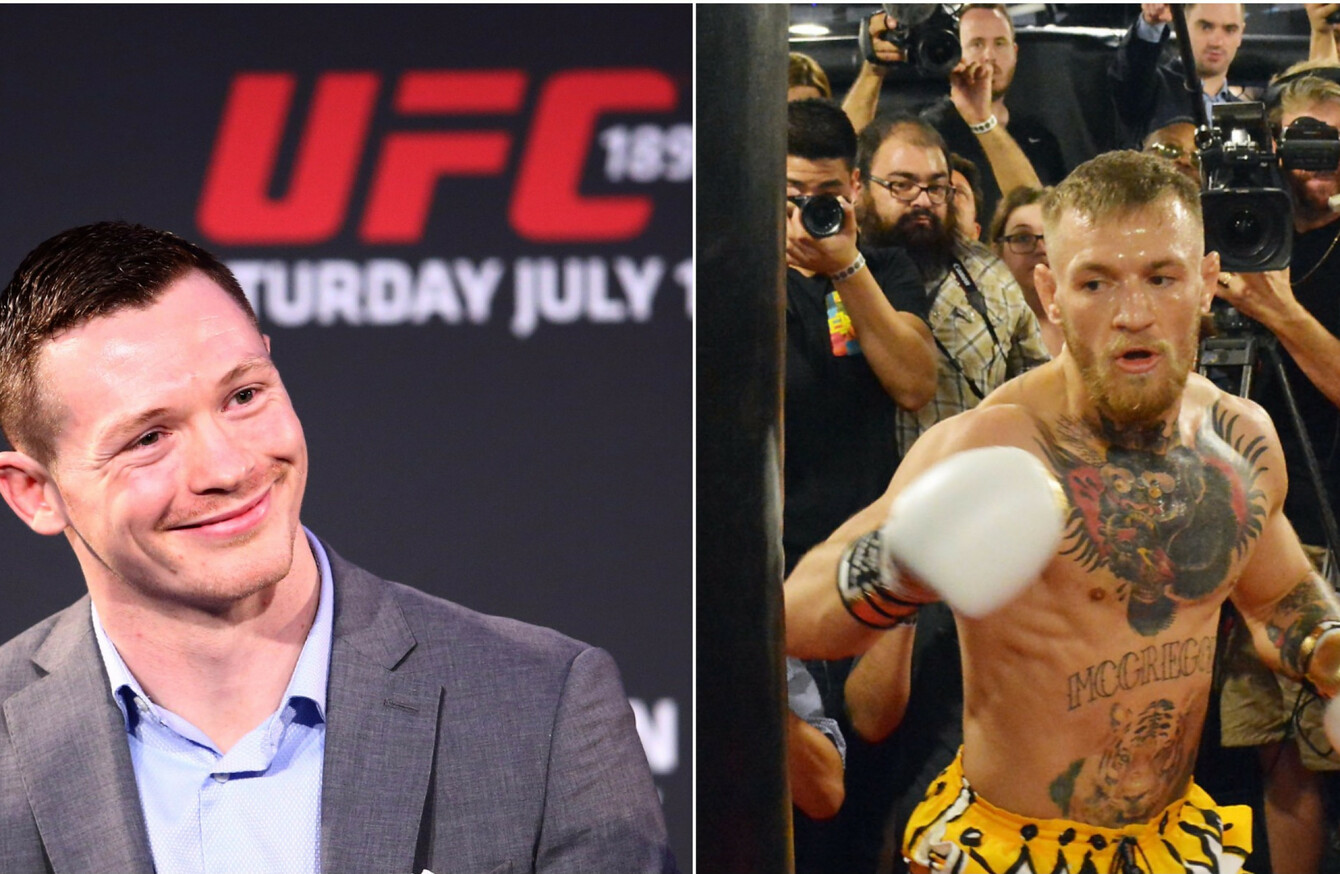 AMIDST THE CACOPHONY of musings and predictions surrounding Conor McGregor's boxing match with Floyd Mayweather, few commenters have made the transition from mixed martial arts to boxing.
Fewer still have beaten Conor McGregor, which is why Donegal's 'Irish' Joe Duffy can view the fight through a unique prism.
In July 2011, just eight months after submitting McGregor at CWFC 39: The Uprising, Duffy left MMA in his rear-view to embark upon a boxing career through sheer curiosity, despite having no real background in the sport.
He sparred with world-level operators such as Andy Lee, George Groves, James DeGale and Chris Eubank Jr, and amassed a 7-0 record with two victories by stoppage before returning to MMA in 2014.
His opponents in the squared circle were, to put it kindly, limited; all seven sported losing records, and of their last 42 scraps combined, only two had registered victories (Gilson De Jesus and Attila Tibor Nagy had both won two of their last six).
As such, it's more so the elite-level sparring into which Duffy delves when dissecting McGregor's chances versus the 49-fight undefeated five-weight world champion, and the Burtonport lightweight is of the belief that Mayweather won't be overly troubled by McGregor's much-heralded power.
"From sparring the boxers, I definitely feel they hit harder," Duffy told The42 from his Montreal base. "So I wouldn't necessarily say if he lands a left hand it's going to be game over. And with the small [4oz] gloves, I definitely think it has a bigger impact.
"Plus the boxers are a little bit more conditioned to the shots, you know?
"They go into the fight expecting to take at least one or two shots. So I woudn't necessarily say it's going to tip [Mayweather] over if he cracks him, but I'm still going to tune in. I'm interested to see."
Indeed, having tasted McGregor's left hand himself, Duffy maintains it's not quite the nuclear weapon many will have you believe it to be.
He did laud McGregor's timing and precision – a throwback reference to McGregor's post-fight interview having annihilated then-pound-for-pound top dog José Aldo at UFC 194 – but ultimately contends that many of the boxers Mayweather has faced throughout his 21-fight career will have been harder hitters than the former Crumlin BC southpaw.
When I fought Conor, I didn't get caught with anything clean, really. I thought his timing was good, but I didn't really feel no crazy power. I've boxed some people that, they could hit you in the arm and it shakes you across the ring. It definitely didn't feel like that. I think it's more timing and precision that he had.
"Obviously, Mayweather has been in with the likes of Canelo. I definitely don't think Conor's going to hit as hard as Canelo, but I think he's got a bit more finesse about him. I think he might be able to sneak that left hand in.
"[But] then, Pac-Man [Manny Pacquaio] caught Floyd with it, and Floyd just relaxed on the ropes and kept his cool. It's definitely going to be an opportunity to land it, but how Floyd reacts is another story."
Duffy then revealed what he felt was the key difference between trading leather in the ring and his more typical fare in the octagon, advising McGregor to be more selective with his shots than he might be in the UFC – not only in terms of the types of punches he opts to throw, but the force with which he releases each of them.
"Shot selection was the main one, I thought. In MMA we've got a habit of, people will throw, and someone will try and counter immediately.
Be part
of the team
Access exclusive podcasts, interviews and analysis with a monthly or annual membership.
Become a Member
"With a boxer, some of those guys you'll spar, they'll march you down, they'll take you to the ropes where they know you can't move, and then they'll work. And when they throw the shots, they're not putting power in every shot. They'll touch, play, and then when they see an opening, they'll put the power shots in.
Obviously, over 12 rounds, you need to be efficient with your technique and with your power shots. It's like trying to sprint. If you try to sprint the marathon you're never going to do it. It's the same thing with the power – you've got to be a bit more sensible with where you're putting the power shots [in boxing].
"So, I would say, over 12 rounds, that was the main difference: being a bit more selective with your shots, and picking the right target, because obviously there's a smaller target than there is in MMA."
Much of the discourse surrounding McGregor's chances in the fight has revolved around his conditioning for a 12-round boxing bout; none of it is to suggest he's not a remarkably fit athlete, but naturally, there are again variables.
Mixed martial arts can doubtless be more strenuous in concentrated bursts, what with the ground game and two extra limbs to the contend with, whereas boxers will tell you their trade can become more mentally taxing over the distance. The typically narrower distance between two boxers, as well as the smaller, more angled ring, dictate that there is less time to gather thoughts, less room to take a breather between exchanges.
Boxing doesn't necessarily require more concentration than MMA, but it does require a different type of concentration, unwavering, for 36 minutes. It's this aspect of the sport, and not merely the length of Saturday night's fight, which Duffy believes his old adversary may struggle with in Las Vegas.
I think the concentration could definitely be something that might be difficult for Conor – just because he hasn't experienced it. Going from never competing in a pro boxing match to a 12-rounder, I think it'll be difficult to keep that concentration.
"I don't know about the pace. I think the pace might be fine. Conor is a counter-puncher mostly. Like, he'll pressure, but he's counter. Floyd's very similar. He'll prod away with the jab, but a lot of the time he's a counter-puncher. So the pace might not be that crazy.
"It's more of a case of keeping his concentration for the full 12, and obviously fighting Floyd, he [Floyd] has struggled with pressure fighters. So if that's Conor's gameplan, can he keep it up for 12 rounds? That's something we're all looking forward to watching."
Duffy, like the vast majority of his compatriots, is hoping McGregor can produce what would be the greatest single-event sporting upset in history when he finally trades leather with Mayweather at the T-Mobile Arena.
His prediction is bound by logic as opposed to patriotism, however.
Conor's got his work cut out. As much as I'm hoping he's going to win – it'll be a big win for the country overall – I think Floyd's experience is going to take its toll over the rounds. I think he might get the stoppage in the later rounds.
"I'm really looking forward to it. I think more than anything, everyone is just looking forward to seeing how it's going to play out: the difference in styles, the amount of time Conor has had to train, and how well he's going to do crossing over.
"I'm really excited for the weekend."
Joe Duffy was speaking on The42′s Close Calls, where he was joined by Eric Donovan and Jason Quigley, as well as John Kavanagh, to preview Mayweather-McGregor. You can watch it in full below.
Subscribe to The42 podcasts here: