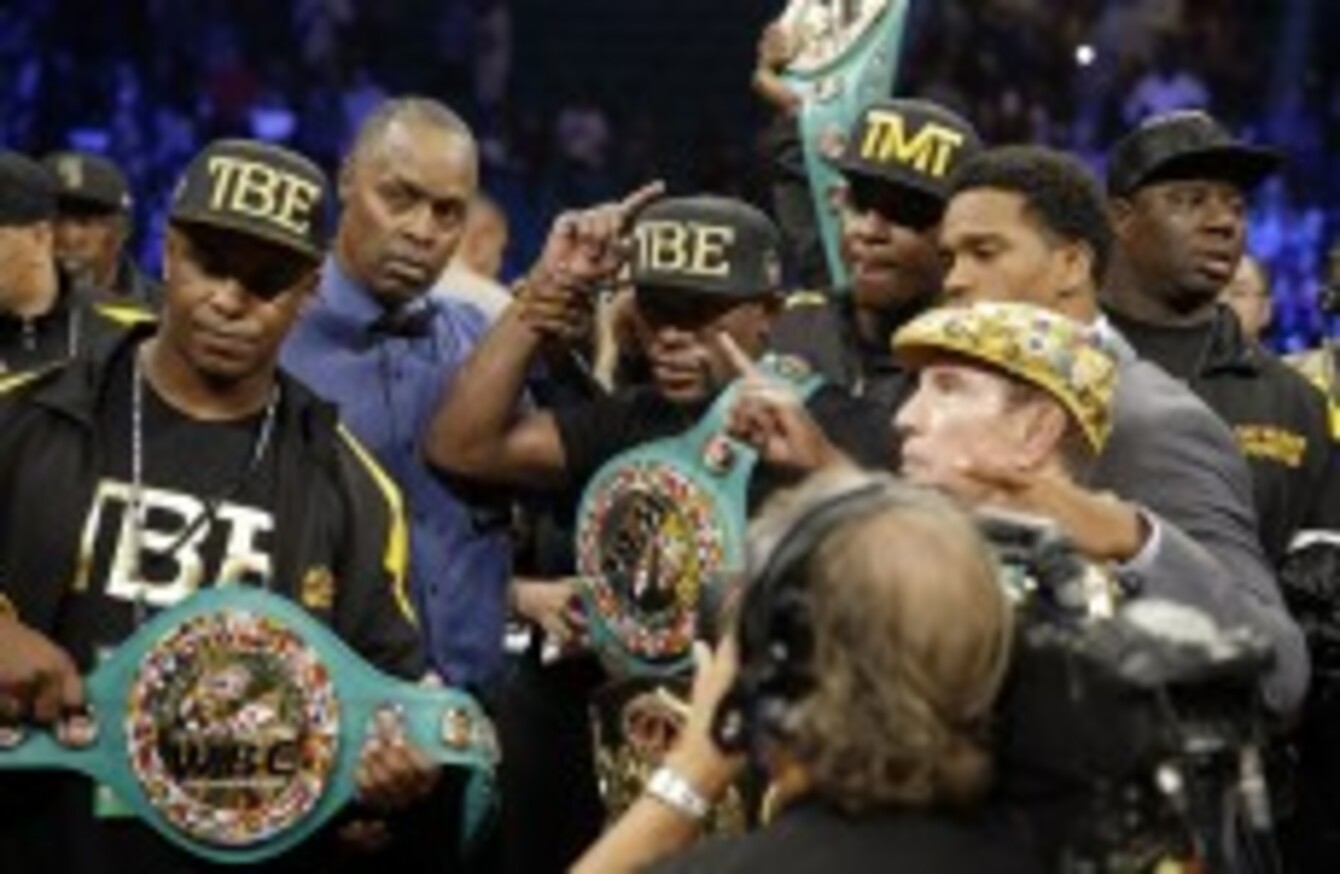 Image: John Locher
Image: John Locher
A (NOT SO) learned sage once altered the expression "it's better late than never" by including the addendum "but never late is better".
While Canadian rapper Drake is unlikely to be confused with Aristotle any time soon, there is a profoundness about that particular lyric. In fact, so applicable is it to the belated meeting between Floyd Mayweather and Manny Pacquiao that it might as well be the blurb on the fight poster.
Although long past its sell-by date, this much anticipated battle of east and west still amounts to the richest prospective match-up in boxing. Mayweather's status as the sport's veritable cash cow, after all, is more resolute now than it's ever been.
Just 18 months ago his light-middleweight contest with Saul Alvarez became the highest grossing pay-per-view event of all time. The bout generated north of $150 million in television revenue, a haul that surpassed the previous record of $136m which he set alongside Oscar De La Hoya in 2007. These earnings, plus the unprecedented financial sureties afforded to him as part of a $200m contract with Showtime, saw Forbes name Mayweather the world's wealthiest athlete at the close of play in 2014.
While the powers that be at CBS will understandably want to coax him beyond the two fights which remain on that six-date deal, the Grand Rapids native may not be so inclined. Soon to be 38, his 19th year as a professional could conceivably be his last. With boxing's champion emeritus seemingly ready to cash out, there have been no shortage of aspirants hoping to cash in.
An impressive dismantling of Devon Alexander in December, coupled with the promise of extra income from the British market, saw Amir Khan emerge as a viable candidate in the Mayweather sweepstakes. Following something of an Indian summer in 2014, new lineal middleweight champion Miguel Cotto also re-established himself at the forefront in that regard. After all, the prospect of becoming the first person in 77 years to simultaneously hold titles in three divisions was one which Mayweather was never liable to pass up lightly.
History books don't pay the bills, however. For a man with the moniker 'Money', it was always going to boil down to dollars and cents.
Enter Manny Pacquiao.
A sporting icon of international renown, the Filipino has long since proven to be the sole pretender to Mayweather's monopoly on both sides of the ropes. As such, May's set-to between the preeminent pugilists of a generation is really the only show in town.
Or, at least, it was.
A triumvirate of breakout wins over De La Hoya, Ricky Hatton and Cotto saw Pacquiao join Mayweather at boxing's top table as early as 2009. Provisions for a fight involving the two multi-weight world champions were put in place by year's end, with everything from purse splits to glove branding sanctioned ahead of a proposed 13 March encounter.
In a development now shrouded in infamy, Team Mayweather's desire to schedule Olympic-style drug testing was not reciprocated. With negotiations very much at an impasse, Team Pacquiao, through independent intermediary Daniel Weinstein, eased their stance by acceding to three pre-set blood checks: one before the start of training camp, one no later than 24 days prior to the event, and another subsequent to the final bell.
By this stage, though, Mayweather and then WBA titlist Shane Mosley had all but agreed terms to fight under the unrestricted parameters set forth by USADA. Pacquiao, for his part, opted to proceed on the planned March date, conclusively outpointing Joshua Clottey in Arlington, Texas.
Contention surrounding the aborted mega-fight continued to abound nonetheless. Irked by the not so subtle insinuations that he was using performance-enhancing substances, the Filipino launched what turned out to be a successful defamation case against his would-be rival.
Be part
of the team
Access exclusive podcasts, interviews and analysis with a monthly or annual membership.
Become a Member
While there were undoubtedly genuine grievances from both sides on the matter, to a large extent the drug-testing stalemate was simply an accessory to a wider narrative. The cantankerous history between Pacquiao's promoter, Bob Arum, and those in the opposition camp was very much the issue at hand. A one-time member of Arum's Top Rank stable, Mayweather acrimoniously severed all respective ties in 2006 amid claims that in excess of 80% of his earnings from matches against Arturo Gatti and Zab Judah had been withheld. The numerous legal wrangles which ensued in the intervening years put paid to any semblance of their working relationship. As a consequence, the 83-year-old's negotiations this time around were conducted entirely with Leslie Moonves, CEO of Mayweather's parent network, CBS.
On top of mediating matters at the coalface, Moonves had bridges to build at his own end. Indeed, problematic though the initial discussions might have been, there was at least one thing unanimously agreed upon back in 2009: the broadcaster. At that point both Mayweather and Pacquiao were staples of Time Warner's boxing output on HBO. The former's decision to jump ship in 2013 served to toss a fresh spanner in the works.
Luckily for everybody concerned, the blueprint for a dual-telecast between the competing networks had been drawn up just over a decade earlier. The event in question, of course, was the clash of heavyweight titans Lennox Lewis and Mike Tyson.
That too had been a showdown six years in the making. Despite the Briton successfully installing himself as mandatory challenger in 1996, Iron Mike opted to relinquish his WBC belt in order to instead face Evander Holyfield. When the pair finally did square off at Memphis' Pyramid Arena in 2002, the bout fell some way short of expectation. Lewis prevailed on the night courtesy of an eighth-round right hook but hung up his gloves just one fight later. The depth of Tyson's decline, on the other hand, was framed by two further stoppage losses to journeymen Danny Williams and Kevin McBride.
Granted, it would be remiss to declare that Mayweather/Pacquiao is certain to fall along the same lines; for many they still occupy the pole positions on boxing's pound-for-pound grid. To suggest that the calibre of the contest hasn't depreciated would be equally so, however.
A contentious win over Victor Ortiz aside, Mayweather hasn't scored a knockdown in close to six years. Indeed, save for that farcical fourth round against Ortiz, his last victory inside the distance came when he toppled Ricky Hatton in 2007. Having never been especially renowned for his power, he is unlikely to be unduly disconcerted on that front. A lifelong counter-puncher, his speed and timing have been enough to steer him home in well-nigh every round of his career.
Then again, two lacklustre showings versus a game yet leaden-footed Marcos Maidana indicate he might not quite have those reflexes of yore. A dubious split-decision win over the Argentine in May was followed up by a relatively conclusive but equally insipid victory in the sequel four months later.
Although two years Mayweather's junior, Pacquiao's wane has been altogether more striking; a shuddering right cross from Juan Manuel Marquez saw to that. The clinical nature of that knockout was presumed to herald the curtain call on Pacquiao's stellar run.
To his credit, the now 36-year-old rebounded with a hat-trick of convincing victories. Despite forcing a slew of knockdowns against Chris Algieri in his most recent outing, though, there remained cause for pause. Pacquiao's inability to 'finish the job' in Macau was something both he and trainer Freddie Roach flagged up during the subsequent press briefings.
If truth be told, the fact that the once irrepressible southpaw will now enter the MGM Grand on 2 May looking for his first knockout in 10 attempts is in many ways symptomatic of the lamentable story arc of this fight. What had the potential to be a battle for immortality between two athletes at the peak of their powers has descended into a glorified retirement package for two veterans in the winter of their careers.
Like Lewis v Tyson, the event looks set to reach unparalleled heights outside the ring. Early projections for buy rates and broadcast revenue tip the scales at three million and $200m respectively.
For those of us more concerned with matters inside the squared circle, let's just hope the similarities end there.