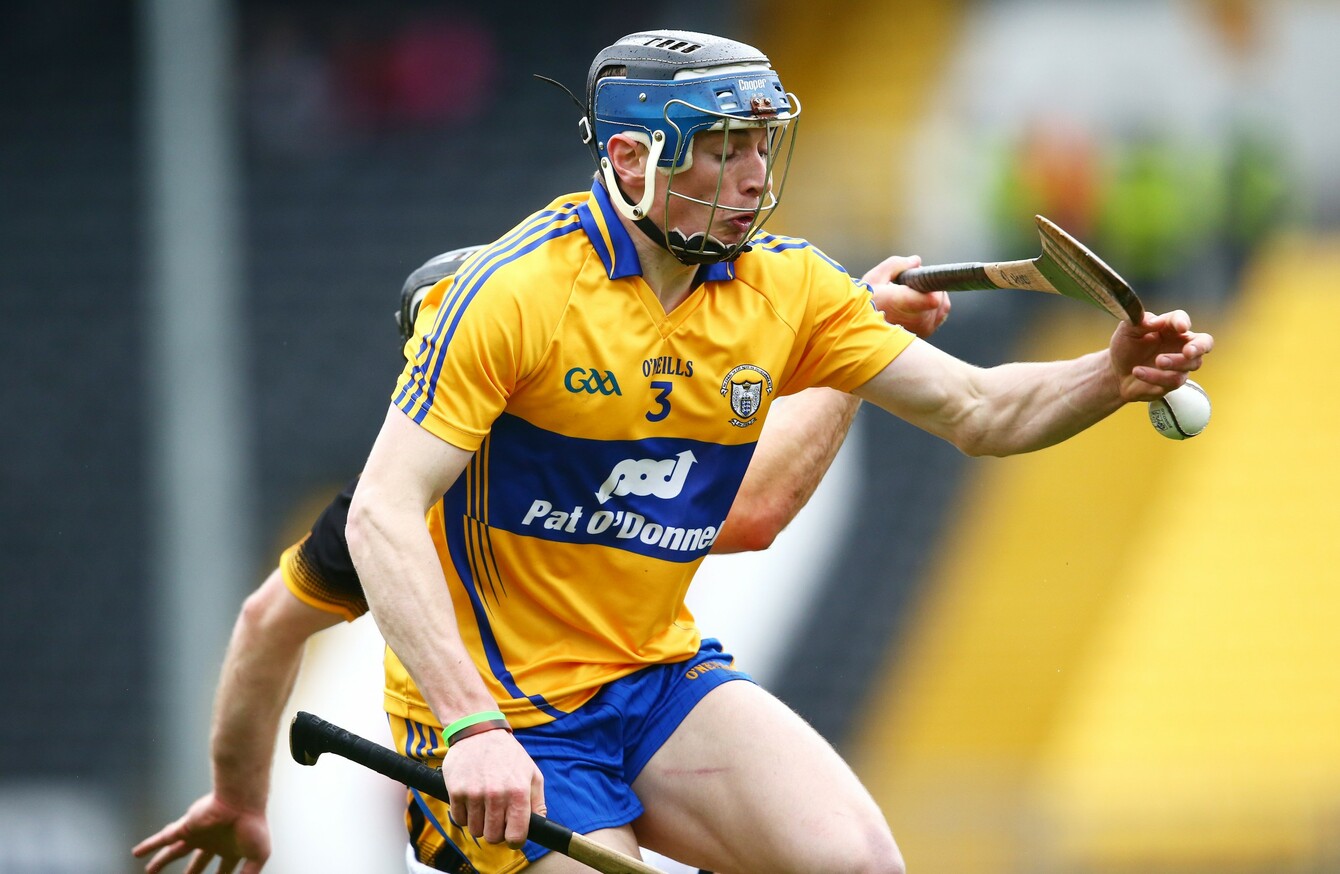 Image: Cathal Noonan/INPHO
Image: Cathal Noonan/INPHO
CLARE DEFENDER DAVID McInerney says their Championship slump must end in 2016 and hopes Donal Óg Cusack will prove to be their inspiration.
All-Ireland winning full-back McInerney admitted he got an "awful shock", in a good way, when he learned that the Cork legend was joining Davy Fitzgerald's management team.
Apart from never coaching a top side before, Cusack spoke of his strained relations with Clare boss Fitzgerald in his autobiography, Come What May.
But after winning just one Championship game since capturing the 2013 All-Ireland, Fitzgerald sensed the need for change and asked Cusack to become the Banner's new coach.
Ex-AllStar McInerney believes it is a positive appointment and one necessary to breathe life into a foundering set-up.
He said that if Clare were to endure a third year of underachievement then, psychologically, the players would be at a low ebb.
"Just for ourselves as players, we do need to do something next year all right," said McInerney.
"Some of the older lads will be biting at the bit because they might be coming to an end. Generally, we're a very young team but three years in a row of bad hurling, I don't think anyone can accept that.
"Like, I don't think Kilkenny have had three bad years in a row for as long as any of us can remember. Any team really would be disappointed with that run so obviously next year we really want to put the shoulder to the wheel and get some good results again.
I don't think it puts too much pressure on to be honest, I actually think, in terms of all the changes there's been, that I'm more excited than feeling under pressure.
"We're in the second tier in the league but we're looking forward to that too because everyone saw how Waterford got on last year from that division, winning the thing outright and they managed to get to an All-Ireland semi-final.
"So I wouldn't say there's pressure on us going into 2016 but it'll be a tough year for definite, a tough ask to get to where we want to but I'm looking forward to it."
Cusack isn't the only new arrival in Clare; Aonghus O'Brien and Jimmy Payne have joined the management team. But Cusack's involvement has commanded the attention of the nation having carved out his niche as a respected hurling pundit in recent years.
"The team use WhatsApp to communicate with each other and I actually didn't have it for a while so I only found out Donal was coming in by listening to my local radio and I got an awful shock when I heard it," said McInerney.
"But I think it's a good, positive move. Even the way the whole country is talking about it at the moment, two passionate men in the one dressing-room and both with high levels of expertise, I think it can only be a good move.
"I don't know who'll have the final say! Ah, there'd be mutual respect there between them, for sure, and the players would obviously respect both coaches.
"I suppose we were very disappointed with the last two years and I think, in order to move forward a bit, we did need a bit of freshness and a change.
"I think it will be no harm and we really want to get the best out of ourselves now and to have a good year in every competition we're in."