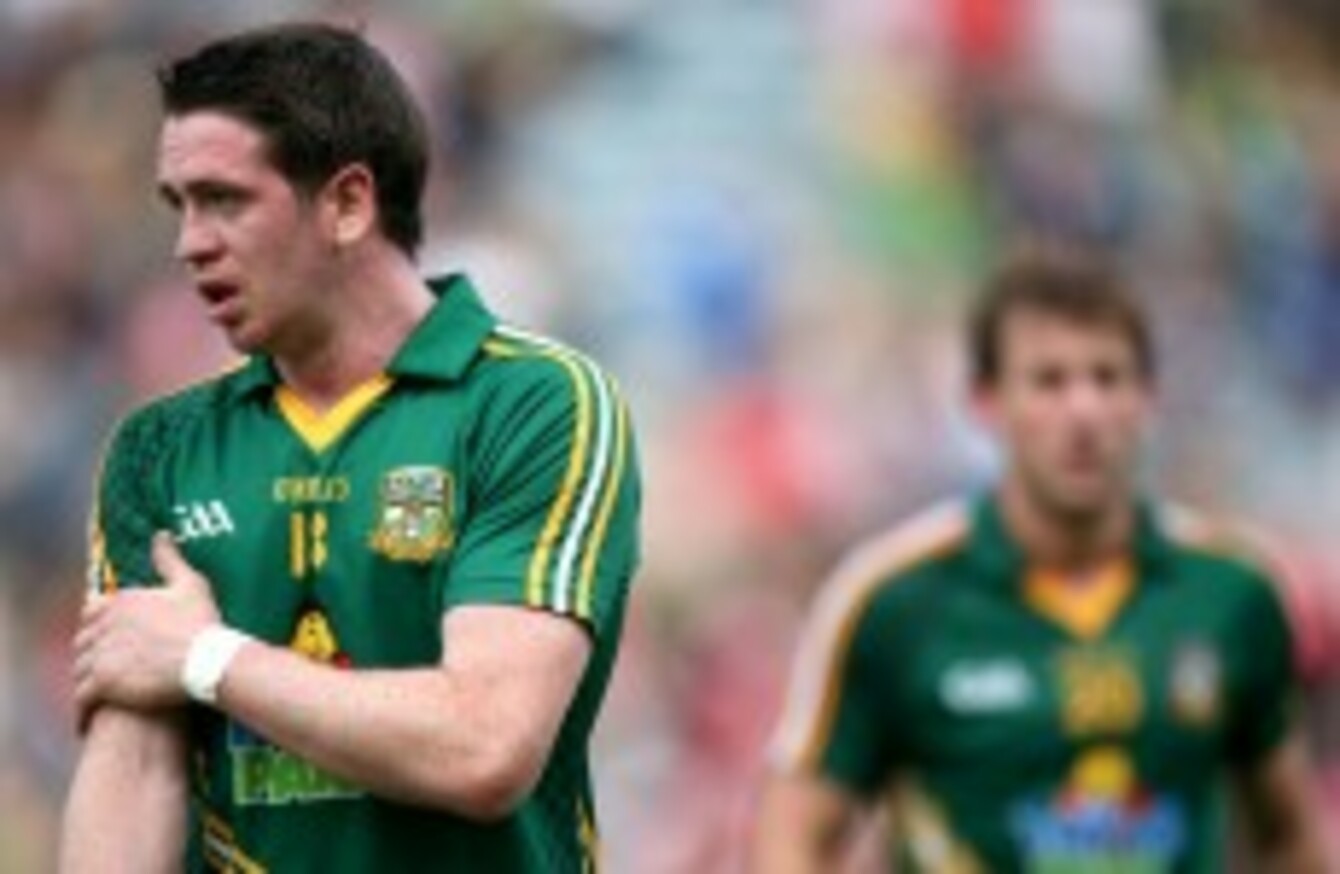 Meath's Peadar Byrne was dejected after his side's elimination.
Image: ©INPHO/Ryan Byrne
Meath's Peadar Byrne was dejected after his side's elimination.
Image: ©INPHO/Ryan Byrne
MEATH BOSS MICK O'Dowd believes 2013 has been a year where his team has reconnected with the county's supporters.
Meath bowed out of the championship race last night with a narrow 0-17 to 2-9 defeat against Tyrone.
But they have plenty to build on after this season where the memories of turbulent campaigns in recent years were washed away.
"One of the things that we have achieved this year is we have reconnected the Meath people with the Meath team. People believe in this team again.
"That was an important step that had to be made this year. So we're happy with that.
"We made progress definitely. But we're here to try and win things too. There'll be a big focus on that over the winter when we're planning for next year."
Mick O'Dowd was proud of the fight Meath showed in the second half. (©INPHO/Ryan Byrne)
"There has been a lot of improvement this year," he added. "The next two months will be all about focusing on the club championship.
"Looking at the panel again, seeing who we can bring in and then searching for individual and collective improvement. I think there is plenty potential there."
O'Dowd lamented the fact that his side's first-half display contributed to their evenutal defeat.
"We'll regret the first-half to be honest. I know there was a slight breeze there but we weren't happy with ourselves.
"We weren't happy with the performance we'd put in. I didn't think we were playing with enough pace. We were slow coming out with the ball at times, not supporting one another enough.
I don't think our tackling was good enough either. They seemed to be coming through us a bit easy. In fairness we asked for a big second-half at half-time and we got it.
"We could have done it but we didn't. In fairness Tyrone kicked 17 scores and we kicked 11. That's the difference."