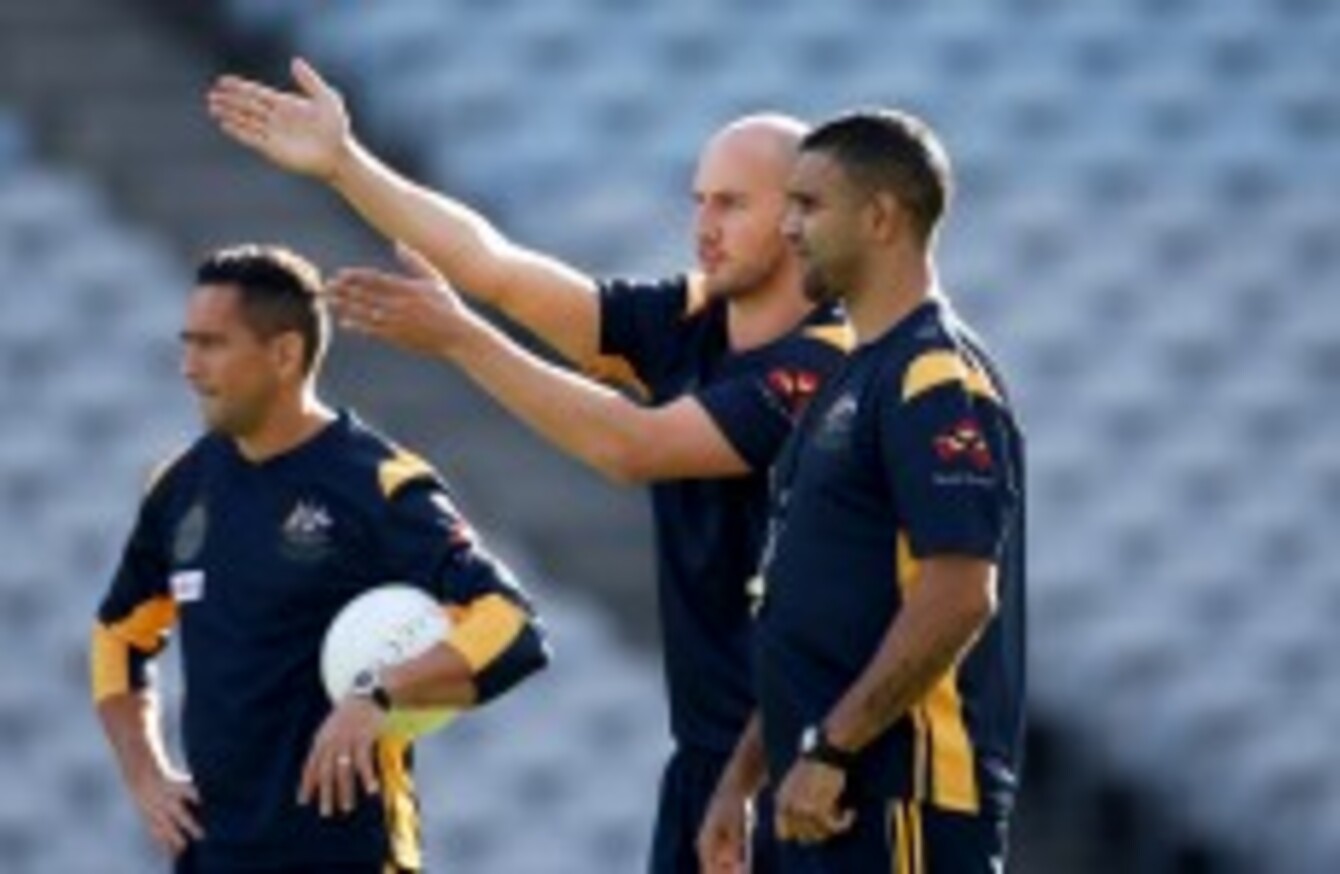 Australia coach Michael O'Loughlin and Tadhg Kennelly.
Image: INPHO/Cathal Noonan
Australia coach Michael O'Loughlin and Tadhg Kennelly.
Image: INPHO/Cathal Noonan
AUSTRALIAN INTERNATIONAL RULES manager Michael O'Loughlin has highlighted the role of Tadhg Kennelly in helping his side prepare for whatever the Irish have to throw at them in tonight's first Test at Breffni Park.
Former Sydney Swans star O'Loughlin, asked which of the Irish players his side will be paying closest attention to, joked that Kennelly has been singing his own praises in camp.
"Tadhg Kennelly reckons he's the best player that's ever played the game, that's all I've been hearing in our three weeks in camp!" he laughed.
"Tadhg has been fantastic in terms of helping us prepare for the opposition, strengths and weaknesses, what we have to work on – and there are a hell of a lot of things we need to work on – but he has been instrumental in getting us up.
"Without giving too much away, certainly the skipper here next to us [Michael Murphy] is one of the key players.
"We have done our homework, as always, at AFL level our preparation is the key to being successful and that's something that we've brought into this Test. Our preparation and homework have been spot on, and that has given us a chance to equip ourselves tomorrow."
O'Loughlin, who confirmed that Brisbane Lions forward Ash McGrath will be the Australian goalkeeper tonight, dismissed suggestions that Australia will be at a disadvantage having only come together as a group shortly before their departure.
"This team have played a game of Australian Rules football in early February, we came together very quickly and played very well. We played the Richmond Tigers in Alice Springs and we won by a lot. It was one of those things, the boys know each other pretty well.
"If it was just a team we were putting together, it would have taken a couple of weeks to form those bonds and trust and respect within the group but these guys know each other well so it's been a really easy transition for us in putting the team together.
One thing I do know about the series is you've got to get off to a good start. The weather has been all over the place but I think the team we have brought over is going to suit, whether it's raining or the sun is out.
"We know what the Irish can do, they're very, very skilful and we've got our work cut out but we've picked a team specifically for this game and it's going to be a cracking game."