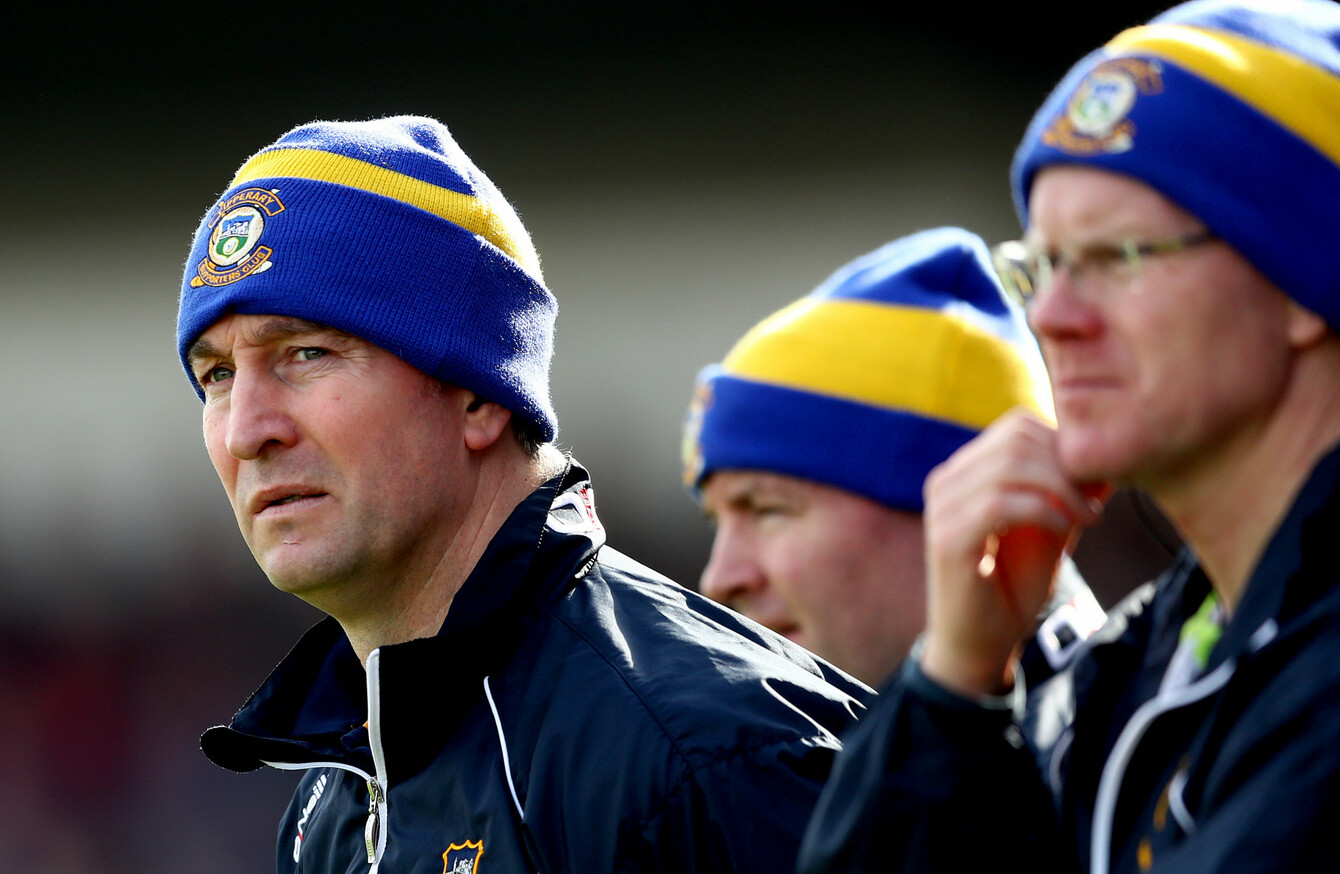 Tipperary hurling manager Michael Ryan.
Image: James Crombie/INPHO
Tipperary hurling manager Michael Ryan.
Image: James Crombie/INPHO
THE OPENING SHOTS will be fired in the Munster senior hurling championship on 20 May and in less than a month ten games will unfold and two counties will see their silverware hopes for the summer end.
As teams get set to embrace the radical new structure, Tipperary manager Michael Ryan is priming his team to survive the hectic schedule by bagging one of the top three places on offer.
And the 2016 All-Ireland winning supremo does believe it is 'harsh' that two counties in Munster will see their title aspirations for the year end on 17 June.
"I think it's harsh. I think it is particularly hard on the five teams in Munster such is the standard, because I genuinely mean I think there is nothing between us. I fully understand what the GAA is trying to do.
"When we end up looking back on 2018, I hope we say that was cracking year in general, we will form our own personal views. We better park them for the minute, and go away and play the games.
"Two teams will be finished by 17 June. That's a stark reality for any of us. Three of us will get to go ahead.
"We all have the same ambition to be in the top two. I guarantee there's three or more of us would take that last position with both hands if that's what is available to us.
"Does it dilute it? I think survival will be the key word that we will all be thinking about. This is unprecedented it won't be lost on anyone.
"I would long since contend that anybody can beat anybody in Munster and it has been like that, Only look back on our own history in Munster in the last few years and it's choppy.
"You don't do an awful lot wrong and you are on the wrong side of a result. Has Leinster been as competitive as Munster? I think not. But that's my view. Look, we will wait and see."
Tipperary enter the Munster championship on the back of the setback of their league final loss to Kilkenny when a sluggish second-half display scuppered their hopes.
Yet Ryan does not feel a sense of despair just because the Premier were defeated.
"We were the ones in the league final. I'll point that one out first. Realistically, there was 10 teams eligible to get there – we got there. Talk to the rest of them. I'm happy enough where we are at in it.
Be part
of the team
Access exclusive podcasts, interviews and analysis with a monthly or annual membership.
Become a Member
"We never like to lose a final or any game to our nearest and dearest rivals Kilkenny. It's a point in time. It's done. We have to look ahead.
"Kilkenny do what they do best, (they) play for 70 plus minutes. That is the single biggest feather in their cap that the rest of us strive for.
"I don't think that is disingenuous to any other competitor – they are the market leaders in that and have been. On top of quality players – we all have quality players – that is the single biggest differentiator between Kilkenny and the rest of us."
Marquee forward Seamus Callanan was absent for that clash with Kilkenny but is set for a championship return after missing the league with a back injury.
The outlook for Michael Cahill is unclear after he went off injured at the weekend in a club game with Thurles Sarsfields.
"I expect Seamus to be available," said Ryan.
"What we don't know is how his next three weeks will be, but he's healthy and that's the main thing. He's in great shape. The benefit of being 6'3 is you don't put up weight or at least you don't appear to.
"It (Michael Cahill's injury) happened on Saturday. It's three weeks to when we kick off. The key thing is that we get him back and get him back right.
"We won't rush him. Plenty of fellas will take the opportunity with both hands if they think there's a chance to get in there for a two or four jersey."
The42 is on Instagram! Tap the button below on your phone to follow us!