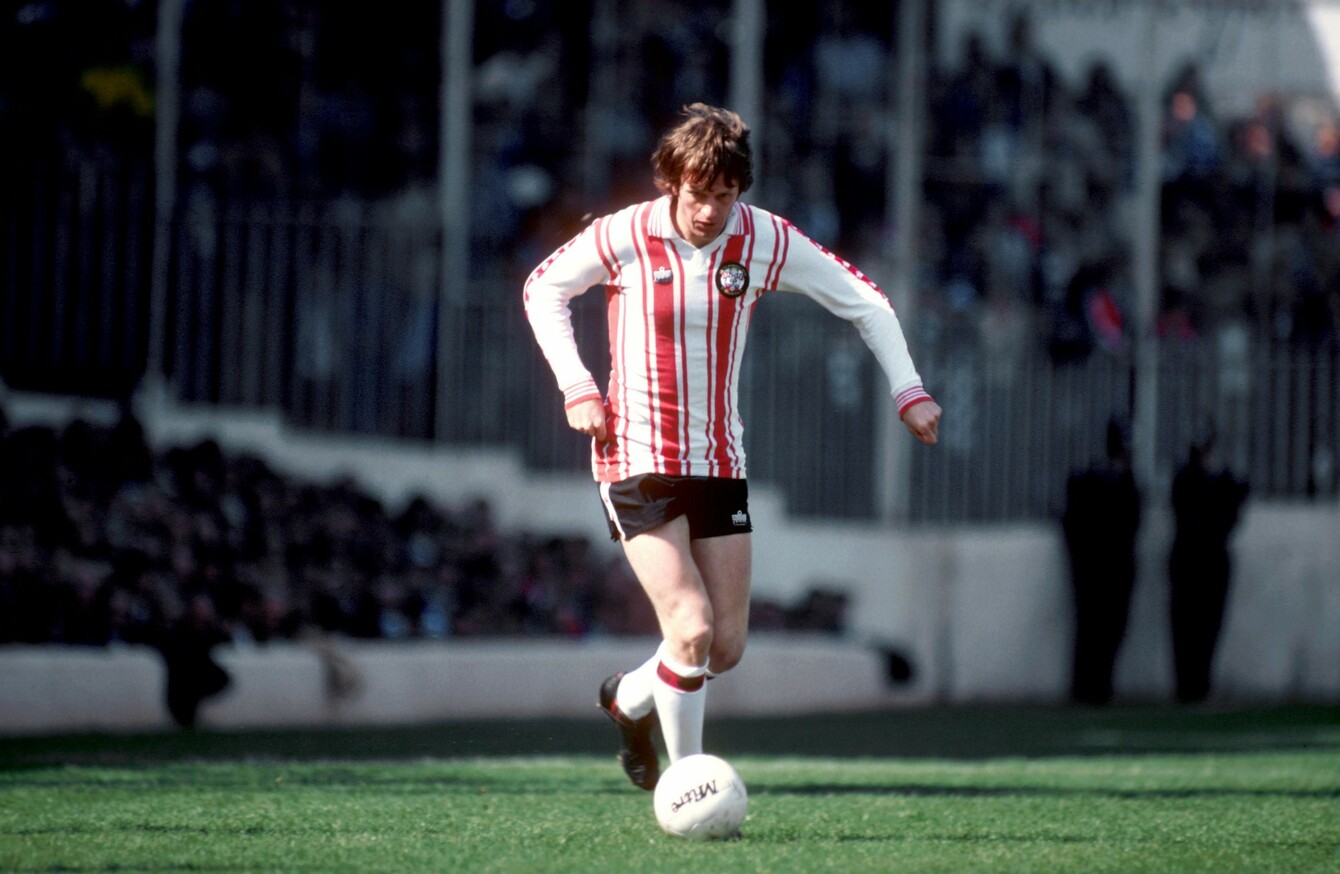 Mick Channon, Southampton.
Image: EMPICS Sport
Mick Channon, Southampton.
Image: EMPICS Sport
THE FOLLOWING ARTICLE is an extract from the William Hill-nominated book How's Your Dad? by Mick Channon Jnr.
As a football-obsessed kid, I was the complete anorak. It was what I'd grown up with, all I knew and all I cared about.
By 1985 I'd turned ten and I'd already memorised every FA Cup final result, the goalscorers, the captains and the managers. In many cases I can tell you the results of matches that took place decades before my conception. Indeed, my childhood stands as a testimony to an all-consuming obsession with regard to the FA Cup, a football tournament that I only really tuned out of once football became unavoidable on the telly.
Back then, only a handful of games were ever shown on the telly. Live football was like Christmas and, as a result, my memory works alongside a backdrop of FA Cup winning references: John Lennon died in 1980 (West Ham 1 Arsenal 0); the miners' strike truly boiled over in 1984 (Everton 2 Watford 0); and I lost my virginity in 1990 (Manchester United beat Crystal Palace 1–0 in a replay). What a tragic gauge against which to measure your time on this planet.
I'm not alone, though, when I say that FA Cup final day on the telly was the defining moment of the year. It had everything: Gerald Sinstadt and Martin Tyler in the team hotel at breakfast, Tony Gubba on the team bus and Freddie Starr joining Tarby on the hallowed turf when the teams arrived.
I recall Bernie Clifton and his ostrich being there one year, and I even phoned in and got on the telly to ask for Southampton's 1976 FA Cup goal to be shown because my dad was in the studio as a pundit with Brian Moore and the Saint and Greavsie in 1984.
FA Cup final day was also the one day of the year that you could fall in love with and root for a club other than your own. Mum, dad, me and Nicky and the only thing that mattered.
In the mid-1980s I was besotted by Everton. Although they beat Southampton in the 1984 semi-final at Highbury (I was there and I still hate Adrian Heath), they seemed to be in every Cup final that took place at that time, apart that is, from the Milk Cup final of 1985.
I can well imagine today how much of a dross match Norwich City against Sunderland would have seemed to the general public back in 1985. Put any allegiances to one side if you're from Norfolk or Wearside – Norwich playing Sunderland would have you screaming for mercy if you were faced with having to watch two and a half hours of live coverage between those two on BBC1 on a Sunday afternoon.
But it was so: two massively unfashionable teams playing in one of the only two live domestic matches shown on terrestrial telly that year. And my dad played up front for Norwich. Of course at the time I took it all in my stride. I only had one dad and he'd been a footballer for ages.
Even before I was born Mick had gained his first England cap and that was basically the life I assumed every kid had – every other kid in the country watched their dad play football in the First Division of English football at the weekend as far as I was concerned. I also expected him to score. And I'd sulk if he didn't.
That was when he was playing for Southampton though. By 1985 things at home had changed quite considerably. To all intents and purposes, Mum and Dad had split up, which left us in what I can now look back on as a very strained household.
We remained on the small stud farm just outside Southampton, and Mum did the horses, overseeing everything during the foaling season while Mick spent most of the week in Norwich. Mum did so because she's a good person and loved the horses. She certainly didn't owe Dad any debt of gratitude.
But Mick was (and is) a strange amalgam of characters. He always expected things to be done for him (he knew no other way of life aside from being a footballer), and people were willing to go the extra yard to please him. He has this sparkle that still makes people to this day make things happen for him. My life has also fallen under this spell, just like my mum's did back then.
In truth, Mick adopted a rather slapdash approach to monogamy. I hold no grudges – this isn't a score-settling process in which I hope to cleanse my tortured soul and blame anybody for what goes on in the world. It's just how things were, just how life was, and although things weren't great at home there was always football. Football dominated the vast majority of my childhood. I remember the days just before dad went away to prepare for the Milk Cup final.
We were walking across to the barn where we kept the mares and foals at feeding time and I asked him with a yearning that only a boy of my age and my upbringing could be capable of: 'If you score the winner in the Cup final, Dad, will you get a golden boot like Bobby has?'
'I don't think so, mate. This is the Milk Cup and we need to bloody win it first.'
This disappointed me immensely. Defeat hadn't entered my mind for a kick-off. Who were Sunderland anyway? My dad was a man completely at ease with the prospect of playing in a major Cup final at Wembley Stadium, but to me it was a very big deal.
He was 36 by then. Ancient from my perspective, which was one shared by footballing people when you watched brief highlights of his exploits on the telly. But I knew he was brilliant.
If you're still playing top flight football and making things happen while commentators like Barry Davies, Gerald Sinstadt and John Motson are describing you as a 'veteran' or 'an old warhorse' you're clearly very good. Remarkable almost. And he was.
He couldn't run like he had as an England regular, but he'd adapted his game to bring younger players into play, and he extended his career far beyond the limits of others. Most of his best mates in football were washed up by the age of 32, yet here was me asking him about what we'd get if he scored the winner in a Cup final at Wembley.
He was my dad, and that certainly helped elevate him in my estimations, but he was also a brilliant footballer. He made things happen and he made people enjoy the game. He was an inspiration to teammates and fans alike. He's also a very abrupt and dismissive individual, which is not a particularly endearing feature, but very few successful people are 'nice'.
Especially people with his background. He'd done it all by that time: from becoming a hero at Southampton before failing horribly at Manchester City as the country's record-breaking signing (£350,000 was a lot of money back in 1977). He glossed that off to return home to Southampton, where he eventually became their record goalscorer, with 227 goals.
When Saints finally sent him on his way, he eventually proved that the light still shone brightly by turning up at Norwich City, playing football as a hobby, training as often as he saw fit, and doing as he pleased.
The man does more hours today, but what he does still pleases him immensely, even when you'd think the opposite.
Source: coulditb5/YouTube
He's grumpy and aggressive and perpetually demanding. We fall out often, and I'm aghast and infuriated for a lot of the time. In effect, he's lived his life in reverse – blessed with natural ability and a carefree attitude to any real work ethic in the first half while grafting tirelessly in the latter. He's a constant reminder of how life remains impossible is my old man.
Back in 1985, though, my question about getting a golden boot was all that bothered me. I'd become obsessed with my dad getting a golden boot like Bobby Stokes had.
Heroes never lived in your house, did they? They'd come round to visit and they'd make a fuss of you and then they'd leave, leaving you wishing for more. Just like my Grandad Reg did. Like Bobby Stokes did.
Bobby scored Southampton's FA Cup winner in 1976 and he gave Mick a moment that I don't think could ever be bettered. Dad was a Southampton supporter as a kid and he won the FA Cup thanks to Bob's goal.
I can't speak for my dad, but that's all I ever wanted to do and, while my dad surely relished that moment of fulfilling a childhood ambition, Bobby went and got a golden boot for scoring that goal. It lived in his front room. I thought it was the best thing in the world.
That Southampton team in 1976 remain best friends to this day, regardless of how often or rarely they see each other. They picked up their FA Cup winners' medals from the Queen (she's not bothered to go back since) after beating Manchester United and they then all got pissed together for months afterwards. Obviously, it was a team effort, but Bobby was my first hero for both scoring the winner and having a golden boot in his living room.
Many years later, when I passed my driving test and Peter Osgood appointed me as Bob's driver to take him to charity football or cricket days, I still couldn't believe that Bob was my friend. I don't think anything gets better than that: my mate Bob and his golden boot.
Anyhow, on Sunday 24 March 1985 the Channon family and friends boarded a coach (a proper one as well – a 45-seater with a microphone at the front) at our home just outside of Southampton. We were all there; Mum, my sister Nicky, Mick's brother
Phil and Auntie Liz, Grandma and Grandad Channon, Grandma and Grandad Medcroft, cousins, uncles, aunts and friends – it was a proper charabanc if my memory serves me right, and we left at an early hour and arrived in the coach park at the Wembley Stadium in high spirits, particularly Grandad Reg.
Source: Racing Post/YouTube
As we got off the coach Dave Allen, a friend of Mick's, dragged me aside and told me to follow him. The coach park at the old Wembley was enormous, and I thought we'd all be staying together, but as Mum and everyone else headed towards the Twin Towers a strange turn of events eventually found me and Dave standing outside the biggest set of wooden doors the world had ever seen.
There was a little door within them and Dave knocked and we waited. I didn't have a clue what was going on until a little old man in a black uniform and a cap opened the door and asked us what we wanted. He looked a day older than grass, and Dave struggled to get through to him over the considerable noise of the crowd around us.
'Can you fetch Mick Channon of Norwich City, PLEASE?' The old man eventually nodded and went away. Some time passed until my dad appeared at the little door. I was told to step over the rather large step in the opening of these massive doors to get through to where he was.
'He's my son and he's coming in,' Mick said against protestations.
'Fucking let him in!'
And the old man in the uniform did so. The little door on the massive oak gates shut behind us to a cavernous echo. I immediately knew where I was. I'd seen the telly. I was in the tunnel of Wembley Stadium.
Dad was standing there in a grey suit with a yellow flower on the lapel. I was standing there in an acrylic Norwich City tracksuit and a pair of trainers I hated. I hated them when I first got them and still hate the memory of having had to wear them to this day.
They were from St Michael, a footwear range of Marks & Spencer, and they had Velcro fasteners. I wish my mum hadn't been such a stickler for purchasing off-thepeg trainers when I was growing up. A pair of Patricks or adidas would have made my crash helmet hairstyle more forgivable with hindsight. The eighties were a bastard to everyone.
'Come on, then!' The old man marched me about fifteen yards down the tunnel and turned me right, through a door. I walked in ahead of him and there was the entire Norwich City team, its backroom staff and all of the reserve players in the dressing room.
The coach, Mel Machin, was standing next to a large tray of orange cordials with glucose tablets in them, sitting on a treatment table next to a pillar in the centre of the room. Mel wore a tweed cap and a tracksuit, a look even more fashionable than my trainers back in those days. He said, buoyantly, 'Now then, young man! You'd best have a drink and
behave yourself!'
I was intimidated, scared and excited – in a pair of shit trainers. I don't remember much of the following three hours of my life, but a few things will never be forgotten: I remember drinking loads of orange cordials with glucose tablets in them out of plastic cups.
I remember sitting next to my dad, Asa Hartford, John Deehan and Louie Donowa as they got ready for the match. Louie was very kind to me and he wore Hi-Tec boots. I was obsessed by football boots during my childhood and Hi-Tecs were the best thing since Patricks at that time.
Louie was like a kid himself, barely twenty, I guess, while the Norwich captain Dave Watson was a bit scary. As I was weeing in the urinal next to him just before kick-off he accused me of being more nervous than he was. (I'd properly got stuck into the orange cordials with glucose tablets in them, to be fair, and he'd noticed how many visits I'd made to the toilet.)
I remember that the old Wembley had a massive bath. Massive. I remember the manager Ken Brown delivering a team talk. I remember lingering behind my dad in the tunnel before we walked out. He was wearing a very strange turquoise tracksuit top. I remember thinking I was going to follow my dad onto the pitch, but he didn't say anything to me – he probably had other things on his mind – so I self-consciously walked around the sand greyhound track in my trainers thinking about how shit they were.
The only thing I remember about the first half was not being able to see the first half. Wembley had four rows of leather benches for the coaching staff – one behind the other. I was in the second row behind Ken Brown, Mel Machin, the substitute John Devine and the physio, who was called Tim. I was only ten and a half. Amazed, excited and walking out at Wembley. I saw nothing.
I do remember my dad swearing at half-time, going for another wee and Steve Bruce ruffling my crash helmet haircut when we went out for the second half.
I remember Norwich scoring just after half-time. I remember that because I'd just been given an apple. Asa Hartford had scored. Apparently. I remember Mel Machin going mental when Dennis van Wijk gave away a penalty, and I remember Sunderland's Clive Walker missing it. I remember being on the pitch and my dad picking me up and kissing me. I remember feeling self-conscious as I was given the Cup in front of the Norwich supporters and a row of photographers and being told to hold it up in my shit trainers.
I remember after one lap of honour, my old man saying, 'Let's go round again, I'll never get another opportunity, so fuck it!'
I remember how happy everyone was. I remember all the players getting pissed in a hotel. What a day.
Before Mick went to the thirty-year reunion of Norwich City's one and only victory in a major domestic Cup final, an East Anglian film crew arrived at the stables to speak with him about that day. They set up in the owners' hospitality lounge and he went in to talk to them about it.
I was sitting at his desk, fiddling with the lot board that organises who will ride which horses the following morning and, after a mere five minutes, the director came out of the lounge and approached me.
'Mick says you might be able to help.'
'What with?' I replied.
'Well, the trouble is, he can't remember the name of the captain that day.'
'What? He can't even remember Dave Watson?' I replied.
'To be honest, he's got trouble remembering most of the team.'
'Right,' I said, 'I'll write it down for him. Show him this and he'll tell you everything you want to know.'
And so I wrote the entire teamsheet out for him on the back of a declaration sheet that Mick had on his desk with the details of the following day's runners.
Now, I'm certainly not flagging this up as an example of how he's lost the plot through dementia. I say this because what happened thirty years ago really doesn't matter to Mick Channon.
He simply does not care. Not a jot that happened yesterday bothers him. Once his memory is jolted, he's OK. He went to the reunion and was so happy to see everyone – even though forcing him to get out of the house and away from his horses took considerable effort, he loved it.
The first kid on the pitch at Wembley. They all do it these days!
'Louie doesn't change, I had a right laugh with him, and Dennis is bald!' he joyously said when he returned.
'Oh, good,' I said. 'How's Asa?'
'Brilliant! Same as ever.'
'So you enjoyed it, then? Good, I'm glad.'
'It was a late one, though. Fucking hell, they wanted them "selfies" taken with me, and everything.'
'Well, it was a good day, Dad.'
'Yeah, but it was a fucking long time ago. I mean, why do people want to celebrate something that far back?' An incredible outlook on life.
I've seen a million interviews with former footballers being asked to recall their big day at Wembley Stadium, and they usually say something along the lines of: 'It's a day I'll never forget.'
With Mick Channon, though, the most probable line will be: 'It's a day I can scarcely remember.'
He doesn't want to reminisce and he doesn't see the point in hindsight or nostalgia. He'll warm to it given the right circumstances, but I don't think he has a mind that can shift too far from the present or the future. For him, there's today and tomorrow or, more accurately, the day after tomorrow. Because that's when runners on the Flat are declared to run.
A remarkable man for his age. He only ever looks ahead.
How's Your Dad? by Mick Channon Jnr  is published by Racing Post Books. More info here.
The42 is on Instagram! Tap the button below on your phone to follow us!