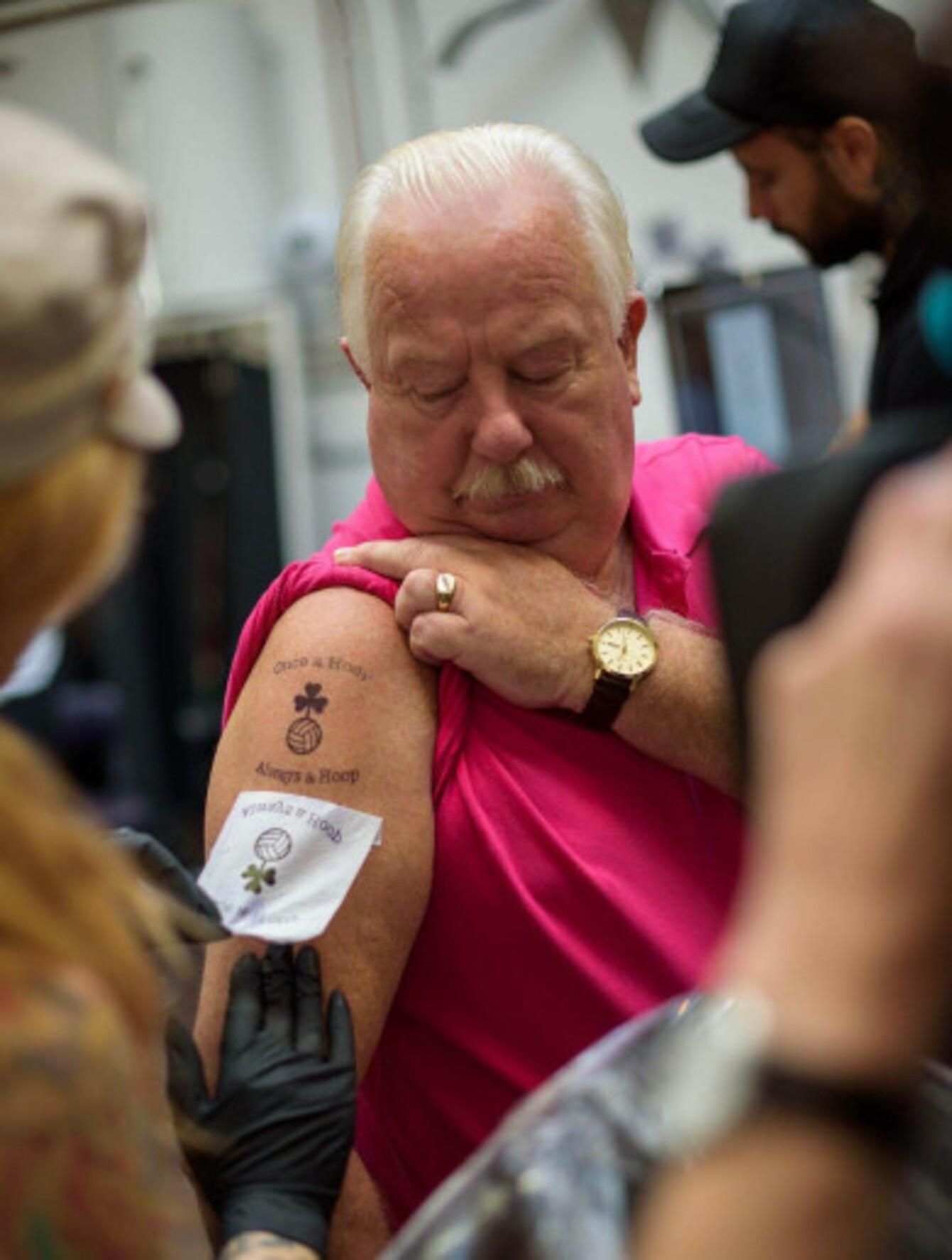 Mick McCarthy pictured getting his tattoo.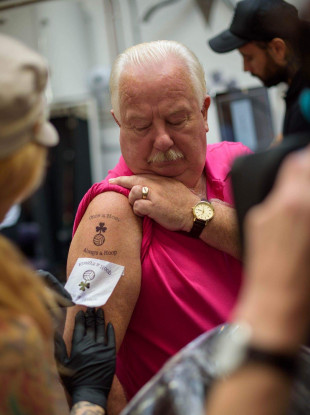 Mick McCarthy pictured getting his tattoo.
YOU'D BE HARD pressed to find a bigger Shamrock Rovers supporter than Mick McCarthy. When he says "after my family, my first love is Shamrock Rovers," he certainly means it.
It was 1957 in Milltown amid a 2-1 victory against Cork when the love affair began. McCarthy still has the match programme from that momentous day.
The dedicated fan, who was about eight or nine at the time, travelled down on a bike to watch the team with his brother Sean, setting off from their home in Walkinstown.
"My first memory is when I arrived, the amount of bikes, there were hundreds of bikes," he tells The42.
"The atmosphere [was incredible]. From that day on, I never looked back, I was always a Hoops fan."
But to refer to McCarthy as a mere 'fan' is an understatement, such is his immense passion for the Dublin club.
I go to every game, home and away," he explains. "I've done all the European games since 1980 I'd say, or 99% of them. My first trip [for a European game] was in the '80s, when I started earning a few bob.
"I've been in every ground in Ireland that Rovers have played in — friendlies, benefits, testimonials, anything."
McCarthy was there as they won a historic fourth league title in a row in the 1980s, as well as during the controversy that saw the team lose their Milltown home shortly thereafter.
While he had a wife and young children to look after and consequently wasn't "on the frontline" during the saga, which many older fans still look back on with regret to this day, he was still "collecting money, getting sponsorship, trying to keep Rovers at Milltown".
There were plenty of happy times too, such as the incredible haul of six FAI Cup trophies in a row between 1964 and 1969.
"Of course, the '60s were great," he remembers. "When we lost our last one, we were going for seven-in-a-row. Shelbourne beat us and it was a late goal by a lad called Brendan Place. I'll never forget the feeling when he came down in front of us, giving us the 'howya,' the two fingers in other words. That was probably the saddest day that sticks out in my mind. But as you get older, you realise it was greedy, we'd already won six.
"The good times too you could probably say were when Michael O'Neill was there and we got into the [Europa League group stages]. But there are always good times at Shamrock Rovers, in the good and bad days."
Although McCarthy insists "I follow the jersey, I don't follow certain players," he is friendly with a number of the club's former stars. He meets Mick Leech every Friday at 2pm for a coffee, while also counting Tony Cousins, Marc Kenny, and Mick and Pat Byrne among his friends.
I look at Shamrock Rovers as a family as well as a club," he adds. "I could be walking down O'Connell Street, bump into a lad and he'd say: 'How did Rovers do?'
"I would know that lad for 30, 40 or even 50 years maybe. I would see that lad maybe 100 times in a year, and I wouldn't know that lad's name, but I would stand at the side of the street talking to him about Shamrock Rovers for an hour."
This sense of kinship, which following the club creates, is hugely important to McCarthy, particularly so in recent years as he fell on hard times.
Source: ALONEIreland/YouTube
Having spent a sustained period living in rented accommodation, McCarthy invested in a mortgage in 2004. At this stage, he was in his late 50s and earning "a decent week's wage" as a painter and decorator. 
After the first three years of interest-free payments came to an end, McCarthy was increasingly struggling to make ends meet. To make matters worse, the Irish economic downturn was in full swing.
"Then I started having problems with my legs, I was getting arthritis in the knees," he recalls. "I just had to give up working. I couldn't work with ladders or anything. I retired when I was 64, I was expecting to get a few more years, then I was just on a pension, I couldn't afford to pay [the mortgage], so they wanted to go to court and repossess the house. In the end, I didn't even go to court, I just gave them the keys."
Even during these immensely challenging times, McCarthy's love for Shamrock Rovers never wavered — in fact, if anything, it put into perspective how much the club meant to him and why it remains such a vital component of his life.
The Shamrock Rovers thing is very close to me," he says. "Before I had to hand over my home, I was very down in the dumps. But I would walk up to Tallaght Stadium, meet all my friends through Shamrock Rovers and with all those fellas, it would all be forgotten about. You'd have a good night, even if the results didn't always go [the team's way]. There's more to life than winning a football match."
Be part
of the team
Access exclusive podcasts, interviews and analysis with a monthly or annual membership.
Become a Member
Despite losing his home, McCarthy considers himself fortunate in comparison to others who face similar dilemmas. He still had the support of a loving family, who played an integral role in helping him out of the mess that he had the misfortune to fall into.
"My daughter brought ALONE [an Irish charity established to highlight the issues facing older people living alone] to my attention. I wouldn't have been out on the street, because I have family, but I would have been living on somebody else's floor.
"We filled out the forms. I got an interview. I brought in all the papers from the house and all that, and told them my situation.
"I looked at a few places and I wasn't successful, and then I looked at this place [where I now live] in Kilmainham, and they gave it to me.
"Basically, what you do, you pay your rent, you pay your ESB, you pay anything else, but they're there for you anytime you want them.
"If you need anybody in to care for you or any messages, they'll look after you. But I don't take advantage of that because I'm able to get out and about. I'm one of the lucky ones, at the likes of Shamrock Rovers, I have lots of friends."
He continues: "We're all capable of hitting hard times. Life is like a ladder — things are good, then you come down and you get yourself back up. But when you step off that ladder, that's where ALONE come in. They help you to get back on that ladder, be independent and look after yourself. They're always there for you. They arrange little holidays, they have Christmas parties, they're a fantastic organisation."
Having benefitted from their support, McCarthy is now determined to help others facing similar problems by creating awareness of the organisation and the support it offers to elderly people in difficulty. As a tenant of ALONE, he volunteered for the 'Bucket List project,' and received a new tattoo, which appropriately reads 'once a Hoop, always a Hoop'. The initiative, which is in partnership with The Ink Factory, has a fundraising goal of €10,000, with just over €3,500 already secured thanks to the work of McCarthy and the four other volunteers involved.
"We had a collection for me for ALONE [at Tallaght Stadium] last Friday night. It was unbelievable to see the people, young and old, that's what I like about Rovers. I'm 70 now and I can get lads who are 18 and 19 coming up to me and respecting me and being nice to me. When we're away on foreign trips, they would treat me like I'm one of them.
"We took in over £1,000 from people who threw in money on the night. The club put up on Facebook 'it's time to look after one of our own'. It was absolutely fantastic."
The organisation are also selling jumpers with the slogan 'when the doorbell rings, my heart sings,' and this message epitomises the philosophy espoused by McCarthy and others.
I would advise people to get out and join a football club or whatever," he adds. "The League of Ireland is there for everybody. It's a good league, and people put it down, and they sit at home on their bum, watching a match on a Friday night. Why not get up on your backside and get up to a League of Ireland match? You meet friends there and it's a couple of hours outside the house. You never make friends sitting inside your front room."
McCarthy also urges elderly people to simply act if they encounter problems, emphasising how big a difference doing so made to his life.
"[ALONE] might not give you a place straight away, but they will come out and talk to you and they will give you guidance and they'll be there and if you're on your own, they will arrange for volunteers to come out and visit you. They'll show you how to work televisions, phones and modern-day stuff.
"This is what the money is all about and why I feel so passionate about this [project]. I'm sitting here pretty in my lovely home.
"As I said at the weekend: 'There are five people here with their families getting tattoos, do you see anyone here with a sad face?' Everybody was smiling. My grandchildren were there. My daughter was there. And all the other people's children were there. Everybody was happy.
"And if [this article] brings in another €30 or €40, isn't that something?"
For more info on the campaign, visit ALONE's official website here. Click here to donate.
The42 is on Instagram! Tap the button below on your phone to follow us!