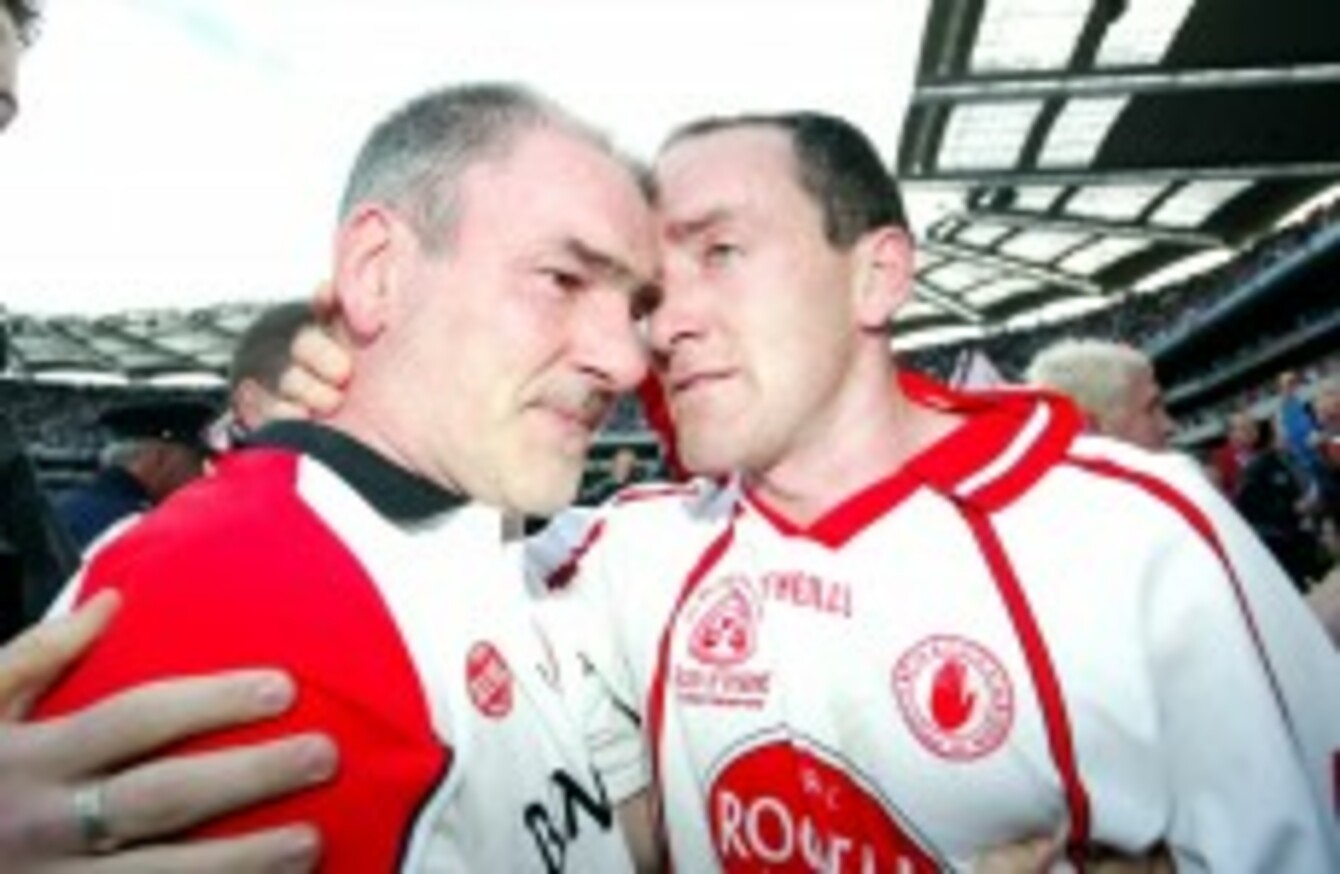 Mickey Harte and captain Brian Dooher celebrate 2005 All-Ireland final victory over Kerry.
Image: ©INPHO
Mickey Harte and captain Brian Dooher celebrate 2005 All-Ireland final victory over Kerry.
Image: ©INPHO
TYRONE'S ALL-IRELAND senior football quarter-final victory over Monaghan hit the headlines for all the wrong reasons.
Tiernán McCann's unfortunate dive has led to plenty of fallout, with his appeal against a proposed eight week ban expected to be hard at Croke Park tomorrow evening.
McCann has also deleted his Twitter account following the hair-ruffle episode involving Monaghan's Darren Hughes and Red Hands boss Mickey Harte is unhappy that his side's good attacking play has been overshadowed by negative publicity.
Harte is rejecting suggestions that Ulster football is dour and defensive, pointing out that 32 scores were registered in the last eight clash at GAA HQ.
"There were 32 scores in our game in Croke Park" Harte said.
"That seems to have gone unnoticed. That amazes me, but that's the case.
"Two Ulster teams that are recognised to be a defensive province, and dour, generally in the eyes of some. Thirty-two scores is not bad for that kind of strategy."
Next Sunday, Tyrone come face to face with old foes Kerry in the semi-final at Croke Park.
There's plenty of history between the counties as Tyrone scored an All-Ireland semi-final victory over the Kingdom in 2003, and final wins in 2005 and 2008.
"It's always good to play Kerry. They are the best," said Harte of the reigning champions. 
"They have the best record of any team since the GAA was founded. They didn't get that by accident.
"They are the challenge. They are the team that everybody raises their game for. That's what they have to live with always.
"So yes, it's a good thing for us that we're in the semi-final.
"Whoever the opponents might be wouldn't be easy anyway. But of late, in the last 10 or 12 years, Tyrone and Kerry has become sort of a game with added value, if you like.
"We have been fortunate in the noughties to have gotten the rub of the green when it mattered most, but since the 2008 victory Kerry have certainly got the upper hand and they are certainly in pole position at the minute.
"So we are the underdog. We have to raise our bar to a new level if we're going to compete with them. That's the challenge for us.
"We won't know until we face that challenge whether we can raise ourselves to that level or not, but we have to endeavour to do that."
Harte insisted that he wasn't surprised by Kerry's set-up in last year's All-Ireland final, noting that Eamonn Fitzmaurice's charges had to "mirror" Donegal in order to beat them.
"I wasn't surprised what they did because I think they felt, and many of us who met Donegal along the way (felt), that if you wanted to beat them, you had to mirror them.
"To go at them offensively, you are going to leave yourself very exposed at the back and you weren't going to get great return, running into their brick wall.
"They did have to mirror them, and they did that very well.
"You might say they got the rub of the green in terms of the mistake that Paul Durcan made – and he doesn't make very many of them. That was critical.
"The early goal they got that day was critical as well in that performance because to do what they had to do, it's easier done when you are in the front foot than chasing the game.
"You can't chase the game and be ultra-defensive, so things worked out good for Kerry in that they created that situation for themselves early on and maybe got a bit of luck to consolidate it later in the game.
"If anybody are good learners, it is Kerry and they showed that last year."
Originally published at 2pm