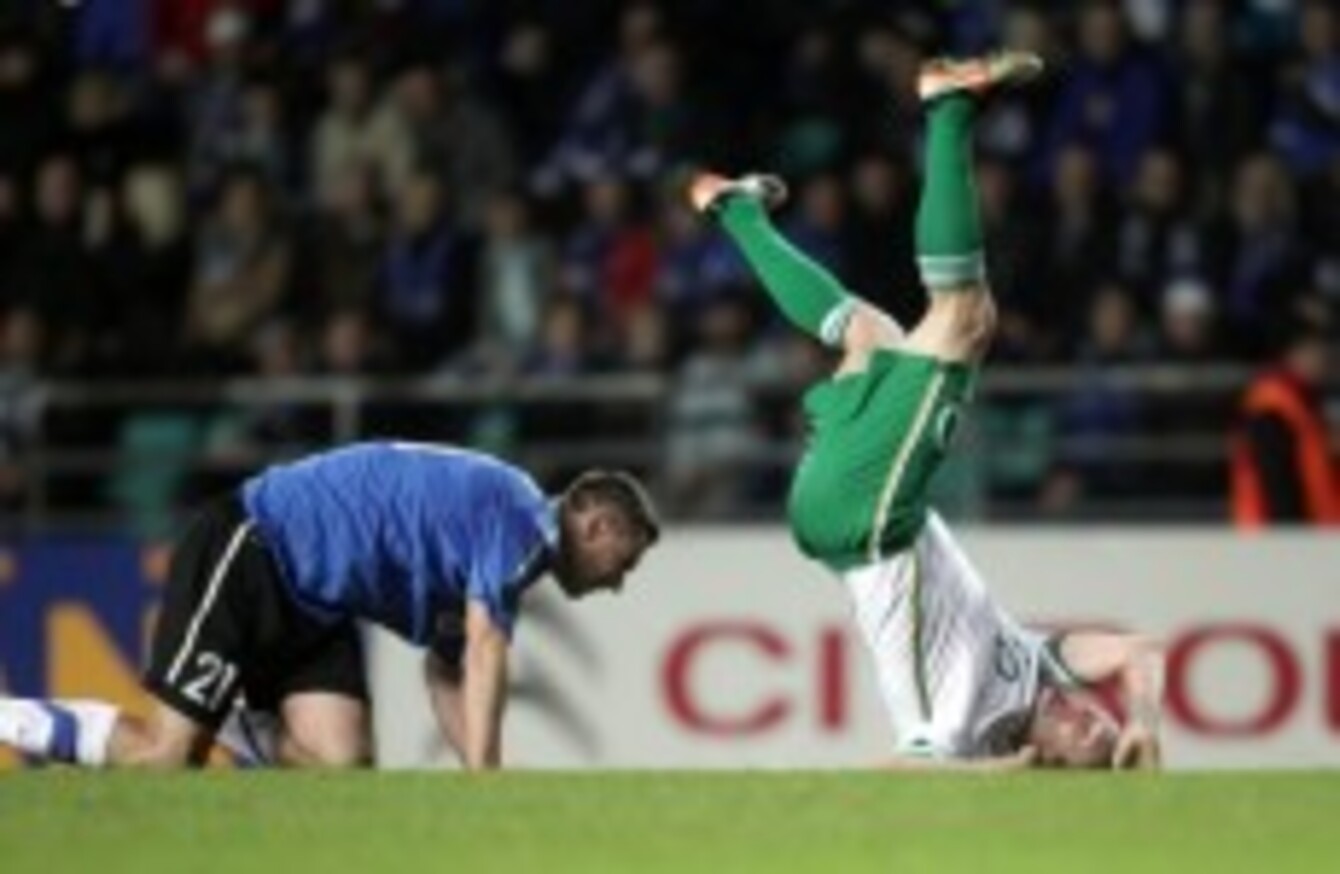 Image: Inpho
Image: Inpho
IT'S HALFWAY THROUGH the second period of Friday night's win and, all around the ground, Irish emotions are high. The travelling fans can't believe the scale of the triumph. John Delaney can't believe his luck.
Everywhere you see an Irishman, there is utter, unrestrained joy.
Except, that is, in the press box. There, there's frustration, anger, tension.
This isn't due to any professional opinions or anything to do with what happened on the pitch, it must be said though. (In fact, there were a fair few pumped fists when Keith Andrews headed in the first).
Rather, it's because there has been a complete breakdown in the system off the pitch. The Le Coq Arena wifi is not working. And this in a country that produced the inventor of Skype and has one of the best broadband reputation in the world.
It's hard to overstate just how disastrous this is for journalists. But, as one of the lads in the press box put it, "I have three different pieces totalling 2,000 words to send through for bang on the final whistle and, at the moment, I have no way of sending it through. My stomach is in knots."
It's also interesting how irritation, and then anxiety, steadily grew as the night wore on.
First, there were calls to get the Estonian press officer. Still no joy.
Then calls to get Lisa, the FAI's press officer.
Then, Peter, the FAI's director of communication.
Then panic.
Then Delaney himself.
Then more panic.
And, finally, Uefa. Anybody. Just get the bloody wifi working.
It was also astonishing how closely the behaviour of many journalists mimicked insanity: especially if insanity is defined by doing the same thing in the same way and expecting a different outcome.
At one point, one of my colleagues connected and disconnected from the putative media wifi signal 10 times in the space of about two minutes.
"Any joy with that?"
"No. Still not there… I'll have another go."
Then, a breakthrough. Someone could get into the gmail loading page. Success! … or not.It stayed "loading" for about 10 minutes.
By kick-off, a new word dominated the press box. The Dongle.
"Is your dongle working?"
"Can you get your dongle going?"
"Can I put your dongle in my port."
Yes, yes… there are of course easy Freudian jokes to be made here about man's dependence on his dongle.
But they didn't offer any joy. With so many people in the ground, the mobile signal was too low.
Until, finally, towards the end of the game, the Estonian technicians came through. A few laptops got decent connections.
What are they
really like?
Rare insights on sport's biggest names from the writers who know them best. Listen to Behind the Lines podcast.
Become a Member
Yes! We'd be able to send.
And you, dear reader would able to read a whole load of words that were, in part, put together while a lot of journalists were very distracted by the notion of not being able to actually send them. So forgive any slips this morning!
In the after-match press conference itself, it gets more surreal.
Usually, these affairs are tightly controlled. There are umpteen bouncers looking for accreditation. It's like the red Box when I was 17. And it seemed it like it would be worse in Estonia given that, when a few journalists tried to enter the press area at 19.42 last night, they were given a firm rebuke because the doors apparently weren't to open until 19.45… even though we could see they were literally open.
As we walked up to the press area after the game, though, there wasn't any security to be seen. In fact, the door to the room – which was on the outside wall of the stadium and clearly visible to the thousands-strong crowd milling about outside – actually had a cruse sign saying "press conference" on it.
When we get in, there's more grumbling. Many people in here don't have accreditation. Some are taking seats near the front. There's Hector! What's he doing here? He even asks a question. And, finally, there's man with a plastic hammer and a leprechaun puppet! How did he get in?
As seemed to be in-keeping with the night itself, though, Trapattoni calmed nerves. And even put a few smiles on faces.
For the first time in his Irish career, he began to refer to journalists by name; to even engage with them individually.
Some cynically thought this was part of a charm offensive to sway a new contract. Others thought it was just part of the joyous, open nature of the night.
Either way, by that point, every Irish man in the stadium was finally smiling. Internet issues or not.
http://www.thescore.ie/in-pictures-estonia-v-ireland-in-tallinn-277588-Nov2011/