MIKEY DRENNAN DOESN'T need to do this. As a footballer, he has no duty to speak publicly and let the world in; but this is something he wants to do. It feels like the right time.
"I feel much better in myself," he begins.
It's coming up to six months since Drennan made the brave decision to walk away from football. Six long, and difficult, months on the road to recovery. In search of the light at the end of the tunnel.
A public facade had masked the inner torment he was enduring and as his mental health deteriorated further, seeking help away from the game was the only option.
On 19 May, Drennan let his guard down and opened up about a three-year battle with depression which started during his time with Aston Villa. The 22-year-old's world had capitulated to such an extent that everything he dreamed of growing up no longer meant anything.
A series of events ultimately led Drennan to a dark place and he was no longer able to hide behind the 'fake smile.' It got to a point — after Shamrock Rovers' victory at Bohemians — when he knew enough was enough.
Unable to share the joy of a derby win with his team-mates, the striker burst into tears outside the away dressing room at Dalymount Park.
Donall Farmer / INPHO Drennan was Rovers' top-scorer in 2015. Donall Farmer / INPHO / INPHO
Football was no longer providing an escape or an outlet from the situation, instead accentuating the issue.
"In my head, I never lived up to what I should at Rovers and I kind of regret that," he tells The42. "I was really kind of pissed off at myself because I should have done better for the club.
"Even though people were saying I was doing well, I knew myself I had another 20-25% to give and push on and it just never happened. I had to walk away from it."
Drennan was in his second season with Rovers after returning to Ireland following a four-year spell with Villa. He had hoped the move home would ease the loneliness, the sense of isolation and the personal problems that had intruded into his life. It had the opposite effect.
"It was the right decision for myself and for everyone at home but it was very hard," he continues. "Football has been my life since I was six or seven. I always dreamed of being a footballer but people were really concerned.
"The decision was made a bit easier knowing I had people back home who I could talk to. I'm a bit of a home bird anyway but being around family, friends and my girlfriend has really helped.
"Now that I'm here [at home] and I have a job and have experienced this life, I kind of know what it's like and it's not too bad. I'm working in the Three shop in Kilkenny, just selling phones. It's good because you have an incentive to sell things and keeps you busy. It's not as if you're standing around."
The bottom line is that Drennan is feeling better, and his outlook is brighter and more positive than six months ago. But it has been a slow process. The initial days were difficult as he integrated himself back into life at home and searched for a meaning and purpose.
Ryan Byrne / INPHO The striker also had loan spells with Carlisle United and Portsmouth during his time in England. Ryan Byrne / INPHO / INPHO
A full-time employment opportunity eventually presented itself and a job in retail has given him a constructive routine while counselling sessions have helped in dealing with the illness on a daily basis.
"It's been different, something I've never really experienced before," he says. "Being out of football and having a job now, it's a reality check. It's been good because I've been at home, been with my family, my friends and my girlfriend. I'm at home where I grew up and settled and people have a good understanding of me and asking how I'm getting on.
"I am feeling better but the thing with depression is that it's always going to be there, I don't think it's ever going to be fully gone but it's just how you manage it and deal with it.
"It's all the little things that you do, for example going to training to keep your mind busy or talking to someone, going for a walk, little things like that I wouldn't have done before. I would have just stayed in and just talked to no one. That's the bit where I find a big difference."
A big difference, but it's still baby steps. As well as finding solace in his everyday life, Drennan has returned to local football with Evergreen FC, the club where it all started, and playing with familiar faces has helped him to rediscover a love for the game.
Football was never the problem, but the lifestyle was.
As recently as two weeks ago, Drennan was prepared to jump back into it after several League of Ireland clubs had enquired about his availability for the 2017 season.
Negotiations had taken place and were at an advanced stage before he had second thoughts on advice from his parents. Deep down, he realised it's still too soon and he's still not quite ready.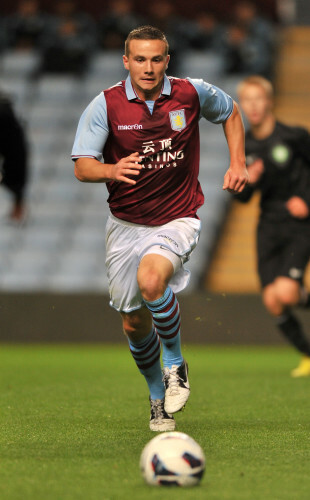 PA Archive / PA Images In action for Aston Villa against Celtic in the NextGen series back in 2012. PA Archive / PA Images / PA Images
"I was going to sign but I just don't think I'm 100% yet," he explains. "There's no point in me going into a team where I don't think, like I thought I was ready, I thought I was 100% but I'm not 100%. I don't want to go into a club that are going to put their faith in me and paying me and then I'm not going to produce and my head isn't going to be right.
"I don't want to do that, it wouldn't be fair on myself or the club or even the players and manager. They all approached me and asked me would I be interested and all that. It was something I was willing to talk about and then I spoke with my parents.
"I thought I was right but they said there's no point in rushing into it, try and have a few months more off and maybe during the summer when the window's open again, I might feel better. I had to say no. I didn't want to say no but I knew it was the right decision."
While Drennan's initial eagerness to make a comeback was understandable, he quickly realised that there was much more to it than scoring goals again. Where would he live? Would he be away from family and friends? Would the same pitfalls be there waiting for him? The questions reverberated.
"If I want to go back, I don't even want to be 90%. I want to be 100% and I'm going to give it everything," he continues. "If I'm good enough, if that's the word, I want to be good enough to then be able to go back across the water.
"I'd have no regrets about how things went at Villa but if I could go back again I'd do stuff differently. I missed the best years of my life. When you're at home with your friends. When you want to talk to someone, there's no one there to talk to when you're over there.
"People say 'how are you depressed, you're a footballer?' But you only live the life when you're Wayne Rooney on hundreds and thousands a week at the top level. You're over there on £100 a week and you're trying to live off. You're not used to that culture and lifestyle over there.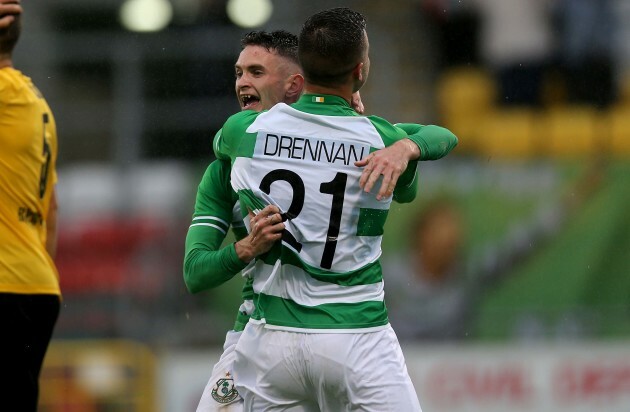 Donall Farmer / INPHO Drennan represented Ireland at U17, U18 and U19 level. Donall Farmer / INPHO / INPHO
"A completely different city where you can't just go for a walk because you don't know where you're going or what the neighbourhood is like. You're just stuck in a room with four walls, looking at them or a TV screen.
"I know a few people had it [depression] in my family a while ago but I think it was just being in England and from when I was younger and little things that were happening. It was just a hard thing, I remember being asked 'are you depressed?' and I said 'no, no I couldn't be that'. The life over in England went from everything being right to wrong in a matter of a blink of an eye."
From the outside looking in, Drennan had everything. An exceptionally talented young footballer with a prodigious career ahead, his talents knew no bounds. After leaving St Kieran's College to pursue his dreams at the age of 16, the Ireland underage international excelled.
Although he battled with homesickness, and faced a difficult first year having to settle in, Drennan finished as Villa's top-scorer in the NextGen (Champions League) series as the club won the competition in 2013.
With a growing Irish contingent at Villa Park under the then manager Paul Lambert, he was knocking on the door of the first-team after demonstrating his prolific goalscoring ability. It was all going so well on the pitch.
"People were saying I was the next Robbie Keane for Ireland," he recalls. "I was scoring goals, everything was going so well and then I broke my foot and everything went downhill.
"We were playing NextGen against Ajax and we were celebrating a goal and I broke it then. That put me out for 10 months. I stayed over for the rest of the 2014 season and it was meant to be done in three months.
"They said 'you're young, it's going to heal' and I came back to Ireland for the summer and then went back over for pre-season and my foot was still sore. I went to the first-team medics and they said it should have been operated on straight away.
Donall Farmer / INPHO Donall Farmer / INPHO / INPHO
"From then, I just had a big meltdown and I had to go and have an operation on it and I was out for another three and a half months and then I got a groin injury. It was very difficult, especially when you know it should have been dealt with. They're meant to be professionals at that and the way it was dealt with.
"I know everyone gets injuries and I had injuries before but this one was just completely different. I didn't want to speak to anyone and it hurt because things were going so well for me and just to have an injury and everything just stop it was very hard.
"If I didn't break my foot, things might have turned out differently. Obviously I don't know but things might have turned out differently."
But that's the hand he was dealt and that injury would play a major role in his departure from the Premier League club, although it was something of a blessing in disguise.
It's encouraging to hear Drennan speak so positively about the future again. He is now at ease with himself and the life he lives, surrounded by family and friends.
"Football will always be there so it's just a case of making sure my mind is right," he adds.
"It's something I want to get back into and I'll take it as it comes and see what happens. Hopefully there is another opportunity for me but right now I'm still making progress and I'm happy."
If you need to talk, contact:
Samaritans 116 123 or email jo@samaritans.org
Aware 1800 80 48 48 (depression, anxiety)
Pieta House 01 601 0000 or email mary@pieta.ie – (suicide, self-harm)
Teen-Line Ireland 1800 833 634 (for ages 13 to 19)
Childline 1800 66 66 66 (for under 18s)
The42 is on Instagram! Tap the button below on your phone to follow us!