SO, WATCHING THE opening weekend of the Allianz Leagues, I reached a state of total thoughtless presence, an awareness of being at one with my surroundings, a sensation of total mindfulness.
How was it for you?
Now this was quite unplanned. I knew, for example, that Cork versus Kilkenny in the new Páirc would be good, but I didn't expect spiritual nirvana. I'm not Tommy Walsh.
I'll get to how 2018′s introductory offering of inter-county fare brought me to a place of meditative zen in a moment.
But first to say that I'm the last person to go along with this mindfulness stuff. It's not that I'm cynical about new age guff claiming people can sort their lives out by sitting on a bean bag listening to whale noises.
It's just that I'm too easily distracted.
I have tried it. Mainly because pretty much all the successful people who I admire most practice meditation of some kind or another, namely Oprah Winfrey, Jerry Seinfeld and Sam Allardyce.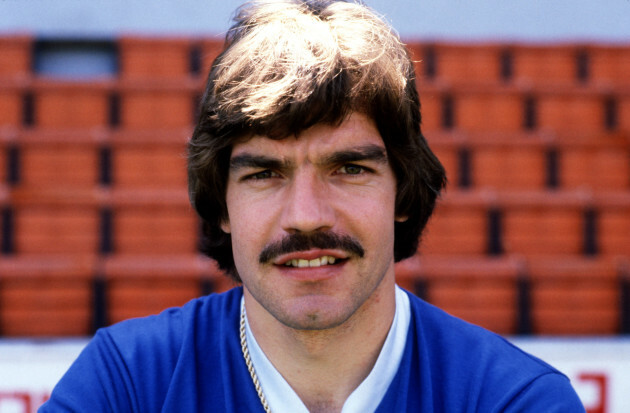 S&G and Barratts / EMPICS Sport Look how zen Big Sam is? S&G and Barratts / EMPICS Sport / EMPICS Sport
Yes, Sam Allardyce.
I do transcendental meditation and I have done for 12, 14 years now," he said in 2016 while frogmarching Sunderland to Premier League safety. "It's very relaxing, very calming and you can do it anywhere. It helps you cope with the pressure you come under in this job."
So there.
Also, I heard last year that the Department of Education had introduced basic mindfulness practices to help children focus in class, with very positive results. Given that kids are generally quick to see through pointless adult bullshit, this was endorsement enough for me.
Surely if your average seven-year-old can park their most pressing concerns (Match Attax…FIFA…Sugar…Nerf…Candy Crush…Lego Ninjago!…Sugarrrrrrr…) then so could I.
Easier said than done. There are far too many things grasping for your attention in modern life to achieve total oneness with the moment. You are no sooner feeling the sensation of your toes on the floor and hearing the rustling of the wind in the trees than you suddenly find yourself checking Twitter and – hah! – Simpsons Quote of the Day…brilliant! Now where was I?
But while knee-deep in last weekend's bumper program of televised matches, I suddenly found the path to enlightened thinking. Mindfulness – according to some random self-help website I just Googled, is "a nonjudgmental quality of mind which does not anticipate the future or reflect back on the past".
Could there be a more perfect description of how best to enjoy the national leagues?
Take last Sunday's thrill-a-minute dust-up between Kerry and Donegal, which the Kingdom edged by a late point after a second half that swung this way and that.
At the outset this was a meeting between a Michael Murphy-less Donegal – basically like Queen without Freddie Mercury – and a Kerry team made up of muscular lounge boys, burdened by the high expectations of a big Killarney crowd.
As it turned out, both camps were able to take much from the match. It looks pretty unlikely that David Clifford is going to go down the Freddy Adu route, while in Sean O'Shea Kerry have another tyro titan on the way. Meanwhile the return of Odhran MacNiallais with his Flubber boots means Donegal have got real ball-winning quality in the middle of the field, and Paddy McBrearty looks set for a big year.
But there you go, reflecting on the past and anticipating the future again. Forgetting that the league has a terrible habit of making a fool of you.
I recall last year a TV colleague who'd worked on most of Donegal's league games for eir Sport suggesting that the impressive form of Rory Gallagher's men made them his Championship dark horses. The words of my man-in-the-know rang pretty hollow come mid-summer and the disembowellings by Tyrone and Galway.
And then there's the fact what's on show at this time of year is often almost a different sport than what we'll see in the summer. Yes, last weekend was unseasonably pleasant, but at some point in the next six weeks there will be matches that look like outtakes from a 1950s B-movie called 'They Came From the Swamp!'
Also, most top teams will require panels the size of NFL rosters for this season's souped-up Championship, so it's likely this year's league will be like the early X-Factor auditions, filled with eager hopefuls of uneven quality.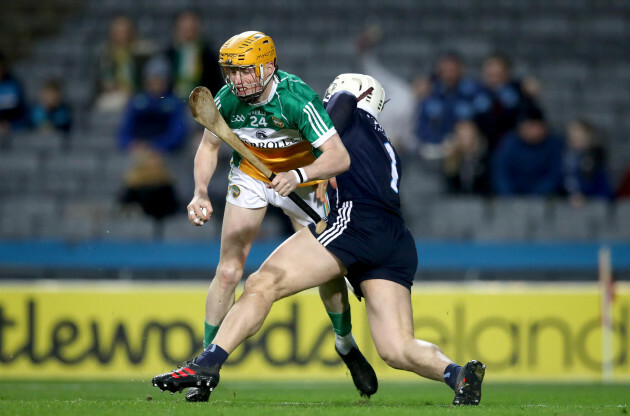 Ryan Byrne / INPHO Liam Langton of Offaly tries to beat Dublin's Alan Nolan. Ryan Byrne / INPHO / INPHO
No, that game, like all others at this time of year, needed to be savoured on its own merits. Of course, you couldn't but reflect on the past while watching the Offaly hurlers' stirring win over Dublin in Croke Park, given the time that passed since their swaggering '90s heyday and the depths to which they'd sank since that team walked the earth.
But then the doubts would start sneaking in. A Dublin team full of unfamiliar names and knee-deep in mucky winter work, was that really a scalp to celebrate?
Shut up, shut up, shut up! Just let me enjoy these crying Offaly people.
And that was the way to do it. Push out those intrusive thoughts. Stop asking yourself what this really means, and how much can we read into it and how, if this is what the Dublin footballers are like after a few weeks on the lash in South Africa, then what's the point of anything at all?
Just breathe in, feel centred in your own body, be totally in the moment and enjoy lots of really good games between really good teams of roughly the same ability, who are at a pretty high fitness level even this early in the season and who will fight tooth and nail even if it is only a couple of measly league points, because that's just the way they are.
And exhale. If it's good enough for Big Sam…
The42 is on Instagram! Tap the button below on your phone to follow us!