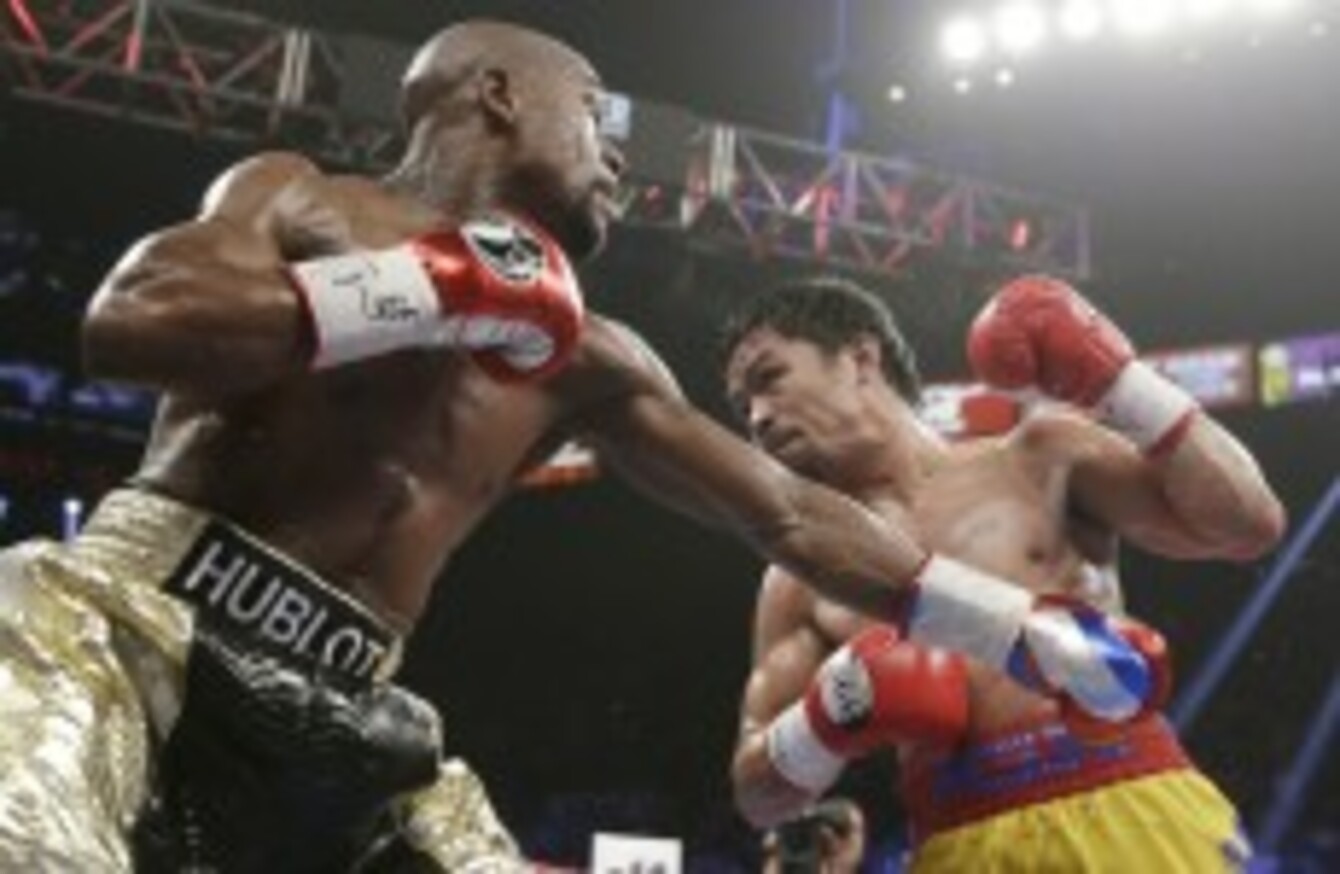 Floyd Mayweather and Manny Pacquiao in action on Saturday.
Image: AP/Press Association Images
Floyd Mayweather and Manny Pacquiao in action on Saturday.
Image: AP/Press Association Images
A PHONEY WAR has been brewing between the mixed martial arts and boxing communities for quite a while, and Saturday's bout between Floyd Mayweather and Manny Pacquiao seemed to be the latest chapter in the rivalry.
There's a perception that boxing is a dying sport and that MMA has been the main architect of its apparent downfall. The latter is growing in popularity, while boxing isn't capturing the imagination of the casual fan as often as it once did.
From a business perspective, MMA can only dream of the kind of gate and pay-per-view figures yielded by Mayweather and Pacquiao. The fight itself didn't leave that casual fan wanting more, although digging below the surface of the spectacle revealed a captivating and intriguing contest between two very different fighters.
Nevertheless, large sections of the MMA community have been celebrating in the aftermath. The real winner on Saturday, they say, was the Ultimate Fighting Championship. Quite a bold claim to make at the end of a week that began with the UFC's best fighter being arrested for allegedly causing — and then fleeing the scene of — a car accident which saw a pregnant woman suffer a broken arm, but thankfully nothing more serious.
In the build-up to the fight, however, the jabs were being thrown from boxing's corner. One Irish newspaper columnist wrote that the hype had 'put the UFC in its place'. MMA might be on the rise, but its place is still very much in boxing's shadow and no reasonable MMA fan would suggest otherwise.
That begged the question: Why have these two sports become rivals and when did it all get so juvenile? It's clear that boxing feels threatened by the rise of another combat sport — as the line from the aforementioned columnist suggests — but by rejoicing at an underwhelming boxing bout and therefore exposing an inferiority complex, MMA is doing itself no favours either. The UFC's official Twitter account, for example, rather bizarrely designated itself as a platform for criticism of Mayweather versus Pacquiao on Sunday.
Fans, business people and even fighters have been keeping the rivalry topical. The 'MMA fighter claims he'd beat boxer in MMA bout' stories certainly seem to be emerging more often. By the way, did you know that Colm Cooper is a better Gaelic footballer than Cristiano Ronaldo?
Are these two sports really in opposition? Approaching this topic from an MMA perspective, as I am, I've encountered plenty of people over the years who were introduced to MMA as a result of their interest in boxing, but none who completely abandoned one in favour of the other.
And the boxing obituaries we see today are the same ones that were being written long before MMA began to make its way into the mainstream. MMA might seem like a convenient scapegoat for boxing's present difficulties, but the internal politics that keep the sport's best fighters apart, as well as an over-saturation of divisions and champions, is where much of the blame should lie.
In spite of fans having to shell out as much as $100 to purchase the Mayweather versus Pacquiao fight, HBO and Showtime are reporting that over three million people did so. A record, unsurprisingly. The fight also took in $72million on the gate; the equivalent of the UFC's last 27 pay-per-view events combined.
But for MMA, how it performs when compared to boxing shouldn't be the yardstick for success. If it is, it's doomed to failure. MMA is already growing worldwide and it shouldn't need to compare itself to other sports as a barometer for that growth.
Commercially, the worldwide gap between MMA and boxing is still enormous, although that might not seem to be the case in Ireland. MMA has edged ahead on the publicity front lately due one of the most talked-about athletes in the history of the sport emerging from Dublin.
Ireland and MMA are subsequently in a honeymoon phase, so the market for MMA here doesn't accurately reflect the landscape in other parts of the world. The popularity of MMA is definitely increasing across the globe, but not at the rate the Irish public may think.
The UFC has come to a bit of a crossroads recently. Its three greatest fighters — Georges St Pierre (temporarily retired), Anderson Silva and Jon Jones (both suspended) — are all currently on the shelf, so they're fortunate that two other stars, Ronda Rousey and Conor McGregor, have emerged to paper over the cracks.
However, between a recent spate of failed drug tests and incidents such as the one involving Jon Jones, MMA has a big challenge on its hands to repair the damage caused to a sport which was already fighting an uphill battle when it comes to its public image.
Instead of revelling in the travails of others, both boxing and MMA have plenty of their own internal problems to resolve. If and when that happens, they can succeed simultaneously — not at one another's expense.