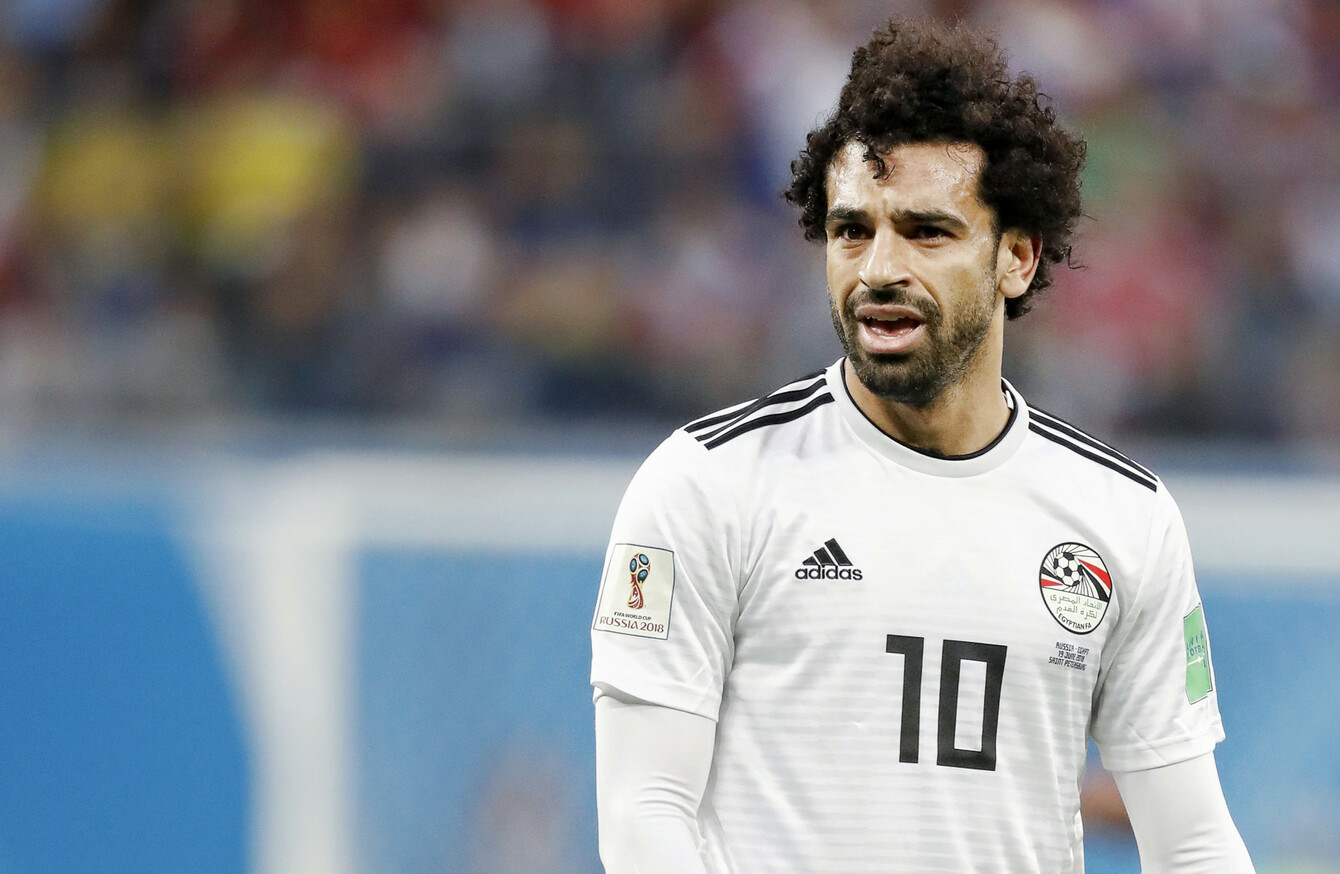 Mo Salah has struggled with injury at the World Cup.
Image: SIPA USA/PA Images
Mo Salah has struggled with injury at the World Cup.
Image: SIPA USA/PA Images
MO SALAH WON'T forget the 2017-18 season anytime soon.
Tomorrow, he will play his last game of a lengthy campaign for Egypt against Saudi Arabia.
It is impossible to escape the fact that for a player who has confirmed his status as one of the best footballers on the planet over the last 12 months, it is an anti-climactic ending to a phenomenal run.
His early exit from the Champions League final due to a shoulder injury and Liverpool's bitterly disappointing loss to Real Madrid were not in the script, nor was Egypt's premature elimination from the World Cup in Russia after just two games.
Salah's tournament, therefore, is over before it really started. He missed the first game, a 1-0 loss to Uruguay, after failing to recover from his shoulder injury in time.
He started the second fixture against hosts Russia and scored a late consolation penalty, but much like Lionel Messi with Argentina, there is only so much a superstar can do when surrounded by a limited set of players, and Salah was doubly hampered by a lack of match sharpness having been out of action for the past few weeks.
Yet despite this heartbreaking conclusion, Salah can look back on this year overall and be immensely proud of what he achieved. He claimed a deserved PFA Player of the Year award in April and was an integral figure in helping to guide Liverpool to fourth place in the Premier League table as well as inspiring them to a Champions League final appearance.
In total, Salah has scored an incredible 46 goals in 55 appearances in 2017-18, breaking a number of records owing to his scoring prowess. And on Monday, he may well add to this tally, against a Saudi Arabia team who have looked defensively suspect in Russia so far.
Yet just as significant as all his miraculous feats on the pitch is his comportment off it. His success has resonated deeper than on a mere footballing level.
As the New York Times put it in an excellent profile piece last month:  "His faith — and his public displays of it — have also made him a figure of considerable social and cultural significance. At a time when Britain is fighting rising Islamophobia, when government policy has been to create a "hostile environment" for illegal immigrants, he is a North African and a Muslim who is not just accepted in Britain, but adored."
So Salah is a hero not just to Liverpool fans, but to members of the Muslim community, who sometimes unfortunately suffer unduly due to the actions of a minority claiming to represent the faith and who are often perceived in a stereotypical fashion by ignorant bigots.
And Ireland's Muslim community is no exception. While it encompasses people from approximately 100 different backgrounds, they are united in their love of Salah, whose friendly and laid-back demeanour is at odds with some of hysterical and sweeping assessments of members of the religion invariably made by those with little knowledge of it.
Dr Ali Selim of Islam Ireland believes the cultural impact of the Liverpool star and his ability to promote a positive image of his faith cannot be underestimated.
"Yes, that is true, because misconceptions flourish only in the darkness of ignorance," he tells The42. "But when the light is switched on and people can see each other in the light at closer distance, a lot of these misconceptions disappear and people realise the fact that we are all human beings. We all laugh when it is time to laugh and cry when it is time to cry."
And while role models such as Salah can help stem Islamophobia in Britain, Dr Selim, who is an Arabic lecturer at Trinity College Dublin, believes the problem is not as serious an issue in Ireland.
"Well, I think we don't have Islamophobia in Ireland. Yes, there is [some instances of] racism, but the Muslims in Ireland believe they are in the best place in Europe for them.
"There was [recent] American research, which concluded that Ireland came in first place [in terms of countries to live in Europe] when looking at Islamic society from a Muslim point of view
"And I think the history of Ireland [is a factor]. Not that long ago, Ireland itself was occupied and not long ago, Irish people when they crossed the border, they faced racism to an extent."
What's particularly striking about Salah is that he refuses to hide his faith. When celebrating a goal or important moment, he will frequently look up to the sky in gratitude or kneel down in a form of prayer. In doing so, he is proving to young Muslims that they can go far in society without having to compromise the values of their religion.
"People should not hide what they believe in," Dr Serim adds. "People should not hide their practices. People should show their belief. It means there is nothing they are afraid of. It gives a level of reassurance to the people around them, so it is the right thing. It is good to show what you believe in. It is good to practice what you believe in, because that will give reassurance to the people who are around you and the choices you make. It's basically saying what I am doing is not dangerous.
"[Salah] is a role model and I think he can do what 1,000 scholars cannot do.
"It is inspiring, particularly to young Muslim guys. It challenges them and shows you can be a good Muslim. You can practice Islam [openly] and still be a role model."
Salah may not be guiding Egypt to a World Cup triumph anytime soon, but he has still achieved more in a season than the majority of footballers manage over the course of an entire career, both on and off the pitch.
The42 is on Instagram! Tap the button below on your phone to follow us!