1. Shanahan forces a replay 
"If you can keep your head when all about you,
Are losing theirs and blaming it on you,
If you can trust yourself when all men doubt you
But make allowance for their doubting too"
If—, Rudyard Kipling
Maurice Shanahan stood over a free from about 90 metres in the dying seconds of extra-time in this barnstorming Allianz Hurling League final.
He wouldn't have been required to take it, only regular free-taker Shane Bennett had left the field three minutes earlier. Shanahan has often in charge of free-taking for Waterford. But when he came on after 57 minutes, he still didn't assume placed ball duties from Bennett, who wasn't enjoying his most accurate day on frees.
Ryan Byrne / INPHO Ryan Byrne / INPHO / INPHO
There was every reason to doubt Shanahan. He'd been working his way back to fitness from a groin complaint, having missed the Deise's semi-final win over Limerick. Waterford were sufficiently concerned about the injury to send the forward to a specialist in Cork a fortnight ago.
After his introduction he was was beaten to a couple of balls by Pat O'Connor. The omens weren't looking good.
Despite having the breeze at his back, the distance of the free was around 90 metres.
Last puck of the game. The crowd falls silent.
Shanahan nails it.
Elation.
How did we ever doubt him?
Moments earlier it looked like Colm Galvin's point would win it for Clare. A first league title in 38 years beckoned, until Shanahan's intervention sent the tie to a replay.
It's an outcome neither side would have wanted. By the time June 6 comes around, they'll have met three times in just five weeks.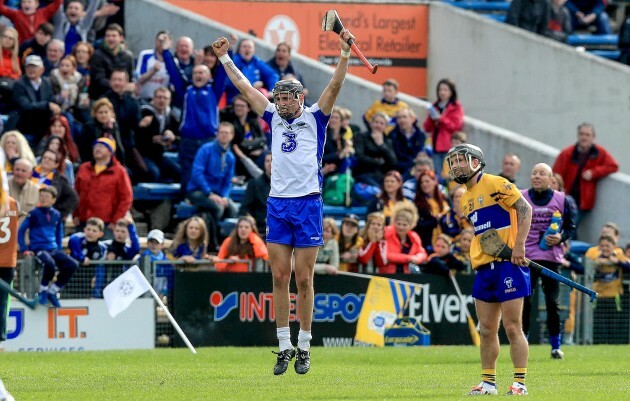 Donall Farmer / INPHO Donall Farmer / INPHO / INPHO
The bear hug Shanahan and Fitzgerald shared on the field after the final whistle was a touching moment that showed the affection between the two men. Fitzgerald gave the Lismore attacker his debut at senior level when he was in charge of the Deise. Both have been through a lot since then.
"Davy Fitzgerald was the one who put me on the Waterford senior panel on the first day he was manager here," Shanahan said last November.
When Fitzgerald caught wind of Shanahan's battle with depression, he offered his support.
"He gave me my start. And when he heard I was struggling, he picked up the phone and rang me. He was good to me and he still is. We're still in touch."
While the conversations between them might have dried up a little in recent weeks with Clare and Waterford colliding in both the league and championship, that brief moment on the field after the final whistle sends a nice message to the GAA community.
They might be foes on the field, but Shanahan and Fitzgerald remain friends off it.
***
Ryan Byrne / INPHO Ryan Byrne / INPHO / INPHO
2. Is this the dawning the next great rivalry?
Familiarity breeds contempt, or so the old saying goes.
If Clare and Waterford aren't familiar with one another by now, they'll undoubtedly be sick of the sight of each other after June 5.
The second installment of a five-week trilogy takes place in Semple Stadium on Sunday. Once league honours are decided, provided we are not sent to a second replay, then the Deise and the Banner will meet again four weeks later in the Munster SHC.
A fourth date in September isn't out of the question. Before you get ahead of yourself, a few men in black and amber might have something to say about that.
Still, there's every chance we'll look back on 2016 as the year that spawned a new rivalry between Clare and Waterford.
Two young teams with new-age defensive gameplans and lots of skillful hurlers to boot. A pair of intelligent and forward-thinking managers.
Notions of shadow boxing were dispelled long before the end. Tony Kelly completed 80 minutes. Maurice Shanahan, just back from injury, was summoned from the bench with the game in the melting pot.
Clare made careful use of their puckouts and Podge Collins passed the test of marking Austin Gleeson with flying colours. Waterford showed the kind of impact Tom Devine can have from the bench. Neither side held much in reserve.
Both teams flooded the middle zone of the field in a tactical battle.
Neither side wanted to lose this. That much was clear. And nobody wanted a draw.
Ryan Byrne / INPHO Ryan Byrne / INPHO / INPHO
3. Don't say Davy didn't warn you
As a spectacle it wasn't the most pleasing affair. Intriguing, but certainly not pretty.
It's not as though we weren't warned.
"It mightn't be the prettiest game ever on Sunday because the middle third will be very congested I think," the Clare boss predicted in the lead-up.
Two teams who try to shut down space in defence and nullifying any possible goal threat were never going to produce an aesthetically enjoyable affair. The old ogres Kilkenny don't seem so bad now do they?
This game might be a sign of things to come. It's no coincidence that Clare and Waterford are the last two teams left standing in the league. They've adapted their styles to suit the requirements of the modern game.
Imitation is the highest form of flattery. It won't be long before teams all over Ireland try to follow suit. The same thing happened in Gaelic football a few years ago. Don't think hurling is immune.
Exclusive Six
Nations Analysis
Get Murray Kinsella's exclusive analysis of Ireland's Six Nations campaign this spring
Become a Member
As Tyrone and Cavan showed in the Division 2 league final last weekend, a defensive game doesn't necessarily make for a low-scoring game.
Sure, both Clare and Waterford were forced to shoot from distance, but that doesn't excuse 39 wides between the teams. Waterford were the market leaders with 20, of which Austin Gleeson provided five. He'll learn and he'll be back.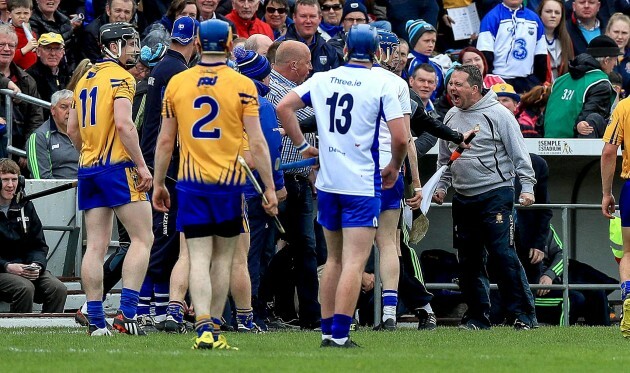 Donall Farmer / INPHO Donall Farmer / INPHO / INPHO
4. Positives and negatives for both teams
The teams were level 12 times throughout this contest and when this staring contest came down to the final few moments in both the regulation game and extra-time, neither side blinked.
When you're looking for potential All-Ireland winners, one quality that's critical is the ability to produce the goods when the heat is on. Both teams held their nerve yesterday and it bodes well for further down the line.
Derek McGrath's charges operated for long spells with just man inside the opposition 45m line and they struggled to deliver quality ball into the attack. Maurice Shanahan and Pauric Mahony made appearances off the bench and they would add an extra dimension to the Deise attack if they start this weekend.
There's an argument that Division 1B offers a distinct advantage for its stronger teams, because of the chance to blood some fringe players without the looming fear of relegation.
Clare looked the fresher team and playing at a lower level for much of the spring might be a reason why.
They'll be happy they got some major game time into the legs of Tony Kelly and Podge Collins, who'll benefit extensively from that run-out in Semple.
Fitzgerald's troops conceded far too many frees though. They were a little too anxious in their tackling. On a number of occasions a Clare defender was whistled for wrapping his hands around the body of a Waterford attacker. Those needless fouls need to be stamped out.
Tony Kelly was a little bit unlucky not to have grabbed the winner for Clare near the end of regulation time. Kelly's shot appeared to go over the bar, but the umpire waved it wide. Hawkeye will be in use in Semple Stadium in three weeks' time for Tipperary-Cork, but unfortunately for Clare this decision couldn't go upstairs.
Clare won't feel too hard done by. They were awarded a contentious free from the next play, and Conor McGrath popped it over to force extra-time.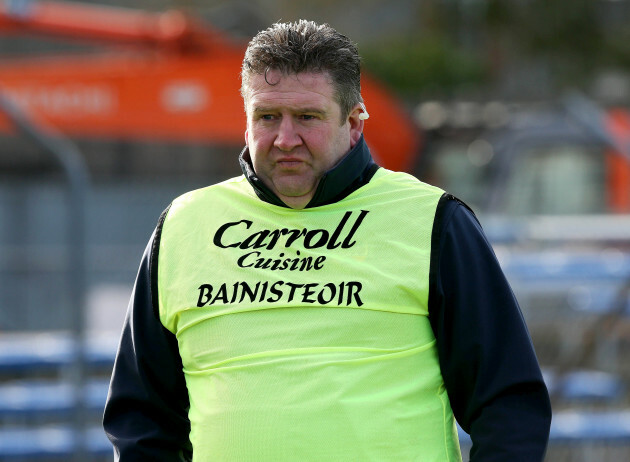 Lorraine O'Sullivan / INPHO Lorraine O'Sullivan / INPHO / INPHO
5. Westmeath embarrass Offaly
A word on the standout result of the weekend. Offaly hurling has been on a steady decline over the last decade and it doesn't appear to be slowing down anytime soon.
From the outset, Westmeath's victory over the Faithful might look like an upset, but it's the not an outlandish result when you examine the underage record of both counties in recent years.
This was Offaly's biggest championship defeat to a Leinster team not named Kilkenny since 1962. The structures are not in place in the county and the hurlers are not being produced.
Until something radically changes, the slide will continue.