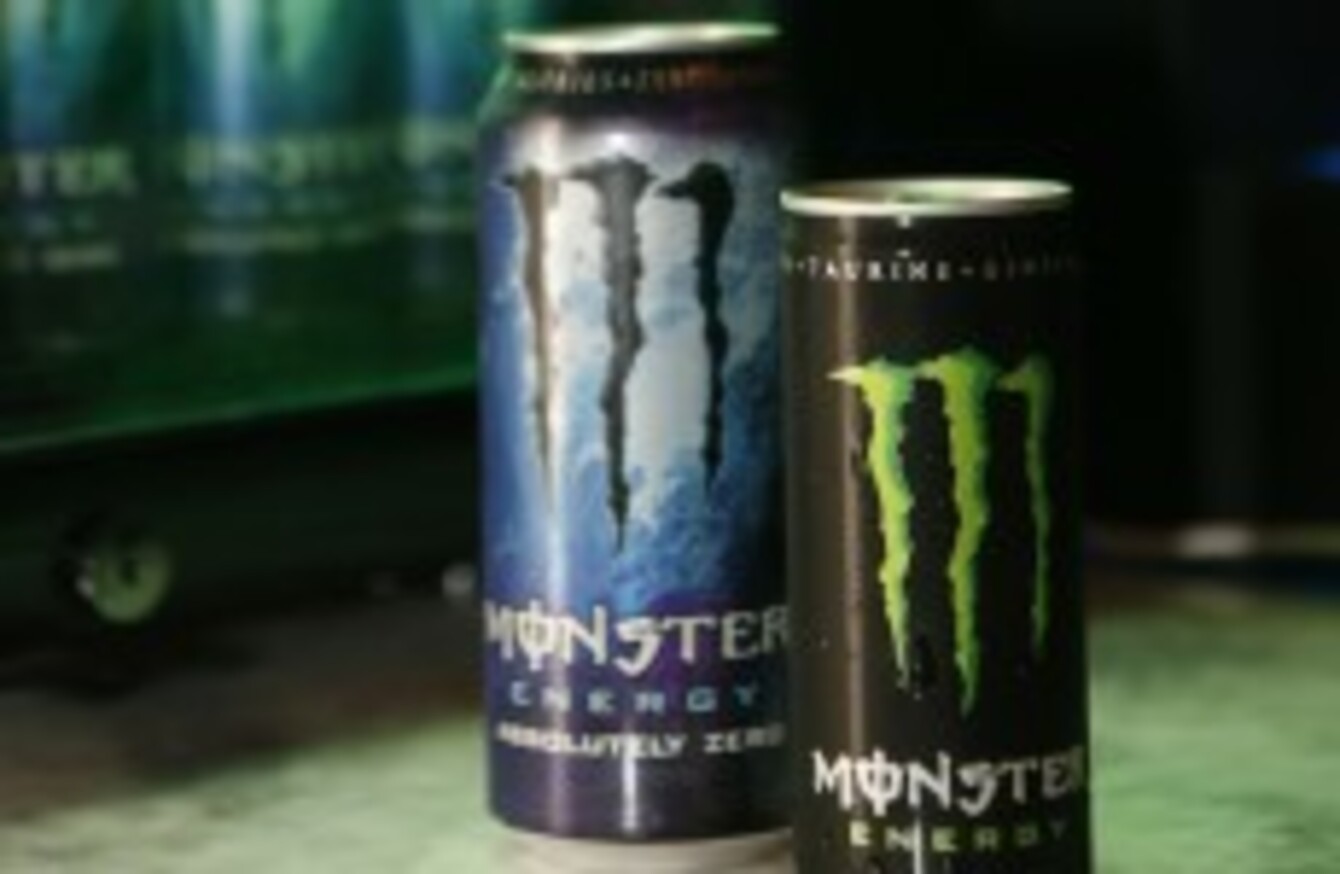 The drinks are one of the most popular worldwide.
Image: AP/Press Association Images
The drinks are one of the most popular worldwide.
Image: AP/Press Association Images
CAFFEINE IS THE most widely used drug in the world and while some of us swear by it, more of us avoid it at all costs.
It's good to know that it's all about moderation when it comes to nutrition, but when we ingest too much of anything the side effects could be severe.
Caffeine-laden cans of Monster are the drink of choice for those needing a rapid energy boost, but something that potent cannot be good for us, can it?
The European Food Safety Authority estimates that 30% of adults, 68% of adolescents and 18% of children below 10 years consume energy drinks, so we asked top dietitian Ruth Reidy (Nutrition4u) are we in danger of drinking ourselves to death…
Cans of Monster are known to contain a lot of sugar and caffeine. How much, exactly?
"Cans of Monster provide a hefty amount of calories, mainly from carbohydrates (sugar and caffeine). A 500ml can provides 240 calories, around a quarter coming from sugar and caffeine."
"They're usually taken by anyone who feels they want some extra energy quickly and typically, sports people and people who work in busy jobs with long working hours are the people who drink them most."
Caffeine. Tell us more; how much is in an Americano and how much is in a can of Monster?
"Coffee varies in caffeine content, depending on how it's brewed but the average 225ml mug contains about 100 milligrams (mg) caffeine.
"A 500ml can of Monster provides around 160-180mg caffeine but there are some energy drinks available in Ireland that give up to 240mg caffeine!"
Is there a safe level of caffeine?
"Up to 400 milligrams (mg) of caffeine a day appears to be safe for most healthy adults.
"That's roughly the amount of caffeine in four cups of brewed coffee. A max of 200mg caffeine is recommended during pregnancy.
"Although caffeine use may be safe for adults, it's not a good idea for children.
"And adolescents should limit themselves to no more than 100mg of caffeine a day. (that's just one 225ml mug, remember!)
See Sport
Differently
Get closer to the stories that matter with exclusive analysis, insight and debate in The42 Membership
Become a Member
People have died from drinking Monster. How can this happen?
"High caffeine intakes can be associated with the development of cardiac arrhythmias and sudden deaths have been reported.
"A person may not be aware that they have an underlying heart condition and consequently the high caffeine intake may put them at risk for serious adverse health consequences, or even death."
Mixed with alcohol, definitely a bad idea?
"I think the main reason to be cautious is because the alcohol may reduce our ability to make sound judgements and therefore to be sure about how many drinks we've had.
"Consequently, if our drink of choice is alcohol mixed with a high caffeine energy drink, then we may end up taking in a very large amount of caffeine on a night out.
"This may result in tachycardia (faster than normal heart rate) which is a serious health concern.
"Also, it is thought by many that a cup of coffee helps sober you up, so it's not a stretch to see how someone could think an energy drink with caffeine in it might be helpful.
"However, hydration or should I say re-hydration, is the main factor after taking alcohol.
"Water or milk are best for this; also fruit juices, cordials with water and non-caffeine containing minerals."
Should we be watching the food labels?
"For sure. One of the biggest challenges with energy drinks is that the caffeine content is not on all the labels.
"Consumers need the information so they can make informed decisions about their health.
"Be sure to check online for the nutritional information if it's not on the can or bottle."
Ruth Reidy is the owner of the Nutrition4u Clinic in Cork www.nutrition4u.ie. You can follow her on Facebook at 'CNC Nutrition4u' or on twitter @ruth_reidy.