MONTY IOANE HAS been living the life of a rugby nomad for most of the past seven years, leaving his native Melbourne at the age of 16 to chase his dream.
The journey has led him to the Italian city of Treviso, where he has established himself as one of the most dangerous attacking players in the Guinness Pro14 with Kieran Crowley's ever-improving Benetton.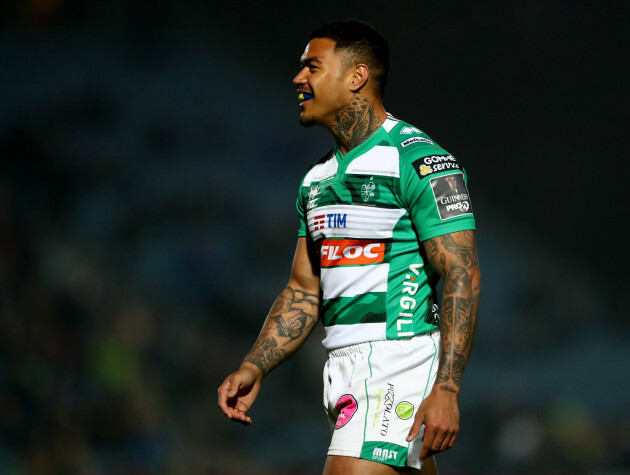 James Crombie / INPHO Ioane is one of the most dangerous attacking players in the Pro14. James Crombie / INPHO / INPHO
His uncle, former Wallaby Digby Ioane, has been a big influence on Monty's career and the 23-year-old is now demonstrating that lethal finishing and intelligent wing play very much run in the family.
Despite arriving at Benetton late last season, debuting only in December of 2017, Ioane was superb, scoring eight tries in 11 starts in the Pro14 and touching down three times in his four Champions Cup appearances.
The Aussie wing has continued that form in the current campaign, crossing the whitewash twice in three games ahead of a visit to the Ospreys in Wales this evening [KO 7.35pm, eir Sport/Premier Sports].
With new Fijian signing Iliesa Tavuyara making an impact on the other wing, Benetton are now armed with a lethal set of wide men who accentuate the threat they pose to more established Pro14 teams.
The Italians' growth under Kiwi head coach Crowley since his arrival in 2016 was underlined by a new record of 11 wins last season and the signs early in this campaign are that they could genuinely compete for a play-off spot.
"I haven't worked with a coach like Kieran before," says Ioane, whose full forename is Montanna. "He's very understanding towards players with the rugby but also outside of rugby as well. He tries to connect with players and that's pretty awesome.
"If you form a good relationship outside rugby, it does help going into training, players feeling a lot happier. He gives me free rein on the pitch too, just says for me to go out and do my best and score tries if I can."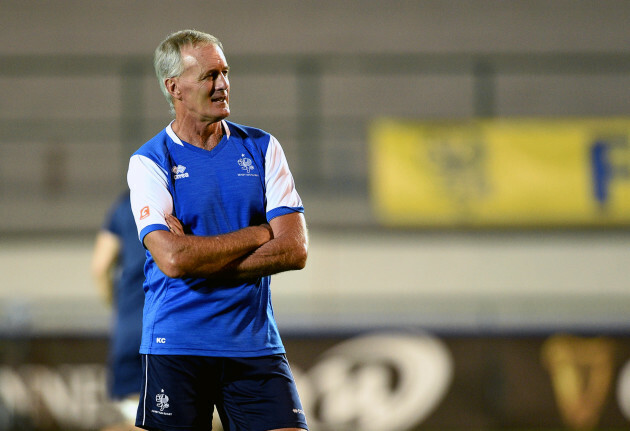 Elena Barbini / INPHO Crowley has had a major impact on Benetton. Elena Barbini / INPHO / INPHO
Upon his arrival, Crowley spoke about changing the expectations of Italian players, who were long accustomed to being on the wrong end of heavy scorelines, and Ioane can see the results of that work.
"Our biggest focus during this pre-season was all about building a winning culture," explains Ioane.
"You can't just change everything right away, so Kieran knew it would take time but as people can see from the outside now, he's definitely made a huge difference.
"You can see that the boys really believe now. From what I hear, in previous years the boys were so used to losing that it wasn't about going out to win, it was often just about going out there and giving the other team a good game. It's about going out there with a winning mindset now."
Having an attacking weapon as effective as Ioane certainly helps too. His 11 starts last season saw him beat 41 defenders, make 19 clean linebreaks and offload the ball 12 times.
Ioane didn't always plan on making it in rugby and actually took a break from the sport as a kid before returning at the age of 12 and marking himself out as a fine prospect in Melbourne.
When he was 16, and with the Melbourne Rebels still not up and running in Super Rugby, Ioane opted for a move to boarding school at the Anglican Church Grammar in Brisbane.
Leaving his parents – Ioane has a Samoan father, Paul, and a Fijian mother, Vika – was difficult but his uncle, Digby, was already based in Brisbane and playing for the Reds.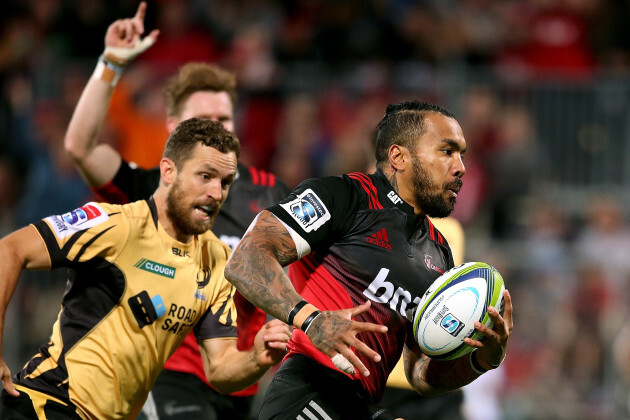 Photosport / Martin Hunter/INPHO Former Wallaby Digby Ioane, who played for Crusaders last year. Photosport / Martin Hunter/INPHO / Martin Hunter/INPHO
Indeed, Monty moved in to live with his uncle for his final school year. He played for Queensland Schools and advanced briefly into the Reds academy before Digby received an offer from Top 14 club Stade Français.
The 35-times capped Wallaby helped to work out a deal that meant Monty signed for Stade Français too and suddenly he was moving to Paris as an 18-year-old.
"Digby was a huge role model for me," says Monty, who is a cousin of current Wallaby back row Pete Samu.
"My dad asked him to take me onboard with him and help me grow as a player. I had been living with Digby since I was a kid, so I had to learn from him!
"He taught me so much and these past few seasons, I've been speaking to him on the phone quite a lot and he says he's just real proud of how much I've learned and how much I'm starting to open up as a player. He's really happy with that."
Monty made Top 14 and Challenge Cup appearances for Stade Français in his two years with the club, although the experience was a tough one.
"Digby was at his peak level around that time, but I was still young and trying to learn the game," says Ioane.
"There was a lot of pressure put on me and I didn't go as well in France as I wanted to. I was only young and it was all a learning process for me over there."
Simon King / INPHO Ioane celebrates a try against Scarlets last weekend. Simon King / INPHO / INPHO
2015 saw Digby shifting his career to Japan and Monty struck out on his own for New Zealand, signing with Bay of Plenty but spending a season on loan at Tasman Makos, for whom he saw little playing time.
However, the move to New Zealand did bring him into the Chiefs' wider training squad and he featured for them in pre-season games in 2016 as he learned vital lessons from now-Glasgow head coach Dave Rennie.
"When I first went over to New Zealand, I felt I was so far behind," says Ioane. "I had come from France and I was only young, going straight to New Zealand it was really tough.
"I worked really hard in that off-season after 2015 and worked closely with Dave – he helped me a lot. Simple things like catch-pass, running my lines as a winger, and he helped me massively with that understanding of the game. New Zealand teaches you so much in that way.
"Off the ball, in terms of being able to read the defence, read the pictures better. I had always liked to try and take people one-on-one, but I learned a lot more about how to beat people in those one-on-one situations, how to drag somebody, how to step back inside if they over-chase, small details like that that a winger should know."
The sheer depth of talent in New Zealand also meant Ioane had to fight hard for a place in the Bay of Plenty team, bringing about a much-improved 2016 campaign that saw him start 10 games in the Mitre 10 Cup and score three tries.
He crossed three times in the 2017 campaign too, starting 11 times, and had been planning on moving home to Australia to attempt a crack at Super Rugby before Benetton "randomly popped out of nowhere" with an offer.
Initially, Ioane was reluctant to move back to Europe but he finally opted to "give it a crack for one season and it's turned out to be the best decision I've made."
Alfio Guarise / INPHO Ioane is enjoying his new life in Italy. Alfio Guarise / INPHO / INPHO
He signed a new two-year contract with Benetton in March and is enjoying life with his young family in the "quiet" Treviso, even if his Italian is still a work in progress.
The physicality of European rugby took getting used to, but Ioane is now making a consistent impact on the pitch as he links well with Benetton's backline leaders such as Tommaso Allen and Jayden Hayward. 
Tonight's visit to the Ospreys is another tough fixture following on from last weekend's narrow defeat to Scarlets, but Ioane is hoping that Benetton can show they're in the Pro14 to truly compete.
"It's tough to say how far this can go but as long as we're progressing and seeing the team go forward, we're happy to keep going," says Ioane.
"Teams are starting to respect us a bit more, they're not coming for a free ride and we're starting to worry a few teams. That's good for Italian rugby so, hopefully, it helps the national side as well."
- This article was updated at 9.19am to correct an unfortunate typo in the word 'shifting' in the 26th paragraph.
The42 is on Instagram! Tap the button below on your phone to follow us!