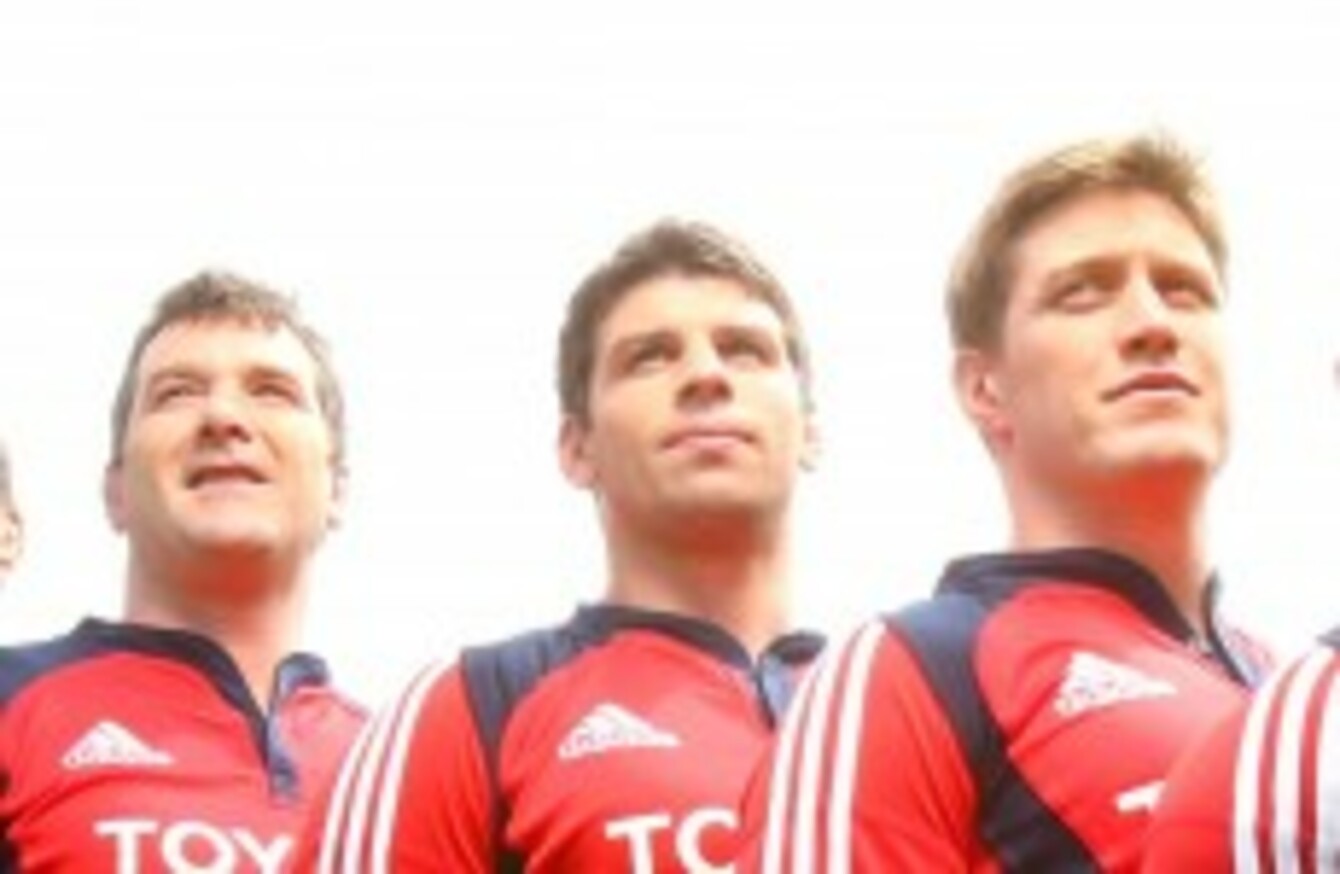 Anthony Foley, Denis Leamy and Ronan O'Gara pose for a new jersey launch in 2007.
Image: INPHO/Billy Stickland
Anthony Foley, Denis Leamy and Ronan O'Gara pose for a new jersey launch in 2007.
Image: INPHO/Billy Stickland
AS FAR AS I know, Munster offered Rob Penney something but he chose the Japanese route, which perhaps offers a more lucrative and less stressful life than Munster.
I'm sure there were various issues for Penney's departure but it may have been a factor that [forwards coach] Anthony Foley was always there in the background. It was only a matter a time before he took over. That has probably been the game-plan for the past few years and once Axel had done his apprenticeship, and earned his stripes, he would step in. The time is right for someone like Foley to take over and prove his worth.
It is also a good time for Rob Penney to leave. His stock his high, his side has only lost three times this season, are top of the league and at home in the Heineken Cup quarter final. He has done a lot better than expected. The team has kicked on again this season. While Penney and the other coaches deserve a lot of credit, Foley has been instrumental in that improvement this season. The Munster defence has been a real strength.
Obviously, people will talk about Ronan O'Gara but I don't know whether he wants to come straight back after being abroad [with Racing Métro] for less than a year. He has a young family so that may be a key factor. I'm sure, though, if the opportunity came up he would jump at it. Whether that would be the right or the wrong choice is a different matter. You need to gain your experience for a couple of seasons before you can call yourself a complete coach. Saying that, Ronan's rugby nous is so good he would certainly bring a lot to Munster.
Mike Prendergast is another former player who is doing a good job in France, with Grenoble. He could be up for the role of backs coach with Foley.
As far as I'm concerned, coaching is not something I want to pursue at the moment. I was involved in rugby for so long and, with training, playing and touring, it takes up so much of your time. I've a young family and, in the last six months, I've been at home more than I've ever been. It is not something I would ever rule out but I have really enjoyed that extra time at home.
Foley and O'Gara endure an ice bath in 2002. INPHO/Billy Stickland
While Penney would have been delighted to use Robin Copeland, had he stayed next season, his signing from Cardiff was probably secured by the management. There is often a wider system, beyond the coach, that identifies potential players.
If you look at the style of rugby that Munster played against Harlequins and Clermont [in the Heineken Cup] last year, it was different to the games where the Ireland players were away. Once the senior internationals came back to the fold, Munster's style changed. They were playing must-win games so played cup rugby and took less risks. It was a hybrid style of play — going wide but using the forwards a bit more. No-one ever complained about playing with width but it was about when you play it wide. You have to create space rather than just running across the pitch.
A bit of player power emerged where the streetwise guys called the shots on-field. That's the worth of having an experienced player like Paul O'Connell around. Having played with Foley, I can tell you that he is another who could change and adapt when he was on the pitch.
The IRFU has done a great job of developing players in recent years and I think we should be doing the same with our coaches. Where we can, we need to give Irish guys a go and give experience to the men that could one day coach their country.
David Wallace runs Mr Simms Olde Sweet Shoppe at the Crescent Shopping Centre in Limerick. You can follow the latest goings on at the shop here or on Twitter @MrSimmsCrescent